Porter-Cable 7346SP vs 7424XP: Which is Best?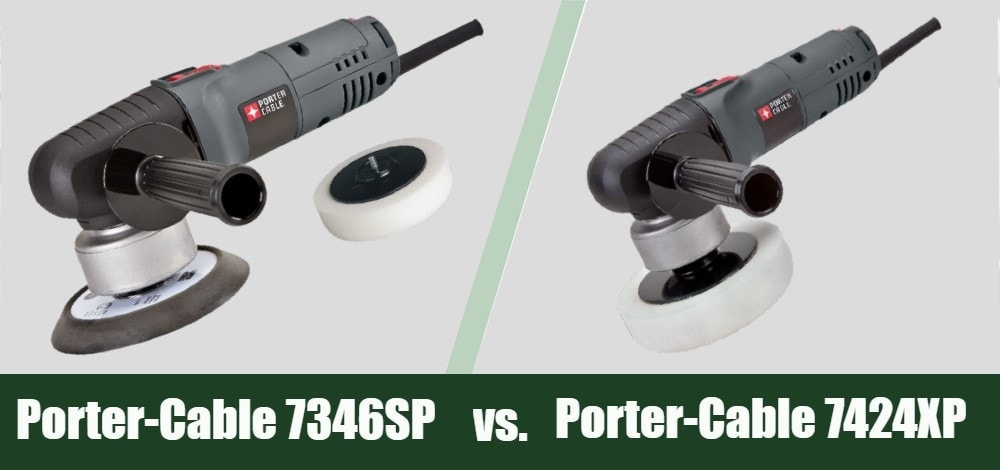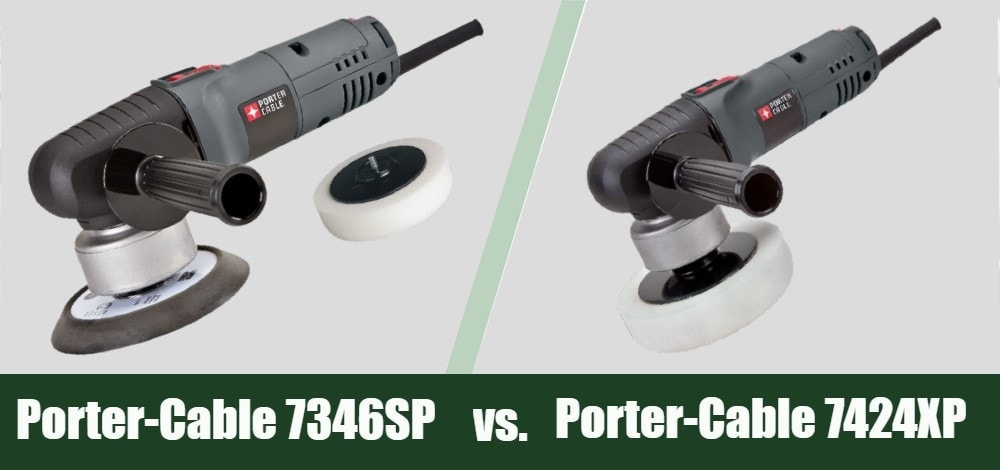 The Porter-Cable 734SP and 7424XP are both powerful tools. However, to alleviate any immediate confusion, we'll clarify that one of these is technically a sander, and the other is strictly a polisher.
Both tools have the ability to polish, and that is the feature we are focusing on in this article. The 7346SP is, by definition, a sander, but it comes with a polishing pad that is identical to the one on the 7424XP. So, with this attachment, the 7346SP becomes a polisher, justifying the comparison. Plus, the SP in the model number stands for "Sander/Polisher."
They are virtually identical in every respect when it comes to shape and style. While the accessories that come with the 7346SP also give it a leg up over its counterpart, this also increases its sticker price.
Even with the moderately increased price tag, the Porter-Cable 7346SP is the favorite for its sander and polisher options. It is just a more versatile tool. If you want a buffer, you could go with both, but for a quality comprehensive orbital tool, the 7346SP is your best choice. Read on for a nitty-gritty comparison of these two tools.
At A Glance
Porter-Cable 7346SP
6-inch pad
120V electric
6 pounds
Electronic variable speed dial 2,500–6,800 OPM
5-amp motor
Sander
Polisher
Porter-Cable 7424XP
6-inch pad
120V electric
5¾ pounds
Electric variable speed dial 2,500-6,800 OPM
5-amp motor
Polisher
Overview of the Porter-Cable 7346SP
The 7346SP is the whole package. Lightweight, electrically powered from your standard outlet, and designed with you in mind. It comes with a powerful motor that spins the orbital disk at a variable rate and features a removable side handle for accommodating righties and lefties.
It is a polisher and a sander and comes with a PSA pad that adheres to adhesive-backed sandpaper disks, which is convenient if you need a quick grit change. The removal and replacement of new orbital disks and buffing pads is very quick and relatively straight forward. Plus, it comes with a 1-year warranty.
Pros
Small in size
Reasonably priced
Variable speed dial
Durable
Versatile
Cons
Few accessories included
Low-quality free accessories
Variable speed control ranges are too broad

Overview of the Porter-Cable 7424XP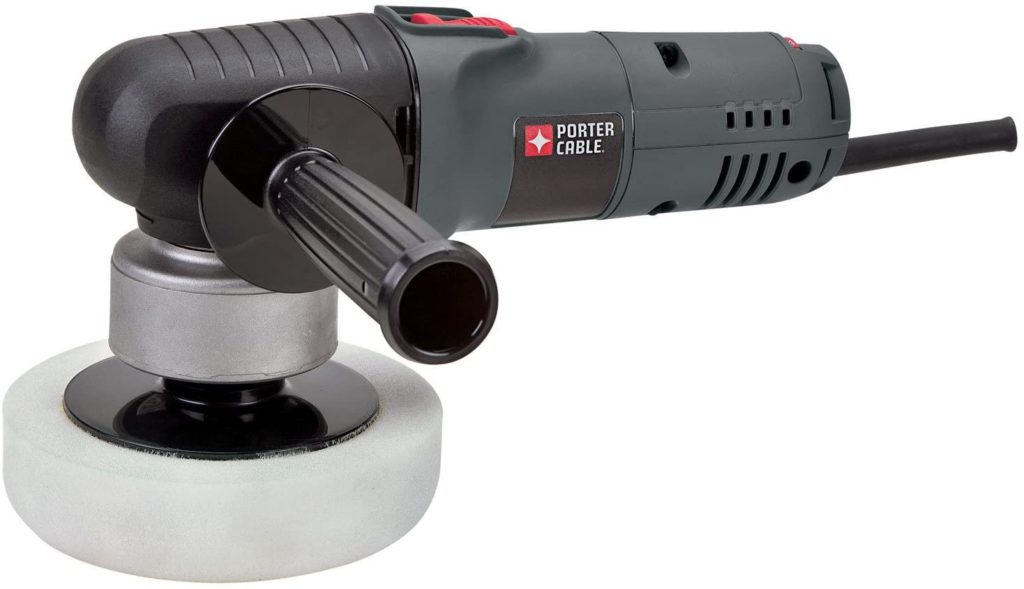 The 7424XP is a buffer only. It is not designed to accept interchangeable attachments. It uses the same random-orbital swirl-free functionality of the 7346SP and has a 4.5-amp motor. It uses 6-inch buffing pads and also has the two-position handle feature for ambidextrous operation.
Within its gray plastic housing, it has a proprietary counterbalance that works in concert with the buffing wheel at any of the speed settings on the variable dial. Finding buffing pads to replace the one that comes with it is not tricky and swapping them is very simple with a few minutes of light work. It also has a 1-year warranty.
Pros
Small in size
Reasonably priced
Variable speed dial
Durable
Cons
Few accessories included
Low-quality free accessories
Variable speed control ranges are too broad
---
What Are the Differences Between Them?
Performance
Edge: 7346SP
The models have identical motors and power sources. They have the same variable speed dial with the same settings and spin at the same rates. But the 7346SP can sand and buff, making them more versatile, which adds to its overall value.
Price
Edge: 7424XP
This model is a bit less expensive than the 7346SP. This is due primarily to the lack of versatility. It is the same build, but the 7424XP is only a buffer with no other functional options.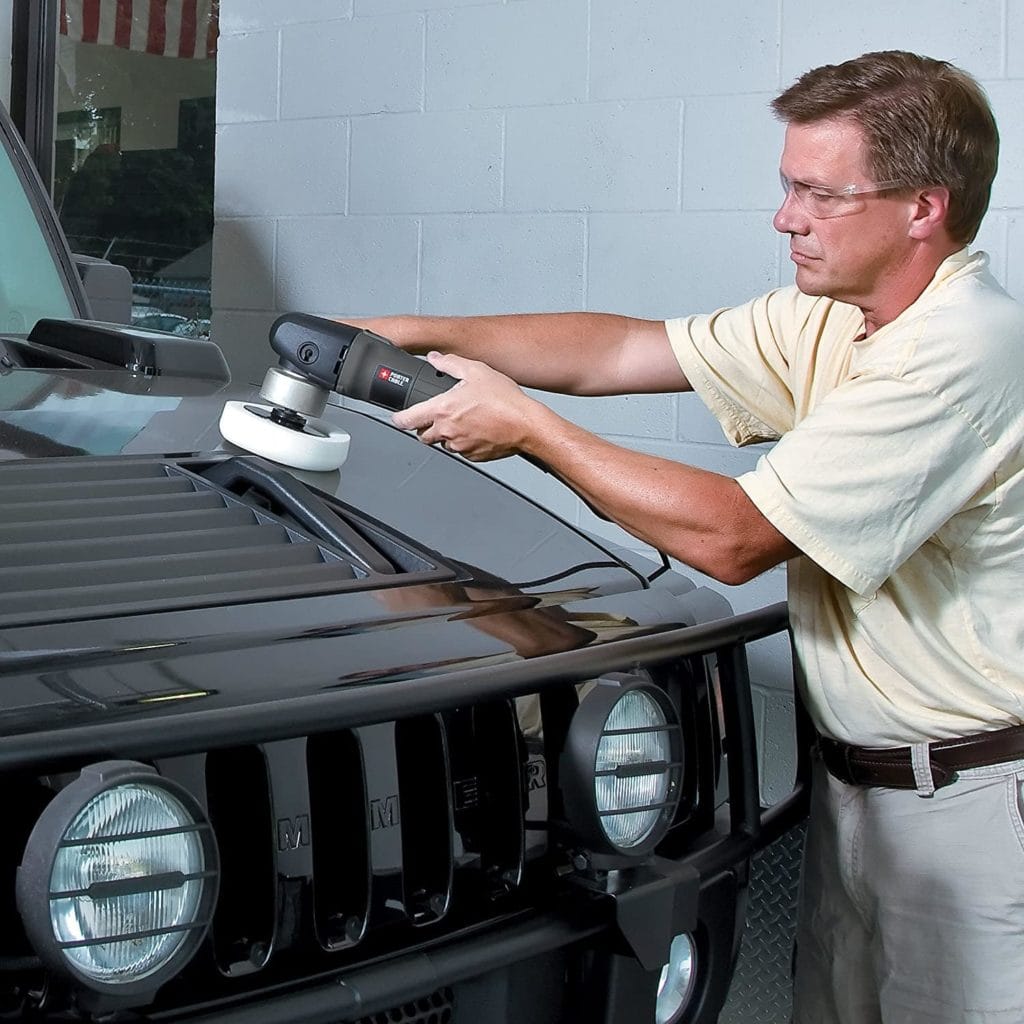 Durability
Edge: Tie
Both models are constructed of the same hardened gray plastic and have the same motor.
Design
Edge: Tie
They are identical in style and look. Aside from the sanding wheel, they are indistinguishable from each other.
Warranty
Edge: Tie
They both carry the same Porter-Cable 1-year warranty.
What Users Are Saying
The overall user impressions are primarily favorable. Professionals in the auto detailing industry praise Porter-Cable for the impressive buffing power of the 4.5-amp motor. And those in auto restoration approve of the orbital sander feature and say it makes short work of getting through even the oldest paint.
They like the size and weight, the additional handle that is switchable from right to left, and the variable speed switch's simplicity is a big hit. It has been listed as the best beginner-friendly model out there, with simple instructions and very few actual switches to fiddle with.
There have been a few issues, however, While the variable speed knob is a beautiful feature, it is also very vague in the actual speed settings, and at low speeds, it doesn't function with the efficiency some users would prefer. This is most commonly a complaint when using buffing polishes that are speed specific.
On occasion, there is a dud, as is the case with all products. A model that did not go through quality control and just plain does not work. But reports of this were few and far between.
The biggest problem with the build is in the on/off switch. It seems to have faulty soldering in the housing that, when jostled, becomes weak, and the user has to flip the switch several times to wiggle it back into place.

Conclusion
The obvious winner for this battle is the Porter-Cable 7346SP. It's simply a better option given its versatility. The people want a quality, compact, multi-tool, saving them from having too many tools in the garage, shed, or toolbox.
Both would appeal to anyone in the auto detailing business, and for home use, they are equally efficient. But for a professional shop that does restorations and needs a sander and a buffer, the only choice is the 7346SP.