Husqvarna 130BT Backpack Blower Review 2023 – Pros, Cons, & Verdict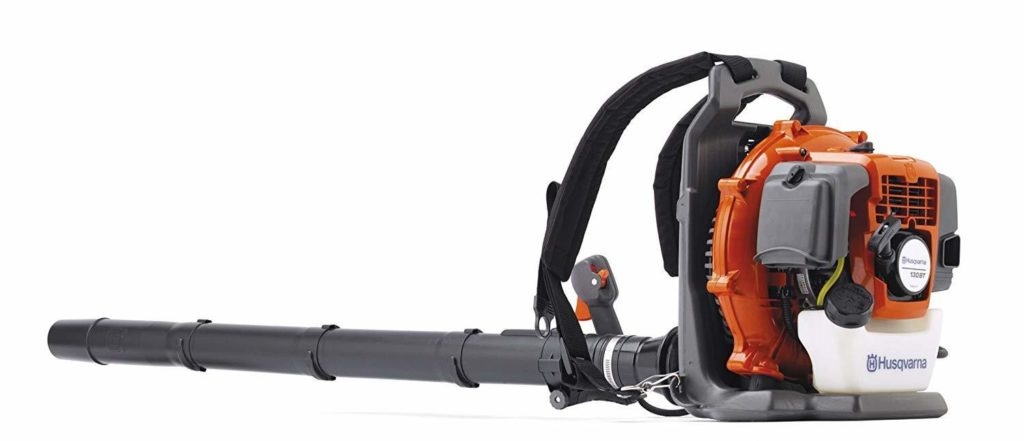 We give the Husqvarna 130BT Backpack Blower a rating of 4.3 out of 5 stars. 
Build Quality: 4.4/5
Power: 4.2/5
Features: 4.6/5
Price: 4.3/5
Warranty: 4.2/5
Review Summary
Husqvarna designed this lightweight backpack blower for homeowner use. It provides excellent power with an ergonomically-conscious design that keeps user fatigue at bay when used for extended periods of time. Controls are conveniently placed for easy access and a throttle lock, a.k.a. cruise control, lets the user "set and forget" their blowing speed. This is a good choice for homeowners who have large lots or require substantial landscaping. Husqvarna has a long history of manufacturing high-quality products for rigorous use, and this blower follows that tradition. Commercial users, and homeowners with especially large properties, may find it underpowered for their needs.

Husqvarna 130BT – A Quick Look
Pros
Ergonomic design for reduced user fatigue
More efficient, lower emissions with Husqvarna X- Torq technology
Air purge removes air from carburetor and fuel system for easier starts
Cons
No active cooling
2-year warranty
Specifications
Brand name: Husqvarna
Model: 130BT
Product size without hose and nozzle (L x W x H): 6" x 15.2" x 17"
Product dry weight: 14.9 lbs.
Engine: 29.5 cc, 1.13 hp, two-cycle, CARB & EPA compliant
Fuel: Regular unleaded, max ethanol content 10%
Idle RPM: 3,000
Operating RPM: 7,500 Max
Speed at nozzle tip: 145 MPH (round), 168 MPH (flat)
Sound level at operator: 91 dB(A)
Newtons: 11
Ergonomically designed
Husqvarna is serious about reducing user fatigue through excellent ergonomic design. The 130BT is a prime example with its adjustable controls and a shape that fits the human form perfectly.
Higher fuel efficiency with lower emissions
The 130BT uses the newest Husqvarna engine technology, X-Torq, to reduce overall emissions by up to 60% while increasing fuel efficiency by 20%. This combination benefits the environment and also extends the tool's running time.
Homeowner power
For homeowners with a lot of yard maintenance, the 130BT provides more than enough power. It takes care of leaves and grass clippings with ease, reducing the time needed to clean up after mowing.
FAQ
How does the extended warranty work?
The standard warranty covers two years. If you buy Husqvarna's pre-mixed fuel at the time you purchase the blower, you can receive an extension of 1 or 2 years. The length of time depends upon the quantity of fuel purchased.
Can this blower be used to move light snow?
Definitely. The 130BT has more than enough power for this task. It comes with both a flat and a round nozzle, so you can pick the one that works the best.
Can this blower be either right or left-handed?
This blower is right-hand operated only, and that seems to be an industry standard. There is no way to convert it to left-handed use.
General User Impressions
According to the research we conducted, the Husqvarna 130BT generally earns favorable ratings from its users. It's comparable in price to equivalent models from competing brands, though it sometimes features a higher price tag. People state that the Husqvarna reputation for quality warrants the extra cost.
The ergonomic design ranks among the top items mentioned. Many users report that the 130BT is light on their back and easy to manipulate, allowing them to use it for hours without fatigue. One user said his mother ran it for five hours straight without any issues, compared to when she maxed out at 30 minutes using a hand-held blower.
Reports also indicate that the blower is easy to start and runs very quietly. At 91 dB(A), it's only a bit louder than your typical lawnmower, so it should be acceptable in any neighborhood. As with any blower, eye and ear protection is a must.
Of course, power is the reason for stepping up to a backpack mower for most users, and the 130BT delivers. One user with a corner lot and plenty of trees reports reducing his usual two-week leaf collection process to a single day.
On the flip side of the coin, potential purchasers need to carefully consider which model suits their particular situation. One of the main issues that dissatisfied users report with the 130BT is that it does not have enough power for their needs. One user estimates that the maximum lot size this model can handle is a ½ acre. Another, who rates the unit highly, admits that he had to upgrade to a more powerful unit because the 130BT can't handle the sheer volume of leaves in his yard.
The next most common issue users report is leaking fuel. When it happens, it happens either right out of the box or shortly thereafter—even when using Husqvarna pre-mixed fuel. The users rating their 130BT highly rarely mention any issues, so if you purchase a 130BT and it starts leaking fuel, take it in under warranty. Fuel leaking does crop up in research on other Husqvarna products, indicating a potential issue with fuel lines, their installation, etc.
The last gripe concerns difficulty with starting the blower, even though the 130BT has a choke to facilitate cold starting. When starting is reported as an issue, it commonly requires 20 pulls or more to get the blower to start and to stay running. We know from experience how frustrating this can be with any gas-powered piece of equipment.
Conclusion
To use a fancy marketing term, the Husqvarna is an excellent "prosumer" backpack blower. For the homeowner with a lot of landscape maintenance requirements who wants a "near commercial" product, the 130BT will definitely provide a professional feel at a consumer price. Before purchasing any backpack blower, however, give serious thought as to the amount of work your particular situation involves. When users are dissatisfied with the 130BT power, they invariably say that it can't handle the amount of work they need to accomplish. Overall, this is a sound choice for moderately-sized residential property maintenance.
Related Reads: