5 Clever & Creative Car Organization Ideas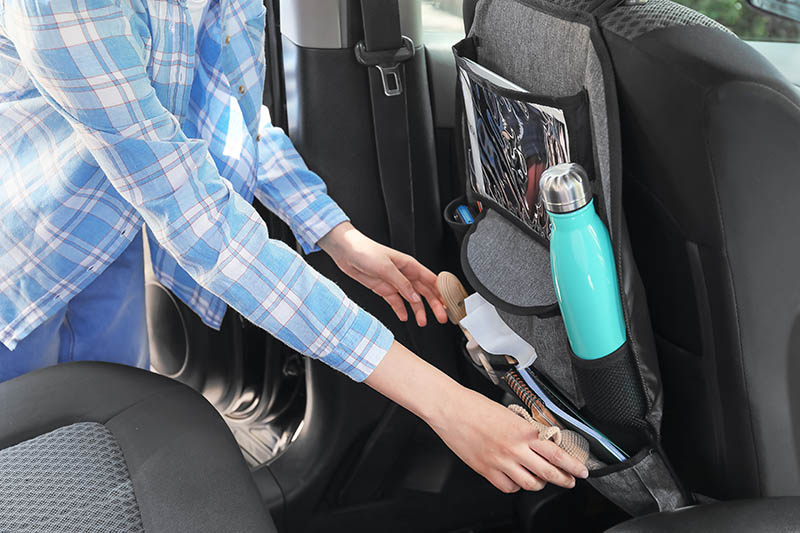 Most of us know how easy it is for trash, receipts, and random items to turn your once-clean car into a garbage heap. To prevent this from happening again, you need to ramp up your car organization. Luckily, we've compiled some of the cleverest ways you can neatly store items in your car. Let's dive in below with the plans.

The Top 5 Clever & Creative Car Organization Ideas
1.

Pop-Up Trunk Shelf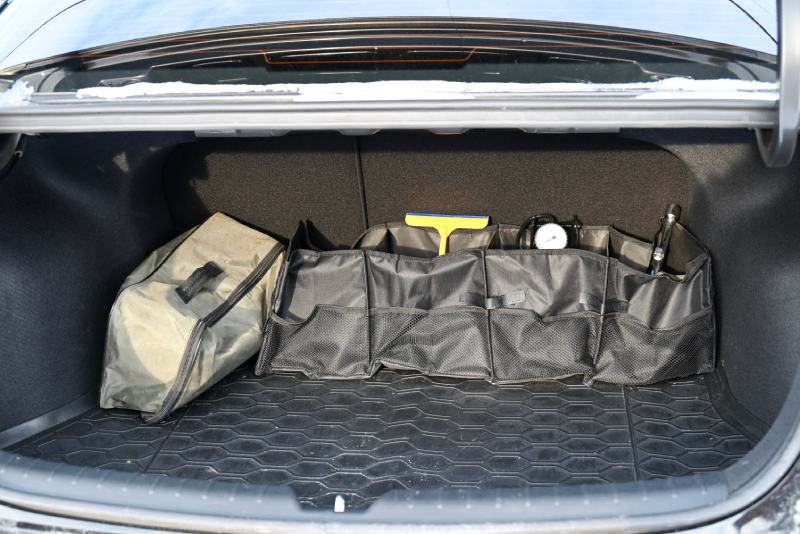 | | |
| --- | --- |
| Difficulty: | Easy |
| What you'll need: | wire closet shelf, folding legs, teacup hooks, zip ties, auto-grade carpet |
This plan is designed for those trunk nooks that SUVs have—you know, the narrow ones that force you to play Tetris with your groceries. Avoid the hassle of shattered eggs and deformed bread by making this simple pop-up trunk shelf, which creates two levels of storage so you can separate your fragile items from the heavy stuff. It's rather basic and anyone can do it in a few minutes with the right supplies, and you could probably even adapt the design to work for regular car trunks.
---
2.

Coffee Cup Tissue Dispenser
| | |
| --- | --- |
| Difficulty: | Easy |
| What you'll need: | Disposable coffee cup with lid, tissues, knife |
Tissue boxes aren't conveniently shaped for cars, but this coffee cup tissue dispenser is. You never know when you'll need a tissue when you're out and about, so take a few minutes to make this dispenser out of literal trash. You'll just need a disposable coffee cup with a plastic lid, which you'll punch a hole into. The trickiest part is arranging your tissues in the cup to evenly dispense, but careful folding should solve that.
---
3.

Car Snack Basket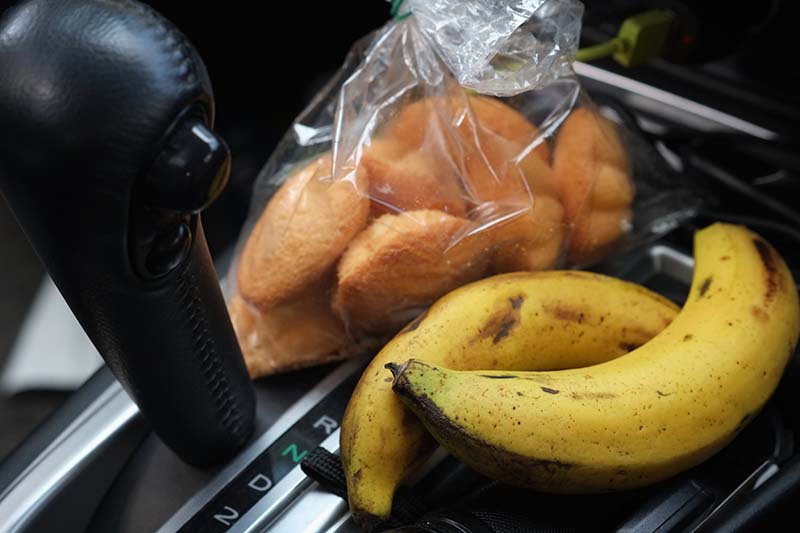 | | |
| --- | --- |
| Difficulty: | Easy |
| What you'll need: | basket (any type), snacks |
Instead of giving in to gas station chips and Slim Jims, load a basket with snacks and keep it in your car. This simple life hack is the perfect way to fend off unhealthy snack cravings, and especially useful for parents. You can store water bottles, fruit, popcorn, or any other snack to keep your hunger in check for your next meal. We'd suggest removing perishable items every day to prevent them from rotting (especially in warm climates), but sealed items can be stored indefinitely.
---
4.

Car Emergency Kit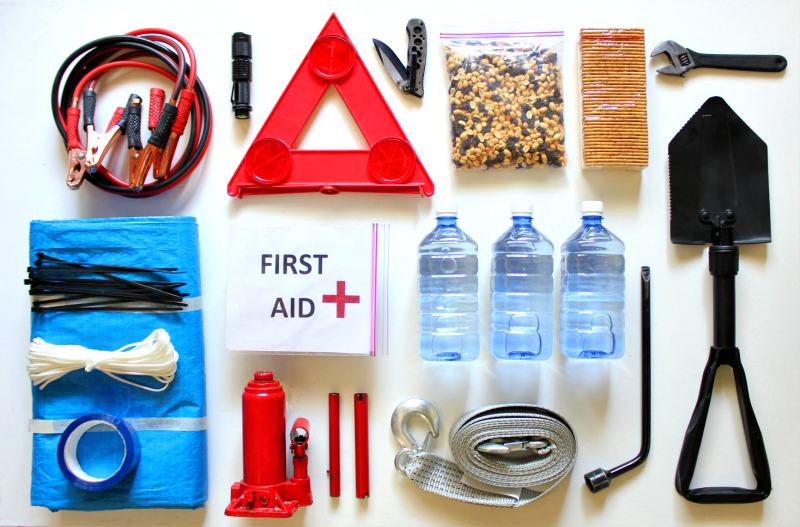 | | |
| --- | --- |
| Difficulty: | Intermediate |
| What you'll need: | basket/organizer, jumper cables, flashlight, extra batteries, pocketknife, bottled water, road map, tire gauge, whistle, duct tape, car charger, non-perishable food |
Emergency kits are invaluable in and out of the home, and you should have a kit in your car at all times. These should have jumper cables (12-foot cables are the most convenient), a road map, bottled water, flashlight, pocketknife, car charger, first aid kit, blanket, tire gauge, whistle, duct tape, and a fire extinguisher. Some extra batteries would be useful, too. Lastly, some non-perishable food. You can add as much or as little as you want, but your car's storage capacity will be the main limiting factor.
---
5.

Glove Box Organization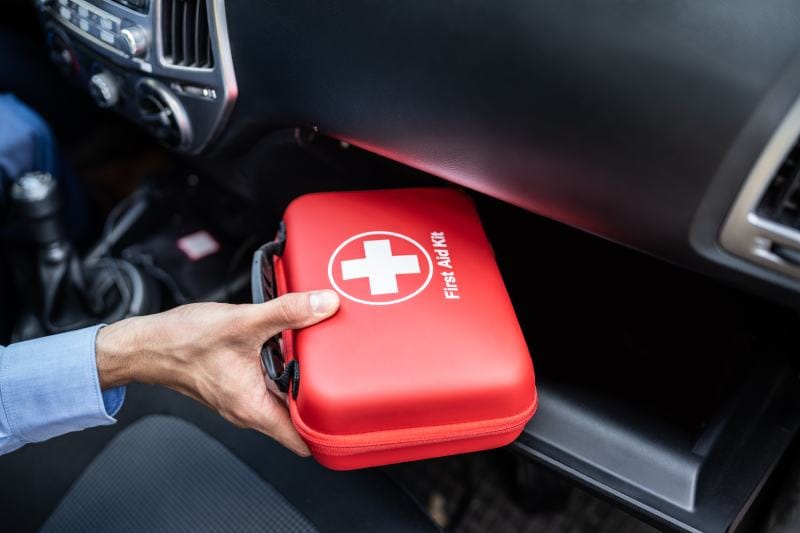 | | |
| --- | --- |
| Difficulty: | Easy |
| What you'll need: | accordion file folder |
Glove boxes can easily get swamped with receipts mixed among your important documents, so grab an accordion folder and throw out the trash. You can label each section so you know exactly where your registration, insurance, and other documents are at a glance. Add a section for important receipts or other paperwork too, if necessary.
Related Read: DIY Truck Bed Storage Ideas You Can Construct Today (With Pictures)

Conclusion
It's easy for trash and other items to get out of control in your car, but it doesn't have to be that way. Employ some of the organization tips above to carefully store everything you need, from tissues to emergency kits and more.
---
Featured Image Credit: Pixel-Shot, Shutterstock