10 Best Tool Sets for Homeowners 2023 – Reviews & Buyer's Guide
For new homeowners, a tool set can be an easy way to start taking control of simple repair jobs around your home. There are some tools that every homeowner should have, such as a screwdriver and measuring tape. However, most tool sets have more tools designed to accomplish most essential home repair jobs.
However, no two tool sets are the same. Choosing the best set for your home and situation can be challenging. Do you really need that extra flashlight? Or is a level a better tool to have?
In this article, we'll answer those questions and more, starting with our reviews of the top tool sets currently on the market. We ranked each set based on quality, allowing you to choose the best set for your situation.
---
A Quick Comparison of Our Favorites in 2023
Rating
Image
Product
Details

Best Overall

WORKPRO W009037A Home Repair Hand Tool Kit

322 different tools
included High-quality tools
Carrying case
CHECK PRICE

Best Value

Apollo Tools DT9706 General Repair Hand Tool Set

Quality carrying case
High-quality tools
Lifetime warranty
CHECK PRICE

Premium Choice

Crescent CTK170CMP2 General Purpose Tool Set

Quality tools
Organized carrying case
Satisfaction guarantee
CHECK PRICE

STANLEY 94-248 Home Tool Kit

65 tools
Ergonomically designed handles
Modeled case for storage
CHECK PRICE

BLACK+DECKER MAX Drill & Home Tool Kit

Electric drill included
Affordable
Carrying case included
CHECK PRICE
The 10 Best Tool Sets for Homeowners
1.

WORKPRO Home Repair Hand Tool Kit – Best Overall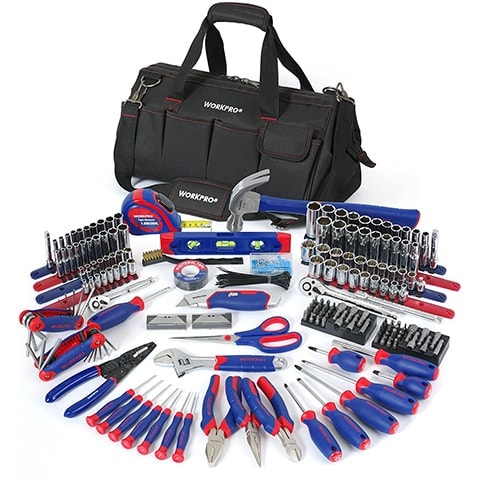 The WORKPRO W009037A Home Repair Hand Tool Kit comes with everything the average homeowner will need to tackle basic jobs around the house, and it's our pick for the best overall tool kit. It has all the necessary tools, from a hammer to a utility knife to screwdrivers. In total, it comes with 322 tools plus a carrying case.
All the tools are made from chrome vanadium steel, which is durable and aesthetically pleasing. The tools have also been heat-treated for strength and durability. Plus, this set isn't expensive, either. From what we could see, all the tools appear designed for heavy-duty work, so we doubt they'd break any time soon. It is much less expensive than other brands on the market and is likely in the budgeting range for most homeowners.
Pros
322 tools included
High-quality tools
Carrying case
Less expensive than other options
Cons
The bag is not very organized
---
2.

Apollo Tools General Repair Hand Tool Set – Best Value
If you need a smaller, less expensive set, the Apollo Tools DT9706 General Repair Hand Tool Set is a reliable option. After reviewing it, it was easy to tell that the Apollo Tools kit is one of the best budget options for homeowners. It includes far fewer tools than other sets on the market: only 39. However, it is a fraction of the price of other toolsets. It includes all the essential items, like a measuring tape and a hammer. For homeowners who don't need many tools, this essential set probably has everything they're looking for.
The carrying case is robust and reliable. Every tool has a place, allowing you to grab whatever you need quickly. All the tools are made with high-grade steel and designed to resist corrosion. The non-slip grips make the tools safer and more comfortable to use. They're also backed by a lifetime guarantee, which is a huge plus.
A few colors are also available if that sort of thing is important to you. Overall, we think this is the best toolset for homeowners for the money you can buy this year.
Pros
Inexpensive
Quality carrying case
High-quality tools
Lifetime warranty
Cons
Fewer tools than other options
---
3.

Crescent General Purpose Tool Set – Premium Choice
While the Crescent CTK170CMP2 General Purpose Tool Set doesn't come with more tools than some competitors, the tools seem to be of higher quality in general. The Crescent set comes with 170 pieces, which is more than enough for most homeowners. If you're only doing fundamental jobs around the house, the Crescent probably has everything you need.
The tools come in a high-quality carrying case. Each tool has its spot it perfectly fits into, helping you stay organized and efficient. The case is made out of plastic, but it is quite durable. We expect it to stand up to a bit of wear and tear.
All the tools come with a satisfaction guarantee. However, this guarantee is a bit weaker than some of the others offered in the industry.
The one big negative is that this set costs quite a bit more than others. You don't necessarily get more tools either, so the extra cost is probably wasted on most people. The tools are a bit higher quality, but most homeowners do not need extremely high-grade tools for their everyday repair jobs.
Pros
Quality tools
Organized carrying case
Satisfaction guarantee
---
4.

STANLEY 94-248 Home Tool Kit
The STANLEY 94-248 Home Tool Kit is another decent tool kit. It comes with 65 tools and includes most of the basics you probably need. It even includes a level, which doesn't come with all toolsets. The handles are ergonomically designed on each tool, so you likely won't get fatigued very quickly. We found the tools quite comfortable to use.
A molded case is included with the tools for storage. It felt a little flimsier than other options, but will likely stand up to a beating. For moderate use, this case will probably be fine. All the tools are forged with high-quality steel and finished with chrome. This ensures they won't break or corrode.
The main reason this toolset didn't rate any higher is that the tools are only made for moderate use. While that is all most homeowners are going to use them for, they aren't as durable as other brands. The toolset also doesn't come with an adjustable wrench, which is pretty crucial in our opinion.
Pros
65 tools
Ergonomically designed handles
Modeled case for storage
Cons
Adjustable wrench not included
---
5.

BLACK+DECKER MAX Drill & Home Tool Kit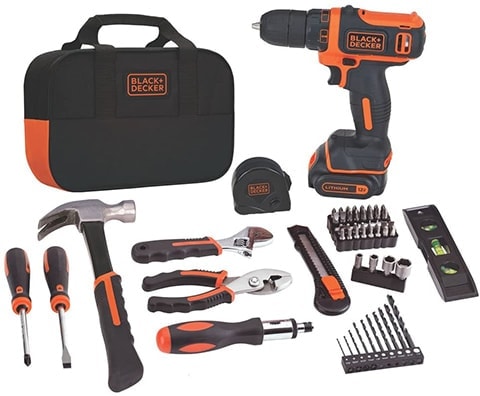 Out of all the tool kits we reviewed, the BLACK+DECKER BDCDD12PK MAX Drill & Home Tool Kit is one of the very few that comes with an electric drill. While this toolset doesn't come with many pieces, the electric drill may be a huge plus for some homeowners. It has 60 pieces and includes standards like a hammer and screwdrivers, as well as a few other tools that most homeowners will find themselves reaching for.
The carrying case is compact and designed for portability. However, it is less durable than some of the other kits, and we'd prefer it to have a plastic, molded carrying case since the bag design prevents you from organizing the tools.
Our biggest complaint is that the Black and Decker kit doesn't come with that many tools. More than half of the tools included are screwdriver bits. However, half of those bits are duplicates.
Pros
Electric drill included
Affordable
Carrying case included
Cons
Low-quality case
32 different screwdriver bits; half are duplicates
---
6.

CRAFTSMAN Home Tool Kit
The CRAFTSMAN CMMT99446 Home Tool Kit is made by a big-name company, so we expected it to contain high-quality items. However, it didn't blow us away. It includes 57 pieces, which is less than most kits contain. The tools themselves, however, are pretty durable. The hammer is fiberglass to prevent fatigue, and all the tools have a polished finish.
The case is durable and made of molded plastic, and the kit comes with a full lifetime warranty. Overall, there were a few things we didn't like about this set. The case doesn't work as intended. Not all of the tools fit properly, and many of them fall from their slots whenever the case is opened. Having all your tools fall out of the case every time you open it is frustrating.
If you purchase this set, you'll probably want to get a separate toolbox.
Pros
High-quality tools
Fiberglass hammer
Cons
Toolbox does not keep tools secure
Fewer tools than other options
---
7.

AmazonBasics 115 Piece Home Repair Tool Kit Set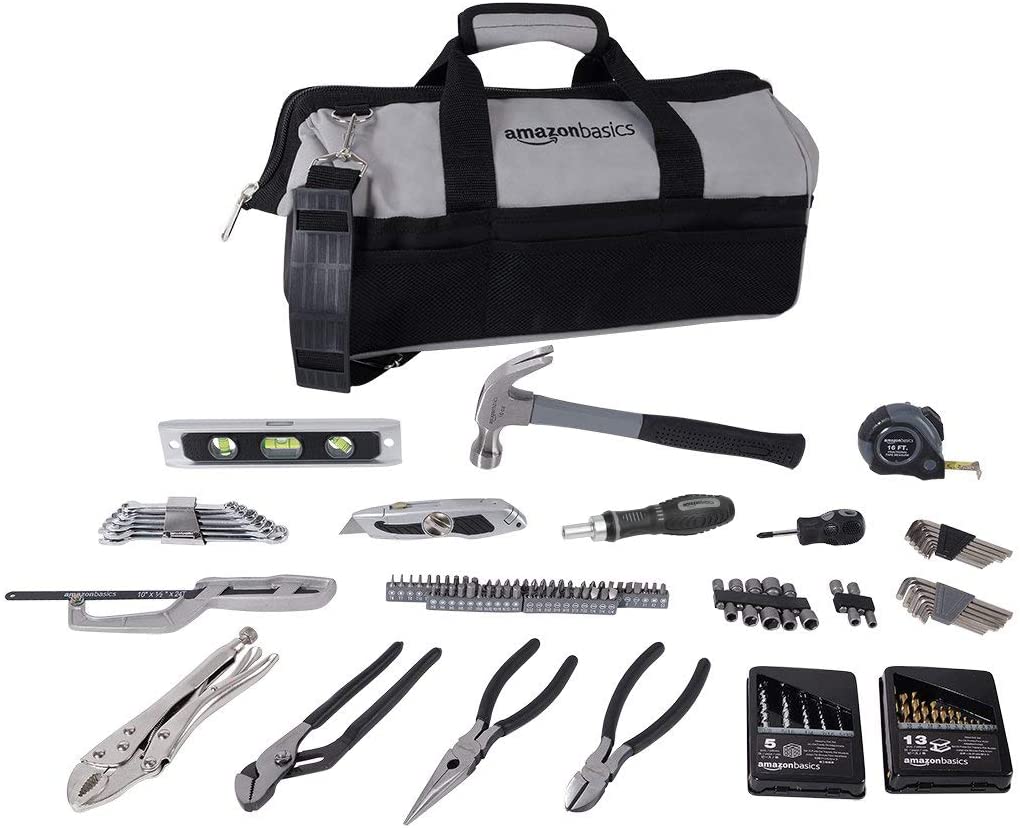 Because the AmazonBasics 115 Piece Home Repair Tool Kit Set is made by Amazon, it is a bit more affordable than other kits on the market. It includes 115 tools, which is about average, and contains essential items such as a hammer, wrench, pliers, and various screwdrivers. All the tools are made out of durable and corrosion-resistant steel. The handles are made to be soft and comfortable, so you won't tire as quickly while using the tools. A nylon bag is included for storage.
This bag isn't as high-quality as some other options. You'll probably end up purchasing a separate tool bag if you purchase this set. The case is just a big bag you can throw all the tools into.
The tools aren't as durable as the competition, but they should hold up to occasional use. There are also a few tools missing we would have liked to see, like an adjustable wrench.
Pros
115 tools included
Ergonomic handles
Cons
Low-quality bag
Doesn't include a few crucial tools
---
8.

CARTMAN CM-TK039-1 Tool Set
The CARTMAN CM-TK039-1 Tool Set puts up a good fight, but ultimately, it's not the best kit. It includes 39 tools, including many that the average homeowner will be reaching for quite often like a hammer and measuring tape. All the tools are heat-treated and chrome-plated, which makes them more durable. The case is molded and has a spot for each tool so that you can stay organized.
However, this set is missing a few vital components. It does not come with a Phillips head screwdriver bit, which is essential for common repairs. The bit isn't expensive to make, so we don't know why they didn't include it in this toolset. The set comes with both Allen-tipped bits and an Allen wrench set, which was a bit redundant, in our opinion. You don't need both.
Pros
Inexpensive
Quality tools
Cons
No Phillips head screwdriver bits
Tool repeats
Low-quality case
---
9.

Vastar Home Repair Tool Kit
With 102 pieces, this toolset has almost everything you need to do common repairs around your home. It includes standards like a hammer, level, tape measure, and utility knife. The handles are pretty comfortable to hold and ergonomically designed. All the included tools are made with chrome-vanadium steel, which makes them relatively durable.
Most of the tools are of decent quality, but the flashlight and level felt very cheap. They are similar to something you'd find at a discount store. The tools are also a bit small, which may be a problem for some people. Of course, if you're smaller yourself, you may appreciate these tools. Most average-sized people may find them a little bit too dainty, however. They don't feel "full-sized."
Like most toolsets, this one comes with a molded carrying case. The tools don't always snap into the case correctly, which can be a pain. The case also seems to be a bit flimsy. We aren't sure if it would hold up to much wear and tear.
Pros
102 pieces
Ergonomic tools
Cons
Small tools
Tools don't snap into the case
Flashlight and level are not high-quality
---
10.

DOWELL HYT49 Tool Set
Out of all the tool sets we reviewed, we liked the DOWELL HYT49 Tool Set the least. It only comes with 49 pieces, which is fewer than other tool sets. However, the price really doesn't reflect that. While it isn't as expensive as some other kits, we felt that it was a little overpriced for what it included.
The tools are ergonomically designed and made of steel. To prevent corrosion, they are chrome plated, and all the tools can be stored in the molded case. The case is relatively small and easy to transport; we had no complaints there.
With all that said, the low-quality tools are designed for light-duty work. The hammer is not very heavy and may not be practical in most circumstances. While the Dowell set includes a hacksaw, most homeowners are not going to need it. Furthermore, the hacksaw is relatively short, so you're going to wear yourself out using it.
All the sockets are in metric sizes, which makes them less useful for people based in the USA. It does not state this clearly in the product's description, but it is an important feature to note.
Cons
Overprized
Tools for light duty only
Short hacksaw
Sockets are in metric size

Buyer's Guide – Finding the Best Tool Sets for Homeowners
Whether you're a new homeowner or considering gifting a tool kit to someone else, there are a few factors you should keep in mind while shopping. Toolsets vary a lot in terms of price and quality. You can find great brands that will probably last you for years while others may only last a few uses.
In this section, we'll discuss all the need-to-know factors and features of toolsets.
Number of Tools
The number of tools a set comes with is one of the essential factors to consider. Some people only need a few tools for simple repairs, while those who plan on DIYing probably need a bit more. Usually, more tools are better. However, there is an added cost when it comes to more tools, so you'll have to strike a balance.
Furthermore, you should look at what exactly counts as a tool. Some toolsets will state that they include many tools, but half of those are different bits you'll probably never need. If a set states that it comes with 100 tools, but 50 of those are drill bits (and some of those are doubles), you aren't really getting 100 tools.
Type of Tools
Toolsets can include just about anything. Most include standard tools like hammers and measuring tape. However, there are a few tools that we consider essential that many toolsets don't include, like an adjustable wrench. You use adjustable wrenches for all sorts of tasks. If your toolset doesn't come with one, you'll likely have to purchase one separately. That's just how important they are for some repair jobs.
At the same time, some kits include tools you'll probably never use, like a hacksaw. Hacksaws are not used for many common home repairs. Furthermore, most hacksaws included are not very high-quality, so you'll likely need to purchase a better one anyway.
Just because a toolset calls itself a "complete" toolset doesn't mean it is. You should pay close attention to the tools included in the set to ensure it has everything you need to get most repairs done.
Tool Quality
Because you aren't buying tools individually, companies sometimes skimp on the quality of tools in their tool sets. That isn't universally true, and some manufacturers include excellent tools in their toolsets. However, it isn't uncommon to buy a tool set only to discover that the tools aren't full-sized or made out of less-than-stellar materials.
You should investigate the quality of the tools before purchasing any tool set. Don't assume they're like the company's other tools. Many manufacturers make special tools just for their tool sets. The cost can sometimes be a good indicator of quality. If a set has several tools but is extremely cheap, it probably isn't very high-quality. Again, this isn't necessarily always true, but it can be a pretty accurate indicator.
Cost
Toolsets vary widely in cost. Some cost as little as $20, while others cost hundreds. We included sets with various price points in our review section, so you should be able to choose the best set for your situation.
In general, the cost is going to be directly tied to the number of tools included. Because of this, you may not want to purchase the biggest set you can find. Often, more massive sets have several items you might not need, especially if you already have a somewhat equipped workshop. Some companies will purposefully pad their tool sets with inexpensive tools you probably don't need (like a flashlight or gloves), so they can price them higher.
We recommend thinking about which tools you need and then finding a set that includes those tools.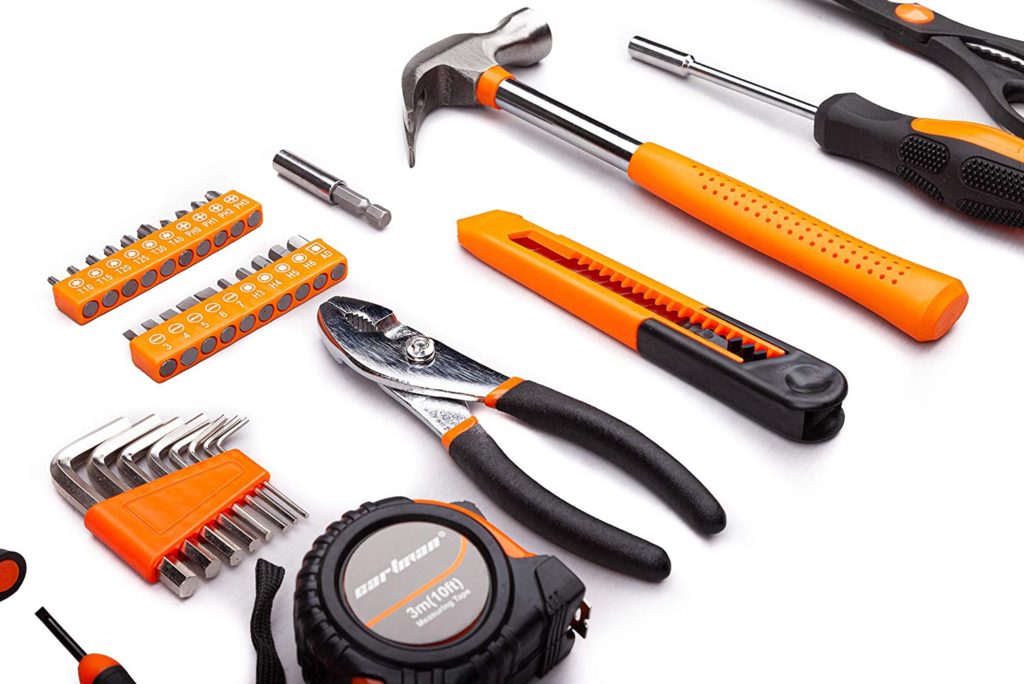 Carrying Case
Almost every tool set comes with a storage case. There are so many tools that a storage case is necessary to keep them all in order. Every tool set we included in our review section comes with a storage container.
Rigid Containers
We prefer molded rigid storage containers. Typically, these have spots for each tool to snap in so that they stay organized. You will never need all your tools out at once. Being able to quickly open up the tool case and grab what you need can save you a lot of time and headaches.
Bag-style Containers
On the other hand, bag-style tool containers are standard. While these aren't necessarily bad, we don't like them as much as the hard cases. Bags are harder to keep organized. You have to throw all your tools into them and dig around until you find what you need. There isn't a specific place for each tool, and you'll spend a few more minutes finding what you need.
Quality of Containers
The quality of the case also matters. Some molded cases don't keep all the tools in one place. Some items may fall out every time you open them up, which can get frustrating quickly. Others may break and crack after only moderate use. Some don't stay closed very well and can spring open during transport. In other words, there are several things that can go wrong with a carrying case. Make sure the toolset you purchase comes with a good one or plan on buying a different one.
You may also be interested in:

FAQs
Below, we'll answer some of the most commonly asked questions about toolsets. This section includes miscellaneous information that may be important for specific situations.
What Brands Make Tool Sets?
Practically all of them. If there is a brand of tools you like, they probably make a toolset. However, keep in mind that the tools in the toolset might not be the same tools the company sells individually. Many companies make their tools for tool sets, and they're usually of lower quality than their typical tools.
What Types of Tools Do Tool Sets Include?
Toolsets usually include a variety of hand tools, though some come with an electrical tool or two as well. Most kits include fundamental tools, like a hammer or measuring tape. However, the other tools included vary a lot from set to set. We recommend carefully reviewing what a set includes before purchasing it.

Conclusion
While there are many toolsets on the market, we liked the WORKPRO W009037A Home Repair Hand Tool Kit the best. It is specifically designed for homeowners who want to perform DIY repairs on their homes. Also, the WORKPRO includes a massive number of tools without being expensive, which is precisely why we included it as our top pick. It has high-quality tools, and the carrying case is durable.
If you need fewer tools, the Apollo Tools DT9706 General Repair Hand Tool Set is another reliable option. It comes with 39 tools and has a low price tag to match. It's the right choice for anyone who needs a small starting set or for those who are trying to save some money. It doesn't necessarily come with everything you might ever need, but it comes with quite a few of the most essential tools.
Hopefully, this article provided you with everything you need to know about toolsets. The variety of toolsets we reviewed should help you choose the best option for you.
---
Featured Image Credit: Pixabay