How Much Does Artificial Grass Cost In 2023? Factors, Labor & Savings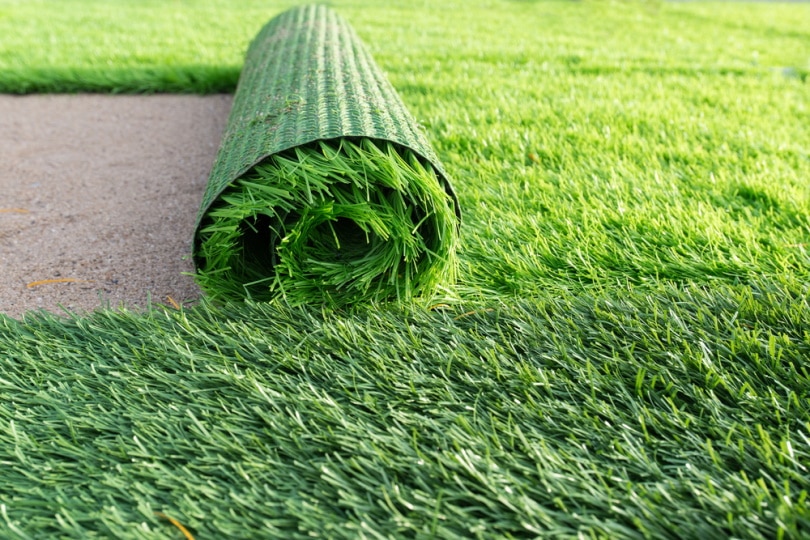 If you're considering installing artificial grass in your yard or any space in your home, it is crucial to know how much it will cost.
Artificial grass is an excellent alternative for those who have allergies or problems with their feet. It is also a staple in most gardens today. It offers many benefits for people that may not have the time to do regular grass maintenance. You can expect to pay between $1.90-$5.83 per square foot.
So, do you want to replace your natural grass with an artificial one? If so, let's take the time in this post to look at artificial grass costs.
Click to Skip Ahead:

The Importance of Artificial Grass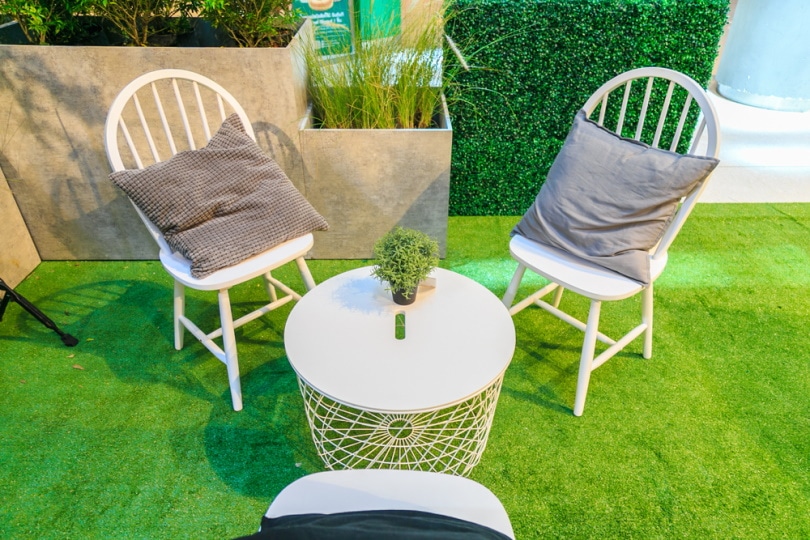 Artificial grass might sound like an odd addition to your garden. But it can help you in more ways than you think. Here are several benefits of installing it.
Benefits
It conserves water: You can install artificial grass almost anywhere. But it's popular in arid and drought-prone areas. It needs no watering, and this saves a tremendous amount of water.
It's durable: Artificial grass is tough enough to withstand heavy use from children and pets. You don't have to worry about it getting damaged or looking worn out. It's ideal for all kinds of outdoor areas such as gardens and playgrounds.
It's non-allergenic: If you suffer from allergies, you'll be pleased to learn that artificial grass is non-allergenic. It's a safe and practical choice for those who struggle with allergies to pollen and other natural lawn allergens.
Needs little maintenance: Artificial grass needs little or no maintenance. Real grass lawns can take hours of hard work to keep in good condition. You don't need to worry about mowing your lawn or trimming edges if you have artificial grass. It saves you time and money. Also, it means your lawn will always look neat without any effort from you.
There are no harmful chemical residues: There are no harmful chemical residues left behind when artificial grass is installed on a surface covered by natural turf. It means there will be less pollution in the air.
What is the Average Cost of Artificial Grass?
The cost of synthetic grass depends on several factors. We'll discuss that later in the article.
Usually, artificial grass ranges between $5.50 and $18.75 per square foot. It has an average cost of $12.33 per square foot. That's the total cost of the material plus professional labor. For a typical 500-square-foot yard, that works out to a total cost of $3,104 to $7,245.

Artificial Grass Types Cost Breakdown
1.

Polypropylene
Polypropylene is less durable than nylon. It's crucial to consider this material for low-traffic areas such as a front lawn or spots where children may play.
An average polypropylene grass cost is about $1.90 to $6.75 per square foot when installed by a professional. The cost is lower when the material is purchased and the homeowner installs it.
---
2.

Polyethylene
Polyethylene artificial grass is a popular choice for homeowners. It's the least expensive option as it costs $2.55 to $3.85 for every square foot. You can use it for landscaping around residential homes. But it's not an excellent option for commercial applications.
Polyethylene is more durable than nylon. So, you don't have to replace it often.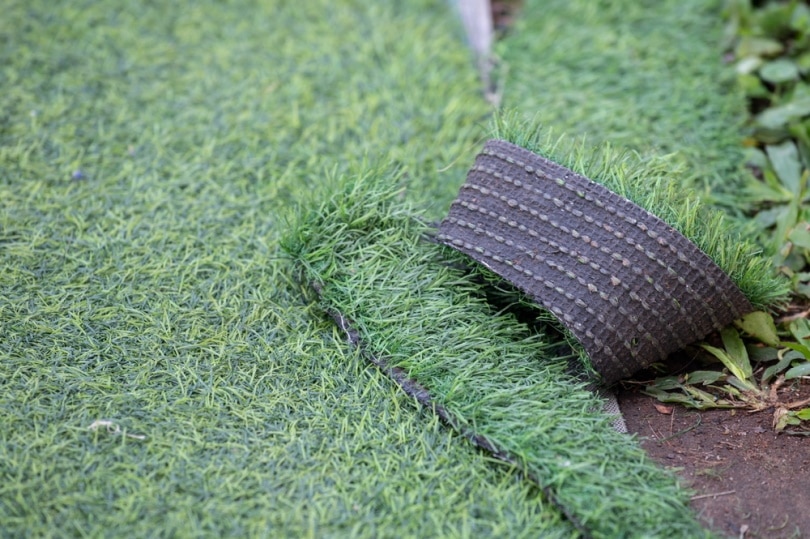 ---
3.

Nylon
Nylon is the highest quality artificial grass on the market. It is soft on bare feet. Also, it's hard-wearing and has a natural appearance. Nylon artificial grass is more expensive than polyethylene. But, if you can afford it, it's well worth the investment. The cost of nylon artificial grass ranges from $5.05 to $5.83.

Here's a summarized table on the cost of artificial grass by type.
| | |
| --- | --- |
| Artificial Grass Material | Average Cost (Per Square Foot) |
| Polypropylene | $1.90–$6.75 |
| Polyethylene | $2.55–$3.85 |
| Nylon | $5.05–$5.83 |
Extra Costs to Expect-Labor
The average cost of installing artificial grass ranges from $3.13 to $5.06 per square foot for labor. Labor costs can vary depending on the work done and where you live. Usually, contractors in high-cost areas charge more than those in low-cost areas.
Also, labor costs vary depending on whether you're hiring a licensed or unlicensed contractor. Licensing requirements vary by state.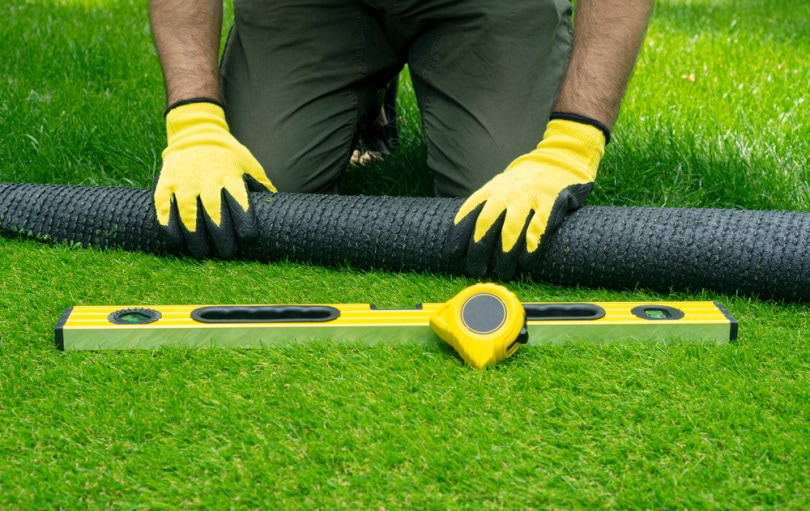 Factors Affecting the Cost of Artificial Grass
Installing artificial grass may seem like a simple procedure. But there are many factors affecting the cost of synthetic grass including:
Density and Type of the Fiber Used for the Artificial Grass
The artificial grass market is flooded with many types of grasses. Each has different features and functionalities. You can buy carpet-like grass or ruffled-up grass.
Also, you can buy a grass that is as soft as cotton or one that has rubber-like consistency. The added features determine the price of these types of artificial grasses.
The Size of Your Lawn
The size of your lawn is another crucial factor that determines the cost of artificial grass. The larger your garden, the more material you'll need to cover it, hence, the higher the cost will be.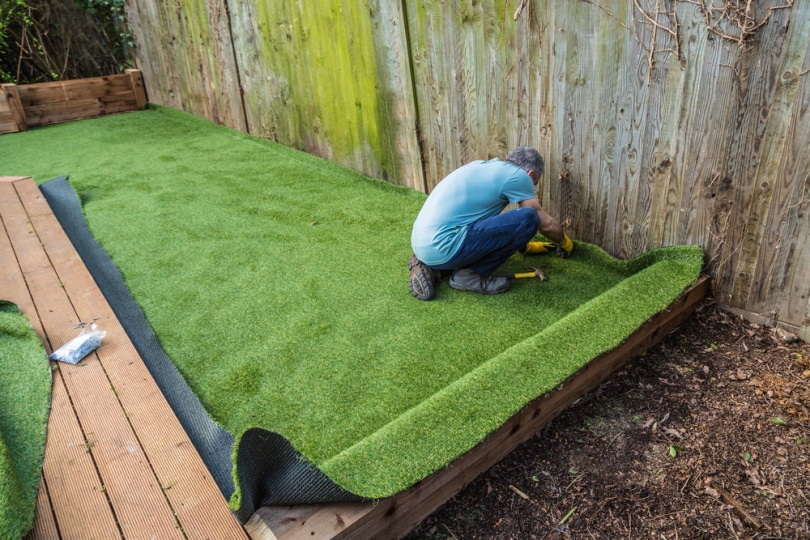 Pile Height
The pile height is the length of the individual blades of artificial grass. The longer the pile height, the more natural your lawn will look. But the longer you go with pile height, the more expensive it will be.
A taller pile height will create a thicker and more luxurious lawn. Pile height varies between 10 millimeters and 40 millimeters. But it can go as high as 80 millimeters.
Purpose of Using the Artificial Grass
Different types of artificial grass are needed for distinct purposes. You can install artificial grass on golf, football, baseball fields, or even home lawns.
Golf fields have a higher price range than home lawns. It's due to the intricacy involved in their design.
Artificial Grass Quality
Like any product, quality matters when buying synthetic grass. Lower quality artificial grass will have fewer fibers per square inch and a shorter life expectancy.
A high-quality artificial grass will have more fibers per square inch. Also, it'll feel soft and have a longer life expectancy but at a higher price tag.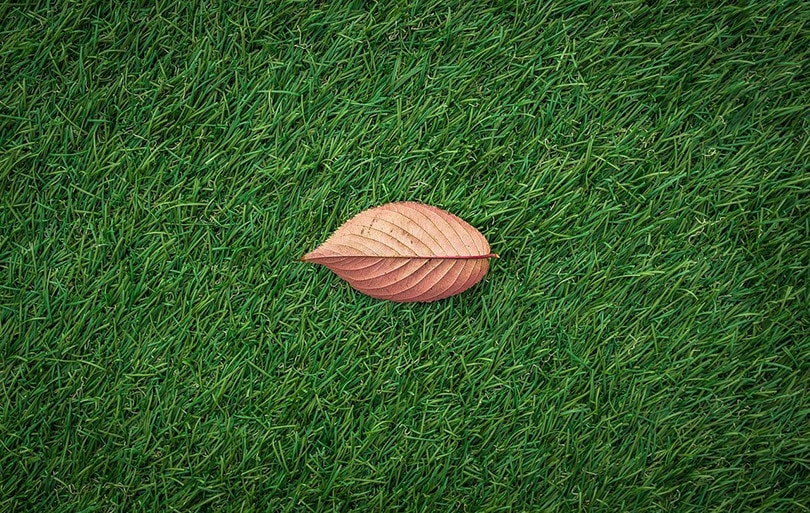 How can you Save Money on Artificial Grass?
DIY
You can save money by laying your artificial turf yourself. There are several ways you can do this. It includes renting the equipment you need from a local hardware store.
Artificial grass is easy to install. You can lay it in any size and shape.
But if you have a large area or the area is complicated, laying the grass yourself can be a challenging task. Also, if you don't have the time or the expertise, hiring a professional is the best option.
Get Samples
It is worth getting samples of different types of artificial grass before deciding where to buy from. It can be challenging to differentiate between products from manufacturers' websites.
But if you request samples, it's much easier to decide which product will be best for your needs and budget.
Offcuts or Roll Ends
If you want a small artificial lawn, you can often pick up roll ends at a bargain price. Offcuts and roll ends are pieces of artificial grass that have been left over after manufacturing or installation.
Usually, these pieces are sold at discounted prices. They are ideal for small areas such as patios or dog runs.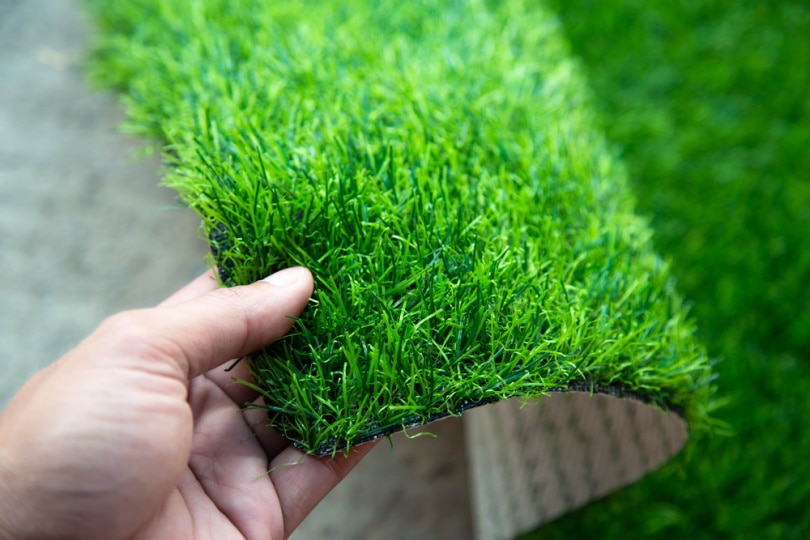 How Do You Take Care of Your Artificial Grass to Last Longer?
Artificial grass is not a cheap investment. So, it's understandable that the question on your lips is how to keep them looking good for longer.
Also, having bought your artificial grass, you might be wondering whether you can do anything at home to keep them looking like new. Well, there are several approaches, and here they are.
Get Rid of Leaves and Debris Often
Leaves and other debris can build up in your grass over time. It'll make it look less green and healthy. It's true if you have trees nearby that are dropping leaves or pine needles in the fall.
Make sure you remove leaves and debris once a week to prevent this. Use a leaf blower or a rake.
Brush your Artificial Grass
It's crucial to keep your synthetic lawn clean and free from debris that can cause the grass to look tired and scruffy. Regular brushing of your lawn will also keep it looking healthy. It will redistribute any fibers that have become bent out of place.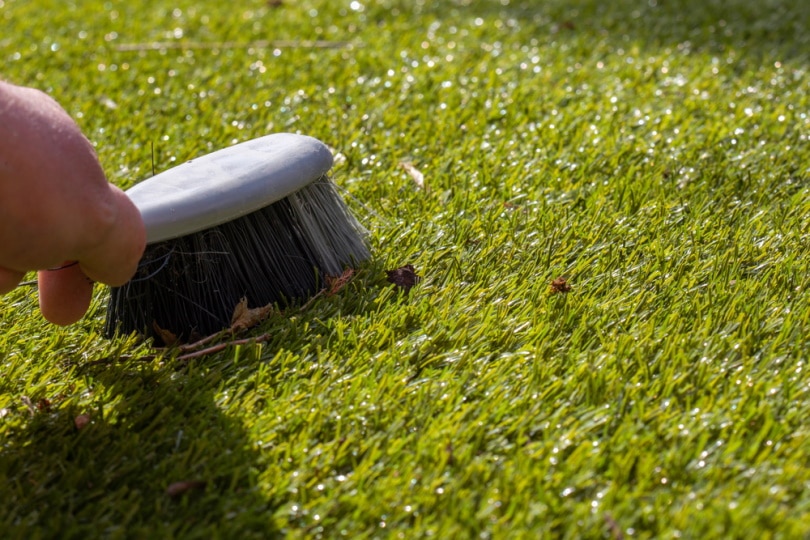 Remove Pet Waste
If you have pets, they'll be using your artificial grass like a natural lawn. Clean the pet waste as soon as possible.
This way, bacteria won't form on the lawn. Use a pet deodorizer to remove any smells. Then, use a hose to rinse off the area.
Apply Weed Killer
Weeds present in the base materials can also grow in artificial grass. You can get rid of them using a weed killer from time to time. It will keep your lawn looking neat and prevent weeds from spreading on your turf's surface.
Disadvantages of Artificial Grass
Artificial grass has its disadvantages. Before you decide whether to buy, consider the following shortcomings.
Disadvantages
High Cost of Installation: The cost of installing artificial grass is high. This cost is a big barrier for most people. You have to be sure that this is what you want to do before you go ahead with it. The cost depends on the type of grass you choose to install. It's not a one-time investment. You have to maintain it with regular cleaning and infill replacement.
Odor Buildup: Over time, dog urine and feces can build up on the artificial grass surface. It causes an unpleasant smell. As a pet owner, you may choose to install the grass system with antimicrobial properties to prevent odor buildup.
Surface Heat: Artificial grass is not a natural surface. It's made of plastic, rubber, and synthetic materials. It means that on hot summer days or during the heat of the day, the surface temperature can be hot and uncomfortable.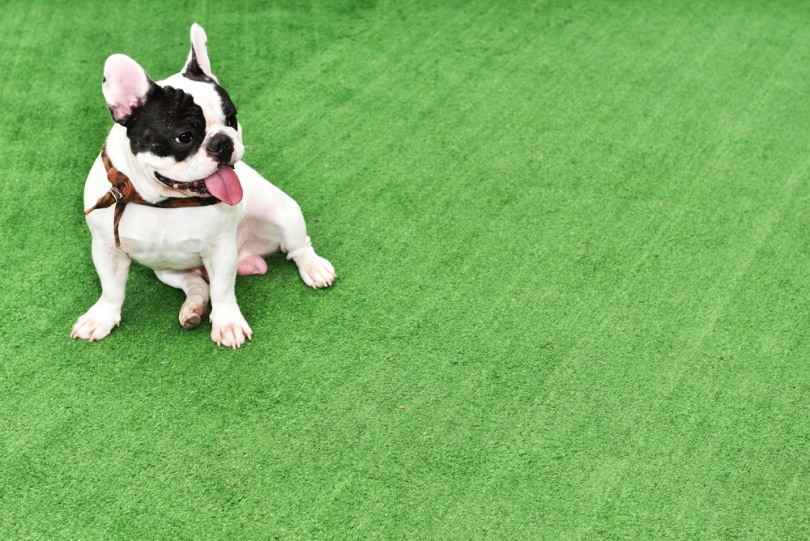 Conclusion
Artificial grass has become a common material in many residential settings. The cost can vary depending on the quality and size of the project. So, take care to shop around and consider all options and aspects of your project upfront. Overlooking crucial factors could result in extra costs and delays down the road.
The benefits of artificial grass far outweigh the costs. In ten years, you can save thousands of dollars and hundreds of hours on lawn maintenance.
---
Featured Image Credit: red mango, Shutterstock