10 DIY Ceiling Paint Color Trends That You Can Try Today (With Pictures)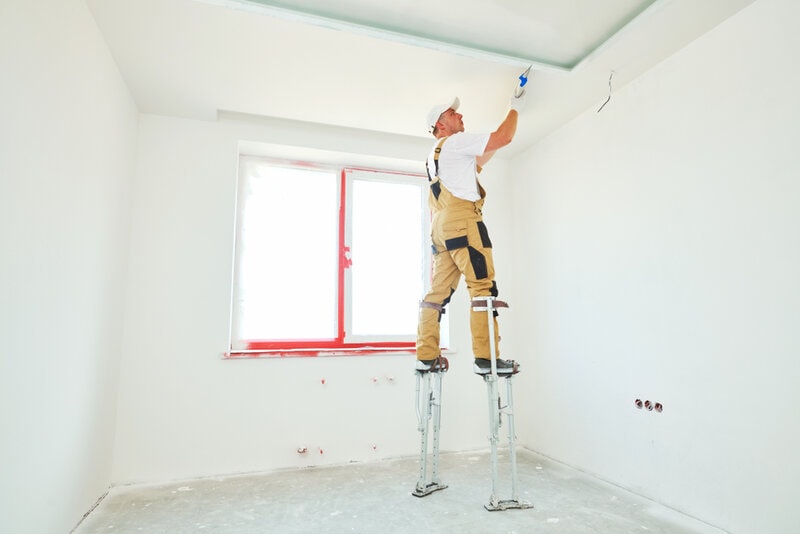 Are you looking for the perfect color to paint your ceiling? Or do you want to know what ceiling paint color is trending? If yes, you've come to the right place!
Ceiling paint color trends may vary depending on the interior design style. The key to picking the right one for your house is to make sure it matches the interior.
So, what ceiling paint color should you use for your next painting project? The answer depends on the style of your room, the number of coats you want to apply, and what ceiling paint trends are popular.
You can even ask an interior designer if you aren't sure which colors will work best. But, if you're short on time, here's a guide. It covers some of the most popular ceiling paint color trends. Keep reading to learn more!
The 10 DIY Ceiling Paint Color Trends
1.

  Onyx by Benjamin Moore
Characteristics
Best for: Rooms with many windows
Undertones: None
Onyx is a beautiful ceiling color that will look great in any room. This saturated black is an excellent way to make your rooms come alive. It's an intense, luxurious color that can bring an elegant feel to a dining room. Also, it can create an intimate atmosphere in your bedroom.
Try using it with other deep shades for more drama. You can also keep it simple with crisp white and bright accents.
It's not flashy, but it's also not boring. Also, it's neither too light nor too dark. It's a bit like a royal purple. It's the perfect choice for any home, especially when you want to create a more sophisticated room with a touch of luxury. The hue works well in modern and traditional interiors.
You should have no problem finding shades of onyx, from deep reds to soft pinks to grayish blues, that'll please your eye.
---
2.

  Chantilly Lace by Benjamin Moore
Characteristics
Best for: Rooms with low light
Undertones: Little
Chantilly Lace by Benjamin Moore is a go-to white for many contractors and interior designers. It's a pure white with little to no undertones. So, it works well in any room, especially if you want an airy feeling.
Chantilly Lace is crisp and clean, like a fresh coating of snow on the roof. It will brighten any space and make it feel spacious. The lighter neutral tone will also reflect natural light into your room.
The subtle hint of yellow will add warmth to any cool-toned decor. It makes this a versatile choice for any room.
It's a great choice if you have high ceilings and white walls. It's an off-white that leans towards gray, so it'll still look crisp and clean but not as stark as pure white.
---
3.

High Reflective White by Sherwin Williams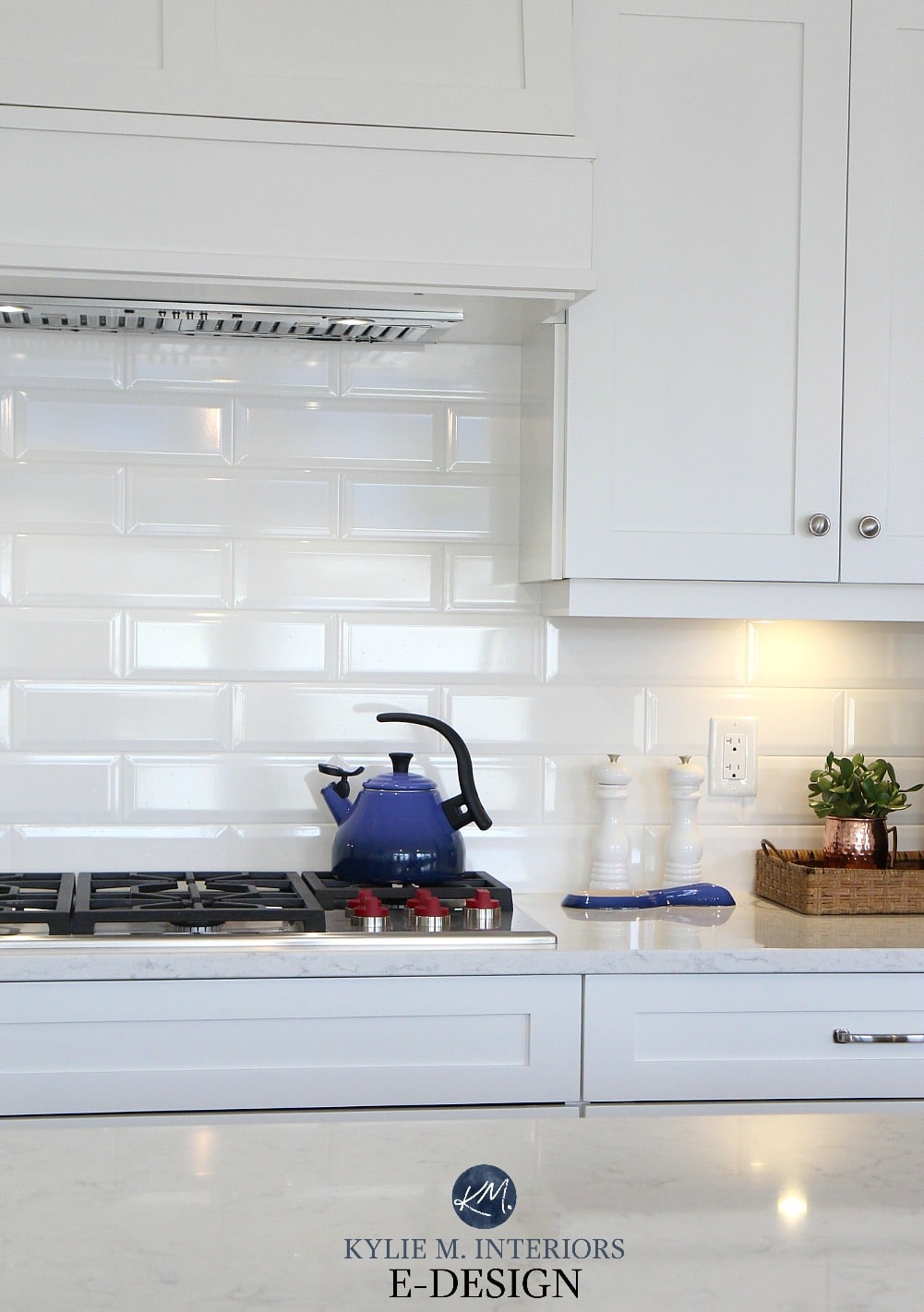 Characteristics
Best for: Rooms with little natural lighting
Undertones: None
If you're looking for a paint color that's neutral, versatile, and easy to work with, you can't go wrong with High Reflective White. The color is timeless and can work in any space.
You can count on this neutral shade to make your space look bigger, brighter, and cleaner. It is an excellent choice for a ceiling because it directs the attention in the room toward your wall colors and decor.
The trend for white ceilings is in full force and shows no sign of slowing down. White or off-white colors reflect light. It makes the room feel clean, airy, and fresh.
Pairing a white ceiling with white walls makes a room feel open and spacious. It also brings out all colors in the room. It's a great idea if you want to get creative with pops of color in your space.
You can think outside the box by painting your ceiling a slightly darker shade than your walls. Then, you can use your walls as accent walls!
---
4.

Finnie Gray by Benjamin Moore
Characteristics
Best for: Rooms in the basement and kitchens
Undertones: Gray undertone
Benjamin Moore's Finnie Gray is a soft, smoky gray that can add depth and beauty to any room. It's neutral and exists as a complement to your current decor. Also, it's unique and can stand out as an intriguing centerpiece for your design.
This gray shade is perfect if you want to add the right amount of contrast in any space. It pairs well with bold and bright colors. The gray adds a touch of sophistication. It looks great when paired with white trim and darker furniture. It almost looks like it has an iridescent quality that makes it eye-catching.
Benjamin Moore's Finnie Gray is a favorite to many people. It works well with almost any color scheme. It also has an underlying gray tone that brings out the warmth of wood tones.
---
5.

Pure White by Sherwin Williams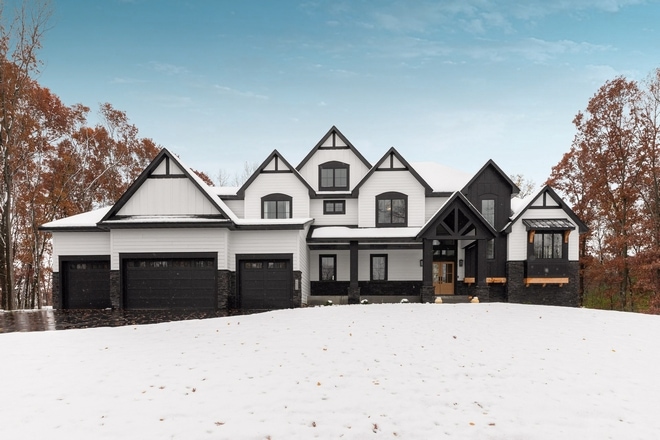 Characteristics
Best for: Smaller rooms with no natural lighting (bathrooms and laundry rooms)
Undertones: Gray undertones
It's fun to experiment with color, but sometimes there's nothing better than a clean, fresh white color. The same is true for ceiling paint color trends. If you want to brighten your space, choose Sherwin Williams Pure White.
It's a warm white that will make the perfect backdrop for your wall colors. Also, if you want to give your home a modern, light, and airy feel without remodeling, painting your ceiling white is one of the best ways to achieve that look.
White ceilings have been around for a long time, but there's a shift in that trend. While people still want a white ceiling, they are moving toward using pure whites instead of off-whites.
These pure whites bring out the luster of the paint job. They offer an increased sense of brightness to a room.
---
6.

Studio Green by Farrow and Ball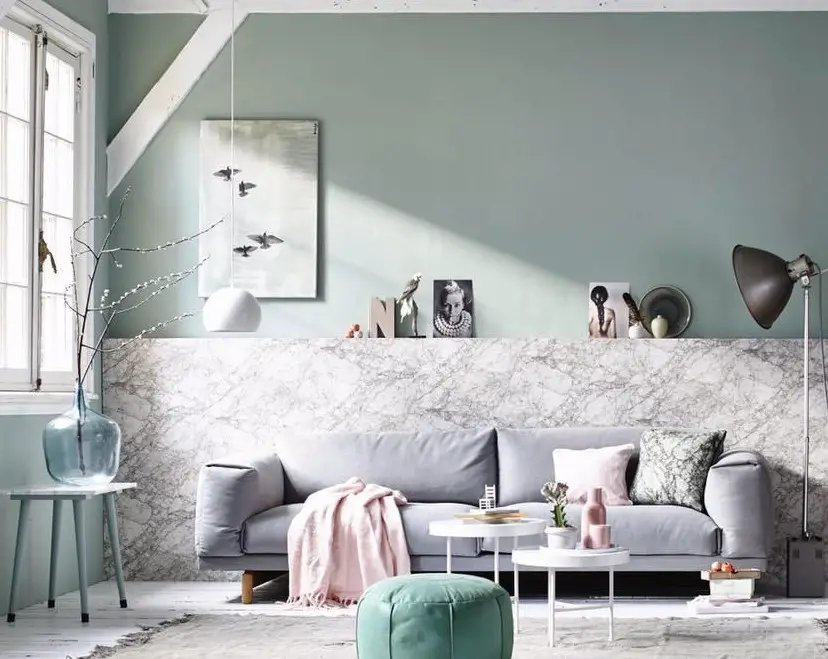 Characteristics
Best for: Any room in your house
Undertones: Green undertones
For a bolder statement, try painting your ceiling in this deep shade of olive green. This saturated color will create an elegant formal look for dining rooms or living rooms with high ceilings.
It's paired with an equally rich shade on the walls. The overall effect is dark and cozy, like an old library or study. In rooms with low ceilings, this shade can be oppressive.
This rich green is a popular choice if you want a space that feels like a retreat from the outside world. It has a forest-like vibe that brings you back to nature. The shade has become increasingly popular with ceilings. It's bold and modern but still subtle without overpowering other elements in the room.
The color gives a room a fresh, rejuvenating effect. It can also be used on beams, moldings, or architectural features.
---
7.

Backwoods by Benjamin Moore Characteristics
Best for: Living rooms
Undertones: Warm undertones
Backwoods ceiling paint looks great even in rooms where the walls don't have colors. It makes the ceiling more interesting, especially if you want your ceilings to match your woodwork.
This color adds a hint of earthiness to any room. It works well with a wide range of wall colors, from neutrals like cream to sand and deep jewel tones.
Benjamin Moore's Backwoods is soft and slightly bluish-gray. It looks gray mixed with a lot of blue. It's versatile and fun!
---
8.

White Dove by Benjamin Moore
Characteristics
Best for: Bedroom
Undertones: Yellow and warm undertones
If you are looking for a neutral paint color for your ceiling, White Dove by Benjamin Moore is an excellent choice. It's soft white with yellow undertones, not too cold or too warm.
It's also one of Benjamin Moore's most popular paint colors. You can find it in many homes. It's an ideal choice if you want a crisp white on your ceilings. It is a must-have for those who prefer a clean, vibrant look. It's a soft white with a warm undertone that won't make your room feel like an icebox.
It's more sophisticated than regular old white. It is easy to coordinate with other colors in the room without feeling overwhelming.
---
9.

Pale Smoke by Benjamin Moore
Characteristics
Best for: Bathroom or bedroom
Undertones: Cool undertones
As the popularity of dark walls increases, many people opt to paint their ceilings with lighter shades than their walls. Instead of a stark white ceiling that creates too much contrast, try a similar shade of the wall color for a softer, more unified look.
A pale smoke is a beautiful alternative to white. It's subtle and soft, yet it still lends some depth to the room.
This color is an excellent choice when you want to provide a subtle backdrop for other colors. It creates a soothing, cozy effect. Also, it can work in any room of the house.
The color is pale blue, soft, and airy while still having enough contrast to add color to your space. It is excellent when paired with a stark white trim.
The best part about Pale Smoke is that it's versatile. You can use it in living rooms, bathrooms, or bedrooms. Imagine how cozy this would feel when combined with rich furnishings like dark leather armchairs!
---
10.

  Cloud White by Benjamin Moore
Characteristics
Best for: A north-facing room
Undertones: Soft, yellow undertones
You may have heard of Benjamin Moore's Cloud White. It's a warm white paint color that looks great on walls, cabinets, and trims! But did you know that you can also use it on the ceiling?
Cloud White color looks beautiful on a ceiling because it reflects light. It makes the room feel bigger and brighter. It also creates a contrast between the walls and ceiling.
This color is perfect for those who want a bright and airy space without sacrificing warmth or comfort. Also, if you want your room to appear larger, this is one of the best ways!
This color trend is not only used as an accent color anymore. Many people are using it in their primary living space too! If you're looking for something that will last through many seasons without fading, this is what you need.

Factors to Consider When Choosing a Ceiling Paint Color
When selecting a ceiling paint color, there are several things you have to consider. You need to get the tone and style of your home just right.
Decide if you want light, white ceiling paint colors or dark ones. Both styles match any decor.
You need to decide on the color first because it'll dictate what mood you create in the room.
Here's what to consider:
Wall Colors: Ceiling paint colors should contrast with wall paint colors. If you have dark walls, choose light-colored ceiling paint. If your walls are light-colored, choose dark-colored ceiling paint.
The Size of Your Room: Warm colors, such as yellow and orange, reflect light. They give the appearance of being closer than they are. It makes them ideal for small rooms or those that have low ceilings. Cool colors, such as green, blue, and purple, absorb light and give the appearance of being further away than they are. It makes them ideal for large rooms or those with high ceilings.
Existing Décor: When selecting ceiling paint, it's crucial to consider the existing décor in your room. For example, if your walls are adorned with a bright shade of yellow, painting your ceiling a similar color could make your room feel smaller. Instead, choose a white or off-white shade of paint. It'll allow your walls to shine while still giving your space an open feeling.
The Room's Lighting: If there's plenty of natural light coming into the room, it can handle a much darker color than one that relies on artificial light sources. Darker shades absorb more light. So, they're used in rooms with plenty of windows or fixtures that provide direct illumination. A north-facing bedroom with no windows cannot handle a dark shade on the walls or ceiling.
Your Furniture: Your ceiling paint color should enhance the look of your furniture without competing for attention. A light shade will help keep an already bright room from feeling overwhelming. Darker colors can help create cozier spaces.
Conclusion
Do you want to try some new ceiling paint colors this year but want some inspiration or guidance on what to choose? If yes, consider starting with one of the color trends above. It can be challenging to decide with all the color trends.
As seen above, there are many color trends when it comes to ceiling paint. Some colors will last a little longer than others. Any color can be popular, depending on your geographic location.
There's no telling how long these trends will exist or how far they'll stretch. But they can still be an excellent source of inspiration when selecting a paint color for your ceiling.
---
Featured Image Credit: Dmitry Kalinovsky, Shutterstock