14 Outdoor Woodworking Project Ideas (with Pictures)
Woodworking can be a stress-reliever for many – whether they're professionals or hobbyists. However, it is easy to run out of project ideas. If you're looking to spruce up the outside of your home and get your hands dirty with some woodworking, then this list should give you plenty of ideas.
We've furnished this list with small projects and massive projects. You'll find everything from birdhouses to benches to planters.

The 14 DIY Outdoor Woodworking Project Ideas
1.

Planters
Planters are an easy and quick woodworking project. However, they can spruce up your garden substantially. You can make planters as complicated or simple as you want to. They're a box without a top. While making the beds can be very easy, installing them may take a bit more time. If you're on uneven ground, you'll need to level it out before putting the beds in. Otherwise, the dirt and water could all flow to one side, which wouldn't be very good for the wood or the plants.
You'll likely spend just as much time getting the planter in the proper place as you will making it. Be sure you have the extra time before you begin.
---
2.

Sectional
Sectionals may seem a bit overwhelming, but it isn't that hard to make one. All you need to do is make the base out of wood and then put some cushion on top. If you put it up against a wall with some pillows, you don't even need to worry about creating a backing. Learn how to build an outdoor sectional with this idea!
Generally, you can also add in storage underneath a sectional, especially if you're making the whole thing out of wood. There are plans out there for sectionals that are made out of many different drawers. If you need storage, this is a reliable option.
---
3.

Carport
If you're up for a massive project, a carport is an easy way to spruce up the outside of your home. This will take multiple people to put up, as you'll probably be using larger pieces of wood. Furthermore, you should plan on spending a bit of money on this project, as you'll need quite a bit of wood.
This is a substantially more extensive project than other options. However, if you don't have a garage, it is one of the most useful options.
---
4.

Planter Stand
Even if you don't have a full-fledged garden, you can keep a few plants with a simple planter stand. These keep the plants off the ground, which prevents pests from finding them. It also helps with drainage since the pots won't be directly on the ground.
This is a shorter and simple project, as well. One person can quickly finish it in only a few days. But it can bring like to an outdoor seating area that may seem a bit bland. You can make planter stands as intricate or as simple as you'd like.
---
5.

A Shed
Once again, this is a larger project. However, the sheds you make are much cheaper than those available for purchase – and they often look superior. Some skill is required to make a full-functioning shed, so this probably shouldn't be your first project. However, we expect that you'll find this project much easier than you originally anticipated.
Plus, you can customize any shed you build to match your specific needs. Plans are available, but you may want to use them as a guideline. Add shelves or remove them as you need to.
---
6.

Deck Flooring
Perhaps one of the easiest woodworking projects you can do outside is switching out your deck flooring – or build an entirely new deck. This isn't as difficult as it might sound, but you do need to have some idea of how to make your deck stable enough to hold up whatever you're putting on it. The last thing you want is for someone to fall through it.
The easiest way to do this is to avoid putting your deck very far off the ground. However, building a raised deck is possible with the right knowledge.
---
7.

Windowed Shed
This shed isn't made for storage. Instead, it can be a nice "she shed" or work area if you need lots of light. It is perfect for painters who want a studio out of the house where they can concentrate. The actual plans for this shed are relatively small, but you could easily make them much larger if you needed a bigger space.
Plus, like other sheds, you can personalize it to fit your needs. Need a worktable? Add one to a wall. Need more shelving? Build-in as many shelves as you need. Learning you build a windowed shed is easier than you might think.
---
8.

Fences
You can easily craft a fence to your exact specifications. This is probably one of the easier projects for beginners since fences are pretty straightforward to build. A completely wood fence looks much nicer than chain-link options and can hold back some serious weight.
You should use the proper would and consider painting it, though. Otherwise, your fence may wear down faster than you'd like. Different types of woodwork better for different fences, so be sure to do your research before you get building.
---
9.

Pallet Chairs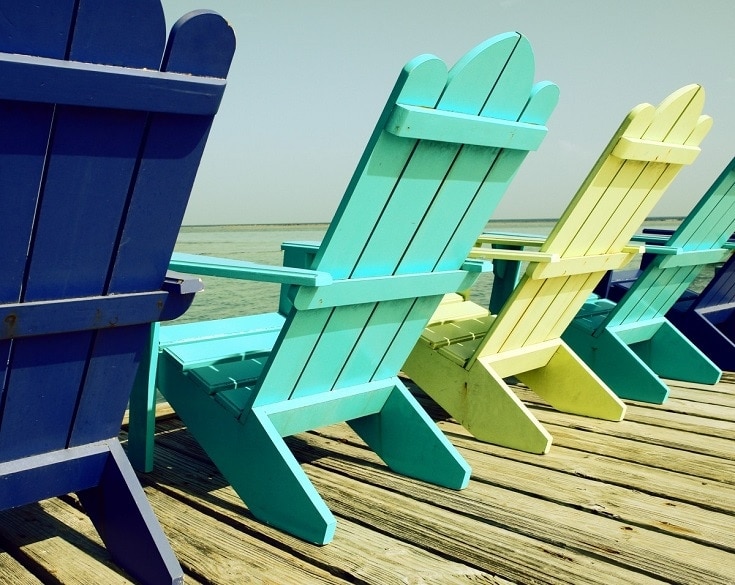 With some proper cushions, you can quickly turn pallets into functional and fast chairs. They can be spruced up to look rather lovely, though they are straightforward to put together. If you're a new woodworker who wants to make something substantial, this is a reliable option we highly recommend.
In some cases, you may even be able to find pallets for free. Just be sure they are in good shape, as you don't want rotten wood to be used as your chair.
---
10.

Side Gate
There are tons of different side gates available. However, those you build by hand often look much nicer than other options. You can add brick borders and pavers for an added benefit. You can make the door precisely the size you need as well, so you don't have to worry about odd angles or lengths.
Doors can be a bit harder to do than other projects, but they are easy to figure out once you know what you're doing. You will need some extra gear, like door hinges and such. However, this cost shouldn't be expensive. A door doesn't require that much wood, after all.
---
11.

Picnic Table
Picnic tables are an easy option. However, you can make them as complicated or simple as you want/ A basic picnic table is straightforward, but others are designed out there. There are some with tabletops that move, which make it a bit easier to sit down.
You can make a picnic table that is a bit bigger than your standard option or smaller for the kids to use. The benches can scoot or be attached to the table. Either way, this is an easy option for most woodworkers and provides you with a practical project to take care of.
---
12.

Work Table
If you garden or anything of that sort, an outdoor working table can be beneficial. These are relatively easy to build, as well. Tables are only made up of a few parts and don't require much skill to put together. You likely won't need any fancy equipment, so this is a suitable option for beginners.
You can add storage to your worktable or make it a simple table. This is an inexpensive project, though you can add to it to make it more expensive.
---
13.

Outdoor Bar
Outdoor bars are trendy. You can build one for pretty easy as well – even one with a built-in fridge. The cheapest way to do this is to use a cooler and build your table around it. You can add a countertop and plenty of storage and shelves.
These are a great option to furnish a deck or outdoor sitting area. You can make the bar as easy or difficult as you'd like. A simple table with some shelves would be a simple option for beginners. Skilled craftsmen can add aesthetic details and extra drawers.
---
14.

Outdoor Cooler
If you don't want to build a whole outdoor bar, try an outdoor cooler instead. This is very similar to the outdoor bar, but it is just the cooler part. If you don't have room for a whole bar, a cooler is a smaller option that performs a similar job. You won't have any counter space, but you will have something to keep your drinks cold.
There are a few design elements you will need for a cooler to function correctly. Consider adding a bottle opener and a small area to place drinks. Storage and shelving can be a bonus as well.
And if you have gone through this list and are still out of ideas, then we recommend checking Pinterest boards for inspiration. Thanks to Lori from the SingleMothers.us website for recommending this tip.
See Also: 
---
Featured image credit: azboomer, Pixabay