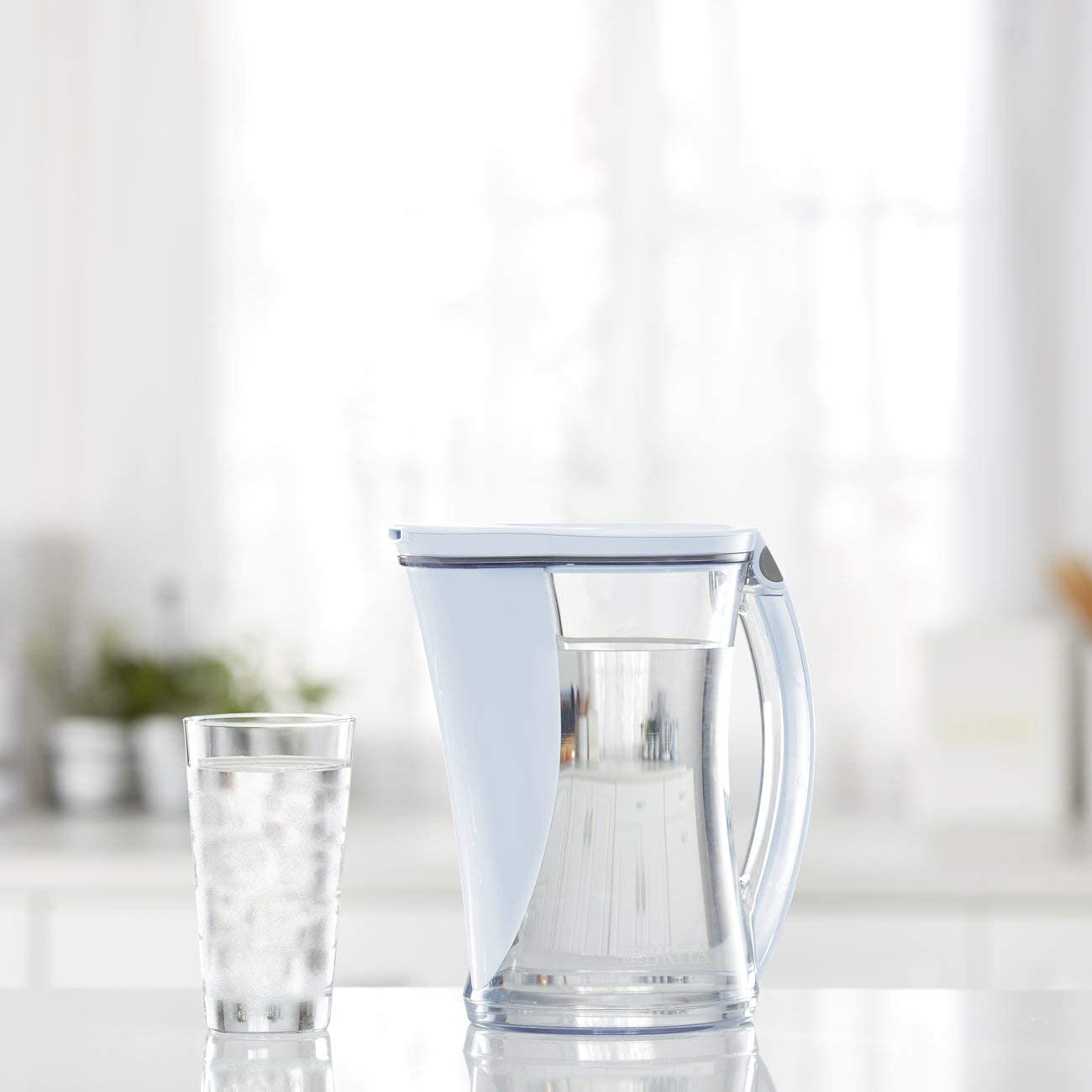 When it comes to in-home water filtration, Brita seems to be the leader. They were one of the originals, and they're still recognized as one of the top water filter manufacturers. But what if there are better options available? We wanted to check out some of the Brita filter alternatives and see how they stack up. We've used Brita filters for a long time, but we wanted to see what else is available, so we put some filters to the test. The following five filters are worthy alternatives to Brita, but can they stand up to the biggest name in water filtration? Let's find out.

1. PUR DS1800Z 18-Cup Dispenser with Basic Filter vs. Brita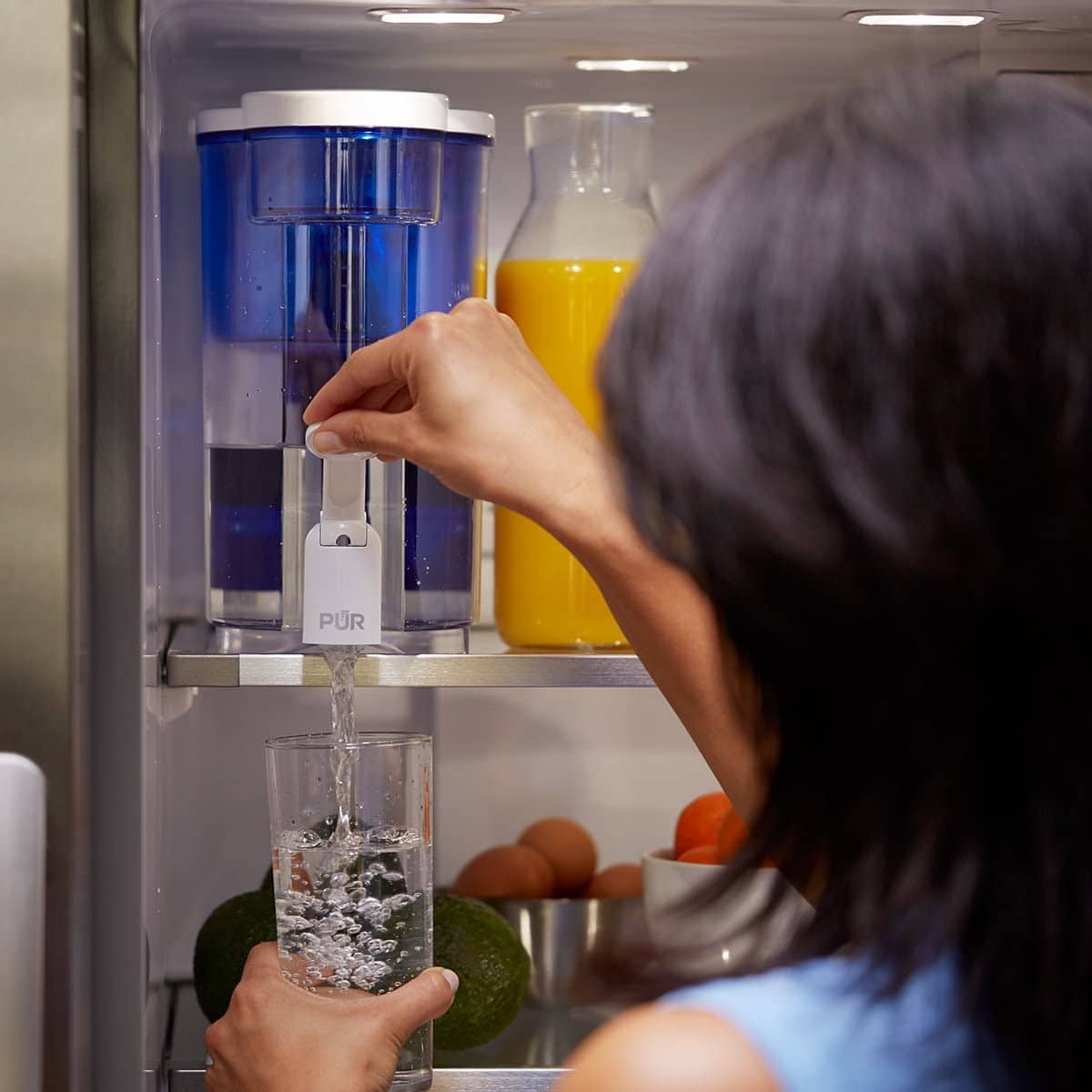 One of the biggest sellers for Brita is their line of water filter pitchers. You can purchase them online or in stores locally, and the replacement filters are just as common. But the PUR DS1800Z 18-cup dispenser with filter wants to take a shot at the title. It's very similar to the Brita Extra-Large 18-Cup Filtered Water Dispenser, so we can fairly compare them.
Lifespan
Edge: None
Both of these filters have cartridges with a 40-gallon lifespan before they need to be replaced, so it's a tie.
Price
Edge: PUR
They're priced very similarly, but the PUR is a little bit smaller of an investment. The replacement cartridges are also just a hair cheaper with PUR, but it's pretty close.
Looks
Edge: Brita
This category is very subjective, but we prefer the simple but elegant looks of the Brita pitcher over the busier appearance of the PUR.
Filtration
Edge: PUR
Both of these filters remove quite a number of different impurities from your water including chlorine, copper, and sediment. But the PUR filter also removes up to 99% of lead. The Brita Longlast filters do as well, but only the standard Brita filter is included with this filter pitcher and it doesn't remove lead.
Ease of Use
Edge: None
Both products work the same. Fill the reservoir, wait until it filters.
Verdict
Edge: PUR
Between the PUR and Brita 18-cup filtered water dispensers, the PUR product offers superior filtration that removes up to 99% of lead at a lower price. The Brita looks better in our opinion, but for price and performance, we'd opt for the PUR.
---
2. Travel Berkey Gravity-Fed Water Filter vs. Brita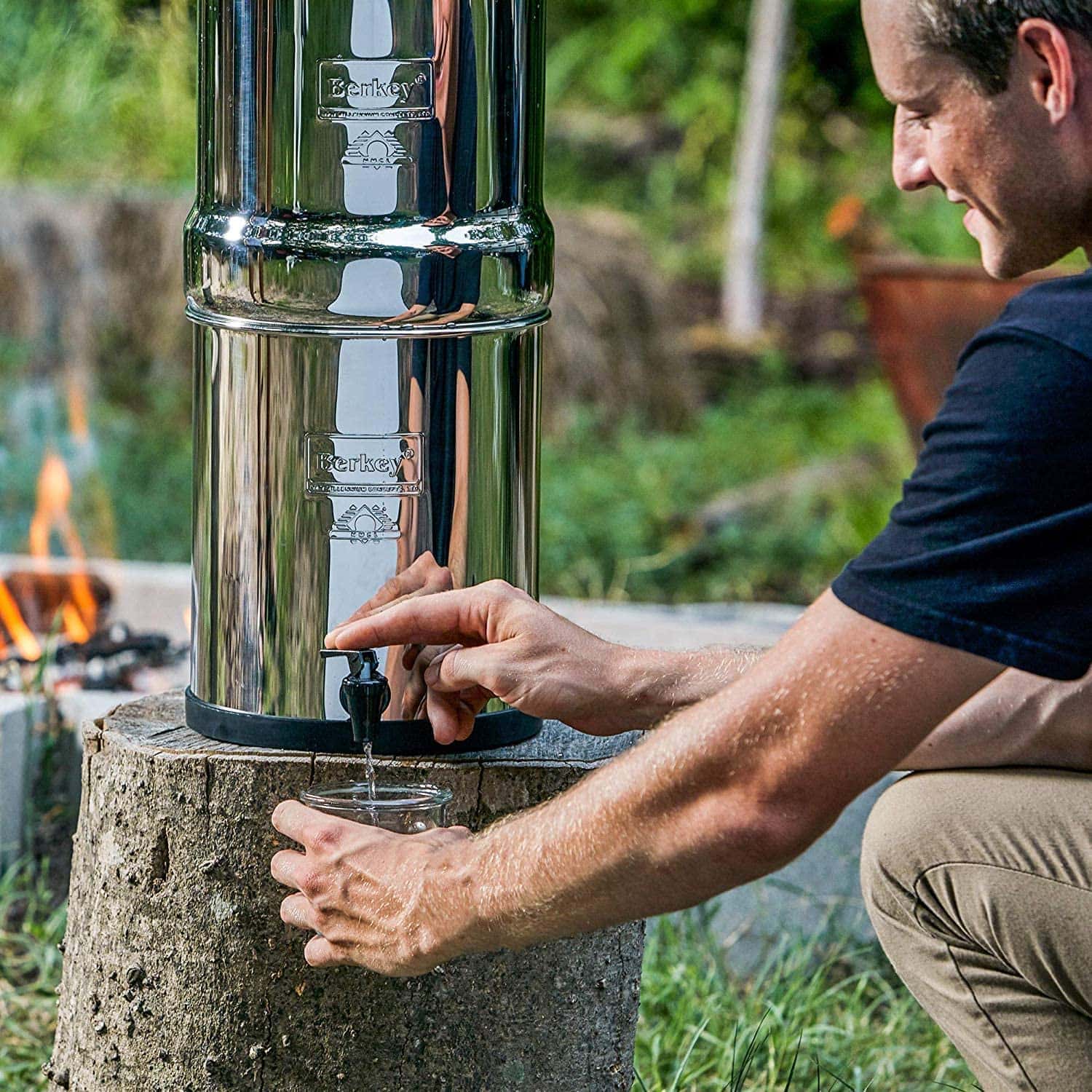 The Travel Berkey is a larger cylinder-style gravity-fed water filter that can sit on a tabletop or countertop. There is no directly comparable Brita filter, but the Brita Extra Large 18-cup Filtered Water Dispenser has a similar capacity so we're going to use it to compare to the Berkey.
Lifespan
Edge: Berkey
Each Brita filter cartridge will filter 40 gallons of water before it needs to be replaced. The Berkey uses two purification elements simultaneously, so you'll need to replace both. But they last for up to 6,000 gallons between replacements, so you won't be exchanging them for new ones very often.
Price
Edge: Brita
This category belongs to Brita, hands-down. The Berkey is a high-end filter with a premium price tag. You can purchase several Brita filter pitchers for the price of one travel Berkey.
Looks
Edge: Berkey
The stainless-steel construction of the Berkey looks very elegant, especially when compared to the somewhat plain look of the Brita. We'd have no problem leaving the Berkey on the countertop where it's plainly visible.
Filtration
Edge: Berkey
The Berkey offers incredible filtration that even removes over 99% of all viruses and bacteria. Since Brita removes neither, Berkey is the clear victor.
Ease of Use
Edge: Brita
They're both pretty simple, just pour water in and wait for it to filter. But changing the two purification elements on the Berkey is more of a hassle than the simple drop-in filter on the Brita.
Verdict
Edge: Berkey
The Brita pitcher may be cheaper and easier to use when it comes time to swap filters, but it's hard to battle with the 6,000-gallon filter life of the Berkey, or its impressive filtration that removes viruses and bacteria. The Berkey has come out victorious and we think it's a better alternative to the Brita.
Travel Berkey Gravity-Fed Water Filter with 2 Black Berkey Purification Elements
1.5 GALLON CAPACITY- The portable Travel Berkey Purification System effortlessly purifies water for about 1-3 people each day. The...
POWERFUL PURIFICATION- Berkey systems equipped with Black Berkey Purification Elements purify water—not just filter it—by removing...
ECONOMICAL, LONG-LASTING- A pair of Black Berkey Purification Elements lasts for up to 6,000 gallons before needing replacement. Black...
---
3. LifeStraw Go Water Filter Bottle vs. Brita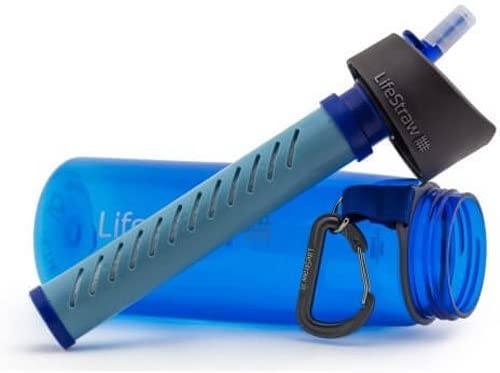 The LifeStraw Go Water Filter Bottle is very similar to the Brita Premium 26-ounce Filtering Water Bottle. Both are made from BPA-free plastic and have a filter inside that filters your water as you drink. But which of these two water filter bottles is better?
Lifespan
Edge: LifeStraw
Brita filters have a usable life of about 40 gallons. That's somewhat standard for the portable filtration industry, but LifeStraw takes that several steps further. With the LifeStraw Go, you'll get an impressive lifespan of just over 1,000 gallons, so the LifeStraw clearly takes this round.
Price
Edge: Brita
The Brita water filter bottle is about half the price of the LifeStraw, so it's a definite winner for the price category.
Looks
Edge: Brita
We prefer the simple and sleek looks of the Brita water bottle over the more playful look of the LifeStraw, but this category is subjective.
Filtration
Edge: LifeStraw
Brita filters don't eliminate bacteria, but the LifeStraw removes over 99% of all bacteria, so we think it's the much better filter.
Ease of Use
Edge: None
Both of these bottles work the same. Fill the bottle, drink through the straw.
Verdict
Edge: None
If you want an attractive and low-priced personal water filter bottle, then the Brita is what we'd recommend. If looks are less important than filtration and you want your bottle to last without worrying about replacement cartridges, then the LifeStraw is the better option for you.
---
4. PUR FM2500V Classic Faucet Mount Filter vs. Brita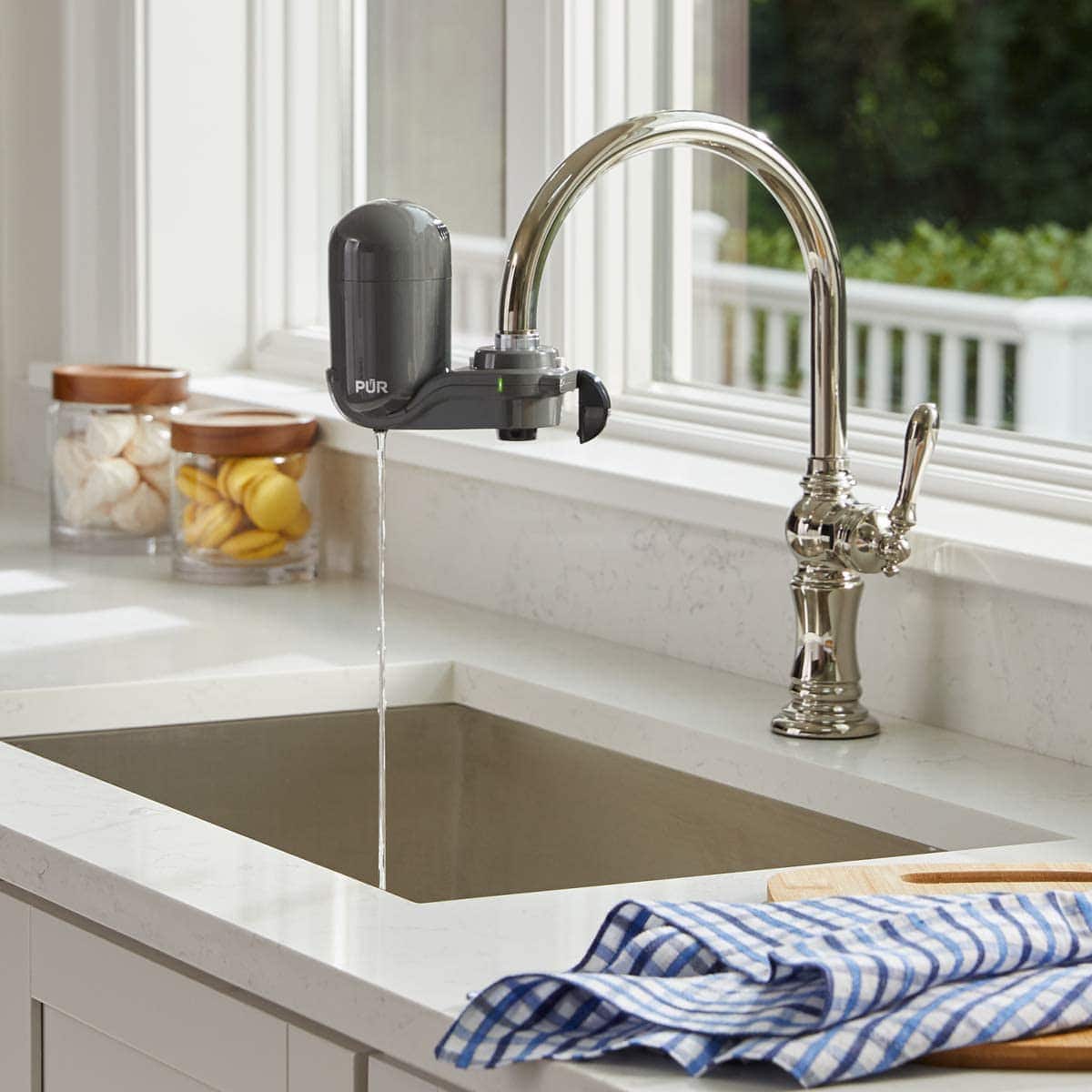 If you want nearly-unlimited filtered water in the comfort of your home, then a faucet-mount water filter is one of the cheapest and easiest solutions. Many manufacturers have released their own versions of these convenient water filters. Brita has the Tap Water Faucet Filtration System and PUR has the FM2500V Classic Faucet Mount Filter. They're very similar products, but which one is a better choice?
Lifespan
Edge: None
Both of these filters offer filter cartridge lifespans of about 100 gallons, so you'll be replacing them equal amounts.
Price
Edge: None
It's not surprising that two nearly-identical products are selling for the same price.
Looks
Edge: PUR
These units look very similar, so it was almost a tie. But the Brita is only available in white and chrome finishes. The PUR is available in both of those finishes plus black, so we're giving it the win for more options.
Filtration
Edge: PUR
This was another close round, but the Brita only removes 60 contaminants and the PUR removes over 70 for the win.
Ease of Use
Edge: None
These systems both mount easily on your kitchen faucet and can be installed in only a few minutes.
Verdict
Edge: PUR
It's very close between these two faucet-mount filters because they're very similar products. In the end, the PUR just barely managed the victory by offering an additional color option and removing 10 more contaminants from your water.
PUR Faucet Mount Water Filtration System, Small, Gray
FAUCET WATER FILTRATION SYSTEM – Enjoy cleaner, filtered water from your faucet with the PUR Faucet Mount Filter System. It's easy...
REDUCES LEAD AND 70+ CONTAMINANTS – This PUR drinking water faucet filtration system is certified to reduce over 70 contaminants,...
EASY ONE CLICK ATTACHMENT – The faucet mounted water filter is easy to attach, and no tools are required. Compatible with most...
---
5. Aquagear Water Filter Pitcher vs. Brita
The Brita Everyday pitcher is one of the staples in the Brita filter lineup. It's one of their most common and best-selling filters. You can easily fit in your fridge and it's one of the simplest ways to get filtered water in your home. But the Aquagear water filter pitcher looks like a serious competitor, so let's see how they stack up against each other.
Lifespan
Edge: Aquagear
The Aquagear filter cartridges are good for 150 gallons of filtration each before they need replacement. That's more than four times the lifespan of the Brita filters that only last for 40 gallons.
Price
Edge: Brita
The Aquagear pitcher is considerably more expensive than Brita, so if you're budget shopping, leave the Aquagear on the shelf.
Looks
Edge: Brita
The Aquagear pitcher isn't ugly, but it's not particularly beautiful. The Brita pitcher has some nice curves that give it a pleasing appearance that looks more at home in our fridge.
Filtration
Edge: Aquagear
Aquagear removes 2,000% more contaminants than Brita filters, so this one isn't even close. The five-stage filter in the Aquagear pitcher removes fluoride, lead, mercury, and more.
Ease of Use
Edge: None
Both pitchers function the same, just fill with water and wait for filtration.
Verdict
Edge: None
This one was so close that there's no distinct winner. The Aquagear lasts much longer between cartridge replacements and filters more contaminants from your water, but it also costs far more and isn't as aesthetically pleasing as the Brita pitcher.
Apex Countertop Drinking Water Filter, Alkaline, Clear (MR-1050)
REDUCES CONTAMINANTS IN TAP WATER: The APEX Clear Countertop Alkaline Drinking Water Filter System removes contaminants commonly found...
CONNECTS TO STANDARD FAUCETS: APEX's Clear countertop water filter system has been designed to conveniently sit right on your kitchen...
COST-EFFECTIVE WATER FILTER: By using an APEX countertop alkaline water filter, you can stop wasting money on small disposable bottles...

Conclusion
There's no question, Brita is one of the big dogs in consumer water filtration. Everyone recognizes the Brita name as they're one of the original makers of at-home water filters. While they do make excellent products, we weren't sure if they were the best, so we put them to the test against some of their most promising competitors. So, how did Brita stack up? Well, in our eyes, it doesn't look great for the filter giant. While they may be the most common filters around, we're not sure they're the highest performing. They do offer a good blend of performance and price, but you can find superior filtration from other manufacturers.

Pete has been working in the trades since high school, where he first developed a passion for woodworking. Over the years, he has developed a keen interest in a wide variety of DIY projects around the home. Fascinated by all sort of tools, Pete loves reading and writing about all the latest gadgets and accessories that hit the market. His other interests include astronomy, hiking, and fishing.
As the founder of House Grail, David's primary goal is to help consumers make educated decisions about DIY projects at home, in the garage, and in the garden.