15 Clever Uses for Pine Cones in the Home & Garden (With Pictures)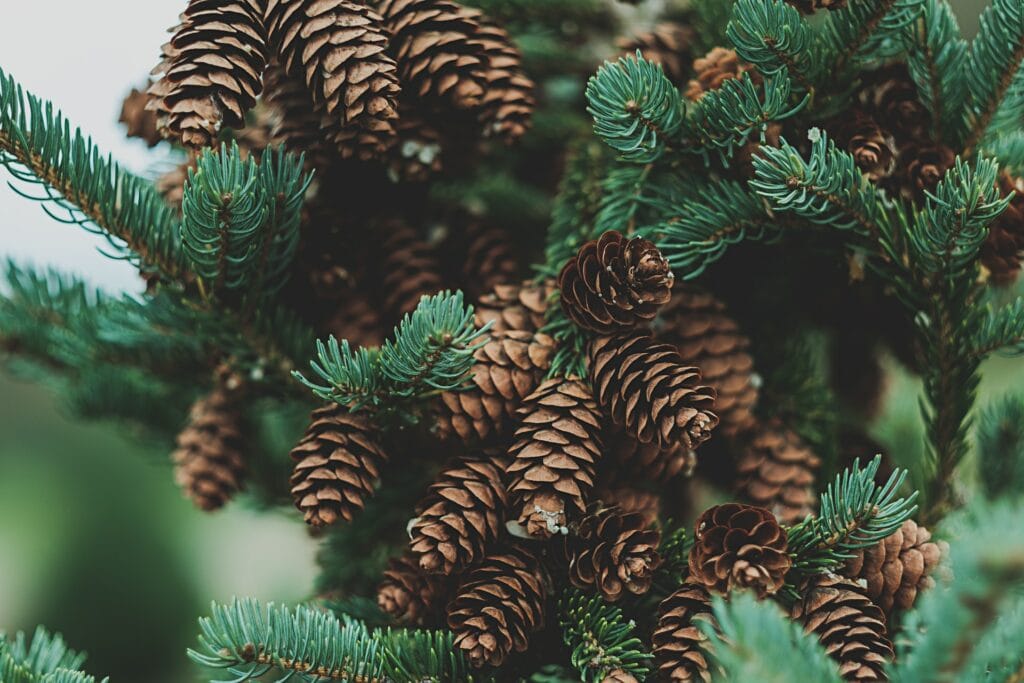 Pine cones littering backyards and forest floors are perfect targets for all kinds of fall foragers. Animals take to the seed-bearing vessels when they need a treat, while crafty DIYers seek them out to complete assorted indoor and outdoor projects.
Some creative spirit and a touch of inspiration are all it takes to realize how versatile pine cones can be around the house. Start putting these autumn arrivals to work with these 17 clever uses for pine cones in the home and garden.

Bake Pine Cones Before Crafting
Before working with fresh pine cones, it's critical to remove any unwanted problems. Pests, mold, and disease have plenty of places to hide in a pine cone's scales. While they're generally not an issue if you plan to mulch, compost, or otherwise use your pine cones in the garden, you won't want them around when you're doing crafts projects in the home.
Baking is the most efficient way to prepare your pine cones. Some people recommend using vinegar soaks, which should help remove the sap and kill many unwanted pests. Vinegar isn't a particularly powerful disinfectant, so if you want to ensure there aren't any potential threats, your oven's heat is the most thorough cleanser.
Keep the temperature low, around 200°F, as pine cones and their resin burn easily. Several minutes at temperatures over 165°F is enough to destroy bacteria, mold, and viruses.
To clean them completely, bake your pine cones on a baking sheet lined with foil at 200°F for 30 minutes or longer. The pine cones will fill the indoor air with a pleasant aroma as they heat up. Let them cool for several minutes after taking the tray from the oven, and you'll be ready to get crafting. And if you have rabbits, the sap-free and sanitized pine cones also make a perfect treat!
The 15 Clever Uses for Pine Cones in the Home & Garden
1.

Lady Bug Hotel- david do money
Tools and Materials:
Scissors
Pine cones
Chicken wire
String
Ladybugs are among the few welcome insects in the garden and help control plant-destroying pests. A single ladybug can eat 50 aphids a day while also seeking out spider mites, mealybugs, and insect eggs. If pest problems are a common struggle in your garden, you can coax these beneficial critters to your backyard with this ladybug hotel!
Building a basket of pine cones offers the perfect shelter for ladybugs. Adults can lay eggs deep within the scales and find a safe spot to hibernate. Put the hotel up in time for fall to give them a place to rest, making sure to keep it safe from rain and harsh weather.
---
2.

Planter Fill- southern living
Loose pine cones in the backyard can be an excellent solution to a common container garden problem. When you have plants to pot, but the holders are too deep, you can make a pine cone fill layer to save on soil. Pine cones are lightweight and break down slowly, making them ideal for filling excess space. Place some pine cones at the bottom of a container, layer in landscaping fabric, and get planting!
---
3.

DIY Bird Feeder- fireflies and mud pies
Tools and Materials:
Pine cones, clean and dry
Natural peanut butter
Birdseed
Twine
Paper plates
Scissors
Birds bring color and music to the backyard, supplying a lively complement to the landscaping. Bird feeders are the best method for attracting select avian friends, and you and the kids can spend quality time crafting inexpensive seed stands with a collection of pinecones.
Natural peanut butter acts as edible glue to bond your favorite birdseed mix to the pine cone. Once completed, hang your feeder outside to draw birds to the garden. The project can get messy, so use paper plates and keep plenty of paper towels on hand.
---
4.

Succulent Garden Drainage- making manzanita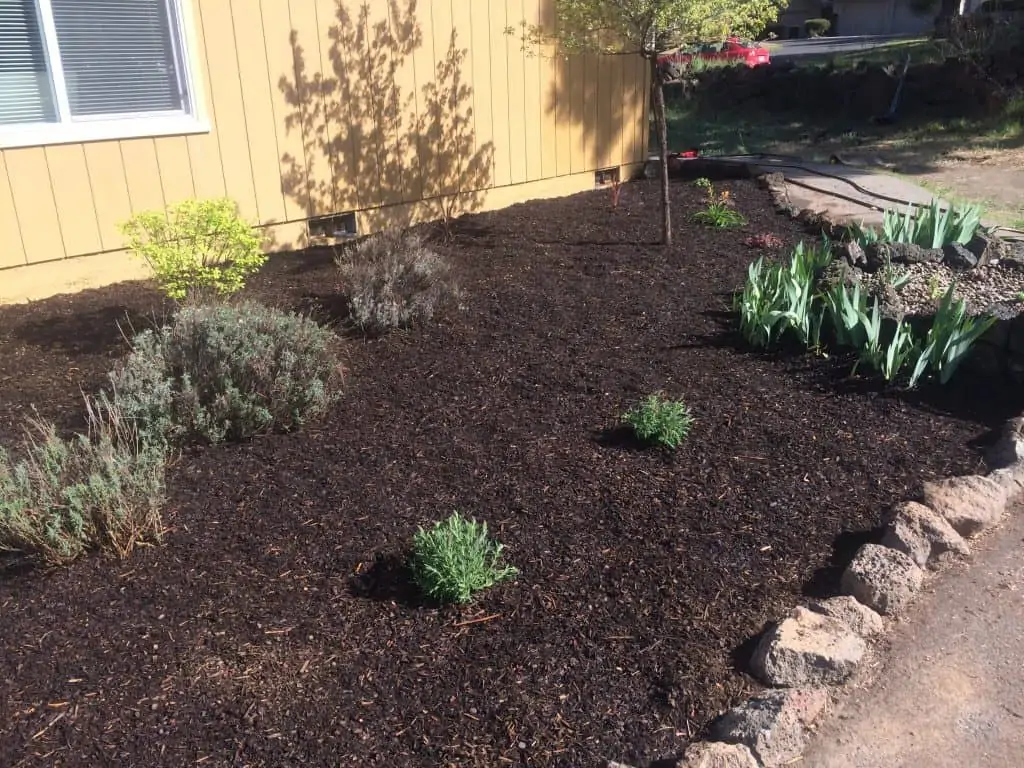 Whether they flower or not, cacti and leafy succulents are gorgeous landscaping elements. If your climate permits, you can keep these xeriscaping focal points as low-maintenance outdoor features all year long. And if you have any pine cones laying around, they'll make the perfect base for a thriving succulent garden!
Succulents need excellent drainage, and a pine cone's scales provide plenty of open space to allow water through. In this garden-building tutorial, you'll learn how to recycle these backyard bothers into an ideal foundation for a beautiful ground cover, garden box, or border.
---
5.

Tin Can Planter- hometalk
Tools and Materials:
Tin can
Pine cones
Scissors
Glue
Paint
There are tons of ways you can get crafty with pine cones. A tin can planter is perfect for kids and adults, and the finished product adds a fun, eye-catching texture to an indoor garden. Cover it with paint for a smooth, crisp finish, or leave it natural to let the pine cone scales exude rustic warmth.
---
6.

Homemade Fire Starter- skip to my lou
Tools and Materials:
Scissors
Pine cones
Wick
Metal can for melting wax
Scent (optional)
Scissors
One of the first pine cone projects to try should be a DIY fire starter. Dipped in wax and donning a wick, these handy outdoor tools are convenient campfire igniters. Take a few on your next excursion, or make a bunch to give away as gifts.
Take advantage of the innovative match holder in this video tutorial to make a complete fire-starting kit. Don't forget to bake your pine cones beforehand to remove any moisture or resin, letting the sap drip into your aluminum foil pan. Doing so will reduce the chance of any unwanted explosions in the fireplace.
---
7.

Bleach-Free Bleached Pine Cones- a piece of rainbow
Tools and Materials:
Pine cones
Acrylic paint
Container
Although bleached pine cones are the foundation for many craft projects, the idea of working with tons of hazardous materials may not appeal to everyone. With this bleachless formula, you can get the same results without the chemicals. A simple whitewash with craft paint is all you need to get fume-free coloration, and it takes a lot less time to complete than a bleach soak.
---
8.

Winter Succulent Decor- hometalk
Tools and Materials:
Pine cones
Succulents
Screws
Twine
Hot glue
Moss
Pine cones and succulents go so well together. Apart from providing excellent drainage for a bed of succulents, a pine cone can become a garden when you follow this hanging planter guide.
You'll need some girthy pine cones, but if you find even a few, you can attach colorful succulents with a touch of glue for a stunning all-natural display. Add moss for moisture retention and extra flair, and you can keep the succulents thriving through winter.
---
9.

Scented Pine Cones- the art of doing stuff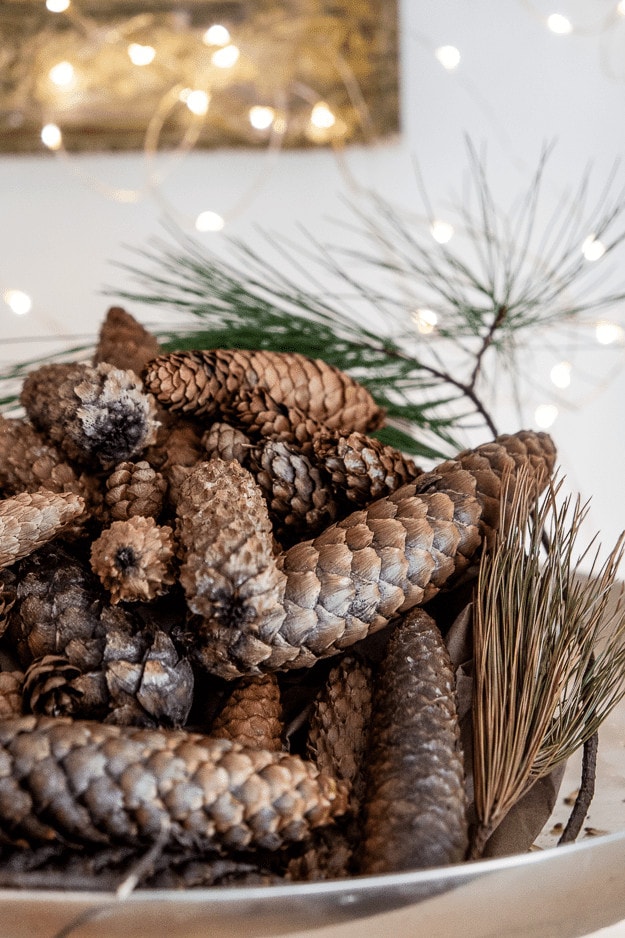 Tools and Materials:
Pine cones
Essential oils
Ziploc bags
There's nothing like some homemade potpourri to help establish a seasonal atmosphere around the home. Create scented pine cones by infusing them with your favorite essential oils, and add them to a bowl to fill the air with a comforting fragrance. Include a few pine needle-laden twigs around your arrangement for a pleasant visual and aromatic display.
---
10.

DIY Pine Cone Bonsai- dish functional designs
All the crafting opportunities make it easy to forget that pine cones are literally full of life. Deep under the scales are pine seeds, and not many people realize that new growth can spring straight from the cone to create a charming bonsai plant.
With simple preparation, you can plant your pine cone loosely in soil, keep it moist, and wait for it to grow. After 2–3 weeks, you'll begin to see sprouts from however many seeds you left to germinate. Place the pine cone in a natural stone bowl and surround it with moss to create a tranquil and uplifting piece of decor.
---
11.

Birch and Pine Cone Christmas Ornaments- a next raordinary day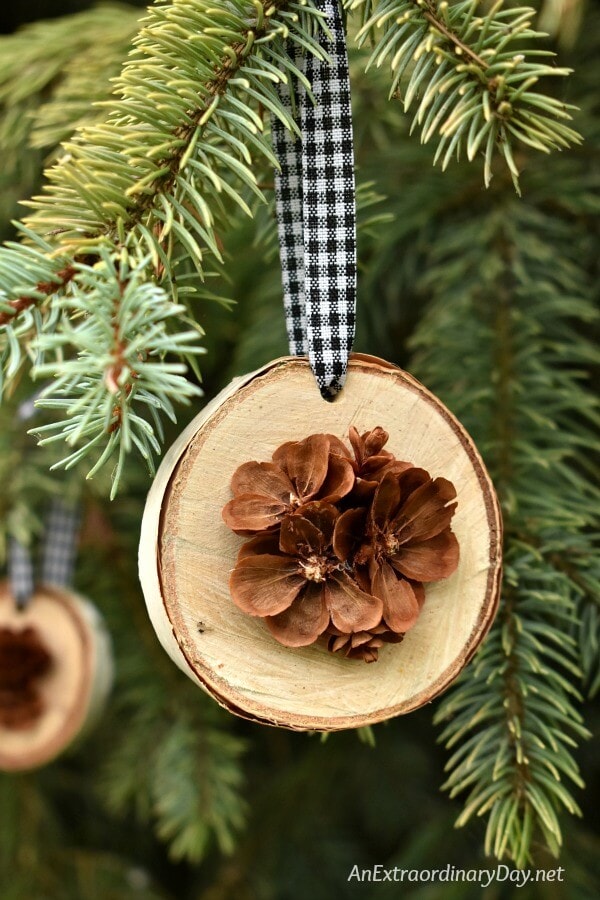 Tools and Materials:
Birchwood slices (2″-3″ in diameter)
Drill
Pruners
Glue gun
Pine cones
Ribbon
Pine cones drop just in time for you to pair them with birch tree slices and create these rustic ornaments for the Christmas season. The bright color of the birch wood creates a lovely contrast against the darker pine cone mounted upon it, giving it an almost professional quality. A plaid ribbon for hanging finishes these wonderful ornaments brimming with holiday spirit.
---
12.

DIY Garland- punky moms
Tools and Materials:
Pine cones
Twine
Metal wire
Fake flowers
Acrylic paint
Paintbrushes
Glitter
Glue gun
Spruce up the house with a homemade pine cone garland, an offbeat holiday ornament that works equally well as an everyday decor element. A collection of pine cones follows a length of twine to run around door and window frames or along mantels. Dashes of paint and intermingled elements like fake flowers add color and shine. Fill it with different items for a unique look all your own.
---
13.

Pine Cone Flowers- instru pix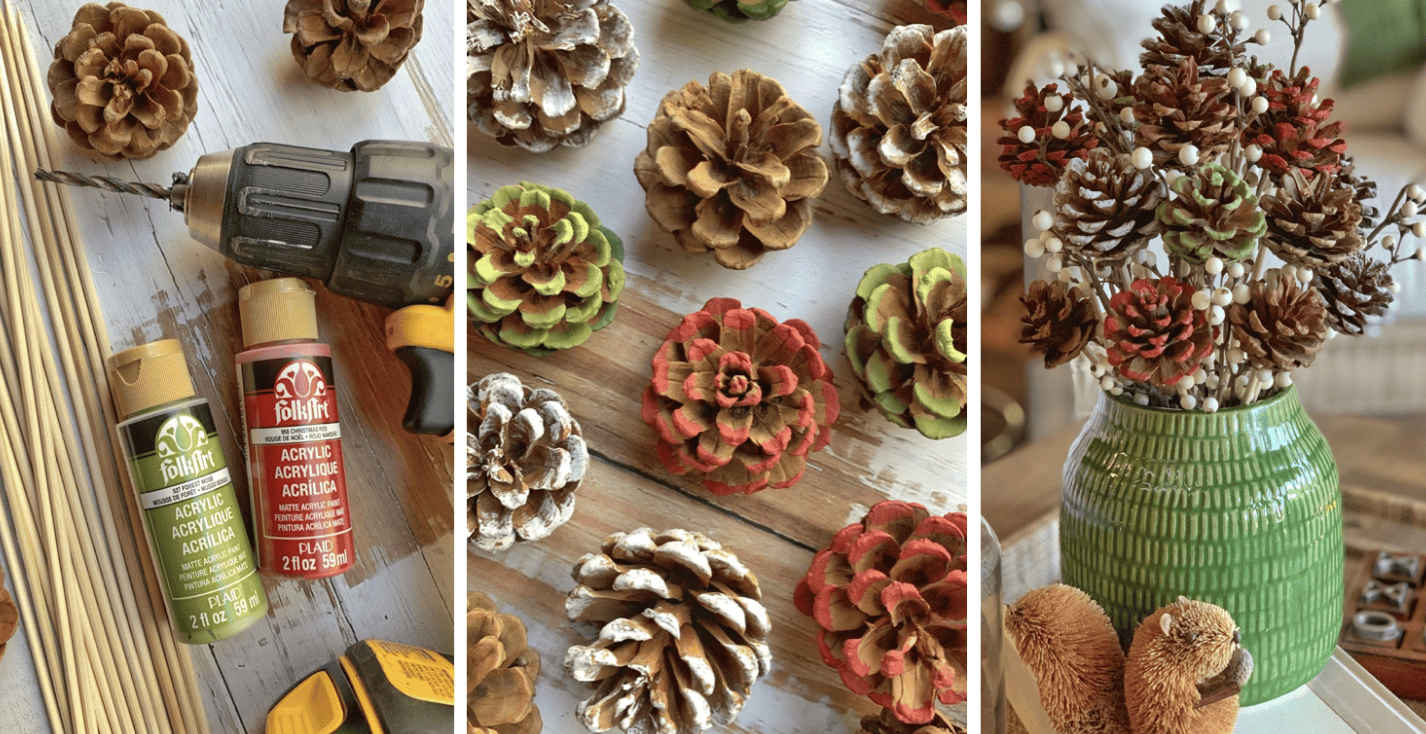 Tools and Materials:
Pine cones
Long wooden skewers
Glue gun
3/16-inch drill bit
Paint supplies
Vase
Floral foam
Flowers offer incredible hues and textures you want to display all the time, but keeping fresh bouquets can quickly become tedious. Take the easy route by faking it with pine cone blossoms.
A simple crafts project for adults turns pine cones into colorful, long-lasting arrangements ready to make a whimsical statement in the room. Find your favorite vase, select a coordinating set of paints, and have fun creating a fresh palette of blooms.
---
14.

Pine Cone Zinnias- a fanciful twist
Tools and Materials:
Pine cones
Acrylic paint
Large paintbrush
Step your pine cone flowers up a notch with these dazzling zinnias! While it gets lost against the sometimes drab brown shade, the texture of the scales gives pine cones a brilliant natural uniformity similar to zinnias and succulents.
A shiny layer of paint highlights the gorgeous textures of the pine cone bottoms. Coat them a few times, and, before long, an enduring bouquet emerges. String your pine cone zinnias along a wreath, or take advantage of the perfect conforming shape of the pine cones and fill a bowl to make a tidy centerpiece.
---
15.

Ornamental Wreath- my 100 year old home
Tools and Materials:
Grapevine wreath
Pine cones
Shears
Glue gun
Fresh or faux eucalyptus
Acrylic paint
A quick online search will reveal a thousand methods to make a wreath from pine cones. But a faux floral wreath offers a new way to appreciate the versatile crafting material.
As we've seen with the zinnias, pine cones can be as beautiful as any garden flower when given a little push with a dab of paint. The pale green of the grapevine wreath works well with several colors, giving you plenty of room to explore a varied palette.

Final Thoughts
Collect some pine cones, toss them in the oven for an hour or two, and you suddenly have a bevy of creative opportunities at your disposal. From helping you grow flowers to faking them, pine cones can do much more than we realize. Take inspiration from these clever uses for pine cones around the home and garden, and see where your creativity takes you!
---
Featured Image Credit: Osman Rana, Unsplash