How Much Does It Cost To Replace a Shower In 2023?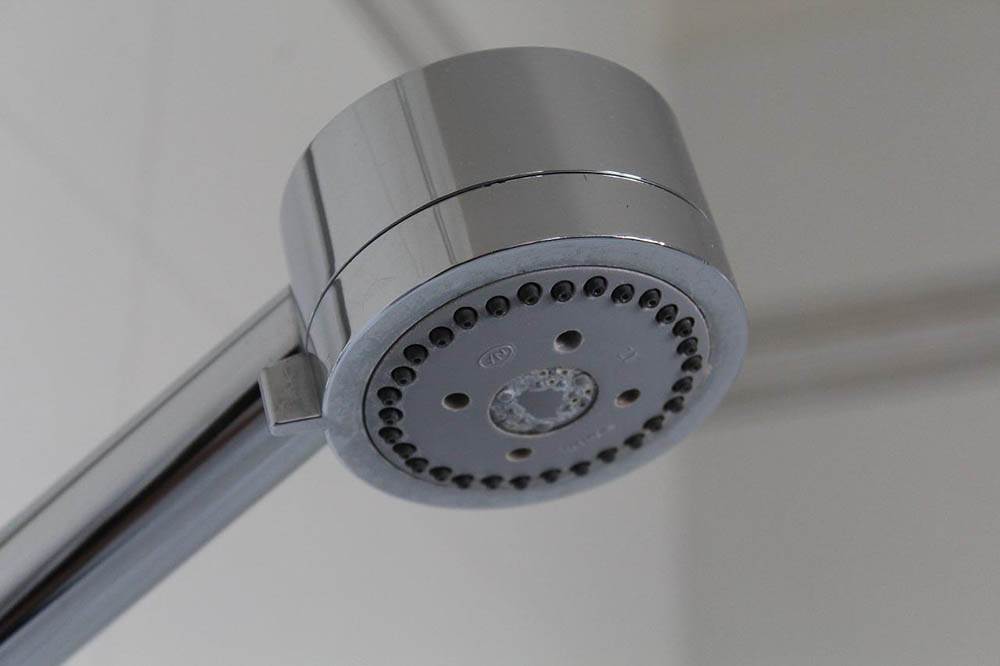 Old showers begin to take their toll on you and your house after a while. Every time you step into an old shower, it reminds you of what it is not and what it could be. It doesn't take long for bad showers to outstay their welcome, quickly leading people to start wondering about a brand new shower replacement. New showers are all the rage, and the most modern designs evoke images of popular wellness spas. But how much does a shower like that cost? What if you just want to replace your ailing shower with another budget shower?
This guide will cover all the costs for major shower replacements this year, including additional costs and the differences between the different shower levels. By the end, you will have the information you need to confidently make a budget for your next shower project.

Why Should You Replace Your Shower?
There are many reasons why you might want to replace your shower. Sometimes showers can break and require a full repair and replacement. Showers can become dangerous for aging adults or changing families. Other times, people just want to replace the shower because it is old and outdated.
New showers have been shown to add value to homes and make bathrooms more appealing. Many people choose to redo their showers before they plan on renting or selling their homes. Brand new and modern showers are a big draw for prospective buyers who are putting a lot more emphasis on the status of a home's bathrooms.
Whatever the reason for replacing your shower, there are a variety of costs that you need to take into consideration. The benefits of getting a new shower can quickly become sour if you go over budget or suffer from sticker shock.
Shower Replacement Costs
Showers are a surprisingly tricky project to nail down. There are a ton of different types of showers that all come with a variety of different prices associated with them. Unlike something similar to a toilet or vanity, there are a ton of factors that can influence the cost of a shower. The cheapest showers can be installed for as little as $1,000, while high-end luxury showers can run as high as $15,000, depending on what options you choose.
Shower Replacement Costs By Type
| | | | |
| --- | --- | --- | --- |
| | Low | High | Average |
| Walk-in Shower | $3,500 | $15,000 | $9,250 |
| Prefab Shower | $1,000 | $8,000 | $4,500 |
| Shower + Tub Combo | $1,500 | $4,000 | $2,750 |
| Add Shower | $1,000 | $11,000 | $6,000 |
| Tub To Shower Conversion | $2,000 | $12,000 | $7,000 |
| Shower Insert | $1,000 | $2,600 | $1,800 |
Most estimates will include the price for the entire project from start to finish. These package prices or all-in-one estimates make it easy to see a nice round number for your potential shower replacement. However, there might be reasons that you want to see the costs broken down so you can price shop more effectively. Most shower materials can be found at your local home improvement store and priced locally. Once you have the materials quoted, you can start shopping for labor. Here are the most common costs for shower labor when it comes to replacing an old shower.
Labor Costs
| | |
| --- | --- |
|   | Average Cost |
| Interior Designer | $125/hour |
| Plumber | $1,100/fixture |
| Contractor | $150/hour |
If you are simply looking for a ballpark number to take and run with, use $6,000 as your starting point. It is generally not advisable to simply take a ballpark number to the bank because your bathroom could be home to a variety of factors (or extra costs) that can quickly make any ballpark numbers moot. However, $6,000 is a pretty safe number to keep in your head as a starting point for most standard shower replacements this year.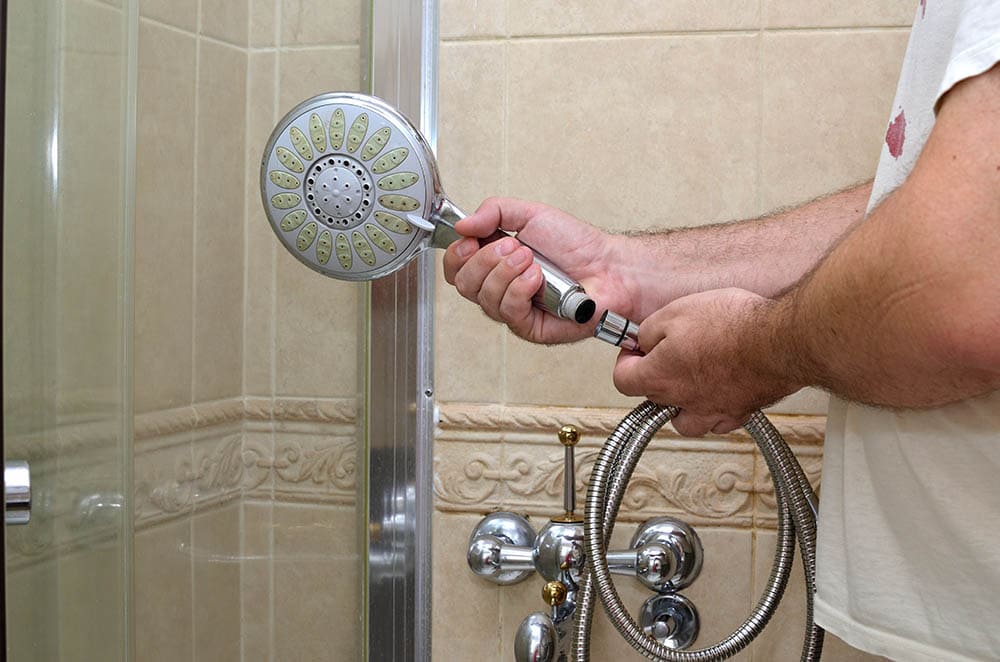 Additional Costs
Water Damage
One of the most common issues that contractors run into when replacing a shower is water damage. This especially occurs in older homes where the shower has not been touched in many years. It only takes one pipe with a small drip to cause serious unseen water damage. Water damage can occur behind the walls surrounding the shower or be in the floor underneath the shower. In many cases, this damage cannot be seen and assessed until the old shower has been taken out. Water damage can delay a project because contractors will not put a new shower over an area with water damage.
Water damage can cost as little as $200 to deal with or jump up into the thousands depending on the extent of the damage.
Re-piping
When a shower gets taken out, the pipes in the surrounding bathroom get exposed and inspected. In some cases, old pipes might need to be replaced before a new shower can be installed. Old pipes with known faults or that are close to failure will be flagged for replacement by the contractor or inspector. This often happens in older homes with bad pipes. Keep in mind if you opt for a shower replacement, you might also have to deal with some re-piping in the bathroom as well, which can add a few hundred dollars to the final bill.
Tile Work
Whenever work is done in a bathroom, tile often gets ripped out or damaged. Tile work is one of the most common additives to any shower project. There are some pitfalls that come with tile work during a shower project. First, sometimes it can be difficult to find a tile that matches the old tile. This can cause a delay or a more expensive replacement to make the old tile match. Second, sometimes plumbers will not cover the cost of tile work even if they ripped out old tile. This can lead to you having to contact another contractor, which can cost both time and money. Ask your prospective contractor or plumber about their tile work policy before making any final decisions.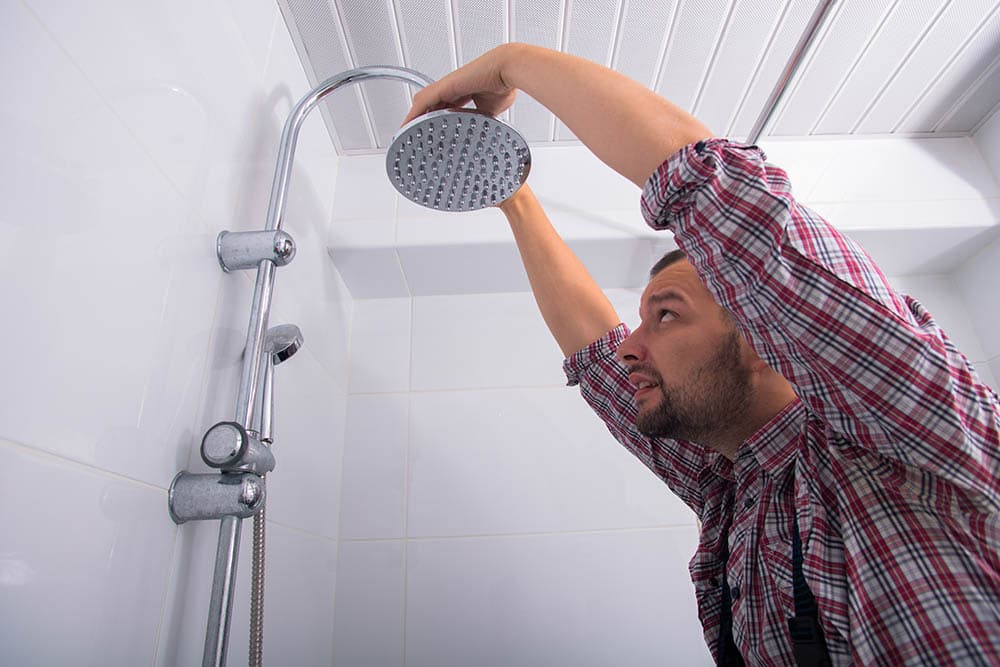 What Is The Most Expensive Type of Shower?
The most expensive showers are custom walk-in showers. This is a broad category that can cover anything from a small guest shower to a full spa-style shower room. The prices for these showers can vary greatly depending on the material, designer, and size of the project. The latest custom walk-in showers are often large, enclosed with high-end glass, and feature the best materials. Prices typically range from $8,000 to $15,000 for these types of showers. These are the most expensive showers by far.
If you are envisioning a free-standing modern shower to replace your old builder-grade tub-shower combo, be prepared to receive a substantial estimate. These showers look great on TV and are a substantial upgrade over old showers, but they are also the priciest option.
What Is The Most Affordable Kind of Shower?
The most affordable type of shower to replace is a prefab shower. These basic showers use premade parts that get put over an existing shower or use an existing shower space. Since the parts are all standard and the construction is minimal, these showers can be installed for as little as $1,000 in ideal situations.
However, prefab showers are not as nice or as long-lasting as some more expensive showers. The prefab materials are often lower quality than other materials. The need to use an existing shower space also reduces the customization options. These showers are often chosen for their price and ease of installation, but they aren't necessarily an upgrade.

Conclusion
Showers come in a variety of shapes, sizes, and types. Each project will have a different price that can be thousands of dollars apart from one another. Looking at what kind of shower you want, what your current shower looks like, and the state of your bathroom can help you narrow down an estimated cost for your project. If you do it right, you can add a new sanctuary to your home or add a lot of value for the next buyer.
---
Featured Image Credit: sferrario1968, Pixabay