DeVilbiss Tekna ProLite Spray Gun Review 2023 – Pros, Cons, & Verdict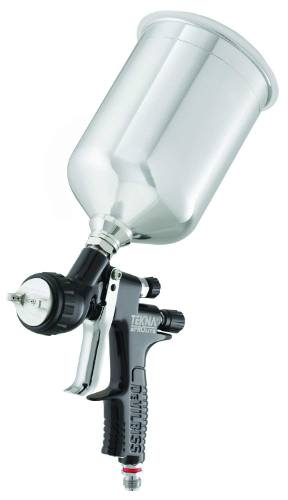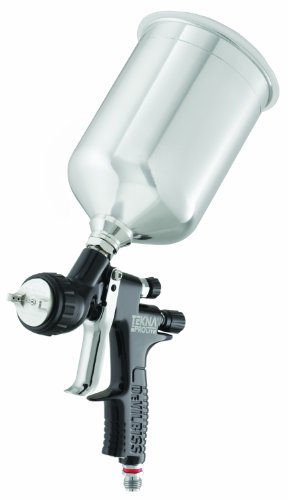 We give the DeVilbiss Tekna ProLite a rating of 4.9 out of 5 stars. 
Build Quality: 5/5
Power: 4.8/5
Features: 4.9/5
Price: 4.9/5
Review Summary
This is a professional quality spray gun for professionals, but one that is simple enough for beginners to use too. It lays out the primer, base colors, and clear coat with a factory finish look. This gun has great atomization due to advanced fluid dynamic engineering, resulting in the use of less material per inch than many other spray guns. It's excellent for solvent-based coatings and waterborne ones as well. It's also optimized to work in a wide range of temperature and climate conditions, from hot and humid to dry and clean.
This gun is extremely easy to use, it's very light and ergonomic in your hand with dials for fan and fluid on the rear, making adjustments quick and intuitive, even during the middle of spraying. The included digital air meter makes dialing in what the MSDS sheet specs says straightforward and simple. There's no guesswork.
Founded by Toledo, Ohio physician Dr. Allen DeVilbiss, this company specializes in automotive painting equipment of all kinds. Well known in the racing world, they sponsor race car driver Ryan Dalziel.
Tekna ProLite Model 703566 Spray Gun – A Quick Look
Pros
Professional quality
Excellent atomization
Spreads material further
Easy to clean and maintain
Lightweight and ergonomic
An impressive array of accessories
Works in a wide range of environments
Cons
Carrying case not included
Uses more air than other guns
It is louder than most other guns
Specifications
Brand: Tekna from DeVilbiss

Product Type: ProLite Spray Gun

Model: 703566

Weight: 2.2 pounds

Dimensions: 10 x 5.8 x 5.4 inches

In The Box: ProLite spray gun, 900cc aluminum cup, HAV-555 air adjusting valve with digital gauge, gun wrench, color identification rings, TE10 & TE20 high-efficiency air caps, and 1.2mm, 1.3mm, and 1.4mm fluid tips.

Use with: 40-60 gallon compressor at 13cfm at 40psi
Non-Stick Coating
This spray gun has a coating with non-stick properties on the outside of all the exposed metallic surfaces. This is a blessing to anyone who's had to spend hours washing the paint off their spray gun because they forgot and left it sitting out for a couple of hours after using it. Accidents happen and it's nice to know you won't ruin your spray gun because of one.
Wide Environmental Range
By nature, auto body shops aren't always temperature controlled – to say the least. This spray gun was designed and engineered to work in a wide range of environments, regardless of temperature, humidity, or other factors. When bay doors open and close these factors can change rapidly back and forth, several times an hour in some cases, and you can't always wait for the perfect conditions to start spraying. With this gun, you don't have to.
Excellent Atomization
Good engineering on fluid dynamics ensures that this spray gun spreads material further than many other guns on the market, while achieving the same, or better, coverage. A little savings here and a little savings there, and pretty soon you're talking about real money. In a professional workplace, these kinds of savings directly impact your bottom line, making you more profitable without sacrificing any quality.
Terrific Product Warranty
DeVilbiss customer service has an excellent reputation for going above and beyond in their attempts to keep you happy. Often times they'll exceed the written requirements of their warranty. There's nothing saying they have to do that, but it makes an incredible impression when they do, and creates a satisfied customer for life.
FAQ
Why does this come with two air cups?

One is water-based coatings and one is for solvent-based ones. They make others too, for other types of coatings and paints. See the manual for details.

Which tip should you use for what?

The 1.3mm tip is the best for all around spraying. You can use it for both base coat and clear coat. If you like to split it up a bit, use the 1.3mm for the base coat and the 1.4mm for the clear coat. For a very thin clear coat, use the 1.2mm tip for a factory finish spray.
What the Users Say
The Good
How it works

During our research, we discovered almost universally good reviews from a wide range of customers. One customer remarked, "This is the Porsche of paint guns." Another said, "It sprays like silk." People were impressed with the way it lays clear coat down flat as glass, as good as, or sometimes better than, a factory finish.

One person, a professional painter and body man, simply said flat out, "Buy the gun you'll love it."

The advanced fluid dynamic engineering resulted in atomization that used, according to one person who raved about it, ". . . about 1/3 less material than my previous gun would to shoot the same sized fender." Nor was he alone in that assessment. Others said much the same thing.

The look and feel

People were also impressed with the look and feel of this paint gun. At 2.2 pounds it's very lightweight. Additionally, it's well-balanced from side-to-side. Some spray guns feel lopsided when you're holding them but no one complained about that with this gun. It fits comfortably in your hand and the adjustments knobs and dials are intelligently placed for easy use while keeping them out of the way so they don't get bumped and changed during use.
The bad
Loud

This spray paint gun is definitely louder than a lot of other spray guns on the market.  You'll probably want to wear some earplugs while painting with it.  It may not be as loud as other pneumatic tools in a standard auto shop, but it is a noise maker.

Air use

This gun also uses more air than most other spray guns, requiring the use and/or purchase of a large compressor, at least in the 40-60 gallon range.  In defense, we have to say, this is a professional tool.  It makes sense it would require heavier, more robust equipment to go along with it.
Conclusion
This Tekna ProLite Model 703566 Spray Gun from DeVilbiss is a high quality, professional grade spray gun engineered and designed for heavy-duty, continuous use in a constantly changing environment. It's built to withstand the temperature swings common in most auto body shops and deliver a perfect spray in spite of it. It uses less material per square inch than many other guns, saving you money each time.

It's ergonomically designed and balanced to be comfortable in your hand for long periods of time, which gives you the control you need to get every job done right. The adjustments are easy to make on the fly but don't the control interfere with your work either. They also don't stick out where they'll be bumped or accidentally changed.

It's a little bit loud and uses more air than some other spray guns, but professional tools often do that compared to lesser quality ones, and this is a professional too.