10 Best Leather Work Gloves of 2023 – Reviews & Guide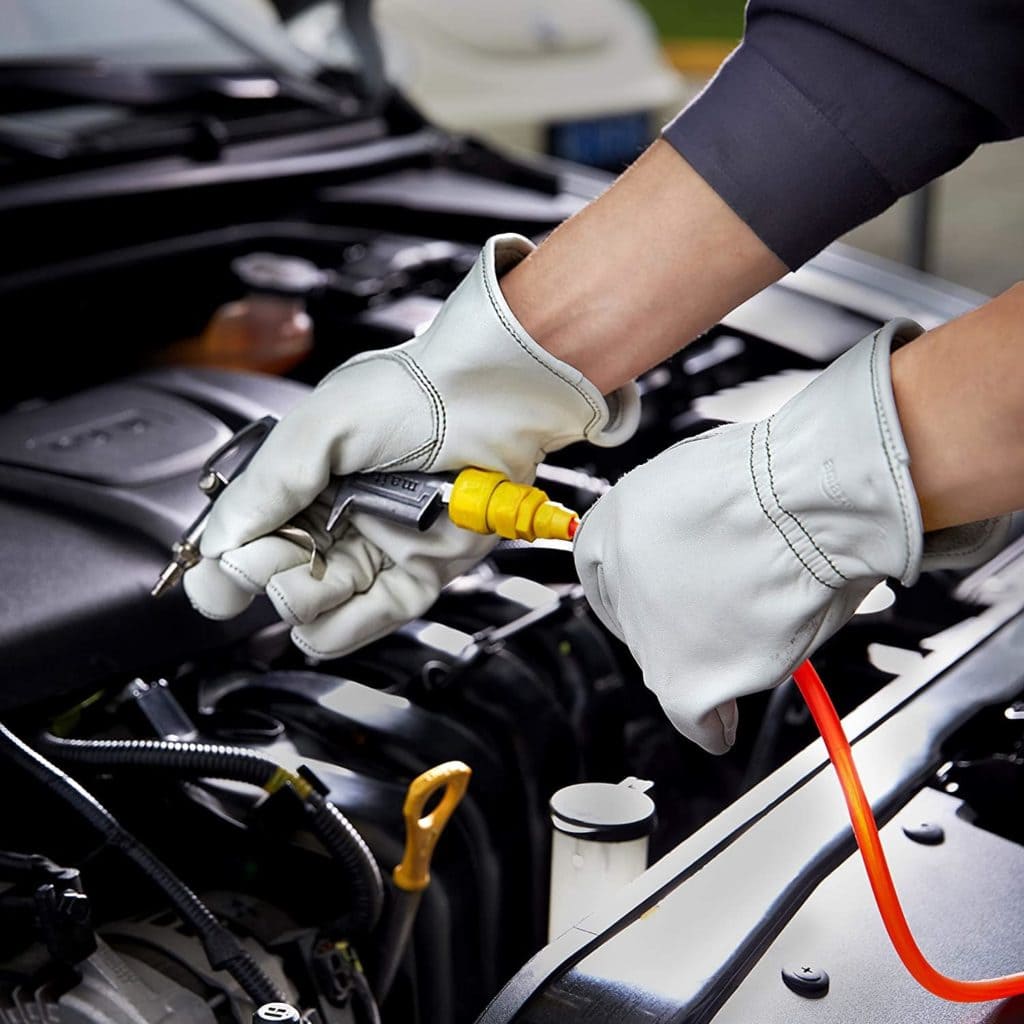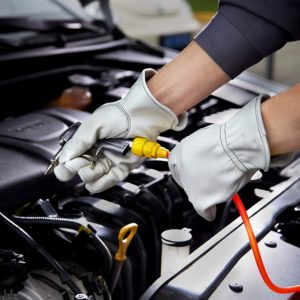 We know that buying the perfect pair of leather work gloves is not an easy task. With misleading information and unreliable reviews on different websites, selecting excellent gloves is a challenge. Well, it doesn't always have to be that way.
The fact is we already did some heavy work for you by reviewing the best leather work gloves available on the market today. We looked at all the variables related to work gloves: design, construction, durability, and comfort, so you have a reference before you start shopping. What's more, our buyer's guide will give you an idea of exactly what to look for in work gloves.
---
A Quick Comparison of Our Favorites in 2023
Rating
Image
Product
Details

Best Overall

Wells Lamont Men's Leather Work Gloves

Excellent durability
Perfect for heavy-duty work
Adjustable wrist
CHECK PRICE

Best Value

AmazonBasics Leather Work Gloves

Super affordable
Flexible
Great durability
CHECK PRICE

Premium Choice

Midwest Buffalo Leather Work Gloves

American-made
Good dexterity
Great for both women and men
CHECK PRICE

OZERO Flex Grip Leather Work Gloves

Stress-proof
Affordable price
Solid construction
CHECK PRICE

CLC Custom Leathercraft Workright Flex Grip Work Gloves

Shrink-resistant
Unique construction materials
With elastic cuff
CHECK PRICE
The 10 Best Leather Work Gloves
1.

Wells Lamont Men's Leather Work Gloves – Best Overall
Our pick for the best overall leather work gloves, the Wells Lamont 1132L, has puncture resistance and high-abrasion features that provide excellent durability. You're likely to be using these gloves for a long time.
The adjustable wrist feature is great for heavy-duty use, which is why most verified purchasers recommend these gloves. Plus, the high-end tape and ball grip provides extra safety, giving you a firm hold on whatever you're working with.
Wells Lamont has been making work gloves since 1907, so these gloves have a long-standing reputation for excellence. However, like most high-end products on the market, this one comes with a pretty expensive price point. All in all, we think these are the best leather work gloves available this year.
Pros
Excellent durability
Perfect for heavy-duty work
Adjustable wrist
Well-established manufacturer
---
2.

AmazonBasics Leather Work Gloves – Best Value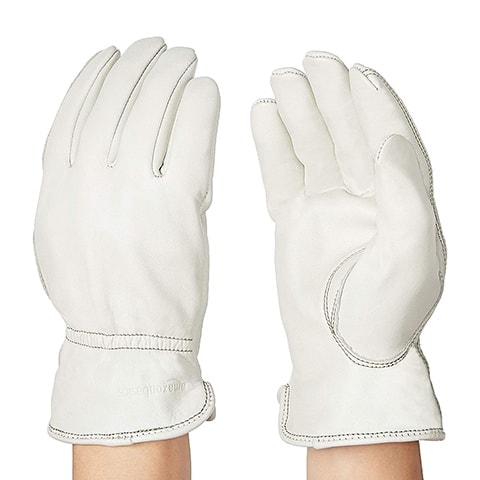 If you are on a tight budget but still want to get an excellent pair of gloves, the best leather work gloves for the money are AmazonBasics AM001M Gloves. Just because a product has a low price point doesn't mean they're cheap. The wrist closure ensures that the gloves will stay firmly in place on your hands. With its puncture resistance, you can feel safe that these gloves can handle any task.
These flexible gloves are great for general construction, farming, maintenance, and other shop work. The 100% grain cowhide design provides durability and protection from hazardous materials.
There is a downside, however. Read the manufacturer's instructions thoroughly, especially the sizing. You don't want to purchase a pair of gloves that don't fit properly.
Pros
Super affordable
Flexible
Great durability
Has a wrist closure feature
Cons
Inconsistent size information
---
3.

Midwest 650 Buffalo Leather Work Gloves – Premium Choice

If you're serious about buying products made in the US, you'll have to appreciate the Midwest 650 Buffalo Leather Work Gloves. These buffalo leather gloves are purportedly among the last of its kind in the US, as most manufacturers have outsourced their products overseas. And with the homegrown pedigree comes with a premium price tag.
Now, are these gloves worth the extra expense? Probably. They're definitely among the most flexible and pliable gloves we tested, and the elastic wrist feature kept dirt and grime from our hands. The gloves come with a "worked-in" feel, which is nice because you won't have to use them for a while before they're comfortable. The finger dexterity is great for men or women.
Pros
American-made
Good dexterity
Great for both women and men
---
4.

OZERO Flex Grip Leather Work Gloves
The OZERO H106014 Flex Grip Leather Work Gloves are all about resistance. They're oil, cut, puncture, and tear-resistant, which speaks to the high-end quality leather construction. With thickness ranging from 1.0 to 1.2 mm, these gloves fall in the medium range of hand protection.
The reinforced palm should provide a firm grip, and the lack of a lining makes these gloves surprisingly breathable. We like the Gunn Cut stitching at the finger joints, and the keystone flex thumb design is suitably dexterous. However, the adjustable wristband feels like an afterthought and we had much better luck with rolling up the cuff to get a snug fit.
Make no mistake, the OZERO Flex Grip gloves are affordable, but you'll have to navigate a complex sizing chart to get the right pair for your hands. The gloves come in a variety of quantities, so be careful when ordering – you might end up buying three pairs when you only meant to buy one.
Pros
Stress-proof
Affordable price
Solid construction
Cons
Inconsistent size information
Adjustable wrist band isn't great
---
5.

CLC Custom Workright Flex Grip Work Gloves
Technically, the CLC Custom Leathercraft Workright Flex Grip gloves are synthetic leather, so we had reservations about including them on this list. However, they're so highly-rated by users, we couldn't ignore them. The stretchable lyrca side panels improve your dexterity, and the shrink-resistant outer shell offers excellent protection for maintenance worker, roofers, mechanics, and construction workers.
The Workright Flex Grip gloves are designed specifically for outdoor work, particularly in wet environments. They're not the best gloves for indoor use because they're heavy and hot. Padded knuckles and reinforced fingertips are generally geared toward hardcore use. The elastic wrist cuff keeps them from slipping off, but you may not need to use it if you get the right size.
We recommend these gloves for short-term heavy-duty use, but we can't say with confidence that they'll have the lifespan of a true blue pair of genuine leather gloves.
Pros
Shrink-resistant
Unique construction materials
With elastic cuff
Cons
Not ideal for long-term usage
---
6.

G & F Regular Cowhide Leather Palm Work Gloves
You may recognize the generic, throwback style of the G & F 5015L-5 Regular Cowhide Leather Palm Work Gloves. These used to be the most common pair of gloves on a home renovation jobsite, especially among painters. What they don't offer in overall protection is made up for with flexibility, and quite frankly, the disposable price. You get five pairs of gloves for the same price as our number 1 pick.
Aside from painting, the G & F gloves are good for gardening and light yard work. You wouldn't use these for heavy construction work unless they were the only pair of gloves available. They're actually quite comfortable to wear but they aren't going to stop a hacksaw from slicing through the fingertips.
These are bargain basement gloves that won't last more than a couple of seasons in the garden, if that.
Pros
Cheap
Comfortable
Good for painting and yardwork
Cons
Not for heavy-duty work
Poor protection from power tools
---
7.

Mechanix Wear Leather Work Gloves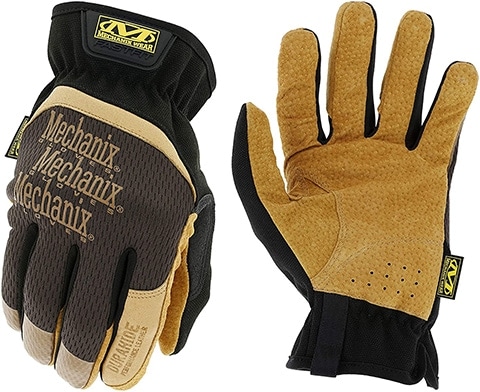 The Mechanix Wear LFF-75-010 Leather Work Gloves are similar in design to our number 5 pick, and comparable in performance. Keep in mind we're reviewing the entry-level model of the Mechanix product line. These machine-washable gloves feature DuraHide construction and TrekDry technology, which will extend their lifespan. The palm padding is great for reducing vibrations, and the fingers are soft enough for manual dexterity.
As the brand name suggests, these are geared toward mechanics and construction workers who deal with heavy-duty power tools. If you're just using them to shovel gravel, they're a bit of overkill. The price is decent but you should look at the Mechanix product line before settling on these basic gloves.
Pros
Machine-washable
Good durability
Anti-vibration
Cons
Not ideal for light-duty work
Entry-level product
You may like: Best Waterproof Work Gloves
---
8.

Carhartt A553 Men's Leather Fencer Work Glove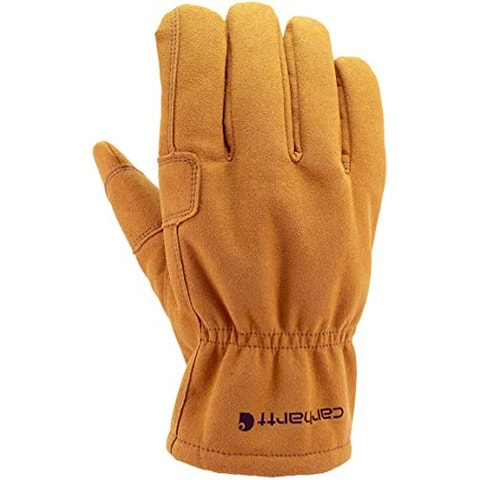 Carhartt's A553 Men's Leather Fencer Work Gloves may be the most attractive gloves on this list, but that's to be expected from a brand that's geared toward fashion as opposed to durability and performance. These 100% suede cowhide leather gloves tick off all the boxes for a medium-duty product, but there's nothing special about them.
The reinforced palm and thumb pads look like they offer good protection, but we're not convinced. The softness of the suede is great for dexterity but not very resistant to cuts, punctures, or moisture. The key giveaway here is the fact that you have to spot wash with cold water and absolutely cannot use hot water, otherwise, they'll shrink.
We don't recommend these gloves in wet environments.
Pros
Clean design
Soft feel and fit
Cons
Poor protection
Suede construction
No moisture protection
---
9.

Ironclad RWG2-04 Ranchworx Work Gloves
Another pair of gloves designed for mechanics, the Ironclad RWG2-04 Ranchworx Work Gloves have patented rolltop fingertips that provide extra dexterity for working with small objects like nuts and bolts. The double layer of goatskin leather has a robust resistance to vibrations, and the thermoplastic cuff reduces the heat while making them easy to get on and off.
Weighing 3.2 ounces, the Ranchworx line of gloves are in the mid-range of heft, and we wouldn't want them to be any heavier. One point of contention is the stitching around the thumb and palm. We hadn't used these gloves more than a week before the seams started to spread. Not a good sign.
Furthermore, these gloves are expensive and you're looking at the entry-level pair of Ironclad gloves.
Pros
Rolltop fingertips
Easy on/off
Cons
Poor durability
Expensive
Not for long-term usage
---
10.

KIM YUAN US008-3 Leather Work Gloves
If you're thinking, "I need a pair of leather gloves and any old pair will do," the KIM YUAN US008-3 Leather Work Gloves are right up your alley. These 100% leather gloves can be used for anything from gardening to framing, and the two selling points here are versatility and a 90-day money-back guarantee.
Otherwise, these gloves are comparable to several other pairs on this list, but considerably more expensive. The biggest problem is getting the right fit. The KIM YUAN sizing chart is confusing and specified in metric unit, which will put off many American users.
Pros
100% leather
Money-back guarantee
Cons
Size problems
Expensive for the type

Buyer's Guide – Choosing the Best Leather Working Gloves
Choosing the best leather gloves to use should not be a very stressful task. We cover the essentials and additional information you should be aware of. Read on to discover them!
What to Look for in Leather Work Gloves
There are three main features to consider before shopping for your new leather gloves.
Protection
Several gloves on this list offer extra protection in a variety of ways. Look for specs like the Dunn Cut at the finger joints on the palm, keystone thumb stitching, and reinforced outer shells. Meanwhile, genuine leather is generally more resistant to cuts and punctures, so avoid synthetic leathers if you'll be working with hazardous materials or tools.
Durability
Some gloves are meant to last a lifetime while others are virtually disposable. In either case, you must look at one particular factor before making a choice: the stitching. Because gloves are held together by literal threads, you want to see double stitching everywhere on the gloves. You want to see reinforced stitching and padding in high stress areas, most commonly the thumb, palm, and finger pads.
Comfort
If you've ever donned a pair of crusty old leather work gloves, you know they're about as far from comfortable as a plaster cast. It may take an hour of use before they start to warm up. Fortunately, most manufacturers have comfort in mind when designing these gloves. After all, the last thing they want is a bunch of bad reviews complaining about blisters and poor fittings. If possible, always try on a pair of gloves before purchasing.
Other Factors to Consider
Use: What are you using the gloves for? If it's light garden work, go for a thin yet water-resistant glove. If it's heavy-duty carpentry, look for features like puncture-resistance.
Climate: Leather work gloves are inherently "hot" and "cold" items. In warmer climates, your hands will be sweating profusely, so look for gloves that don't have a lining. On the other hand, leather stiffens up in cold weather, so you might want to consider a synthetic leather.
Price: You could pay upwards of $100 for the top-of-the-line leather work gloves, but those are generally specialist gloves – made for professionals with particular needs. A good pair of general use leather work gloves should not cost more than $30. Paying more means paying for features you don't need or care about.
Related buying guides & articles:

Conclusion
From this point, you should now have the necessary information to make an educated purchase. But we suggest you try on a few pairs of working gloves before you buy.
However, in the interest of saving time and effort, we recommend the following products based on our first-hand testing and experience. The Wells Lamont 1132L Leather Work Gloves are by far the most durable and versatile leather gloves on this list and our choice for best overall. Our best value pick, the AmazonBasics AM001M Leather Work Gloves, prove that a product can be affordable and effective. Finally, the Midwest 650 Buffalo Leather Work Gloves are ideal for users who don't mind paying a bit extra for quality American-made products.
We hope you've enjoyed our reviews and wish you all the best in your endeavors. Happy shopping!