9 Best Backpack Leaf Blowers of 2023 – Reviews & Top Picks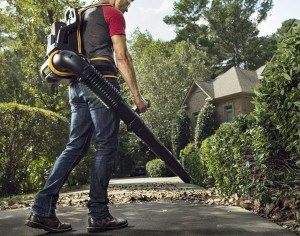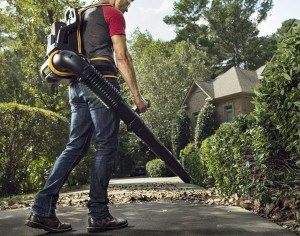 If you're a hiker, you know it's much more efficient to put your belongings in a backpack to carry with you, rather than try to take everything in your arms. The same holds true for leaf blowers. The most efficient blower comes in the form of a backpack. Having the motor strapped on and behind you leaves your arms free to work with both hands rather than one.
Backpack blowers come in all shapes and sizes. We have reviewed several and have made a list of our nine favorites for you. We will give you some pros and cons of each one so you can see it from all sides.
---
A Quick Comparison of Our Favorite Picks in 2023
Rating
Image
Product
Details

Best Overall

Husqvarna 350BT Gas

X-Torq engine
Offset handle
Low vibration
CHECK PRICE

Makita EB7650WH Commercial

Heavy-duty 75.6cc engine
Easy to start
Adjustable shoulder straps
CHECK PRICE

Best Value

Poulan Pro Backpack Leaf Blower

48cc two-stroke engine
Adjustable shoulder straps
Variable speed control
CHECK PRICE

Husqvarna 130BT

Ergonomic handle
Comfortable harness
Air purge
CHECK PRICE

Echo PB-580T

Padded backrest and shoulder straps
Ventilated backpack
Leaf guard
CHECK PRICE
The 9 Best Backpack Leaf Blowers – Reviews
1.

Husqvarna 350BT Gas Backpack Leaf Blower – Best Overall
We've voted the Husqvarna 350BT as the best backpack leaf blower for several reasons. It's powered by an X-Torq engine, which has up to 60% less harmful exhaust emissions and up to 20% better fuel efficiency. It also has the cruise control feature that will keep your leaf blower working at the speed you want with no effort on your part.
This Husky has an offset handle that helps keep your arm from being pulled downwards and helps give you better control. The vibration control keeps the vibration that your arms have to take at a minimum. All this comes in a backpack with an ergonomic harness system and hip belt that adjusts to fit different body sizes and shapes. This helps balance out the weight more evenly and makes it more comfortable to wear.
One thing that makes it tricky to assemble this leaf blower is the fact that the manual isn't written clearly. The diagrams don't really show what they're trying to explain. You may find that putting this thing together is a lot like putting together a puzzle. Once you have it all assembled, it works well for any jobs at your home. Keep in mind that this leaf blower isn't powerful enough to handle being used consistently for long periods.
Pros
X-Torq engine
Offset handle
Low vibration
Ergonomic harness system
Cruise control
Cons
Poorly written manual
Not for commercial use
---
2.

Makita EB7650WH Commercial Backpack Blower
The Makita EB7650WH is our favorite backpack blower for commercial use. It has a heavy-duty 75.6cc engine that starts the first time, every time, with the flip of a switch. The quiet motor has a hip throttle with cruise control to keep it working at a steady speed without you having to hold down the throttle continually.
The backpack has adjustable shoulder straps that can be made to fit almost any size or shape of body. The better fit lightens the load and makes this backpack more comfortable to carry. This is important because this leaf blower is quite heavy and requires both hands to operate. It would be impossible to use if it didn't have the backpack feature but it is still one of the best backpack blowers you can buy.
Pros
Heavy-duty 75.6cc engine
Easy to start
Cruise control
Adjustable shoulder straps
Quiet
Cons
Heavy
Requires two hands to use
---
3.

Poulan Pro Backpack Leaf Blower – Best Value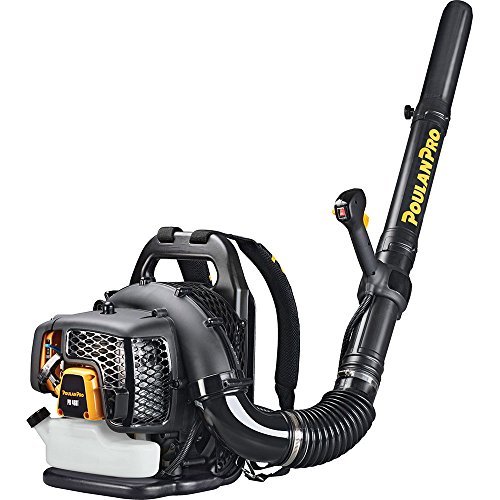 The Poulan Pro PR48BT is a more economically priced backpack leaf blower. We think it's the best leaf blower for the money if you're on a tight budget. It has a 48cc two-stroke engine that can be difficult to start, but it also has a variable speed control you can adjust for the perfect speed for the job once you have it running.
This Poulan Pro model has a heavy-duty frame that's capable of taking hits without getting damaged. The frame is attached to adjustable shoulder straps to help give each person a good fit. However, the blower hose is so big that it makes this blower cumbersome and challenging to get onto your back.
Pros
48cc two-stroke engine
Adjustable shoulder straps
Heavy-duty frame
Variable speed control
Cons
Difficult to start
Hard to get on your back (size of blower hose)
---
4.

Husqvarna 130BT Leaf Blower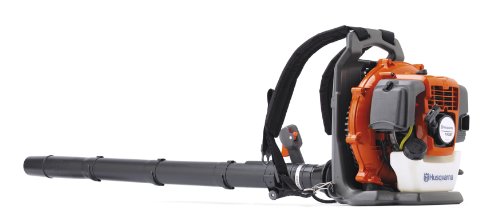 The Husqvarna 130BT is an excellent backpack leaf blower for those who want the Husky quality but don't need it to do large jobs. Like the 350BT, the 130BT has the X-Torq motor that reduces harmful exhaust and increases fuel efficiency. This means that it isn't as hard on fuel economy as some blowers are, and runs longer on one tank of gas.
The engine has an air purge system that forces all the air out of the carburetor and fuel system, making it easy to start. The cruise control feature holds the throttle in place so you don't have to squeeze it continuously.
Work is always more pleasant when you are comfortable. Husqvarna has given this leaf blower an ergonomic handle that adjusts to fit the hand of the person using it. It has rubber inserts to provide you with a firmer, more comfortable grip. This backpack also features a padded harness that contours to the user's body for the most comfortable fit possible.
The instruction manual has very minimal assembly instructions and inadequate diagrams. The primer pump is also in a bad place. It took us a while to even find it; it wasn't clear on the manual diagram. Once we did find it, though, it was in a tight spot that only little fingers can get to. It's hard to get big fingers in there for one or two pumps, and this one requires ten pumps.
We also found that this model idles very roughly and can be bothersome to your back until it gets up to full running speed and smoothes out. This blower does a good job, but even when running at full speed, it isn't as powerful as some of the other models.
Pros
X-Torq engine
Ergonomic handle
Comfortable harness
Cruise control
Air purge
Cons
Minimal assembly instructions
Poorly placed primer pump
Idles roughly
Not as powerful as others
---
5.

Echo PB-580T Backpack Blower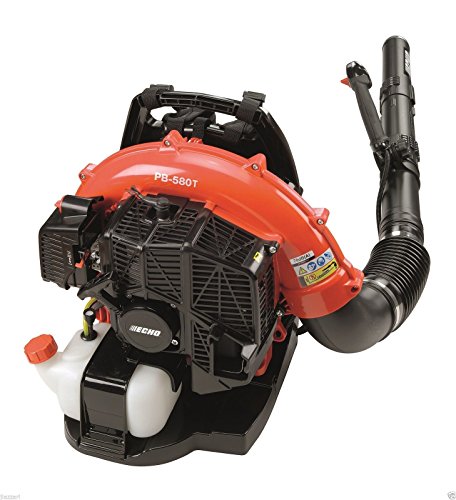 The Echo PB-580T is an excellent little leaf blower for use at home or on the job. It features a 58.2cc gas two-stroke engine and will blow air up to 215 MHP. It's powerful enough to move damp leaves. However, the body is made entirely out of plastic, so it may not last as long as the innards will.
The motor has a carburetor that's set for 1,000-foot elevation. This is adjustable, so you can set it for the altitude where you live. It will run more efficiently if it is set properly.
This backpack has extra padding in the backrest and shoulder pads to make it comfortable. This keeps the straps from digging into your shoulders. However, since this backpack blower is pretty heavy, it would be helpful to have a strap across the front to keep the shoulder pads from slipping off and relieve some of the stress on your back. The backpack is well-ventilated, though, so you don't have to worry about it getting too hot. It also has a leaf guard.
The bad thing about this backpack blower is that you have to start the motor before you can put the pack on. This blower is loud and requires ear protection, but it would be nice if you could start it up once you have the backpack on, so you don't have to swing it even closer to your ears than it sits.
Pros
Padded backrest and shoulder straps
Ventilated backpack
Leaf guard
Cons
Must start it before putting it on
Heavy
Plastic
Loud
Carburetor must be adjusted manually
---
6.

Jonsered 2-Cycle Gas Backpack Leaf-Blower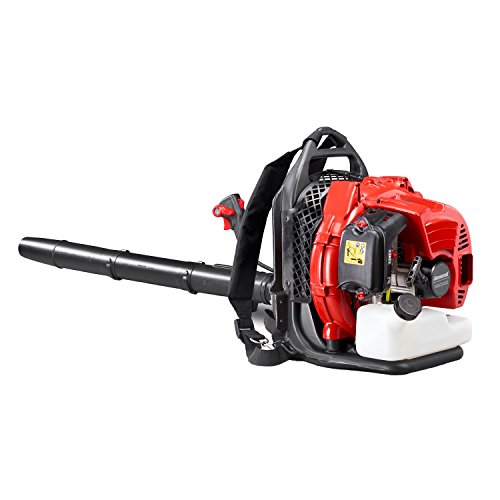 The Jonsered BB2250 is a 50.2cc two-cycle motor backpack with 692 CFM and 251 MPH. It's easy to start and has the cruise control feature to hold it at the speed that you like. The only real issue with this motor is that it has a non-adjustable carburetor. Carburetors act differently at different elevation levels, so it won't run the same way for everyone.
The backpack has a harness with a hip belt that helps distribute the weight of the blower evenly. Putting some of the burden on your hips, rather than just your shoulders, keeps you more comfortable because you don't feel like you have to lean forward to counter its weight. The Jonsered BB2250 is quite heavy. The hip belts help distribute the weight, but it would be nice to have a strap across the chest to hold the two shoulder straps. This would further reduce the stress on your back.
This blower also has a tube that you can adjust the length on. This give you more control over the direction you're blowing things.
Pros
Easy to start
Cruise control
Load-reducing harness with hip belt
Adjustable tube length
Cons
Non-adjustable carburetor
Heavy
No cross strap
---
7.

Greenworks Cordless Backpack Blowers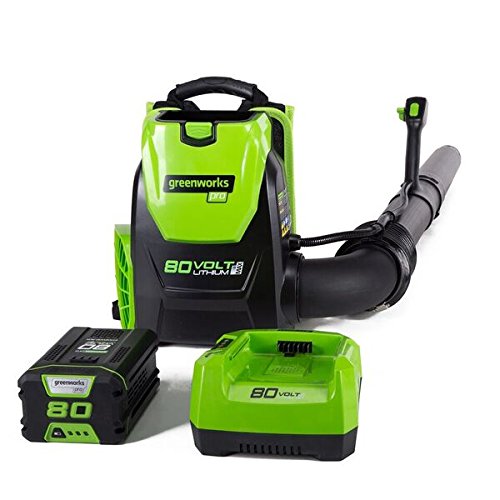 The Greenworks BPB80L2510 is a cordless backpack leaf blower that runs on a 2.5Ah battery. This battery doesn't hold a charge much longer than 20 to 30 minutes, so if you have a bigger yard, we recommend getting a second battery so that one can be charged while you're using the other. The battery and charger are included with this power tool.
This blower has a variable speed control so you can regulate the speed to your preference. It also has a turbo to give you that little extra boost if you need a touch more power. The turbo needs to be on continuously to blow heavier objects, such as damp leaves. Obviously, the turbo uses more power, so your battery gets sucked dry fairly quickly.
The backpack itself is big, making it somewhat awkward to get on. Once you get it on, you really won't want to take it off until you're entirely finished with your job. If you have a bigger yard, keeping it on isn't an option. You'll have to take the backpack off to change the battery.
One other issue is the tube. This tube is not straight like those in most leaf blowers. It has a longer tube with a 90° bend in it. This seems to affect the airflow that's being discharged.
Pros
5Ah battery with charger
Variable speed with turbo control
Cruise control
Cons
Cumbersome
Must use turbo to have adequate power
Battery sucks power
Must remove backpack to change battery
Long tube with 90° bend
---
8.

Poulan Pro PRBP675i Leaf Blower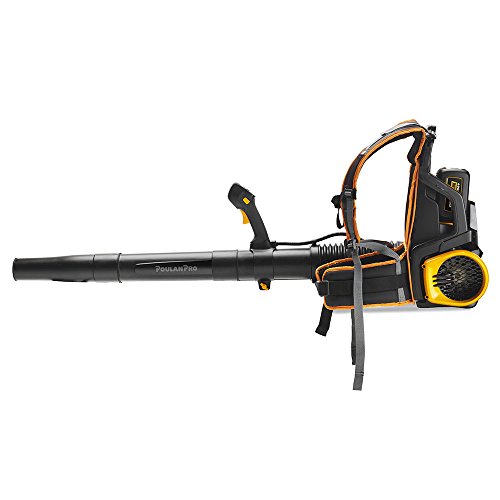 The Poulan Pro PRBP675i is a nice blower on the more economical end of blowers. It has a meter that tells you how much power you're pulling from your battery at different speeds. Once you find that sweet spot, it has cruise control to keep it steady. There's also a battery level indicator that tells you when your battery is running low. As the battery level gets lower, you can't run the blower at full speed. The battery level directly affects the power level that this leaf blower can function on. This blower also works for both left- and right-handed users.
The battery itself doesn't have a very long life. It will only last for 23 to 30 minutes. After that, you'll either have to wait a while for your battery to recharge, or have a second one on hand that you can use to finish your job. The battery is the most expensive part of many power tools. You will have to determine what is most important to you, time or money.
Pros
Battery power meter
Cruise control
Good for left- or right-handed users
Cons
Short battery life
Long recharge time
Loses power as battery life is used
---
9.

EGO 145MPH Electric Backpack-Blower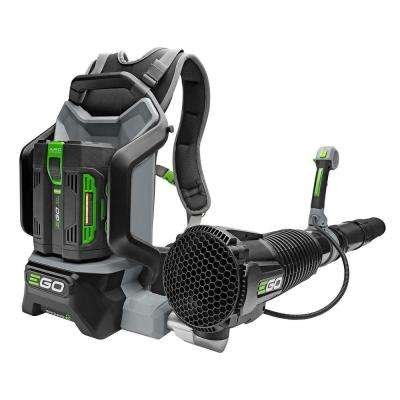 The EGO 145 MPH Lithium-Ion Electric Backpack Blower runs on a 2.5Ah battery, so it is not as loud as some, but it weighs more than many others. This blower does a decent job at blowing dry, light leaves, but you'll have to use the variable speed control to have more power if you want to move damp leaves or anything heavier. The problem with that is that the higher power levels drain your battery much faster than the slower speeds.
Just like the Poulan, the issue is the battery. When running at top speed, it will only last about 20 minutes, and then it takes about 1 ½ hours to recharge. When you start a job, you don't want to stop in the middle. You can avoid that by having a second battery, but batteries are expensive. You can plan on your overall cost to nearly double if you have to purchase a second battery. You'll have to decide if keeping your money in your wallet is more important than downtime while waiting for your battery to charge.
Pros
5Ah battery
Variable speeds
Quiet
Cons
Must use high power to blow heavier objects
Short battery life
Long recharge time
Heavy
---
Buyer's Guide – Choosing the Best Backpack Leaf Blower
We've discussed a handful of different backpack leaf blowers and what you may or may not like about them. Here, we want to give you an idea of additional features or specifications that are offered so you can decide for yourself which ones are important to you.
1.

Power Type
Gas-powered blowers:
Gasoline-powered blowers are more powerful than electrical ones.
Electric blowers:
Electric blowers don't have as much power as gas ones, but they are getting better. They also run a lot more quietly than gas ones.
NOTE: See our gas vs electric leaf blower comparison post here!
2.

Important words to understand
Cubic feet per minute (CFM):
CFM tells you how much air flows through your blower's tube in one minute. The amount of air is what pushes leaves and other debris around.
Miles per hour (MPH):
MPH tells you how fast the air is being pushed through your leaf blower. Faster doesn't mean that it will blow more leaves; it tells you the power behind the volume.
There's some debate as to which is the most important, CFM or MPH. Actually, one won't work well without the other. Make sure that they are both high numbers.
SEE ALSO: Our in-depth guide discussing whether CFM or MPH is most important to look at
3.

Engine Type
Two-cycle:
Four-cycle:
Gas and oil each have their own place and don't mix
More fuel-efficient than a two-cycle engine
More torque than a two-cycle engine
4.

Tank and Battery Size
Whether you prefer electric or gas backpack leaf blowers, be sure your battery or gas tank is big enough to handle the whole job.
With a battery, if you can't complete the job in one shot, you'll either have to wait for it to recharge or have a second battery so that you always have one ready to go.
5.

Weight
Weight is one of the most essential factors to pay attention to when choosing a backpack. Though it's bothersome to have to stop and fill up a gas tank, it would be much more inconvenient if you couldn't carry the weight.
6.

Noise Level
Nobody likes to be awakened by neighbors' noisy tools, but even though the noise is annoying, it isn't dangerous to you in any way. That can't be said of all the power tools you use near your ears. Make sure you have ear protection available if you have a blower that's over 85 decibels.
7.

Cruise Control
Cruise control on your leaf blower works like the cruise control in your car. Once you get the blower up to the speed you want, if you turn on the cruise control feature, the engine will stay at that speed without you having to hold the throttle.
8.

Warranty
Leaf blowers don't break down for storage in a smaller space, so they can get beaten up over time. Having a warranty will give you peace of mind that you can get things fixed if something breaks accidentally.
Also worth reading: we recently compared the most popular cordless leaf blowers of this year. See our findings here!
Conclusion
Now that we have explained some of the extra features you should think about while shopping for your backpack leaf blower, let us remind you of the nine top blowers we reviewed:
1. Husqvarna 350BT Gas Backpack Leaf Blower – Top Pick
2. Makita EB7650WH Commercial Backpack Blower – The Runner-Up
3. Poulan Pro PR48BT Backpack Leaf Blower – Best for the Money
4. Husqvarna 130BT
5. Echo PB-580T Backpack Blower
6. Jonsered BB2250 2-Cycle Gas Backpack Leaf Blower
7. Greenworks BPB80L2510 Cordless Backpack Blower
8. Poulan Pro PRBP675i
9. EGO 145 MPH Lithium-Ion Electric Backpack Blower
Hopefully, after reading about the features, you know which ones are most important to you. Now, it's time for you to go look at individual blowers and choose the one that best meets your needs.
Also, here are some of our more in-depth reviews: