DeWalt DW734 vs DW735 Planer (2023 Comparison): What's the Difference?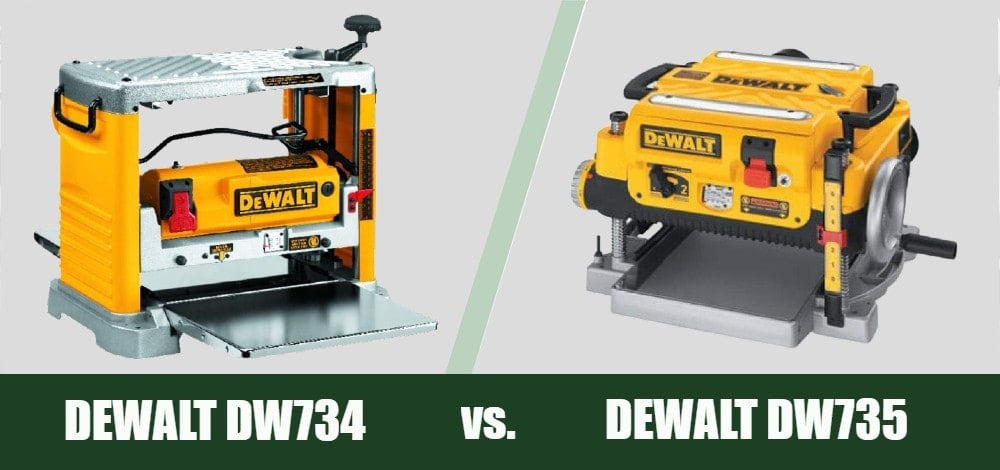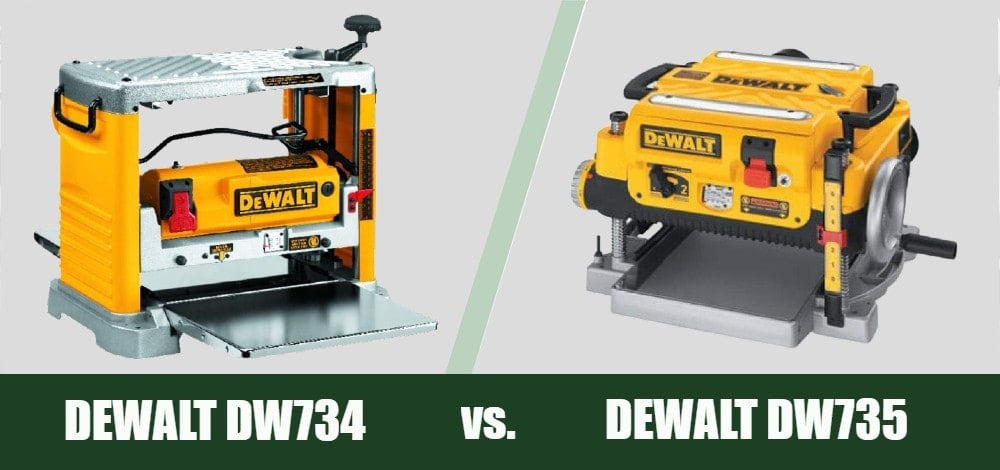 Rating
Image
Product
Details

The Winner

DeWalt DW735

Dual speed feed rates
Greater precision in controls
Capable of planing wider stock
CHECK PRICE

Best for the Money

DeWalt DW734

Lower cost
Excellent feed and run-out capacity
Provides the same smooth finish as the DW735
CHECK PRICE
Review Summary
Have you been finding yourself needing a planer to handle the custom jobs that are brought into your workshop? Are you looking to replace an older model planer or one that does not produce the quality dimensional planes you require? DeWalt has two tabletop planer models that we will take a closer look at: the DW734 and the DW735.
Each model has a high approval rating for its quality and precision planing. However, the 735 model has a two-speed setting, so with the second speed, it is able to produce a more detailed finish. So, if you need that smooth precision finish, the 735 should be your choice. Keep in mind that it will come with a cost. The 735 has a significant price jump.
The 734 is a perfect companion for the DIY'er who wants to take their woodworking shop to another level. It offers the same quality, warranty, and service as the 735, it merely lacks a setting for the additional cuts per inch. Even with this one less feature, the 734 is a popular choice because of all the other user-friendly features.
We will continue to unpack the features of these two models. As you read on, you will see that we have highlighted the key features of each of these models. We have identified some pros and cons and made some recommendations to help you make an appropriate choice.

At a Glance
Let's look at the key points of each product.
DeWalt 734
15-amp 20,000 RPM motor
Three-knife cutter head
Four-column carriage lock
Extra-long infeed and outfeed tables
12½" thickness planer
Reversible and disposable knives
Less expensive
DeWalt DW 735
Two-speed gearbox
15-amp 20,000 RPM motor
13-inch width
Three-knife cutter head
Four-column carriage lock
33½" material support
Precision cuts
---
Overview of DeWalt 734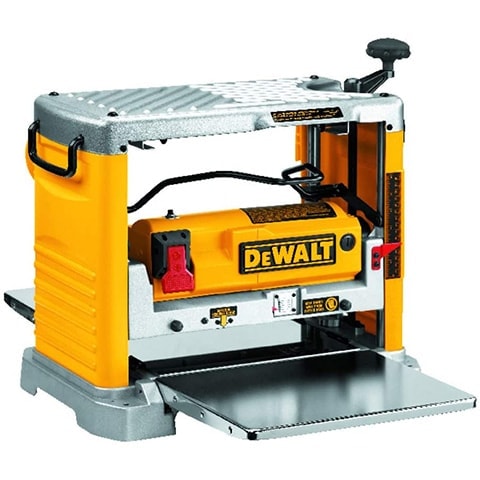 Looking for a reputable planer for your workshop or job site? The DeWalt DW734 is a low-cost planer that gives you some of the professional features of a higher-end industrial planer while keeping the simplicity for the DIY'er. Enjoy the ability to customize your projects with a value-priced planer that can take your home workshop to the next level. Create your personal favorites by having the ability to precision plane your desired thicknesses.
Easy operation and a high-powered motor make it fun to spend time in the workshop. If you are an avid DIY'er, then consider this 734 model. You will appreciate the lighter weight of the planer and its quality. For peace of mind, you have the added 3-year guarantee and 1 year of free service. You also have 90 days to decide if it is the right one for you.
Pros
33½" infeed
Material removal gauge
Lighter weight
Affordable price point
Cons
Feeds at only one speed
12½" thickness planer
Fewer precision cuts

Overview of DeWalt 735:
A similar planer with a two-speed motor, larger capacity, and smaller footprint is also available from DeWalt. The 735 model comes in at a slightly higher price for a few reasons. One is that it offers a two-speed, 15-amp, 20,000 RPM motor, making it capable of cutting more varieties of wood. It has a motorized fan that helps push out the wood chips through two separate exits; one to the floor and one that can be connected to a vacuum.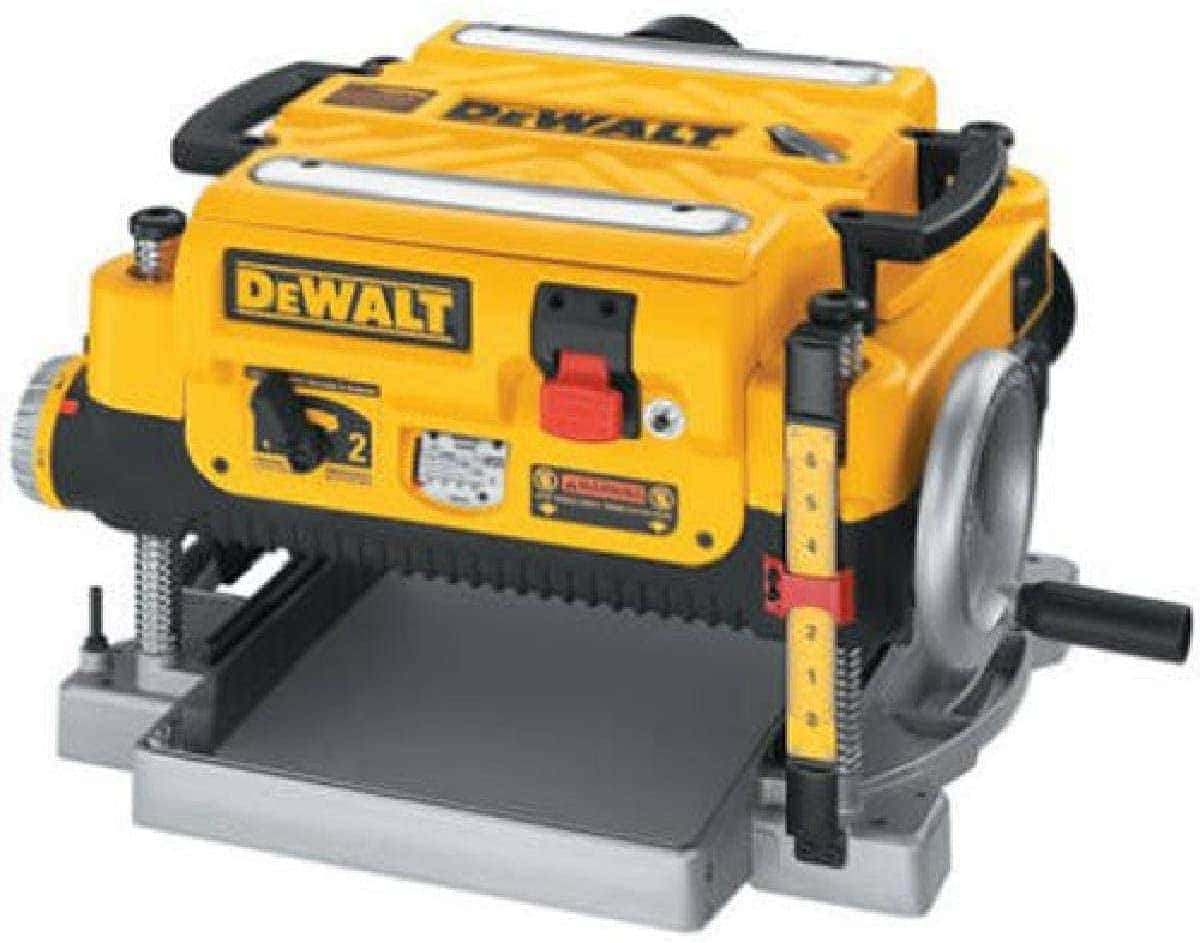 It has the same motor as the DW 734: 15-amp 20,000 RPM. You can plane up to a 6-inch thick board and up to 13 inches wide.  The four-column carriage automatically locks in place for more accurate planing. Adding to the stability of the planer is the 19¾-inch cast aluminum base. The 735 is a heavy power tool, 92 pounds as noted, so you may wish to purchase or make yourself a portable table to assist in moving it about your shop. This is a higher-end model that will meet your expectations in your workshop or a job site.
Pros
Two-speed
Handles larger cuts
Motorized fan breaks debris down
Cons
Weighs 92 pounds
Higher price point
Need dust collection vacuum
---
What are the differences between them?
Performance
Edge: DW 735
Both of these planers have the same 15-amp 20,000 RPM motor. The 735 model has the added two-speed control, which gives you one speed for quick thickness planing and the other for more refined finishing. It is capable of cutting through the hardest woods. This versatility and precision give it the edge in performance.
Price
Edge: DW734
If cost is a concern, then the edge has to go to the 734. The price is considerably less than the 735, and you are not sacrificing quality or workmanship. You can still produce accurate planed materials for DIY products and many commercial projects. The higher price tag of the 735 is primarily because of the two-speed motor feature.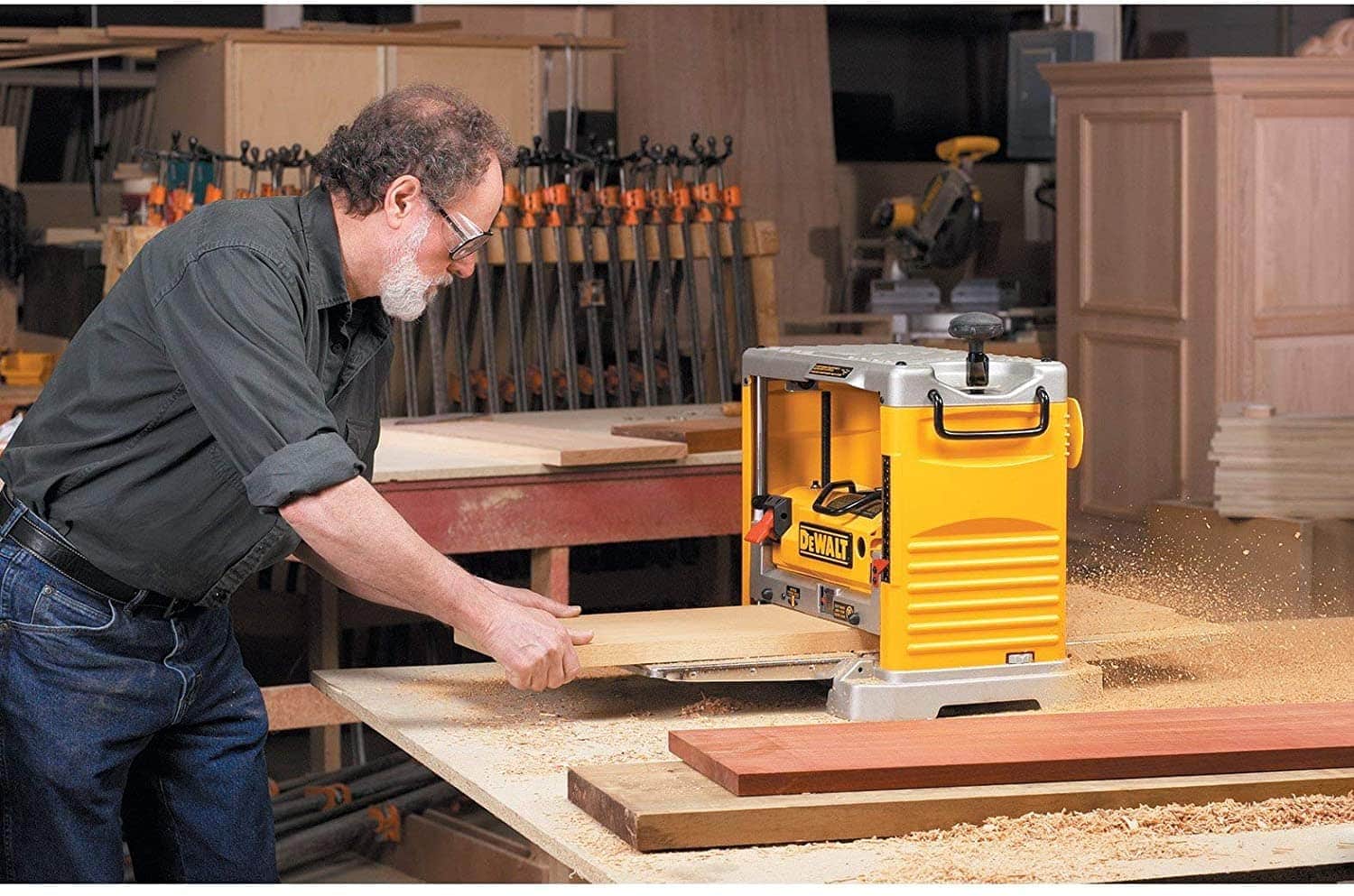 Durability
Edge: None
Both models are made by a reputable company that manufactures high-quality power tools for both the homeowner and the professional. DeWalt uses high-impact plastic and cast aluminum in its products which makes them suitable for any workshop or job site. DeWalt provides the same great warranty on both products and offers a 90-day return if needed.
Dust collection
Edge: 735
There is an added blower that is included on the 735. This built-in feature helps keep wood shavings away from the three blades. You also have the option of connecting a shop vacuum to the planer to collect the wood shavings and keep your shop cleaner. These features help prolong the life of your cutting blades.
Ease of Use
Edge: None
DeWalt has provided two user-friendly planers with clear markings to make using the planer enjoyable and productive. Height adjustments are easily made, and with the 4-column carriage, your materials are held tightly for proper planing.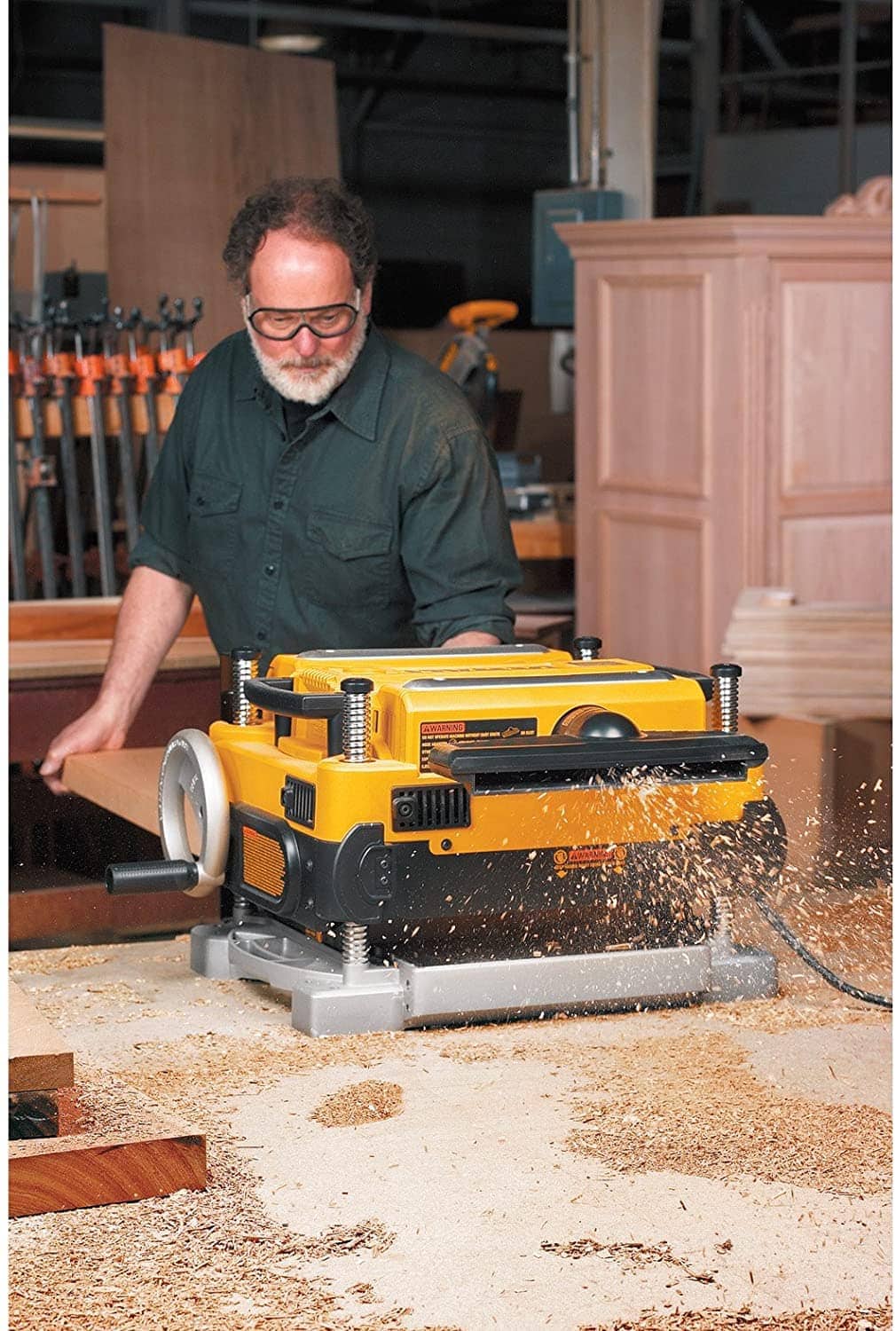 What the Users Say
Those who have used these DeWalt planers have much to say about their experiences and the quality of the projects they were able to produce. We have checked out their reviews and discovered that many customers highly recommend both of these planers.
Many users appreciate the precision of the wood that they plane. They like the reverse feature of the three blades because it increases the life of the blades. One customer used the planer on maple, which we know is a hardwood, and remarked that he had no tear-out and his variance was .002 inches from one side to the other on a 10-inch board. That is remarkable workmanship.
However, there are several comments about snipe. This is the variation in thickness at the beginning and end of your stock that results from your project not being level throughout the entire planing process. This seems to occur mostly with the 735 models.
Several users have commented on the power of the built-in blower in the 735 models. Most would agree that it is so powerful that the shop vac that you connect to it sometimes has difficulty keeping up. Others have mentioned the shop vac does not work at all. On the 734 models, it is mentioned but seems to be tolerated by its users.
The 734 model, when compared to other models in its class, has the most favorable reviews of all of them. On the other hand, the 735 model has many favorable reviews, but there are a couple of other models that can keep pace.

Conclusion
DeWalt makes reputable products. Many of the features of the 734 are available in the 735. They have the same motor, but the 735 has the added performance of two speeds. This allows you to achieve a finer finish with higher cuts per minute if desired. Keep in mind, though, the 734 produces a clean and precise plane with only one speed. For the person with a home workshop, the 734 makes sense. It provides user-friendly features with precision machining and an affordable price. It is capable of handling commercial projects, too, which is why it is the best overall pick.
The 735 surely offers a bit more versatility because it can handle all types of wood with its two-speed operation. It comes in at a higher price, and the question is whether the higher cost justifies its additional feature. The answer could quite possibly be yes if you are an avid woodworker or commercial contractor that handles larger volumes and types of projects.
There is no bad choice. In fact, it seems that your choice comes down to two things.
How much are you willing to invest?
What are you going to be using it for?
Those with home workshops who don't use a planer every day would benefit the most from the 734. For the commercial user, the daily user, or the high-volume workshop, it may make sense to spend the extra money on the 735.
Related Reads: