DeWalt DWE575SB Circular Saw Review 2023 – Pros, Cons, & Verdict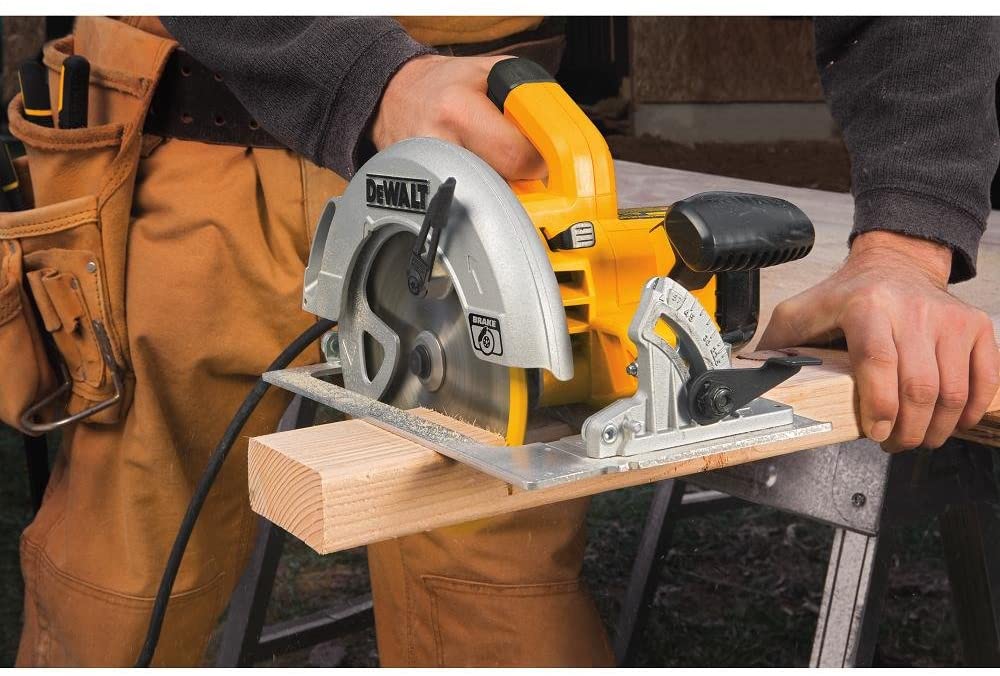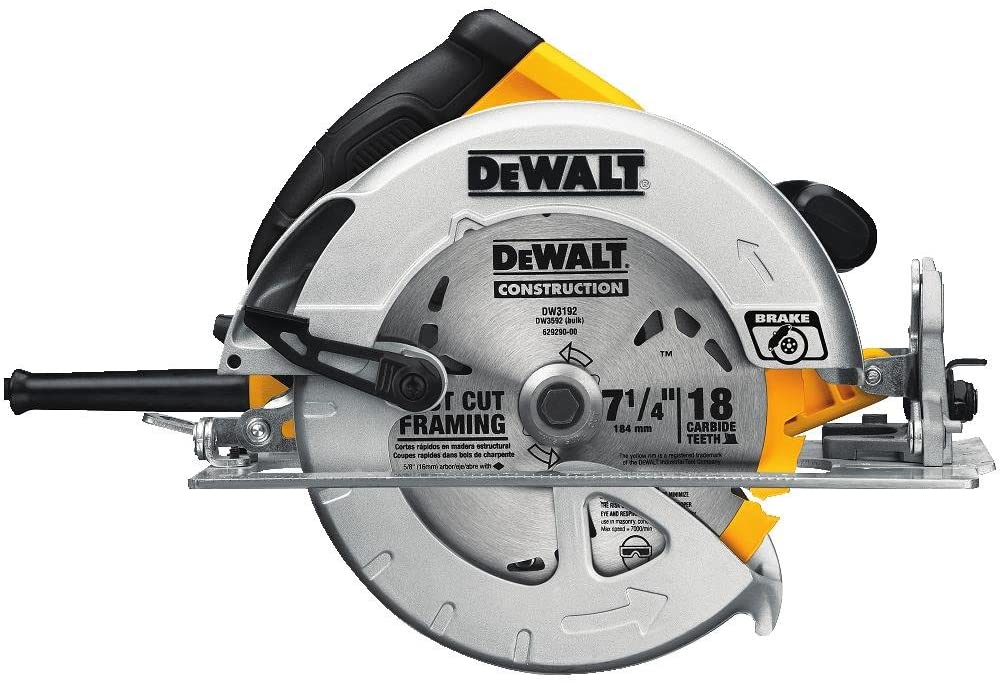 We give the DeWalt DWE575SB Circular Saw a rating of 4.8 out of 5 stars. 
Build Quality: 4.8/5
Power: 4.8/5
Features: 4.8/5
Price: 4.5/5
Review Summary
DEWALT is known for producing high-quality tools that professionals depend on. Their DWE575SB circular saw doesn't break from tradition. This tool offers some excellent features, such as a powerful motor and a metal blade guard. You'll have no trouble cutting through a variety of materials with the 7.25-inch blade; a common size that offers a lot of options.
This saw isn't cheap. But it doesn't perform or feel like it either. You'll be shelling out a pretty penny for this professional-grade performance. But with proven reliability and a 3-year warranty to act as insurance, we don't think you can go wrong with this saw. There are cheaper options, but they don't offer the same level of performance and longevity that you'll get with the DWE575SB. Let's take a closer look at some of its stand-out features.

DEWALT DWE575SB – A Quick Look
Pros
Offers plenty of power
3-year DEWALT warranty
Bevel stops at 22.5°, 45°, and 57°
Built-in dust blower
Cons
It's a bit pricey compared to similar products
Specifications
Specifications
Brand Name: DEWALT
Model: DWE575SB
Motor: 15-amp
Max Speed: 5,200 RPM
Blade Size: 7.25"
Tool Weight: 8.8 pounds
Bevel Capacity: 57°
Depth of Cut at 90°: 2.55"
Depth of Cut at 45°: 1.9"
Warranty: 3 years
As Safe as Saws Get
Saws are inherently dangerous tools, but this saw packs in all of the most pertinent modern safety features to provide you with as safe of an experience as possible.
For instance, this saw is equipped with an electric brake. This brake will immediately stop the blade from turning the moment you release the trigger.
Another great safety feature on this saw is the metal blade guard that ensures your fingers are always safe, even if they're close to the spinning blade.
If safety features are of paramount importance to you, then the DWE575SB is a saw that's definitely worth considering since it's loaded with all the latest and greatest circular saw safety features.
15A and 5,200 RPM
One of the most important aspects of any circular saw is power. The last thing you want is a weak saw that bogs down and gets overloaded when trying to make a cut. With a powerful 15-amp motor keeping the blade spinning, the DWE575SB is at no risk of bogging down. It's got a maximum speed of 5,200 RPM, allowing the blade to glide smoothly through any wood, even down to the saw's maximum cutting depth of 2.55 inches.
DEWALT's 3-Year Warranty
DEWALT is known for their quality. It's one of the reasons that DEWALT tools cost more than tools from other manufacturers. But DEWALT backs up their quality with an excellent 3-year warranty.
Even though this saw is more of an investment than many similar models you could choose, they won't all include the same 3 years of peace of mind you'll get from a DEWALT saw, making this a better value in the long run.
Premium Performance; Premium Price
The fact is, you have to pay for quality. DEWALT tools are high-quality products and the DWE575SB is on the higher end of the DEWALT lineup. As such, it's pretty pricey. But with excellent performance, top-notch safety features, and a 3-year warranty, it's a tool we're willing to pay a bit more for.

FAQ
Is there a wrench to change the blade included with this saw?
Indeed, the wrench you need for blade changes is included. It's conveniently tucked into the saw for storage, hidden near the power button.
Is there any type of storage case included?
Included with the DWE575SB circular saw is a soft-sided zippered bag that makes it easier to transport and keeps it protected along the way.
Is the blade guard on this model plastic?
No. This model is equipped with a metal blade guard to keep you completely safe during use.
What the Users Say
We're very confident in our thoughts and opinions of the DEWALT DWE575SB, but we also know that our opinions aren't the only ones. Luckily, thousands of other users have put this tool to the test in the real world, which gives us the opportunity to bring you the viewpoints and feelings of many other people. We scoured the internet, reading their reviews and comments, and this is what they had to say.
Most users were satisfied with the overall feel and use of the saw, saying that it feels sturdy yet lightweight at the same time. A lot of these people liked the durable metal construction, with many saying that it feels better than the cheap plastic used on many similar saws.
Regarding its use, most people seemed to agree that it cuts smoothly and makes easy work out of any type of wood. They also often said that it was an easy saw to control, partially due to how lightweight it is.
Many people also commented on the electric brake, saying that it works quickly and made them feel safer. Similarly, most people felt that the blade guard was just right. The spring was light enough not to interfere when cutting but still snapped back quickly for proper protection.
Some users were disappointed in the included carrying bag, saying they wished it had come with a hard case instead. But opinions were divided here as many users felt that the bag was nicer than expected and a great addition to the tool.
A common theme was that people had chosen this saw over cheaper models they had been considering. None of these users reported disappointment or regret in their decision to purchase the DWE575SB over less pricey alternatives. In general, these users seemed pleased with their decision, due to the perceived high quality of this saw.
Conclusion
If you're budget-shopping for a circular saw that will just get you by, then you should overlook the DWE575SB. But if you're looking for a professional-quality tool that will offer you years of reliable service, then this saw should be at the top of your list. It's a lightweight tool with loads of power that's protected by a 3-year warranty, making it a great choice for anyone who needs a top-quality circular saw.
Related Reads: