DeWalt DW735 Planer Review 2023 – Pros, Cons, & Verdict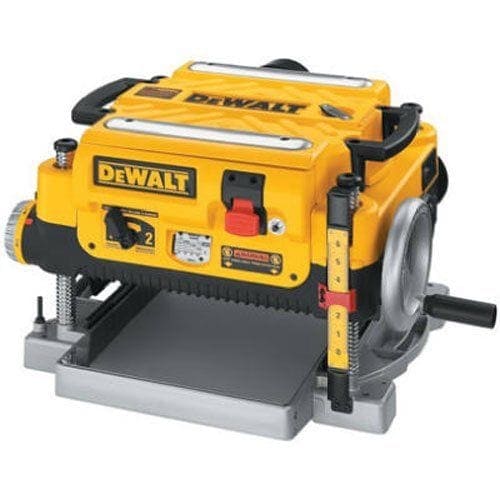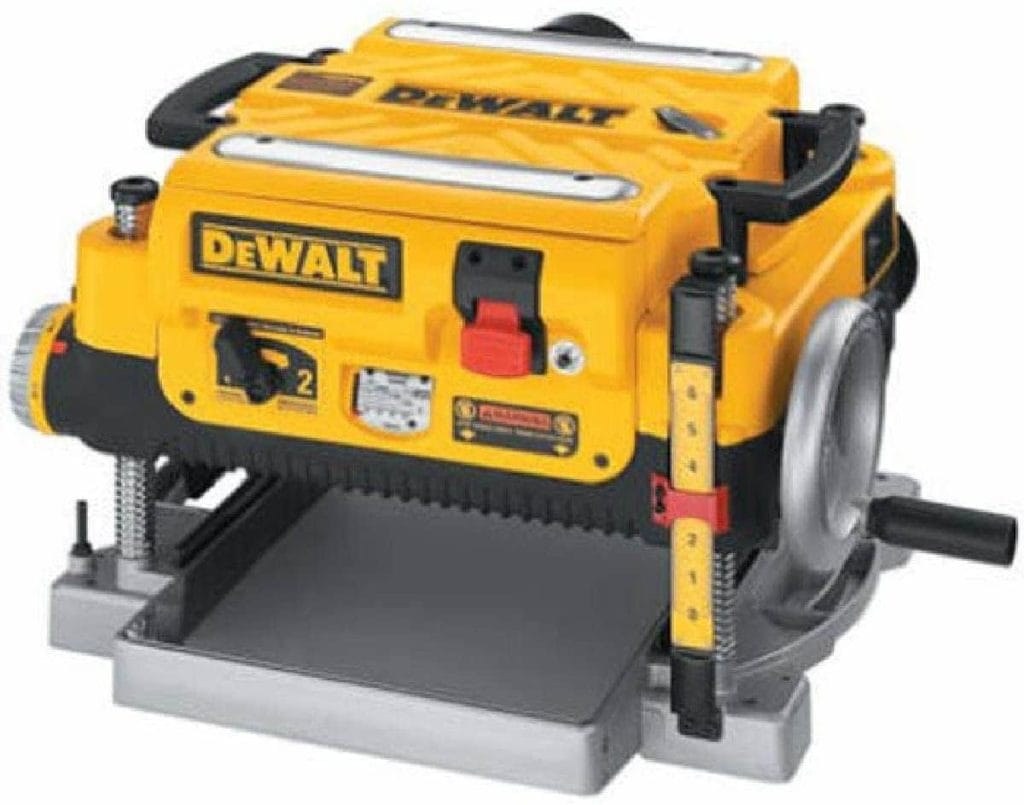 We give the DeWalt DW735 Planer a rating of 4.6 out of 5 stars. 
Build Quality: 4.5/5
Power: 4.8/5
Features: 4.5/5
Price: 4.5/5
Review Summary
If you have researched different planers and tools, you have almost certainly stumbled upon DeWalt products. DeWalt is known for its highly durable and useful tools that last for many years. For that reason, most users become loyal to the DeWalt brand for their high-quality tools.
One of the more popular planers from the DeWalt manufacturer is the DW735 planer. It is a semi-professional planer that is great for amateurs or more experienced users. It has a high-power motor, a 2-speed gearbox, and a dust ejection system. Additionally, the knives are very impressive, and the model comes with an extensive warranty and money-back guarantee.
Although this model is exceptional, it is a bit expensive and heavy. Those on a tight budget who want an extremely portable model might want to select a different planer instead. Nevertheless, this planer is an excellent option for those willing to shell out a bit of cash who don't anticipate moving their planer often.
To find out more about the DeWalt DW735 planer, read on. In this review, we will look at this product's main specs and features. We even offer you some advice mentioned by other users. Let's get to it.
DeWalt DW735 – A Quick Look
The DeWalt DW735 is a semi-professional planer that is great for dimensioning and fine cuts. It has a powerful motor and two-speed gearbox, allowing you to get the precise cuts you need. Whether working with softwood or hardwood, this 2-speed option ensures you can create the final product you want.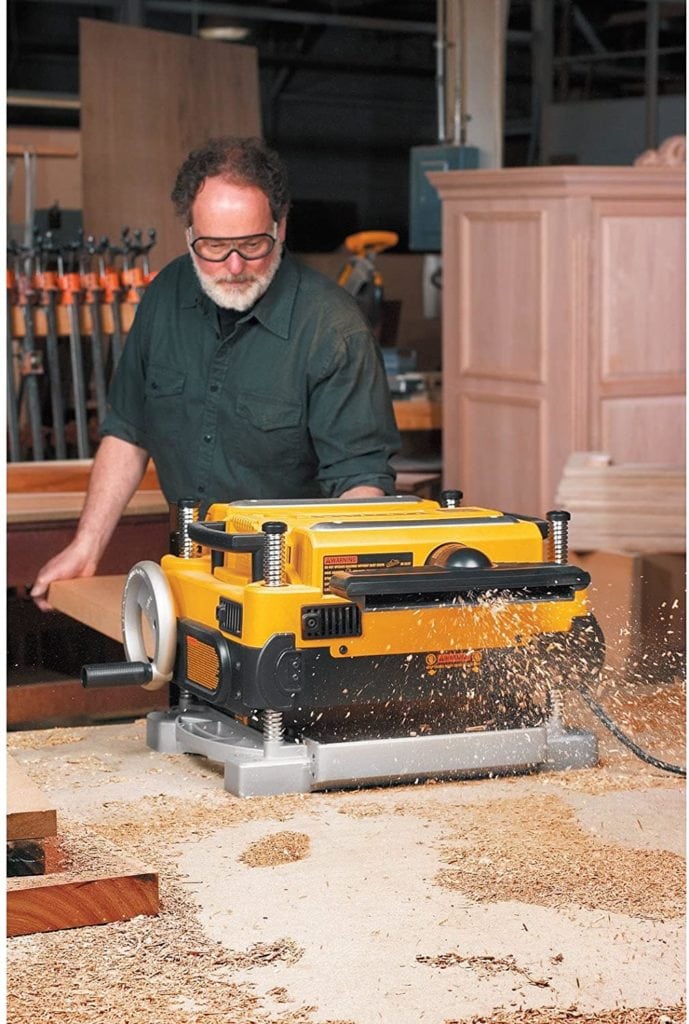 Although the DW735 is a bit expensive and heavy, it is a great tool if you are looking for a more advanced planer for your professional use. Thanks to its impressive knives and dust collection system, it cuts boards with ease without making a mess. However, you may need to adjust the dust collection system on your own at home.
It comes with a 3-year limited warranty, 1 year of free service, and a 90-day money-back guarantee. These features can help offset the price if you aren't fully satisfied with your purchase. Overall, Dewalt's planer is ideal for personal or semi-professional use. It might be a bit too expensive for beginners, but it is a reliable tool and is relatively easy to use.
Pros
15 amp motor
2-speed gearbox
Dust ejection system
3-year limited warranty
1 year of free service
90-day money-back guarantee
Good for personal or semi-professional use
Cons
Heavy
Expensive
May need to adjust the dust collection system
Specifications
Specifications
Manufacturer: DeWalt
Style: 2-speed planer 13"
Weight: 92 lbs.
Dimensions: 24" x 22" x 19"
Power Source: Corded-electric
Head Style: Flat
Warranty: 3-year limited
Motor and Cutting Power
The DeWalt DW735 planer includes a 15-amp motor that's suitable for cutting through hardwoods as well as softwoods and features two cutting speeds: 10,000 RPM and 20,000 RPM. The cutting power on this device is pretty impressive. This allows you to select 96 or 179 cuts per inch. You will use the 69 speed for creating dimension in the material while using the 179 speed for fine finishes.
This tool includes a maximum cut depth of 1/8-inch, a jet capacity of 6 inches, and a width capacity of 12½ inches.
Knives
The knives on this planer are incredibly durable and effective. The three-knife cutter head gives the knives a 30% longer life than other models. The cutter head has pins machined on that go through the knife holes, which makes it incredibly easy to change the knives.
The knives used in the model are reversible and disposable. Their reversible nature means you don't have to waste time resharpening your knives regularly. Instead, they are razor-sharp and can cut through just about any wood type.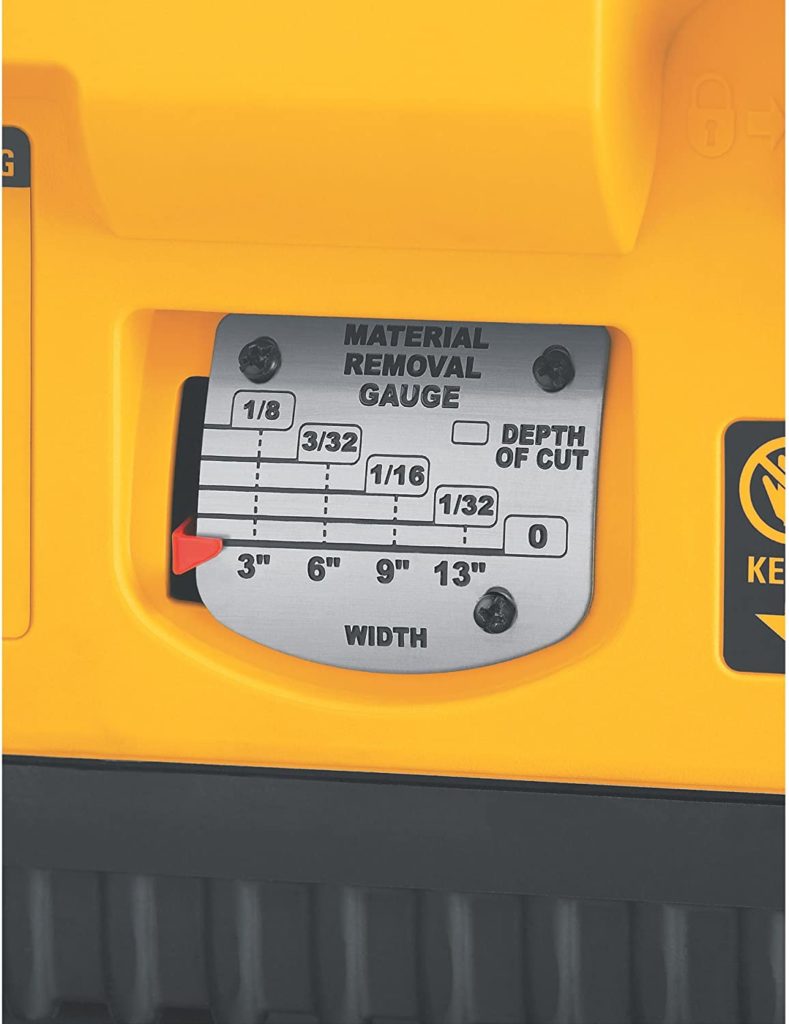 Dust Management
When cutting through wood, you have to be careful about the dust. The dust can damage the machine and shorten its lifespan. The DW735, however, comes with a fan-assisted chip ejection system. It includes a motorized fan that breaks down debris and blows it into the dust shrouds. One of the shrouds will disperse the chips onto the floor underneath. The other includes a vacuum hose connection or dust collector hose for easy cleaning.
Size and Weight
The main drawback of this model is its size. Weighing in at about 92 pounds, this planer is heavier than many other models. It will be more challenging to carry around and move for that reason. You should expect to use this tool in one location unless you have an easier way to transport it.
Price
Another drawback of the DeWalt DW735 planer is its price. Even though the model is only semi-professional, it has a price tag closer to the professional machines. Still, the price is offset by its 3-year limited warranty, 1 year of free service, 90-day money-back guarantee, and durability.

FAQ
Is This Model Good for Beginners?
Overall, the DW735 is not the best model you can get if you are just starting out. It is more expensive than most beginners should pay, and it comes with more features than you will probably use. However, the planer isn't too difficult to figure out.
What About the Price?
For a semi-professional tool, the DW735 is expensive. However, DeWalt makes sure its customers are satisfied with a good warranty.
Is It Durable?
Like any other DeWalt product, the DW735 is durable. The knives are especially impressive because they are razor sharp and have a 30% longer life than other planer knives. Additionally, the dust ejector extends the life of the machine.
What the Users Say
Overall, most of the customers had the same experience as we did, but others brought up some valid points to remember when purchasing or using it. Nearly all of the reviews that we read mentioned the power and precision of this model. Some reviewers even said it cuts as "smooth as a baby's bottom." Though we might not phrase it that way, we agree.
Some users also talked about the durability of the DW735. Since we haven't been using the planer as long as some of the customers, we find their input really helpful. Many customers have been using the DW735 for over 6 months and are still just as pleased with it as they were when they first bought it. The dust ejection system is the one part of the machine that was frequently criticized. Some mentioned that the blower itself worked very well, but the shrouds were not large enough to keep up with the amount of dust being produced.
The user manual also advises against connecting the tool to a shop vac for faster woodchip removal. Many users found this incredibly annoying because their planers developed clogs from being overloaded with wood chips. Some advised creating a woodchip deposit system for easier and more efficient cleanup.

Conclusion
The DeWalt DW735 planer is a great tool for personal or semi-professional use. Its strong motor and 2-speed gearbox allow you to easily cut hardwood and softwood. Although heavy and expensive, it is an excellent investment for an impressive and long-lasting planer. Just remember to pay attention to the dust ejection system, and you should be pretty happy with Dewalt's DW735.