DeWalt DW735 vs DW735X Planer: What's the Difference?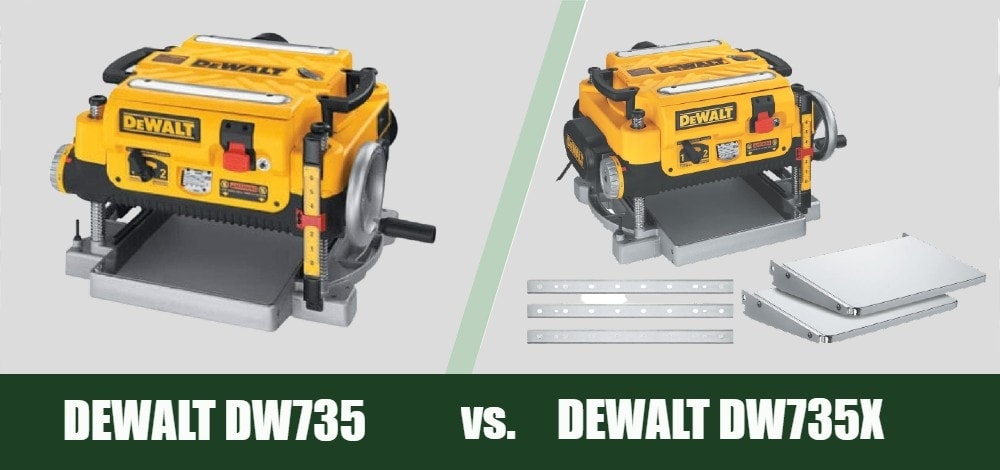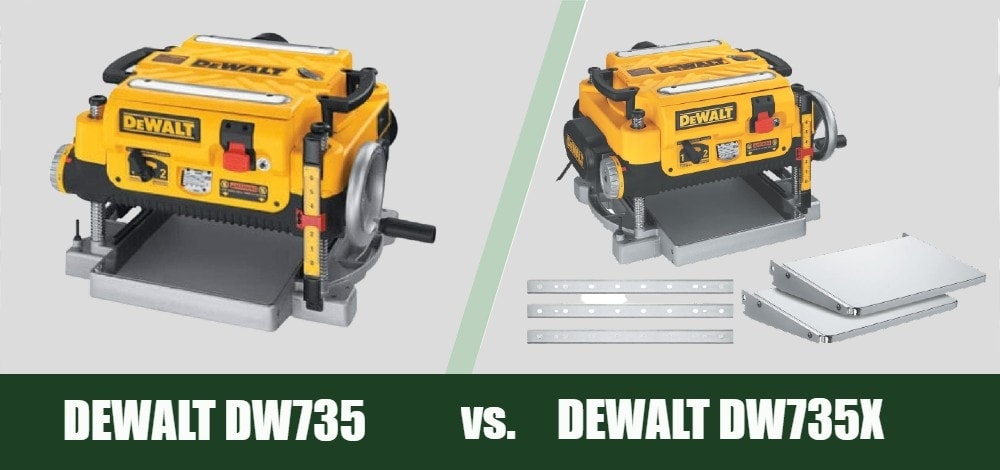 Rating
Image
Product
Details

The Winner

DeWalt DW735X

Controls are well placed
over-sized
and easy to use
Gauges are easy to read
helping to make accurate settings
Ships with extension tables and a set of replacement knives
CHECK PRICE

The Runner up

DeWalt DW735

Dual speed/CPI useful when dealing with tough stock
Excellent feature set for a thickness planer in this price range
CHECK PRICE
Sometimes, it almost feels like manufacturers like to confuse us. Take these DeWalt planers, for instance—the DW735 and DW735X. Nowhere on the product pages does it state the difference between these two clearly similar products. We, the customers, are left to guess.
That can be problematic with two nearly-identical tools such as these. They're priced only a shade apart and have specs that look exactly the same. How are you supposed to know which one is right for you if you don't even know the difference between the two models? If you've found yourself backed into a corner with the choices narrowed down to just these two planers, know that you're not alone. To help you and other inquisitive customers, we've decided to pit these two planers against each other to determine if any discernible differences might make one preferable to the other.

At a Glance
Let's look at the key points of each product.
DW735
15-amp motor
20,000 RPM motor speed
10,000 RPM cutterhead speed
2-speed gearbox for 96 or 179 CPI
Fan-assisted dust port
3 cutting knives
3-year warranty
Maximum cutting depth of ⅛"
5" width capacity and 6" depth
Weighs 92 pounds
No infeed and outfeed tables
DW735X
15-amp motor
20,000 RPM motor speed
10,000 RPM cutterhead speed
2-speed gearbox for 96 or 179 CPI
Fan-assisted dust port
3 cutting knives
3-year warranty
Maximum cutting depth of ⅛"
5" width capacity and 6" depth
Weighs 102 pounds
Includes infeed and outfeed tables
Extra knives included
Overview of DW735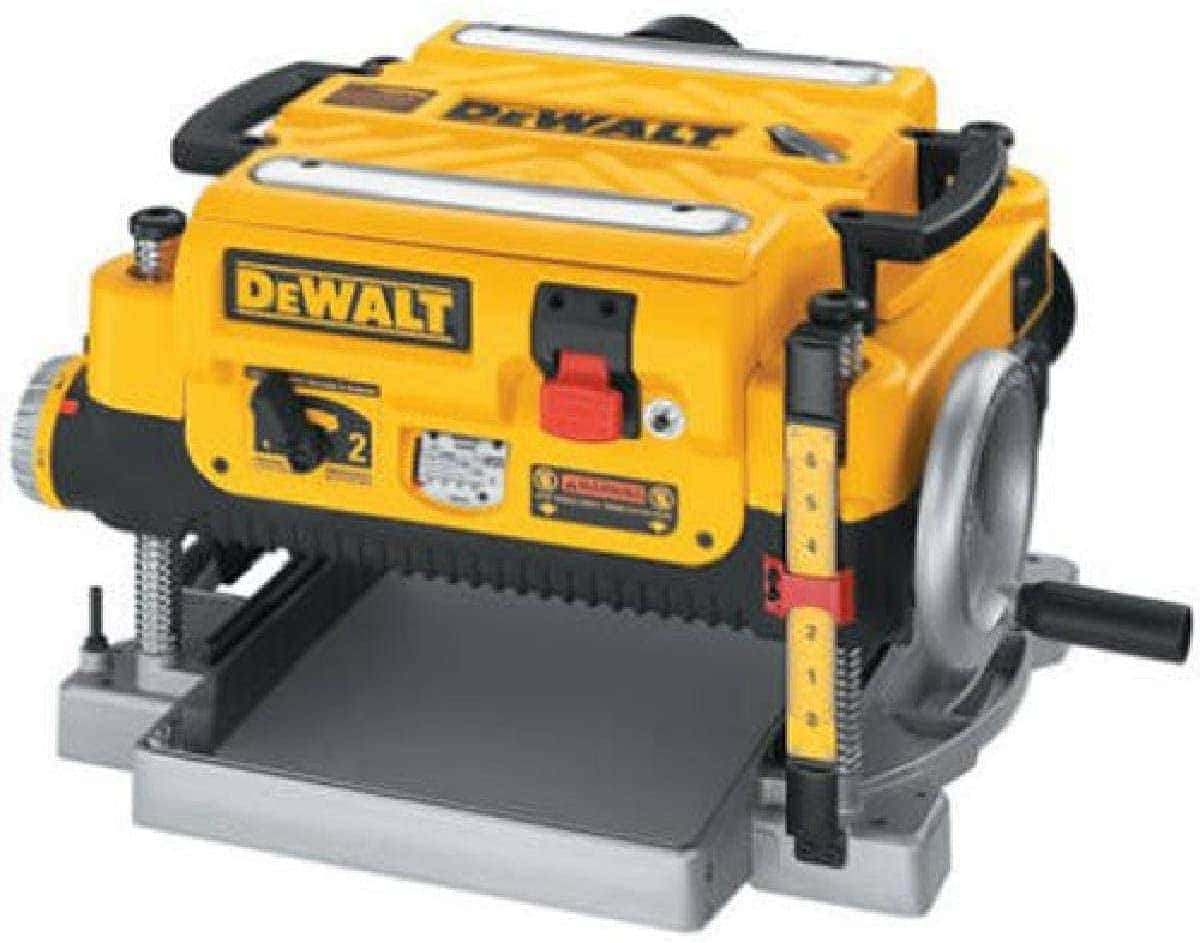 When it comes to benchtop planers, the DW735 is a standout model. It has a stout 15-amp motor that spins the motor at 20,000 RPM and the cutterhead at 10,000 RPM. With the 2-speed gearbox, you can adjust the feed speed for different types of wood, providing options of 96 and 179 cuts per inch. This creates a very smooth surface that hardly even needs sanding.
There's a dust port with fan-assisted chip ejection, removing sawdust as you create it. The 3-knife cutterhead allows for faster feed speeds and cleaner cuts than other models. They're also reversible and disposable. Turn them around for continued use, or easily swap them out for new knives.
At 92 pounds, it's pretty hefty but still a few pounds lighter than the DW735X. It can handle material up to 6 inches thick and 12.5 inches wide with a maximum cutting depth of ⅛-inch.
What's missing are the infeed and outfeed tables, so your material gets no support on its way through the planer. Also, the price of the DW735 is a bit higher than its closest competitor at the time of this writing.
Pros
2-speed gearbox
96 or 179 cuts per inch
20,000 RPM cutting speed
3-knife cutting head
Cons
More expensive than the DW735X
No infeed and outfeed tables

Overview of DW735X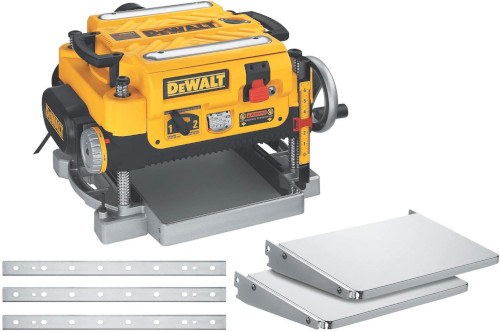 Looking at the specs list, you can tell that the DW735X has many of the same specs as the DW735 on paper. Things don't start to differ until pretty far down the list. First, you'll notice that this model weighs nearly 10 pounds more than the DW735. Does this mean improved performance? Well, in a way.
The real question is, where does that 10 pounds come from? The answer is the extras. With the DW735X, you'll get infeed and outfeed tables for the planer, providing plenty of extra support and reducing sniping. But this model comes with something else as well: extra blades for the cutters.
Especially when using harder wood, the blades on the knives can wear out easily. Granted, the knives are reversible and replaceable, so you can easily reverse them for more life or swap them for a new set of blades. The lucky part here is that the DW735X includes extra blades to go with the planer. This is somewhat ironic when you realize that the DW735X is more affordable.
Apart from including extra knives and support tables, the DW735X is identical to the DW735.
Pros
Has all the same specs as DW735
Includes an extra set of blades
Infeed and outfeed tables included
More affordable
Cons
Weighs 10 pounds more than the DW735
---
What Are the Differences Between Them?
There's not a lot separating these two great planers, just like there's barely any difference between their names. Though the differences might be subtle, there are several aspects to focus on.
Performance
Edge: DW735X
With fresh blades, both of these planers cut incredibly fine finished boards. You get a 2-speed gearbox in each that allows you to switch between 96 and 179 cuts per inch. All of the performance stats between these machines are the same.
However, the DW735X includes the infeed and outfeed tables, while the DW735 does not. As a result, we got cleaner, faster cuts with the D735X since we could feed the wood through more comfortably. Likewise, the addition of the tables allowed for cleaner finished products. So, the DW735X is going to take the upper hand when it comes to performance.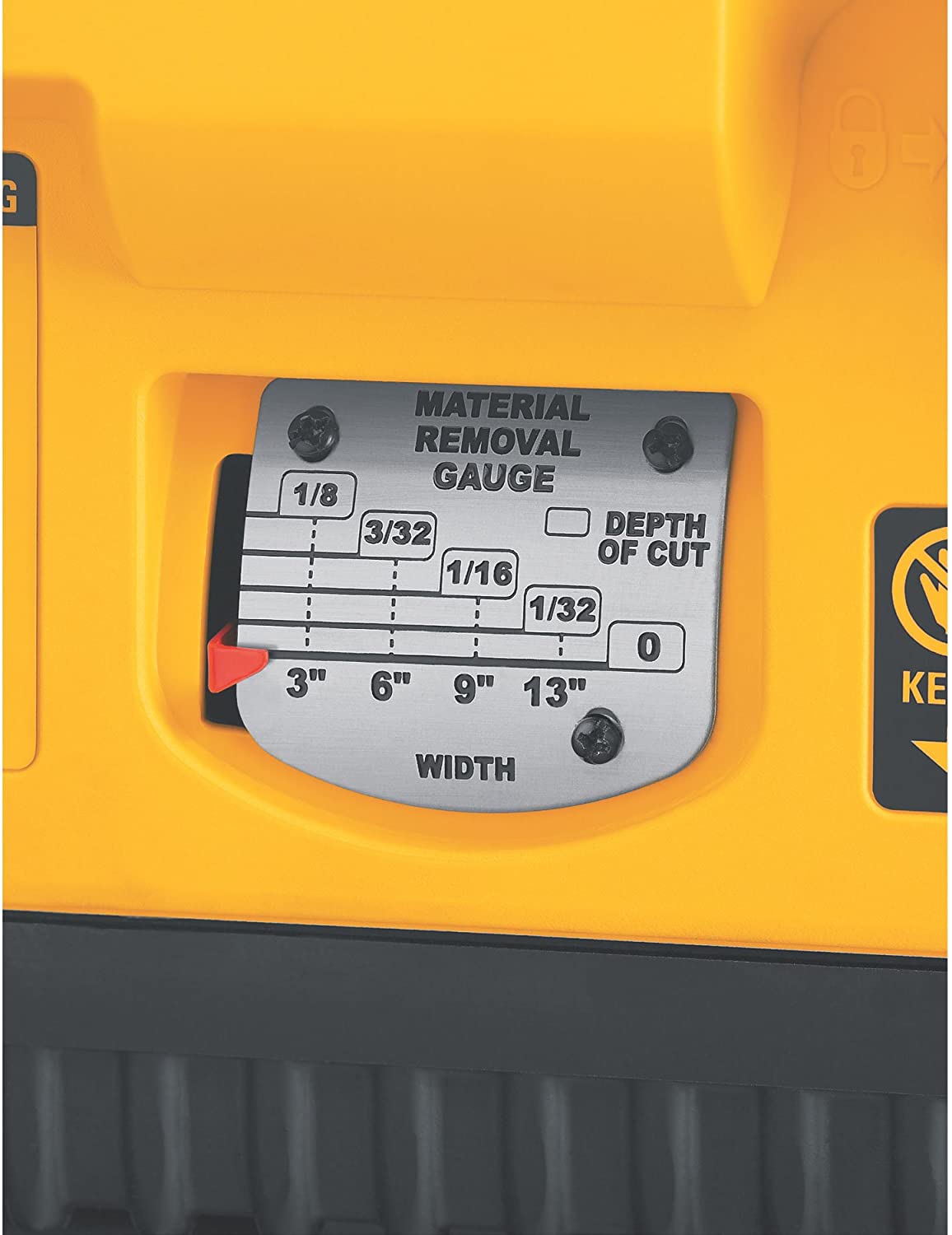 Price
Edge: DW735X
To be fair, these machines are priced very similarly. There are only a few dollars separating their prices. You might expect that the machine without the additional tabletops and extra blades is more affordable. But you'd be mistaken. As it turns out, the DW735X with the extra included pieces is a bit cheaper than the DW735, so it's going to take the edge for the price as well.
Snipe
Edge: DW735X
Snipe is when the end of the board gets more taken off than the rest of the board. This happens when a long board is pushed through the planer, and the cut end begins to sink, lifting up the end that's still going through the machine. As a result, there will be a discrepancy from the start to the finish of the board, and it won't be perfectly flat.
Since the DW735 doesn't come with the infeed or outfeed table, we experienced considerable sniping with it. To be fair, we still did experience a small bit of snipe with the infeed and outfeed tables attached to the DW735X, but it was significantly reduced, tallying up another win for the DW735X.
Blade Life
Edge: DW735X
Both of these machines use the same blades, so technically, they both offer pretty much the same blade life. There's a caveat, though. The DW735X includes an extra set of blades for when the first set gets worn down. This means that you can go twice as long before purchasing a set of replacement blades, giving the final win to the DW735X.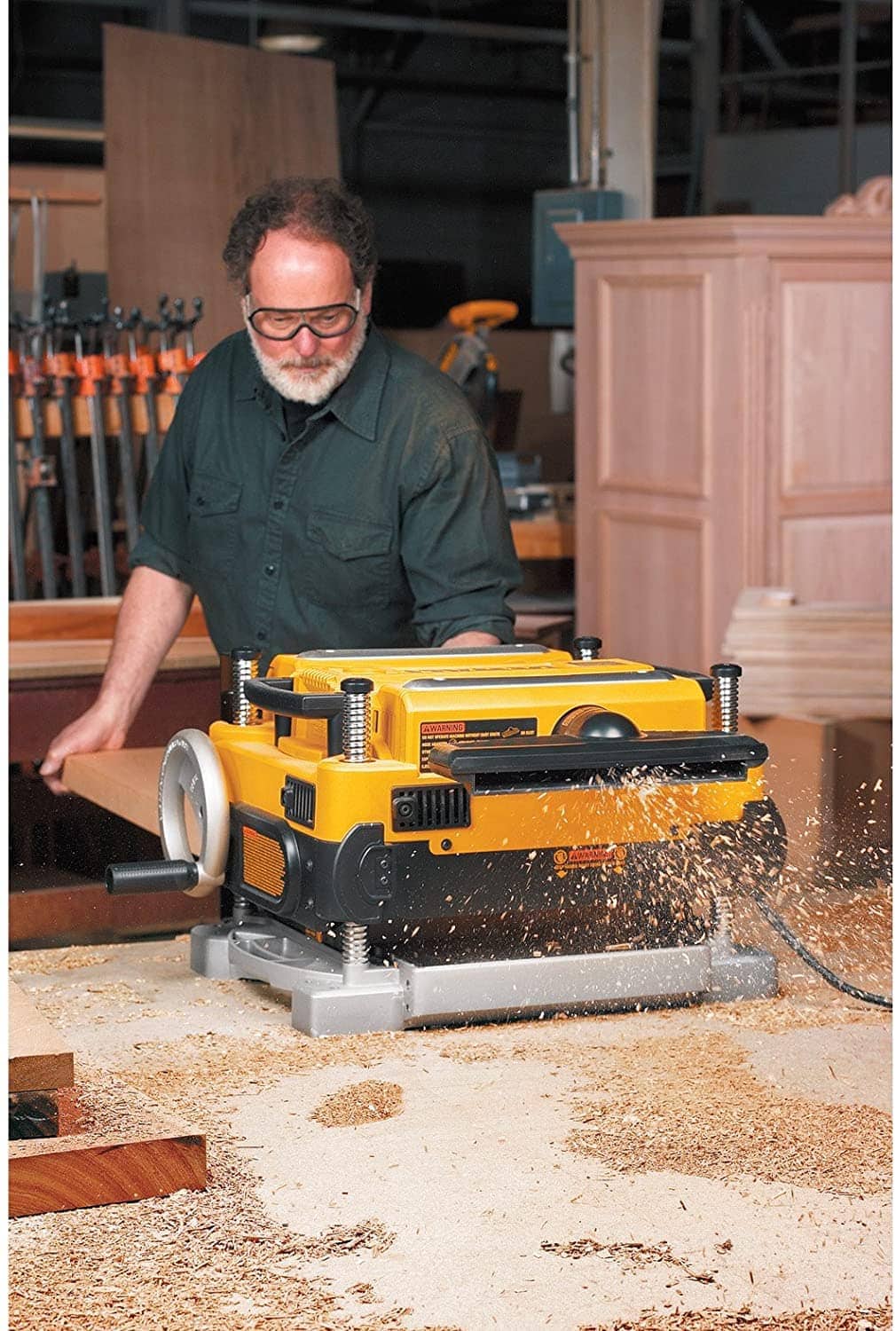 What the Users Say
Now that you know our opinions on these two capable benchtop planers, we thought it might be helpful for you to know the opinions of some other real-world users. So, we scoured forums and reviews, and this is what they had to say.
One thing many people seemed pleased with is the overall finish that either planer creates with their high cut-per-inch counts. Some users referred to the finish as "almost flawless." Others said they liked the smooth surface these planers create, as long as the blades are in good shape.
Many users felt that the blades wear out too quickly, which makes the DW735X a better option since it includes extras. Likewise, many users felt that the DW735 was missing the tables and purchased them separately. Most likely, they didn't even know there was another option that came with them.

Conclusion
If you've been having a hard time deciding between these two nearly identical devices, let us help simplify the decision for you. We think that the DW735X is the hands-down better choice. It's a little more affordable, even though it's the same machine with additional parts! You'll get the infeed and outfeed tables to make it much easier to work with, and there's even a second set of blades ready to replace the first set when they wear out.
Related Reads: