DeWalt DWS779 vs DWS780 Miter Saws: Which One's Best?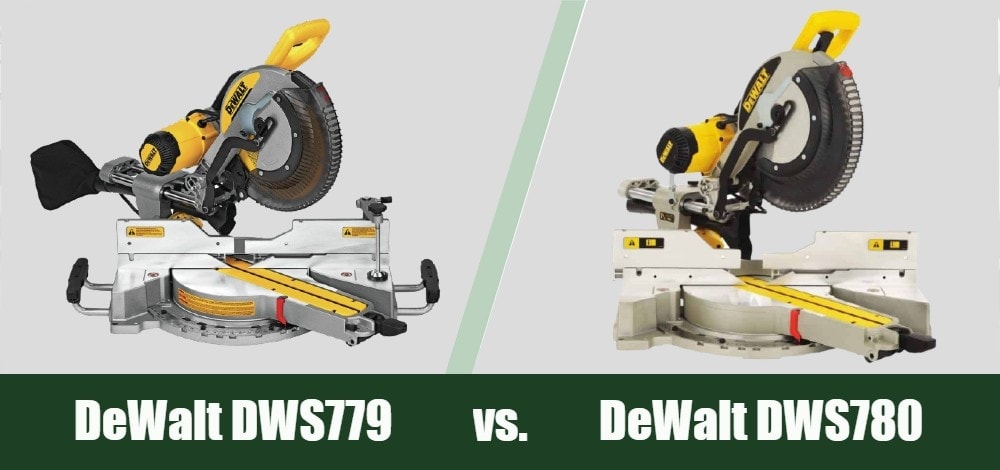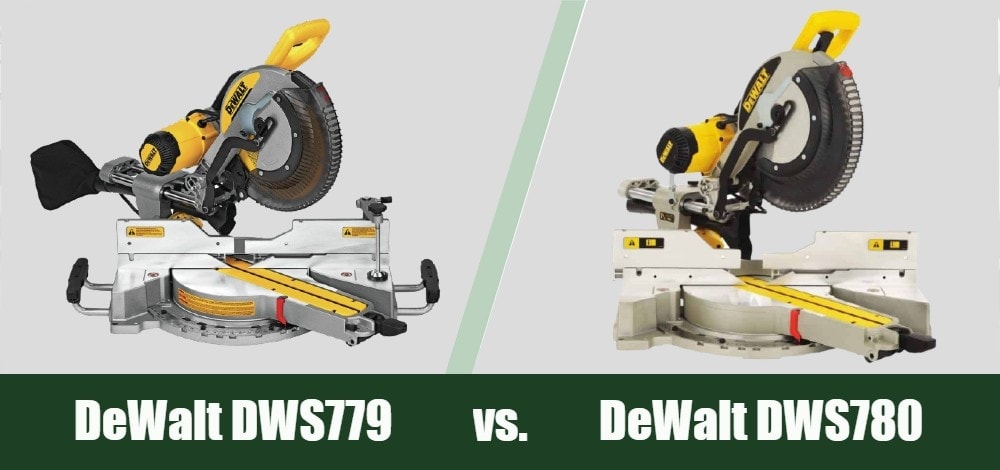 There are several miter saws on the market, and choosing the best one for you can be extremely difficult. These machines are not cheap, which can only heap on the pressure to choose a great model.
Two popular models—the DeWalt DWS779 and DWS780—can be difficult to tell apart. If you've narrowed it down to these two models, deciding between them can be confusing. To help you out, we've written this complete review and comparison between the two.
Rating
Image
Product
Details

The Winner

DeWalt DWS779

Efficient dust collection system
Less expensive if you can find it
CHECK PRICE

The Runner-up

DeWalt DWS780

Lighter
Cutline LED marking system
CHECK PRICE
At a Glance
DeWalt DWS779
Tool dimensions: 17" H x 24.75" L
Weight: 56 pounds
Amps: 15
RPM: 3,800
Warranty: 3-years
DeWalt DWS780
Tool dimensions: 21.46" H x 17.72" L
Weight: 70.3 pounds
Amps: 15
RPM: 3,800
Warranty: 3-years

Overview of DeWalt DWS779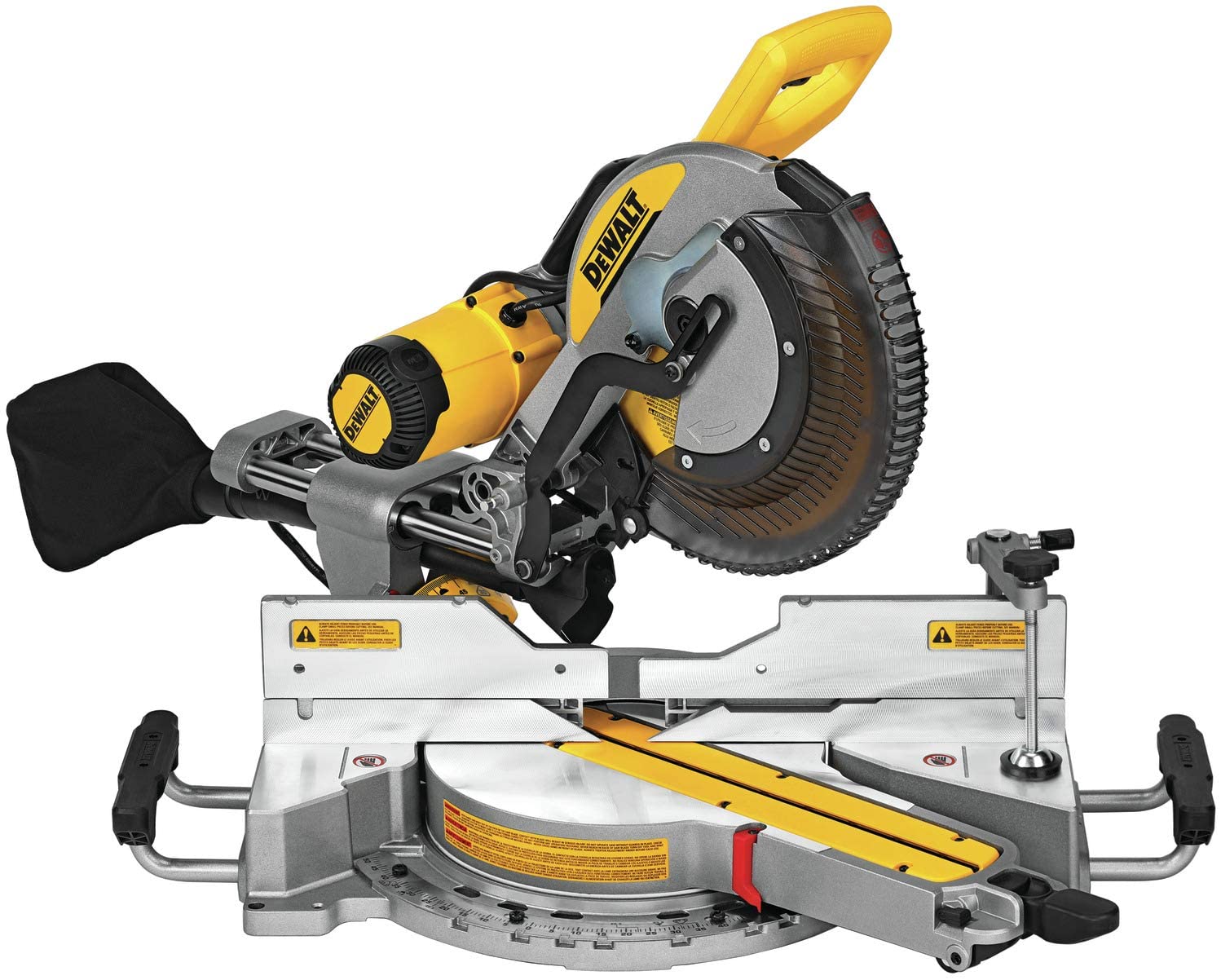 The DeWalt DWS779 is a top-notch machine. It has an efficient dust collection system that can capture over 75% of the dust created. It has a back fence design that cuts up to 2×14 dimensional lumber at 90° and slightly smaller lumber at 45°. It can also be equipped with a LED light or laser cutting guide, though these are sold separately.
It is a 12-inch double bevel sliding miter saw, which should be big enough for most projects. This is absolutely a bigger-than-average miter saw. However, that also makes it more expensive. Because of this, the average homeowner may not need such a large, expensive machine.
It is easily adjustable, with a cam lock miter handle. It is also powerful at 15 amps and has a 3,800 RPM motor. Furthermore, this is also covered by a DeWalt warranty, which tends to be very reliable! Their customer service is quite good, so you can bet that you'll be able to take advantage of that warranty if needed.
Overall, this saw is dependable and well-built. It also isn't expensive, though it does cost more than other models on the market. It is considered a mid-range model.
Pros
Well-built
Powerful
16" straight-cut capacity
3-year warranty
Not expensive
Cons
Heavy
Odd dust collector size

Overview of DeWalt DWS780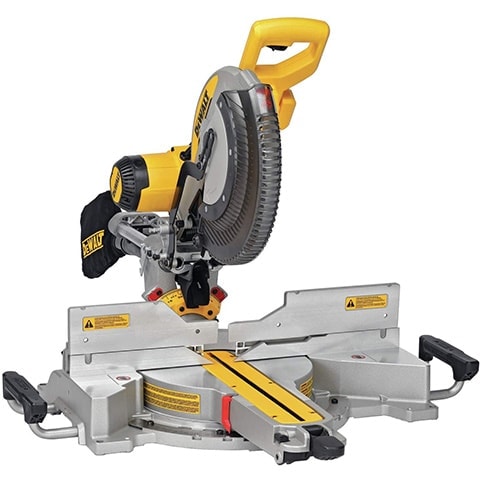 The DeWalt DWS780 is very similar to the DWS779. However, it is a bit more expensive (hence why it is the 780 and not the 779). It does come with a few extra features, which is one reason it costs more.
It has a handle design for portability and an improved precision system. Because it is a DeWalt, you can bet that it is built to last and extremely durable. We expect that this machine will serve you well for years to come. It has a stainless-steel miter detent plate with ten stopping points, improving your accuracy and efficiency.
Like many other DeWalt miter saws, this one has an efficient dust collection system that is made to capture over 75% of the dust created. It also has an increased vertical cutting capacity thanks to the gearbox and belt drive design. The back fence is designed to accommodate 2×14 lumber at a 90° angle, while it can cut slightly bigger lumber at a 45° angle.
Pros
Handle for portability
Durable
Stainless-steel miter detent plate
Effective dust collection system
Increased vertical cutting capacity

What Are the Differences Between Them?
Price
Edge: DeWalt DWS779
The DeWalt DWS779 is cheaper by a few hundred dollars. If you're on a budget or looking to save a bit of money, this can be a significant amount.
Cutting System
Edge: DeWalt DWS780
The DeWalt DWS780's cutting system is top-notch. It is the next innovation in cutting systems, which allows it to be more accurate than most of the competition. It uses a bright LED light, which casts a shadow as the blade is being used. This shadow provides a clear line, upping your accuracy.
The DeWalt DWS779 uses a traditional laser-guided system. This isn't bad, but it isn't entirely as accurate as the other. It is reliable and still may work for some users, however.
Miter Detent Plate
Edge: None
This is another significant difference between the two machines. The DeWalt DWS780 has a stainless-steel detent plate with a cam lock. It also has a rail lock, which allows you to cut vertically with more success. A cam lock miter button to make angle adjusting easy is another valuable feature.
On the other hand, the DeWalt DWS779 has a double horizontal rail with an excellent clamping system. It works rather well and features a linear ball bearing, which makes cutting more accurate. Both of these systems are very different, but one is not necessarily better than the other. They are both excellent in their way and allow users to make accurate cuts. Which one you prefer is mostly a matter of your preferences, so we did not call one product the winner of this feature.
Weight
Edge: DeWalt DWS780
The DeWalt DWS780 weighs less at only 56 pounds. It also has a handle for portability, though we wouldn't call 56 pounds very portable. Still, it beats out its counterpart, which weighs more than 70 pounds.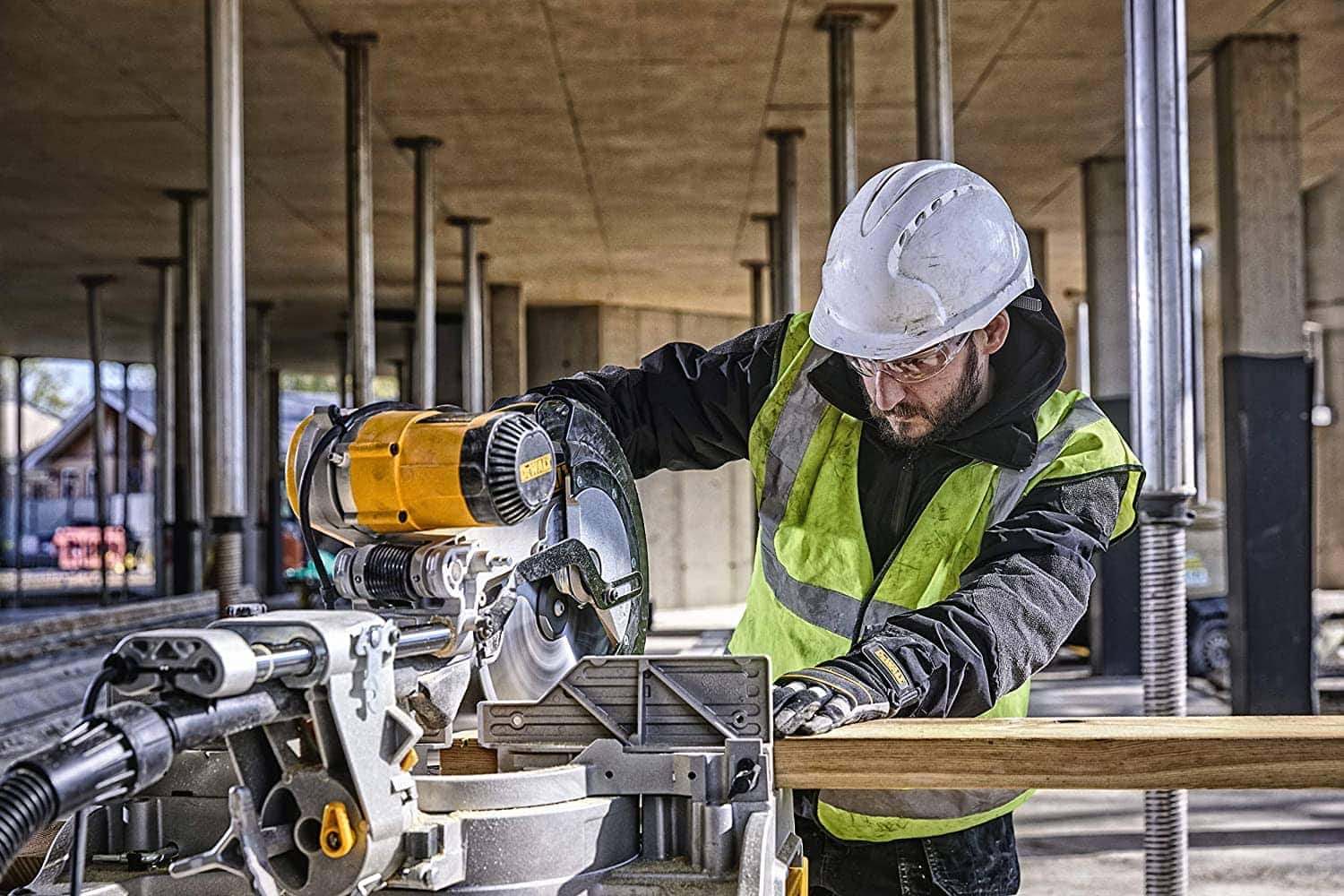 What the Users Say
On top of the research we did, we also took the time to look at various user ratings and reviews. We checked online reviews, as well as outlets like forums. Generally, the DeWalt DWS780 is a high-quality option. However, it is also more expensive. Many users did not find the extra cost worth it. The DeWalt DWS779 is perfect for most users and is much cheaper. Users reported that it was a better value in most cases.
However, the DeWalt DWS780 was the right decision for some users. Some customers liked the portability of it, which the DeWalt DWS779 doesn't have. Others had the extra money to spend and enjoyed the premium cutting system.

Conclusion
If you're looking at features only, the DeWalt DWS780 wins. It is portable and has an innovative cutting system. However, when you start taking price and value into consideration, the DeWalt DWS779 may work best. It is accurate and capable of performing the most basic cuts, making it the prime option for homeowners.
Ultimately, the one you choose depends on your budget and whether or not you want the extra features bad enough to pay the extra money. The DeWalt DWS779 is a budget option for the DeWalt DWS780.
Related Reads: