DeWalt DWE7499GD vs DWE7491RS: Which One's Best?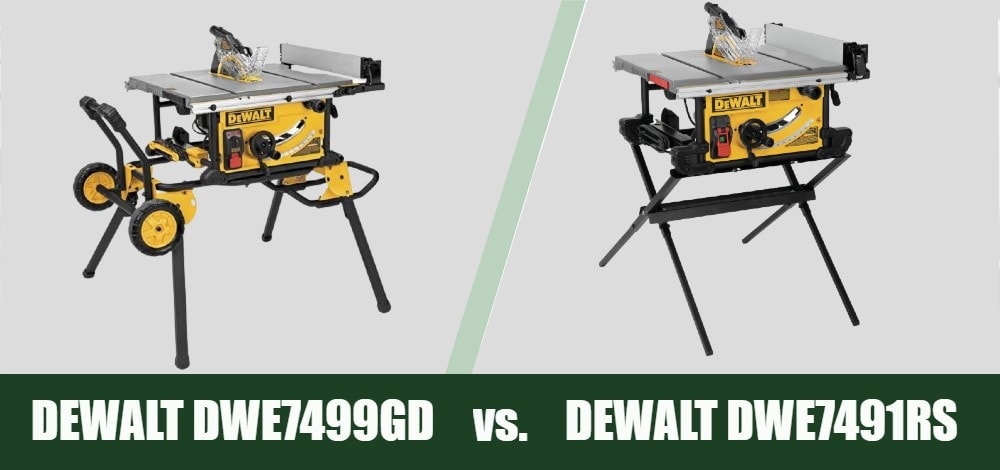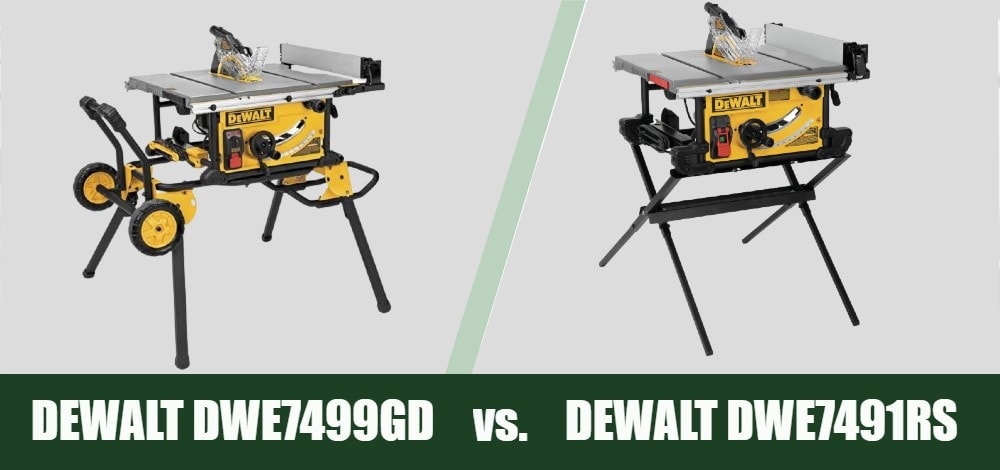 | Rating | Image | Product | Details | |
| --- | --- | --- | --- | --- |
| The Winner | | DEWALT DWE7491RS | Easy to use,Easy to manage rolling/folding stand,More secure on-tool accessory storage | CHECK PRICE |
| The Runner-up | | DEWALT DWE7499GD | Guard blade detection system,Beefed up teeth and gear in the rack and pinion fence adjustment | CHECK PRICE |
Jobsite table saws are a very niche group of tools. Not many people need them, which means that there aren't too many options on the market. The two most popular choices are the DeWalt DWE7499GD and the DeWalt DWE7491RS. As you probably noticed, these two tools are made by the same company. This is because DeWalt is well-known for making high-quality tools, and their jobsite table saws are no different.
Both of these tools are exceptionally high-quality. However, they have a few different features. They are suitable for different people; one is not always going to be better than the other. To help you figure out the perfect option for your needs, we wrote this complete guide and review.
Below, you'll find information about each machine, as well as an in-depth discussion as to the differences between them.

At a Glance
DeWalt DWE7499GD
Blade Length: 22 inches
Power Type: Corded Electric
Max Rip To Left of Blade: 22"
Max Rip To Right of Blade: 32½"
Arbor Size: ⅝"
Amps: 15
No Load Speed: 4,800 RPM
DeWalt DWE7491RS
Blade Length: 22 inches
Power Type: Corded Electric
Max Rip To Left of Blade: 22"
Max Rip To Right of Blade: 32½"
Arbor Size: ⅝"
Amps: 15
No Load Speed: 4,800 RPM
Overview of DeWalt DWE7499GD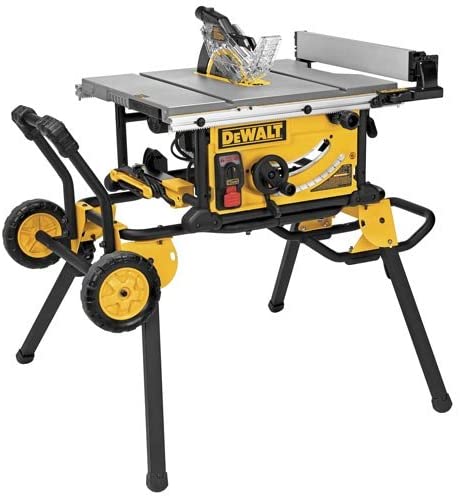 The DWE7499GD is not expensive. Like most options on the market, it is corded electric. This makes it decently suitable for most purposes. You have to keep it plugged in for it to work, but this is usual for jobsite table saws. It has a 15-amp motor that is plenty for cutting through hardwoods and most other material. The on-board storage system is an excellent addition. It lets you keep everything you need close at hand and prevents you from losing tools around the jobsite. The rolling stand is easy to set up and breakdown. And yet, it is very stable. There are no stability problems with this machine as far as we could see.
The guard detection system is an advanced safety feature that warns users when the guard assembly is not put together correctly. This prevents injuries and ensures you have the guard set up correctly every time.
As a slight problem, adding a secondary fence to this machine is difficult and not very straightforward. This is only a minor problem, as most people won't want to add a secondary fence anyway. There is also no way to store extra inserts – only room for the very basics.
Pros
15-amp motor
No stability problems
Sets up and breaks down easily
Guard detection system
Corded electric
Cons
Cannot add a secondary fence
No easy way to store extra inserts

Overview of DeWalt DWE7491RS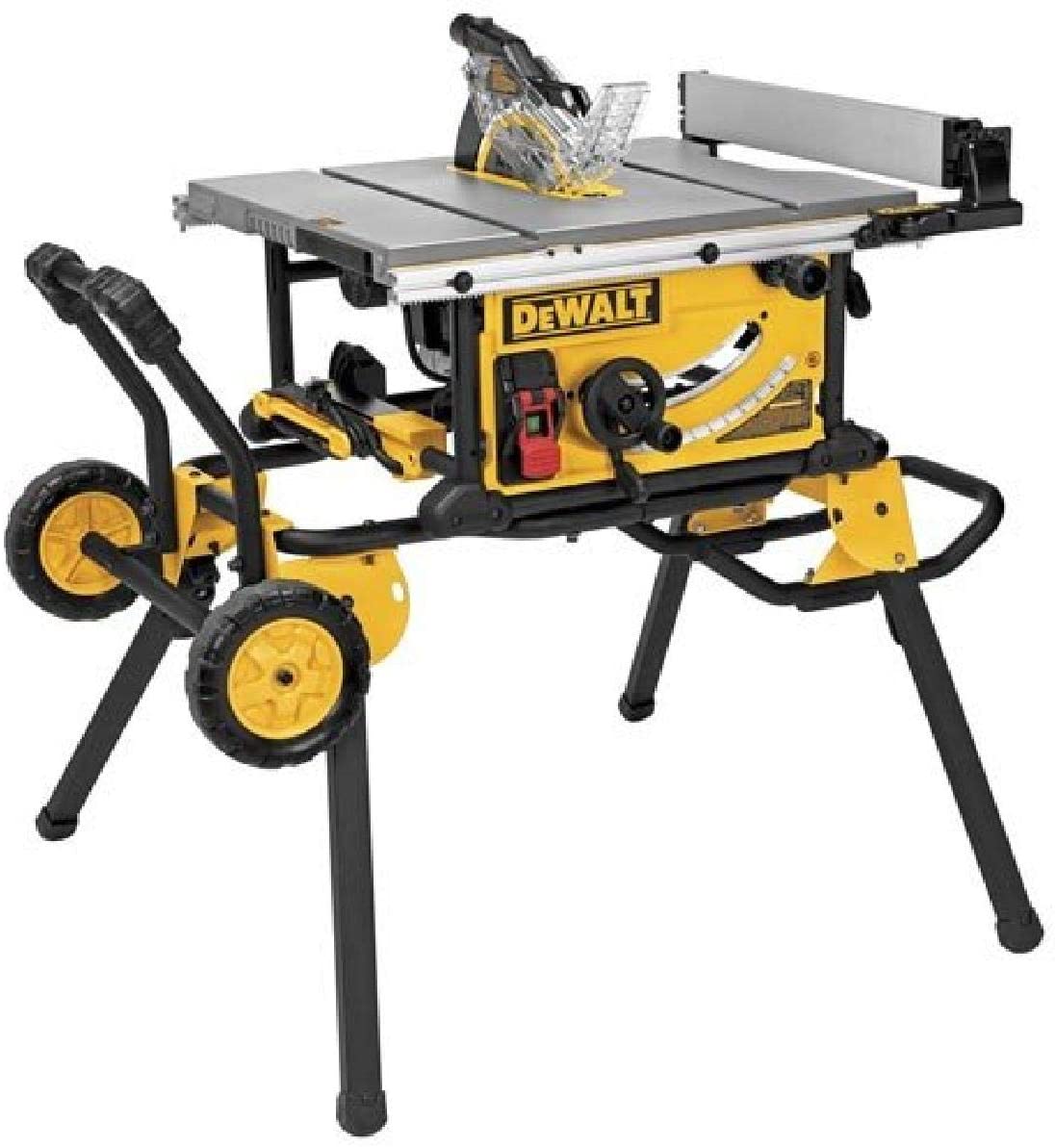 With an onboard storage system, the DeWalt DWE7491RS has plenty of room for you to store all sorts of things. There is room for the blade guard assembly, fence, riving knife, miter gauge, wrenches, push stick, and cord wrap. The rolling stand is very easy to set up, allowing you to easily get everything ready once you get to the jobsite. The whole thing is quite stable as well, so you don't have to worry about it knocking over and breaking.
The telescoping fence rails retract, making the machine into a small, portable package. The 15-amp motor is strong enough to cut through hardwoods and most other wooden materials as well. It should be suitable for most professionals because of this.
There are not many downsides to this machine as far as we could see. The attachment point on the rack tends to snag on clothing. This can be annoying and potentially dangerous. However, it is not a prominent downside. The blade parallel adjustment can be a pain. Once again, though, this is not a significant downside.
Pros
Rolling stand
Plenty of storage room
Telescoping fence rails retract
15-amp motor
Stable
Cons
Blade parallel adjustment
Attachment point tends to snag on clothes
---
What Are the Differences Between Them?
Price
Edge: DWE7491RS
The price is the most obvious difference between these two tools. The DWE7499GD is much more expensive than the DWE7491RS. However, both machines are quite high-quality, so you're really getting what you pay for either way.
If you're on a budget, though, the much higher price may not be a suitable option for you. This is one of the more major differences between them, so much of your decision will probably be based on what price you can afford.
Safety
Edge: DWE7499GD
One of the reasons this machine is more expensive is because of its better safety features. It has a blade guard detection system that doesn't allow the blade to be activated unless the blade guard is properly attached. There is a manual override feature, so you can properly use the blade without the fence if you need to. However, having it automatically remind you to add the blade guard is a nice feature for those who are forgetful!
Mobility
Edge: Tie
Both of these machines have a very similar detachable rolling stand. There are some slight differences, but we really don't feel like they are significant enough to cause any serious changes to your decision. Both of these machines are great if you need to transport them to different places regularly.
What the Users Say
Most of the reviews are very positive for both of these machines. There doesn't seem to be any significant difference between the two models besides their price and safety features. Because of this, the reviews tend to be very similar.
Overall, users seem to like that both machines were very portable and had great storage options. The fence adjustments for both were very accurate. The power from both machines is excellent, though you do need to ensure that you're using a sharp blade. Both machines can cut through hardwood easily, given you're using the appropriate knife.
If you were reading a review for either machine without context, it would be hard to guess which machine it was for. They are very similar when it comes to everyday performance and usage.
Other Table Saws Worth Considering

Conclusion
Based on the features alone, the DWE7499GD is the best only because of the extra safety features. If you have plenty of money to spend and are looking for the best-of-the-best, this is the one you want.
However, the DWE7491RS is a better option for most users due to its price. It doesn't have some of the extra safety features, but you are going to save quite a bit of money. Which one you get largely depends on your budget.
See Also: