DeWalt DCK240C2 vs DCK280C2: Which One's Best?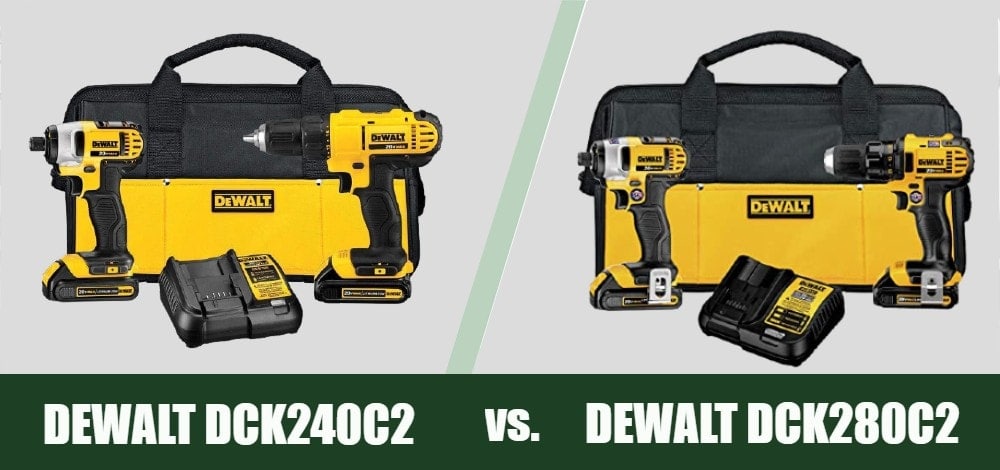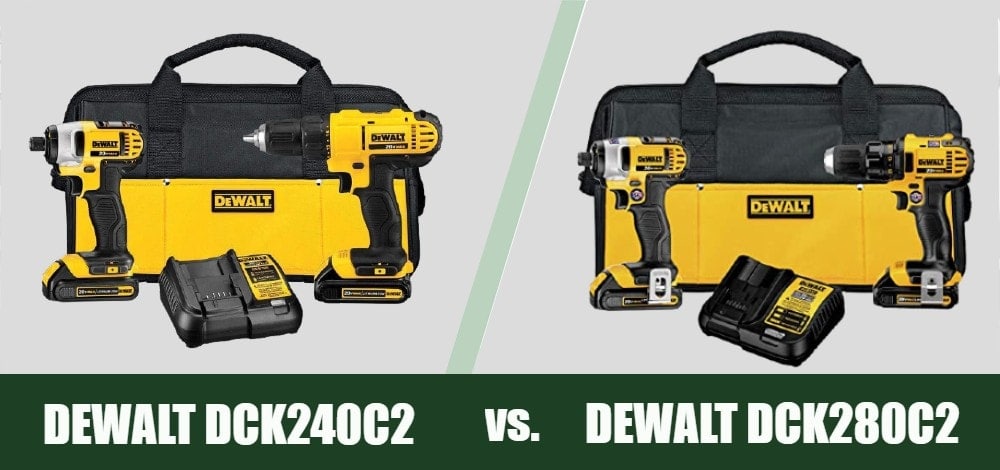 Rating
Image
Product
Details

The Winner

DEWALT DCK240C2

Compact
Lightweight
Plenty of power for drilling and driving tasks
CHECK PRICE

The Runner-up

DEWALT DCK280C2

More powerful battery
Higher unit watts out rating
CHECK PRICE
When you first glance at the DeWalt DCK240C2 and the DeWalt DCK280C2, they appear almost entirely identical. Even their names are difficult to tell apart, making it a bit confusing when trying to research their differences.
Both kits come with about the same features, design, and price. They include the same components and additional features like an LED light setup for increased visibility. However, these two kits do have one slight difference: their power.
The DCK240C2 is slightly less powerful than the DCK280C2. Despite having a lower power, we recommend buying the DCK240C2 over its more powerful counterpart purely because it is more reliable and long-lasting. Because of the extra ability of the DCK280C2, the batteries are finicky, unreliable, and have trouble charging. For this reason, the DCK240C2 is best between the two.
To find out more about these two DeWalt drill kits, read on. We take a critical eye to each kit, compare their abilities to one another, and summarize what other users say about the products. Let's drill into these kits (pun intended)!

At a Glance
Let's look at the key points of each product.
DeWalt DCK240C2
20V max lithium-ion battery
3Ah battery
300 unit watts out
0 to 450 / 0 to 1,500 RPM
In-built LED light system
Ergonomic grip
¼ inch impact driver
DeWalt DCK280C2
20V max lithium-ion battery
5Ah battery
350 unit watts out
0 to 600 / 0 to 2,000 RPM
In-built LED light system
Ergonomic grip
¼ inch impact driver
---
Overview of DeWalt DCK240C2
The DCK240C2 gets its power from a 20V Max lithium-ion, 1.3Ah battery. This battery can produce 300 unit watts out (UWO), which is a lesser-known measurement for driving screws and drilling holes. This measurement means that the DCK240C2 is highly powerful. The power is paired with a two-speed transmission that ranges from 0 to 450 RPM and 0 to 1,500 RPM.
Despite its high power motor, the drill kit is designed with lightweight materials and comfort in mind. Between the ergonomic comfort grip and overall light weight, the DCK240C2 is comfortable when holding in your hand and deters user fatigue during use.
To make use a bit easier, the DCK240C2 includes a built-in LED with a 20-second delay after trigger release. This LED system makes it easier to see in dark or cramped spaces. The delay also means you don't have to worry about constantly re-hitting the light to enhance your visibility.
The kit itself comes with one DCD771 drill/driver, one DCF885 ¼-inch impact driver, two 20V max lithium-ion 1.3Ah battery packs, one 20V MAX charger, one belt hook, and one kit bag for all of the parts.
All around, the DCK240C2 delivers high power that is also lightweight and portable. It enhances visibility and comes with all of the necessary parts for general use.
Pros
Lightweight
LED lights
2-speed transmission
Reliable

Overview of DeWalt DCK280C2
In many ways, the DCK280C2 is nearly identical to the DCK240C2. It has a relatively high motor that is paired with a lightweight and compact design. This kit is great if you need a high powered drill that won't leave your hand feeling tired after use.
The DCK280C2 also includes an LED setup for improved visibility. Just like with the other kit, this LED system has a 20-second delay that makes it much easier to see in dark or cramped spaces. This will be incredibly useful if you are drilling in closets, attics, or elsewhere without adequate lighting.
Once again, the DCK280C2 is just like the other option in that it offers all of the same features in the kit. The only difference is that the batteries offered are 1.5Ah, not 1.3Ah. As a result, the DCK280C2 offers 350 unit watts out (UWO). This means that the DCK280C2 is more powerful.
Because of the more powerful motor, the two speeds offered with this set are also higher. The two speeds range from 0 to 600 RPM and 0 to 2,000 RPM.
Although more power can be helpful in some situations, the power of the DCK280C2 makes the batteries finicky and unreliable. They are more prone to dying, not charging properly, and a variety of other issues.
Thus, the DCK280C2 is a high powered and lightweight drill set. This power comes at a price, though, since the batteries are unreliable and prone to dying quickly.
Pros
Higher power
Lightweight
LED lights
2-speed transmission
Cons
More expensive
Finicky and unreliable batteries
---
What are the differences between them?
Performance
Edge: DCK240C2
Even though the DCK280C2 has more power than the DCK240C2, the DCK240C2 wins in terms of performance. The lower power means that the kit is much more reliable in both the short term and long term. You will not have to adjust the batteries during use since the batteries are much more reliable.
Additionally, the power that comes with the DCK240C2 is still more than enough for most jobs. Even though it is less powerful than the DCK280C2, you will be more than satisfied when using this kit for various purposes.
The DCK280C2, on the other hand, simply offers too much power. Even though the enhanced power may be good on paper, it messes up many people's work and performance since the batteries are unreliable and finicky.
Power
Edge: DCK280C2
If you are looking at power alone, the DCK280C2 wins. It has a much more powerful battery that allows it to drill with more pressure and unit watt out. If you are looking at power alone, not the implications of this power, then the DCK280C2 is best.
That is not to say that the DCK240C2 is not powerful, though. The DCK240C2 is powerful as well. It is just less so than the DCK280C2. Most people will be more than satisfied with the power produced by the DCK240C2 model.
Design
Edge: Neither
In terms of design, neither model wins. They both have almost identical design features, which include a compact style and ergonomic grip handle. Both of the models are incredibly intuitive and helpful in terms of design. For this reason, it is a tie in terms of the design of the drill kit.
Durability
Edge: Neither
DeWalt is known for its highly durable products. Both of these drill kits, as a result, are incredibly durable and long-lasting. Neither is any more durable than the other unless you take into account dying batteries of the DCK280C2. The drills themselves, though, will last a long time because of their durable designs.
Price
Edge: DCK240C2
Since the DCK240C2 is less powerful than the other kit, it is less expensive as well. If you are looking for a kit on a budget, you will certainly want to select the DCK240C2.
However, the DCK280C2 is not that much more expensive. If you use coupons and shop with savvy, you will be able to find either kit for about the same price.
What the Users Say
We looked online to see what other users were saying about these two kits. Even though we performed our testing for ourselves, we think it's important to look at other people's thoughts for their critical feedback and potential advice. This is what we found:
DCK240C2
Almost all of the reviews for the DCK240C2 were positive. Just shy of a five-star review on most sites we looked at, this product was constantly praised for its lightweight design, high power, and affordable price. If you are worried about selecting a slightly lower power model, know that most users thought the power offered was completely enough for their work.
Whether working on a car or just using it for simple tasks around the house, users thought that the DCK240C2 provided more than enough power. Especially factoring in the affordable price, the DCK240C2 drilled in everything that most users need.
The main drawback of this model is that the drill bit falls out frequently. This was to be expected since the model does not come with a magnetic drill bit holder.
DCK280C2
Like the DCK240C2, the DCK280C2 had primarily positive reviews, but most sites' overall ratings were slightly lower than the less powerful model. The lightweight design and durability were frequently praised. Most users say that this drill is great for just about any use.
As to be expected, there were several complaints about the batteries not lasting long, not charging correctly, or not charging at all. This causes many users to buy new batteries very frequently, which added to this model's already higher price. We saw this critique coming, so we weren't surprised by it.
Other Drills/Drivers We've Reviewed

Conclusion
Both the DeWalt DCK240C2 and DCK280C2 are great drill kits because they are lightweight, compact, powerful, and durable. Still, we recommend the DCK240C2 because it is much more reliable and affordable.
Don't be worried about its lower power because it is powerful enough for most uses. By selecting the DCK240C2 option, you will save money on the actual kit and batteries in the future. You can still choose the DCK280C2 if you really need the most powerful option available. Just be prepared for battery issues.
See Also: