DeWalt vs Ridgid Table Saw: Which One's Better?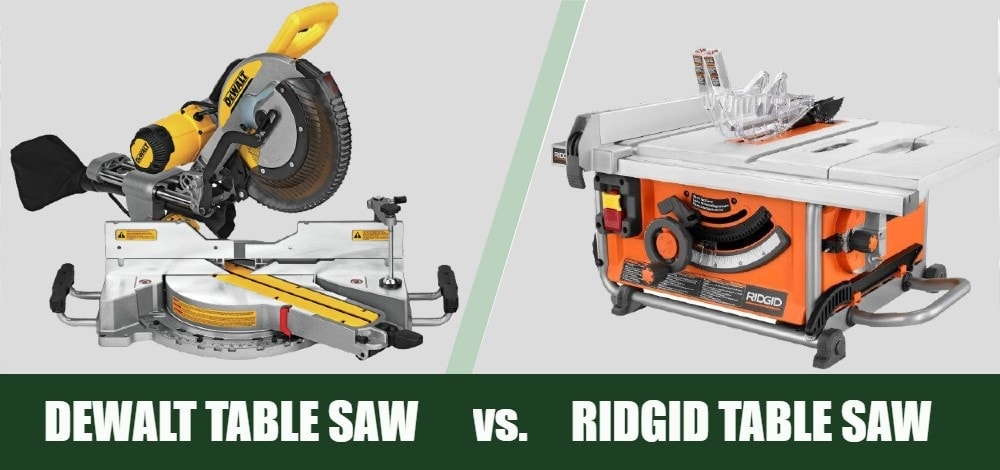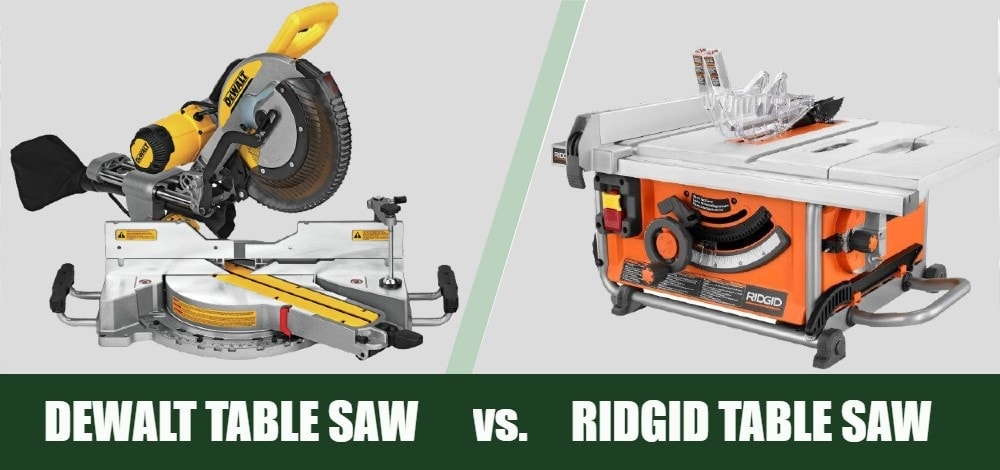 DeWalt vs Ridgid. Which company makes better table saws?
It's not always easy to figure this out, especially when you're shopping online and have limited access to the tools. Add that to the fact that online descriptions are pretty much just sales ads, and it may feel impossible to figure out which brand will serve you better. The good news is that we've done the hard work for you, comparing the two brands' strengths and weaknesses and also reviewing some models from each company so that you can figure out which will be the best choice for you.
Power
Power is a very important attribute of a table saw. A table saw that doesn't have enough power may not have the punch it needs to cut harder wood and will generally go slower on standard lumber and plywood. More powerful saws will open up options in the kinds of woods you can cut and will also make the process go much faster.
In most cases, DeWalt table saws have more power than equivalent Ridgid models. This isn't always the case, but it's something you should pay attention to while shopping.
Precision
It's always a bad feeling when you go to do the final assembly on a project and realize that you've cut a piece wrong. Table saws that lack precision will waste a lot of your time and materials, as you have to do recuts.
Generally speaking, Ridgid table saws are set up better for precision work. They come with oversized handles on each of the adjustment wheels, which makes it easier to get the exact settings you want when making the cut. DeWalt models aren't horrible in this category, but Ridgid edges them out.
Portability
Both of these brands make portable table saws. If you're in the market for a portable table saw, you can't go wrong with a DeWalt model. It has better systems for transportation and is easier to set up and take down, but it also tends to have better expansion systems that allow you to cut bigger materials once you're ready to go.
If you need to do big projects away from home, you're better off with a DeWalt.
Overall
DeWalt-brand table saws have a slight edge over Ridgid table saws in most instances. It's not always true, so you should always compare models before making a final purchase. If you're still not sure which to buy, be sure to check out our model reviews for a more in-depth understanding of what makes these brands different from each other.
DeWalt Table Saws We Recommend:
Rating
Image
Product
Details

Our favorite

DEWALT DWE7491RS

Power
Portability
Good dust port
CHECK PRICE

Best for the money

DEWALT DW745

Great value
Tool-free guard replacement
Comes with a metal roll cage
CHECK PRICE
Our favorite – DEWALT DWE7491RS
DEWALT Table Saw, 10 Inch, 32-1/2 Inch Rip Capacity, 15 Amp Motor, With Rolling/Collapsible Stand...
Your purchase includes one Dewalt table saw, 10inch 24-tooth carbide blade, rolling stand, push stick, miter gauge, rip fence, 2x blade...
Other Specs: Max rip to left of blade – 22inch | Max rip to right of blade – 32-1/2inch | Max width of Dado – 13/16inch | Arbor...
Rolling stand designed for easy set up and breakdown with excellent stability
The DEWALT DWE7491RS's portability puts it head and shoulders above the competition.  It has large wheels that allow you to roll it from place-to-place without too much exertion. Its folding legs also mean that no matter where you want to work, you'll always be able to set this machine up and use it on a stable base.
A 15-amp motor on a portable table saw is nothing to scoff at. That's the power you need to get jobs done quickly and work with harder woods. It also features an excellent dust port, which is handy when using this machine inside.
The table is a bit small, but it has an expanding rack and pinion system that allows for rips of up to 32". Overall, this is one of the best portable table saws on the market, and you would be remiss not to check it out.
Pros
Portability
Power
Good dust port
See Also: 
Best for the money – DEWALT DW745
DEWALT 10-Inch Table Saw, 16-Inch Rip Capacity (DW745)
22 kilograms unit weight and optimized footprint make this the most portable saw in its class. Shoe bevels 0 to 45 for beveled cuts
Steel roll cage protects saw against jobsite drops and impacts, rack and pinion fence system, front and rear fence lock and large,...
Powerful 1850 Watt motor for high performance in all applications. Max Rip To Left Of Blade 12 inch. Max Rip To Right Of Blade 20 inch
The DEWALT DW745 is a small table saw with big ambitions and great value. It only has a 20" rip capacity, which is quite small for table saws. Despite this, it has a 15-amp motor which should easily power through anything you throw at it. So, even though this model can't cut huge pieces, it cuts the pieces it can cut just as fast as other models. It also comes with a metal roll cage that helps protect the machine against damage while being moved.
If you're fond of changing out the guard for different projects, you'll love this model since it comes with tool-free guard replacement. This feature alone will save you a lot of time between projects.
The DW745 comes with a cheap miter gauge, but many people go with an aftermarket miter gauge anyway, so it's not that big of a deal. Overall, if you need a table saw for small projects but need a lot of power, this is an excellent choice.
Cons
Table size
Miter gauge quality
Ridgid Table Saws We Recommend:
Rating
Image
Product
Details

Our favorite

RIDGID R4512

Cast iron table
Accessory slots
Oversized handles
CHECK PRICE

Best for the money

Ridgid ZRR4513

Power
Portable
Micro-bevel adjustment
CHECK PRICE
Our favorite – RIDGID R4512
RIDGID R4512 10 in. 13-Amp Cast IronTable Saw
13 Amp motor delivers up to 3450 RPM
Cast iron table minimizes vibration
Front and back-clamping aluminum rip fence has extra-large glides to provide precise and smooth adjustments along the rail
The Ridgid R4512 is our favorite Ridgid table saw. It comes with a cast iron table, which is generally the gold standard for table saws. Cast iron tables do an excellent job of dispersing vibrations, which leads to better cuts, and their expected lifespan is much longer than with other units. This model also comes with oversized handles, which makes operation easy.
One of the big plusses on this unit is that it comes with accessory slots, which means you won't have to store blades and fences elsewhere and will always have the part you need nearby. It also features a 13-amp motor, which should be strong enough to get any job done.
While it is a portable unit, it relies on a large, wheeled base, which means this isn't a unit that you can easily take on the road. Instead, it's suitable for moving around a garage, but that's about it. Overall, if you're looking for a table saw with good power that you can move around but don't plan on taking on long trips, you should check this model out.
Pros
Cast iron table
Accessory slots
Oversized handles
Best for the money – Ridgid ZRR4513
The Ridgid ZRR4513 provides excellent value for the price. It comes with a 15-amp motor and features micro-bevel adjustment, meaning you can get the exact angle and depth of cut you want every time. This will save a lot of time you have spent redoing cuts on other models.
It's also incredibly portable, with a great set of rolling wheels, so you don't have to lug the entire saw around. The wheels are mounted on a frame designed to go from travel to work mode in just one touch.
One thing to remember with this unit is that it is a factory-refurbished model, which means that sometimes you don't get the quality you expect of a new model. However, it comes with a good warranty, so if you have any problems, you should be able to get it serviced or return it. Overall, this model has the power you need and combines it with excellent portability.
Pros
Power
Micro-bevel adjustment
Portable
---
Conclusion
The DEWALT DWE7491RS was our favorite DeWalt table saw due to its portability and power. The DEWALT DW745 is the best for the money, with a smaller size but good power and portability. The Ridgid R4512 is our favorite Ridgid table saw because of its cast iron table and oversize adjustment handles, while the Ridgid ZRR4513 was the best value, providing new quality at a refurbished price.
Overall, DeWalt table saws are somewhat better, though that won't always be true. Hopefully, this guide has helped you understand the differences between DeWalt and Ridgid table saws and will help you find the model that is perfect for you.
Related Reads: