7 Different Types of Miniature Roses (With Pictures)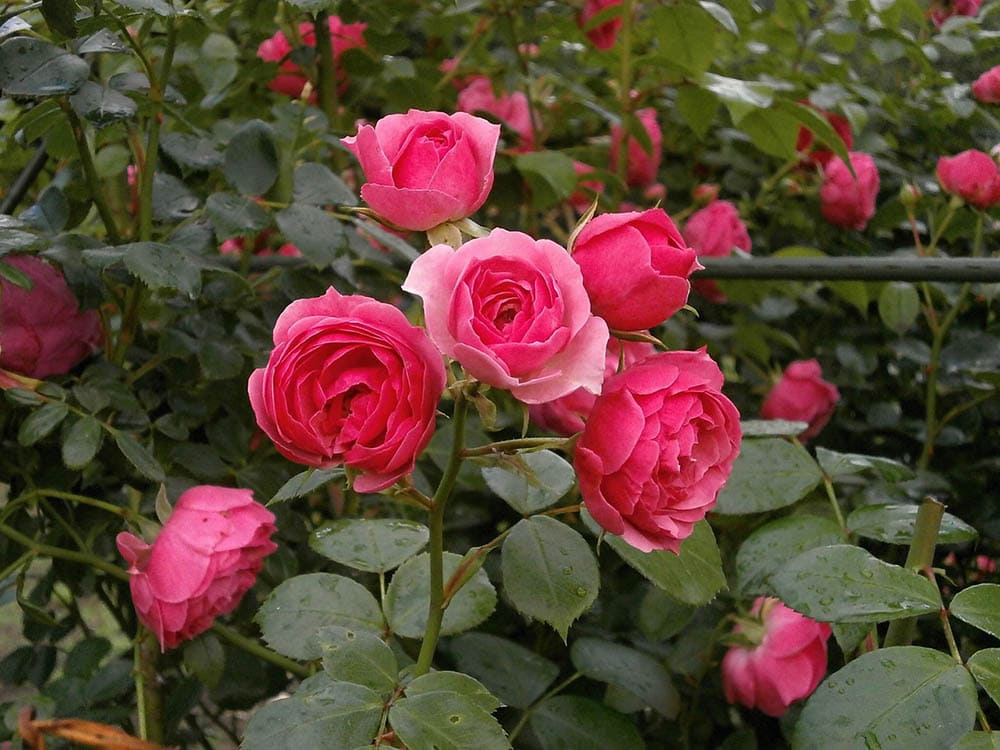 Roses are some of the most quintessential flowers out there. Even people that don't know much about flowers know what a rose is.
However, roses can get quite large and absolutely take over a garden. Many people choose to utilize miniature roses instead of larger ones for this reason. There are many different varieties of miniature roses, though.
We'll go over some of the most popular options here so you can choose the best option for your garden.

The 7 Different Types of Miniature Roses
1.

Cupid's Kisses Miniature Rose
This adorable climbing rose is perfect if you need a petite plant. They have smaller foliage and produce small clusters of flowers. The flowers are very light pink and have a white eye. The stamens in the middle of the flower are massive and bring some interest to the flower.
This plant is very cute and unique compared to other flowers out there. They do get a bit larger than other miniatures, so be sure that you have the room for them. In fact, they can grow against a wall to almost four feet tall and a couple of feet wide.
This flower does bloom multiple times though out the season and is quite hardy.
---
2.

Liberty Bell Miniature Rose
These small flowers make very red blooms that have white-ish backs. They are only lightly scented and look like tea roses with some small differences. They blook quite slowly and grew up to two to three feet tall.
They are hardy to zone 5.
These flowers are best for those that want a small splash of color.
---
3.

Sun Sprinkles Miniature Rose
This award-winning rose features double flowers that are a very beautiful yellow color. Their flowers are about 2½ inches wide and bloom for a very long period. They are typically in bloom from spring to fall.
These flowers have a spicy smell, which is pretty unique to flowers. They are award-winning for a reason.
---
4.

Jilly Jewel Miniature Rose
These delicate pink roses are two inches wide and a very soft shade of pink. These flowers continue to bloom and replace their old flowers with new flowers constantly.
These flowers are extremely small. They reach only 24 inches tall at most. Many are even smaller. For this reason, they are great for container gardens. If planted directly on the wall, they can be very easy to miss.
---
5.

Coffee Bean Miniature Rose
Names after the Hot Cocoa floribunda roses, these smaller flowers are smoky orange and have a milk fragrance. These pint-sized flowers are great for smaller areas.
These flowers grow to 12 to 18 inches tall and wide. They grow great in container gardens or placed at the front of other flowers.
Overall, these flowers aren't difficult to grow, making them a perfect option for beginners.
---
6.

Empty Pockets Miniature Rose
These darker medium-pink flowers. This miniature flower was bred by an amateur rose breeder who was quite poor, hence the name. These flowers are lightly fragranced, so they aren't the best choice for those that want heavily fragranced roses.
These flowers are hardy up to zone 5.
---
7.

Popcorn Miniature Rose
With small yellow stamen, these flowers are said to look a lot like popcorn, though there are quite a few people that don't see the resemblance.
They are semi-double flowers that are mostly white except for the yellow centers. Plus, they are incredibly small and grow to only be 18 inches tall and wide. Their flowers bloom throughout the year, allowing them to constantly bring color to the garden.
Related Read: 10 Different Types of Roses

Conclusion
There are a small, growing number of miniature roses out there. As their name suggests, these flowers are smaller than other roses. Therefore, they are best for smaller spaces. You can also utilize these roses for container gardens, as they typically do well in these smaller spaces.
We recommend these flowers for more advanced gardeners, though some of the varieties are possible for less experienced gardeners to raise properly.
Looking for more types of flowers? Take a look at:
---
Featured Image Credit: Pixabay