4 Different Types of Wood Flooring In Old Homes (With Pictures)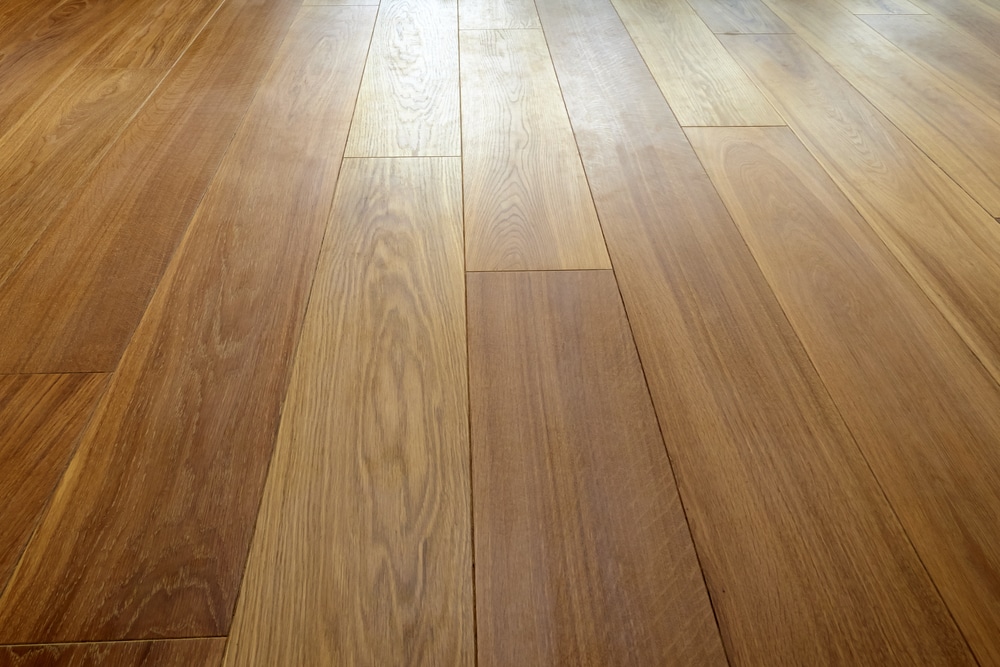 Before World War II, almost every home had some type of wood flooring. It didn't matter if the house design was Tudor, Colonial, or even Victorian. If it was a structure meant to be a home, it had wooden floors.
Things started changing in the 1950s when the wall-to-wall carpet was introduced into the market. Suddenly people started switching allegiance, including homeowners who had previously installed incredible hardwood floors.
The truth is, this new trend gained momentum so fast because the quality of carpets that were introduced at the time were so good, it was almost impossible to resist the urge. It had this luxurious look and felt great under the feet.
Some people quickly realized that they could install the carpet right over their hardwood floors and not have to invest more time or money removing the previous install. So that's exactly what they did.
But after a couple of decades, the trend fizzled out, and people started missing the warmth provided by wood floors. By the time we were opening a new chapter cued by the new millennium, the demand for wood floors skyrocketed once again.
What this brief history tells you is, wood floorings have and will always be highly desirable. So when you purchase an old home and find one of the types of wood floorings that we're about to discuss, don't uninstall it. Treat it right by hiring a professional who'll give it a new lease on life.

The 4 Main Types of Wood Flooring In Old Homes
1.

White Oak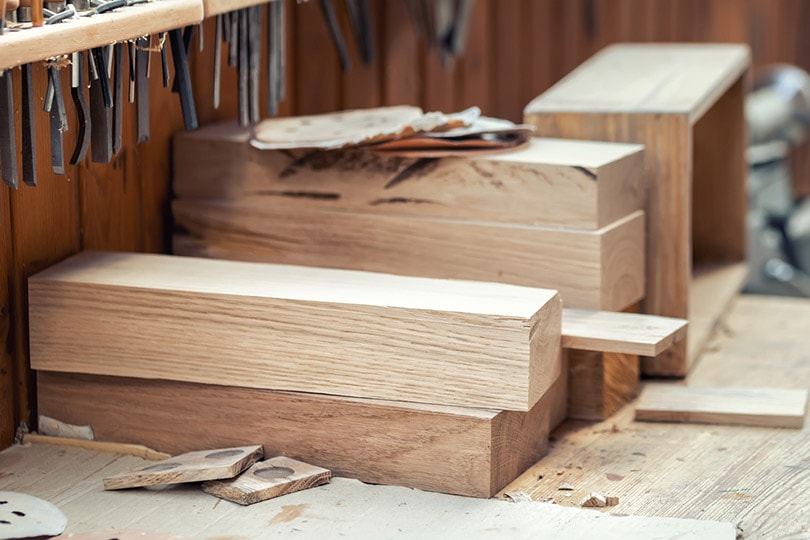 | | |
| --- | --- |
| Color: | Light beige |
| Grain: | Straight |
| Texture: | Uneven |
White Oak was so popular back in the day because it was easily accessible. It also happens to be lighter in color—an attribute that gives homeowners the option of exploring different stains, ranging from dark chocolate to light gray.
If you've used White Oak before, you'll agree that it always finds a way to keep up with current trends. During those times, people kept looking for that rustic flooring style as it was the trend back then. Believe it or not, the properties of the oak made it such that it was the perfect fit for that kind of aesthetic, and several others as well.
You wouldn't be wrong to assume that White Oak is a versatile flooring option. Or how else can one describe wood flooring that meshes well with any style of décor? Oak has a beautiful grain that's not only easy to stain, but also can be manipulated to look a certain way.
Durability and its high resistance to rotting and dents were the other reasons many people relied on it when it came to flooring. Those who settled on other options likely only did so because they found white oak too difficult to saw—a problem resulting from its high density.
Pros
Durable
High resistance to rot and dents
Versatile
---
2.

Chestnut
| | |
| --- | --- |
| Color: |  Light brown |
| Grain: | Straight |
| Texture: | Coarse |
Whenever we talk about chestnuts, we're referring to two different species, found in the Genus Castanea. There's Castanea Dentata, also known as the American Chestnut, and the Castanea Sativa, commonly referred to as Sweet Chestnut.
Most of their properties are of course similar, but you'll be able to spot a couple of differences—their appearance, for example. You see, even though both of them are light brown in color, the grains of American Chestnut will be black and resemble dotted lines. Those of the Sweet Chestnut, on the other hand, won't have any dark color, but they'll look like dots.
The Sweet Chestnut is not as durable as the American chestnut, but compared to most species out there, it's still very durable. What's more, they are both easy to work with, have a high resistance to rot, and stain well.
Sadly though, the American species is a rare species. Not because it's exotic, but because of the disease that nearly wiped all of them in the 1900s. In fact, this is the other reason why it's pricey and not very common in modern houses.
Pros
Durable
Stains well
High resistance to rot
Consult a flooring expert
Find a flooring specialist in your area, and get free, no-commitment estimates for your project.


---
3.

Maple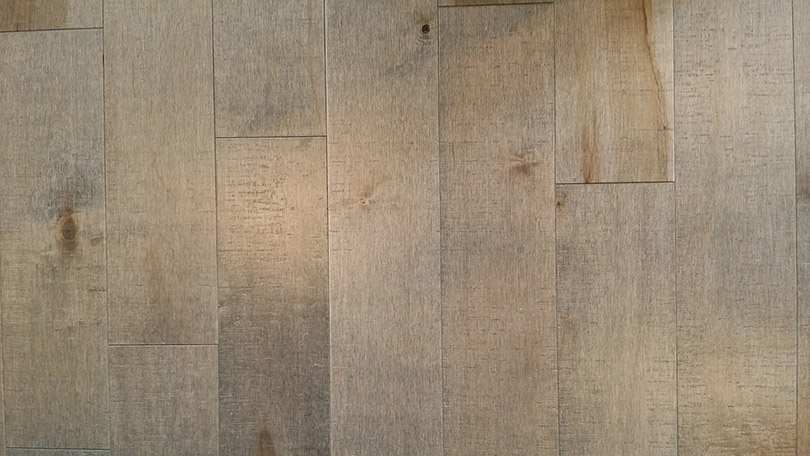 | | |
| --- | --- |
| Color: | White with reddish-brown hues |
| Grain: | Straight |
| Texture: | Fine |
Maple was, and is still, is a fan favorite in this industry, and it's really not difficult to see why seeing as it guarantees a combination of beauty and strength. This is a type of flooring that has withstood the test of time and comes with neutral colors that blend into practically any décor style.
We feel it's important to note that there are more than one species of maple. However, the hardest and most common species that have been used in old home floorings are the Black Maple and the Sugar Maple.
If by any chance you don't believe us when we say these two are the hardest species in that family, why are they often used to construct gym floors and bowling alleys?
The good thing about the maple species is, they are abundant in the United States. And they are readily available—and affordable—because they grow relatively quickly.
Although maple is a hardwood species, it's relatively unstable. That is why most old homes that had this flooring were more susceptible to changes in the environment. Just a slight fluctuation in humidity or even temperature is enough to cause the boards to split, warp, or shrink.
Pros
Can withstand the test of time
Durable
Affordable
Readily available
---
4.

Black Walnut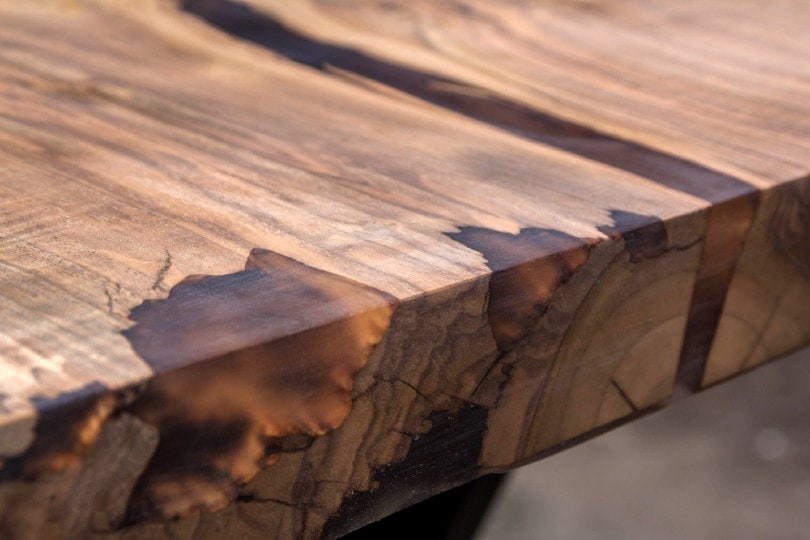 | | |
| --- | --- |
| Color: | Dark chocolate brown |
| Grain: | Straight |
| Texture: | Medium |
The rich, dark coloring of Walnut significantly contributed to it being listed as one of the most stylish flooring choices for old homes. A lot of people gravitated towards it because it created a beautiful two-tone patina, and didn't look hideous as it aged.
The other top quality that we cannot forget to talk about is its insect-repelling abilities. Walnut produces iodine, a chemical substance that's brown in color and affects insects. This means homeowners didn't have to worry about bugs lurking beneath the floor with the intent to cause damage.
Cleaning a Walnut floor is no hassle. It makes detecting dust and debris easy and seems to be the top choice for people grappling with asthma and other allergies. The only disadvantage is that it has a Janka scale measurement rating of 1010, meaning it's a softer and more pliable wood.
Pros
Creates a beautiful two-tone patina
Repels insects
Easy to clean and maintain
Great with people who suffer from asthma and allergies
Cons
It's a softer, more pliable wood
Related Read: 25 Different Types of Wood Flooring (With Pictures)

Wrap Up
Some of the wood flooring used in the past can still be installed in modern homes and can be found widely in old homes around the country.  We know people have different tastes and preferences but, we're sure you can find at least one flooring that matches your style.
If you found this article useful, kindly share it with your friends. If you have any questions, send us a message in the comments below and we'll get back to you as soon as possible.
---
Featured Image Credit: CapturePB, Shutterstock