9 Dining Room Chair Trends in 2023 – Design Ideas for A Modern Home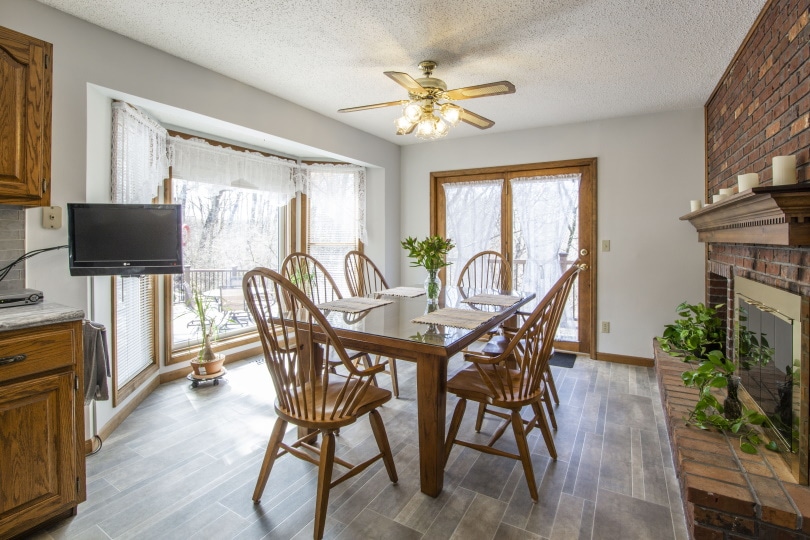 If you are looking to remodel your dining room, it can be helpful to learn more about the popular trends to see what other people are doing and get new ideas. Whether you're looking for something old-fashioned or something modern, you've come to the right place. Here, we look at several dining room chair trends that are popular today.

Top 9 Dining Room Chair Trends in 2023
Mismatched Chairs — Modern and classical
1.

Easter/Spring Tablescape
This Easter/Spring Tablescape is a perfect example of the modern trend of mismatched chairs and how you can make it work. It has modern cushioned chairs at the ends of the table that are comfortable, functional, and perfect for eating and long conversations. Along the sides of the table are classic wooden chairs that look amazing and use replenishable and environmentally friendly wood, which is another modern trend for dining room chairs.
---
2.

Modsy Mismatched Chairs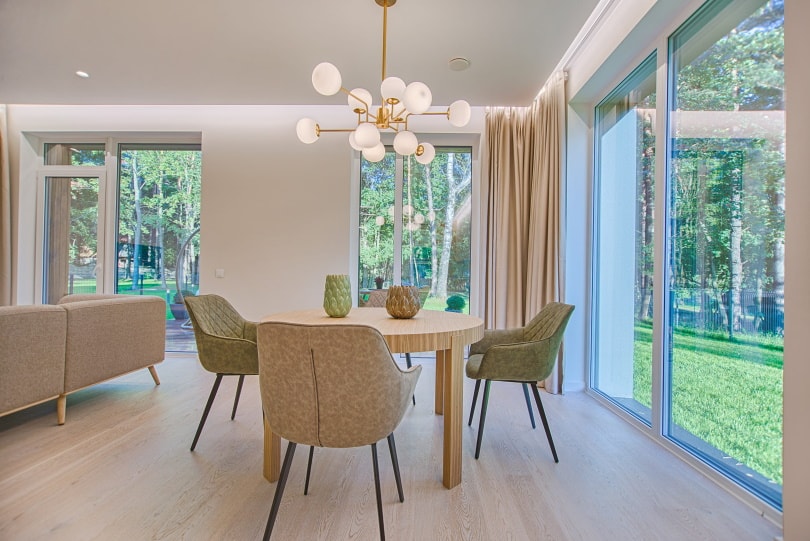 The mismatched chairs are a great example of using your dining room chairs to create an attractive dining room set. The end chairs are light-colored and cushioned and have boxy angles, while the side chairs are also cushioned but have wooden backs with a round shape. The two different chair styles accent each other perfectly and look great in any home.

Environmentally Friendly Wood
3.

Farmhouse Style Chairs
The Seasons Of My Home Farmhouse Style Chairs are the perfect example of how you can have amazing-looking dining room chairs that are environmentally friendly and have a traditional appearance. You can get them in multiple sizes, and they are likely to be less expensive than many others.
---
4.

Traditional Salvaged Wood
This design pairs traditional wooden chairs with matching wooden tables. It also suggests chair toppers that look amazing and help your dining area be more inviting. These toppers also make it easy to change the appearance of your dining area every season by switching them out for different ones.

Dining Room Chair Fabric Trends
5.

Miss Mustard Seed Dining Chairs
Miss Mustard Seed Dining Chairs is a set of mismatched chairs that will look great in many homes. The soft colors and patterns have a traditional style that helps you feel more comfortable, and the fabric is linen, a popular modern trend in fabric. It's extremely durable and washable, and you can find it in many colors.
---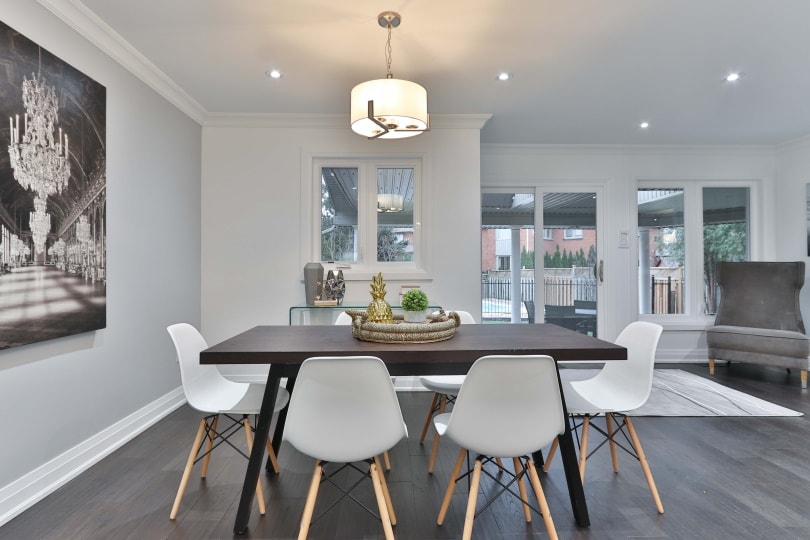 The Scandinavian designs are a light-colored fabric-covered chair that can be a nice change if you are looking for something new. The cushioned seats have covers of soft fabric that won't cause static or grab your pants while you are eating or talking. It's extremely durable and the chairs are lightweight.
---
7.

Houzz Traditional Dining Chairs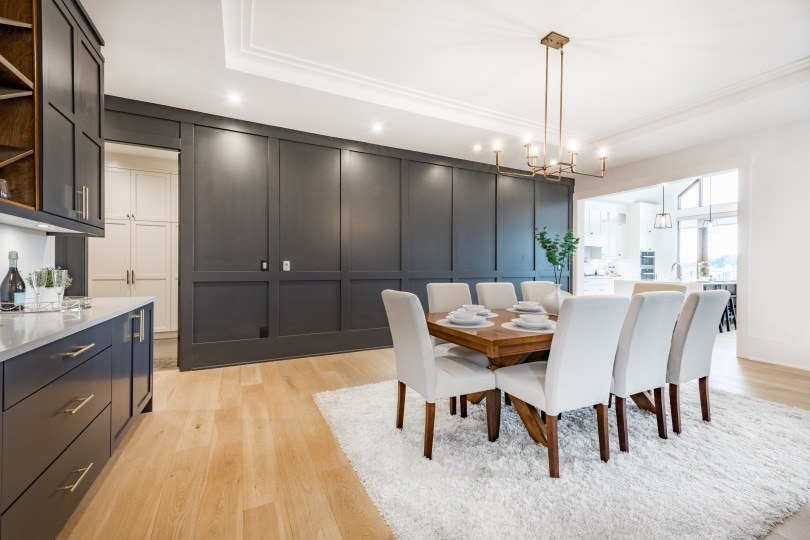 Houzz Traditional Dining Chairs are traditional dining room chairs with plenty of cushioning. The dark color of the fabric makes sure it fits into any color room, and it also makes it harder to see any stains that might occur.
---
8.

West of Main Belarus Dining Chair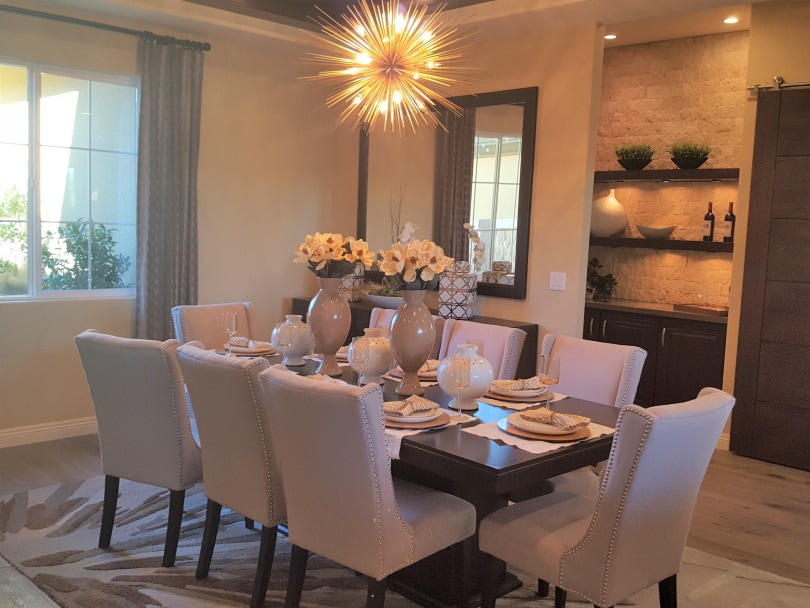 This design uses a tall chair with a square back that is perfect for the dinner table. The fabric is a durable canvas that hugs you while you sit and will last you many years. The dark wooden legs have an elegant appearance and resemble metal.
---
9.

Abi Dare Thonet Chairs
The Abi Dare Thonet Chairs are perfect for dining rooms with limited space. Their shape is similar to a barstool, so they are quite comfortable and even provide you with a footrest. The rounded design enables easy swiveling, so they're great when you have plenty of people at the table that you need to talk to. They are also perfect for tight areas where getting in and out of your chair can be challenging.

Dining Room Chair Trends
Mismatched Chairs
Mismatched chairs will be a popular trend today, as we saw it getting started over the past few years. These can look quite attractive if you have a good eye for style. The idea isn't to throw just any chairs together but to find ones (usually two kinds) that look good together. They work best with long rectangular tables, though you can use them with any table, really. Most people put large chairs with more cushioning at the ends of the table. It makes it more comfortable to enjoy a cup of coffee or tea while conversing with a loved one and is perfect for someone who likes to entertain. The side chairs are traditional-style table chairs that help ensure that you have the proper posture while eating. In a small household, you can eat in the side chairs and relax and talk in the end chairs, so the table basically becomes the home's center point.
Green Materials
Another popular trend is having dining room table chairs that use environmentally friendly materials, primarily wood, in their construction. Wood is a replenishable resource, while plastics and metal are not. These other materials also go through more processing, which adds to their environmental impact. Wooden chairs biodegrade and are recyclable, so they help reduce the carbon footprint.

Summary
There are plenty of ways to change the appearance of your dining room while sticking with modern trends like mismatched chairs and wooden frames. If you choose a brand with a fabric covering, you get the added benefit of cushioning and various colors that will accent any room.
---
Featured Image Credit: Piqsels