15 Hardwood Floor Trends in 2023 – Design Ideas for a Modern Home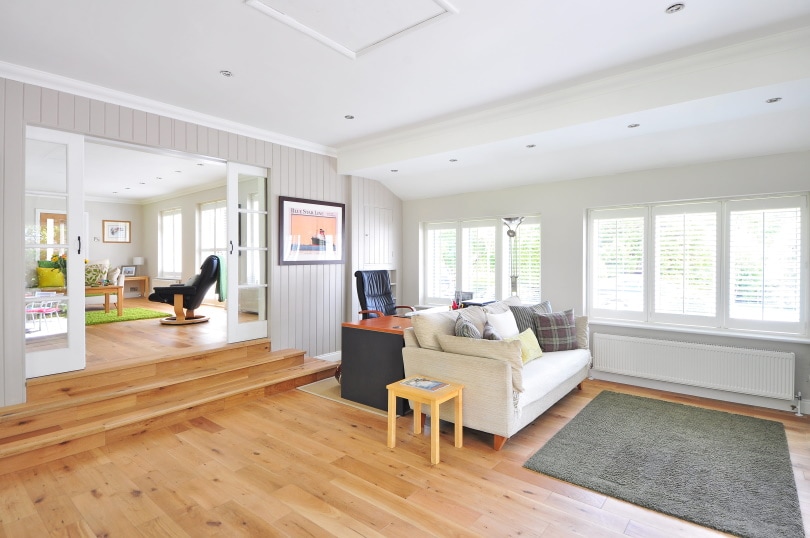 Trends in hardwood flooring for this year include a mix of traditional designs and modern colors. Hardwood flooring remains a popular choice for its beauty, affordability, and comfort.
Hardwood flooring has been associated with beautiful and elegant homes since the 1600s. The new trends are durable and are in high demand at all price points in the housing market.
In this article, we are going to consider 15 hardwood floor trends that you can use to renovate your house. Let's get started.

The Top 15 Hardwood Floor Trends in 2023
1.

White Oak Wood Flooring
White oak, also known as domestic hardwood, is grown in North America. These trees can be found in the country's eastern regions, including Northern Florida and Southern Canada. White oak is readily available as a flooring material and, as hardwood flooring pricing goes, it is reasonably affordable.
This hardwood floor trend has been gaining popularity over the past few years. You'll often see it installed in a herringbone style with natural finishing The durability of white oak wood flooring is excellent, making it a common choice for stairs and entire home installations. It can be stained in a wide variety of colors and is fairly neutral in color. This makes it easy for homeowners to create the look they want; it doesn't matter if they have light or darker wood floors.
---
2.

Engineered Wood Flooring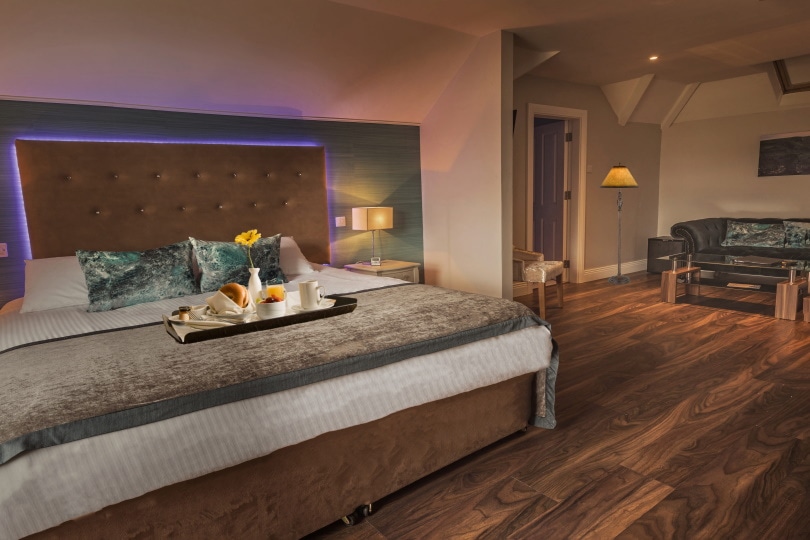 Engineered hardwood flooring comes closest to real hardwood. This is, of course, not real solid hardwood. It is made up of a thin veneer layer of hardwood on top.
Engineered hardwood uses a medium-density or high-density fiberboard core to stabilize and support the plank. It is also durable and suitable for use in all areas of the house, thanks to the premium attached underlayment.
Although engineered wood looks like real wood, it's extremely durable and comes in almost every style of wood.
Consult a flooring expert
Find a flooring specialist in your area, and get free, no-commitment estimates for your project.


---
3.

Reclaimed wood flooring
Reclaimed wood is a great option for creating a classic look in your commercial or residential space. This particular flooring style is one of the most popular this year. This flooring is unique in its history. The flooring material comes from old barns and industrial warehouses as well as railroad trestles and factories. It is stylish and, at the same time, environment friendly. The wood is typically old and was harvested between 100-300 years ago.
Reclaiming wood means that old buildings' beams and framing lumber can be turned into flooring materials. Most hardwood floors made from reclaimed wood are made from wood that comes from other parts of a building. Reclaimed wood can be put in different grades depending upon its characteristics.
---
4.

American Made Wood Flooring
The United States has been making quality wood floors since its earliest days and their craftsmanship and style have yet to be topped across the world.
An amazing floor should enhance your home's beauty and American-made woods are flexible on both color and style, so whether you want something traditional or modern, you've got plenty of options to choose from.
Your flooring will be made from American-sourced material, which means that all the materials are locally sourced and manufactured right in the USA. You will feel patriotic about your flooring, from the wood to the machines that create each plank. A product that gives an aesthetically pleasing floor with a classic look.
---
5.

Fumed Wood Flooring
Fumed hardwood floors have a natural beauty that is easily visible. This flooring trend is an innovative process that creates natural, beautiful-looking floors, without staining. Fuming naturally increases the color and contrasts between the wood planks. Because fuming is a natural method of creating wood floors with different colors, there might be slight variations in every color from dark to lighter shades.
---
6.

Gray Wood Flooring
These hardwood floors come in many shades of gray. The right stains and finishes are used to achieve gray in hardwood flooring production. Contrary to popular belief, it is not because the wood comes from "driftwood" or special gray trees. Although this is difficult to achieve, experts can often refinish hardwood that has been previously installed. Although there are many options for gray, the majority of projects will focus on neutral gray colors that can be used to remind buyers of natural-colored wood.
Gray wood flooring has been gaining popularity in urban areas, where minimalistic homes are more common. Gray, being a neutral color, can be used in conjunction with stark whites or very dark shades. This makes it stand out against the walls and ceilings but still feels fresh and unprocessed. Gray hardwood flooring is not for everyone. But, with the right color schemes, gray can be very effective. Talk to a professional designer about your unique features and how gray flooring could look in your home. Gray is more popular than other styles and may increase your house's value.
---
7.

Whitewashed Wood Flooring
Whitewashed floors are more of a west coast style that is spreading across the country. The floors that reflect this relaxed California style are also becoming more popular. Whitewashed wood flooring is at the top.
This flooring color trend can be a great choice for farmhouse-style homes. It can give your home a "beachy" look or an elegant contemporary feel depending on what decor you have.
Whitewashed wood often shows signs of wear, with darker wood showing through from underneath. This flooring trend can make your home appear larger, brighter, and more comfortable, particularly since lighter wood colors tend to be cooler.
---
8.

Greige Wood Flooring
Greige is a portmanteau of gray (or grey) and beige, with a color that sits squarely in the middle of the spectrum. This flooring is a popular choice for a wide range of decor options, even though it only uses two colors. It is possible to mix greige with darker colors or with lots of warm beige. Whatever you choose, the effect of balancing the two colors can be quite difficult.
This color trend can be used in many ways, thanks to its neutral and soothing colors. You can style it up or down by using bold or neutral colors, such as a feature wall or bright accent wall.
The best greige wood flooring will last a lifetime. Greige is a great choice for statement living rooms. It can add a touch of luxury to your parquet flooring. You can make this color trend casual or informal in various driftwood-style colors. This is great for light hallways and open-plan apartments.
---
9.

Herringbone Wood Flooring
Many consider herringbone flooring as the pinnacle of sophistication. It was first used in manor homes and stately homes before it became more common.
The unique appearance and design of Herringbone flooring are unlike any other floor covering. This flooring is timeless and stylish. It can be used in traditional and contemporary settings. It also creates the illusion of movement, making smaller spaces appear larger and brighter.
You can also have herringbone parquet flooring installed in many different colors and finishes to match your home's decor. The way your herringbone flooring is installed will determine the level of detail and prominence. You can achieve a natural look by using lighter woods with less graining. You can go bolder with a wood that is mid-toned and has lots of character.
---
10.

Wide Plank Wood Flooring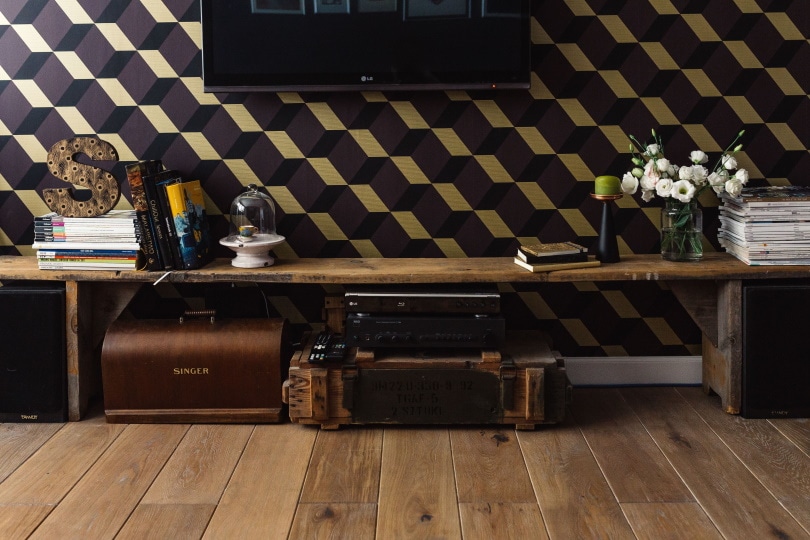 Wide plank wood flooring gives homes a timeless and classic look. You can mix the flooring with modern elements in your living or family room to create a beautiful combination of rustic and refined beauty. When considering this flooring option, original reclaimed wide plank hardwood flooring might be the best option. You may also opt for wide plank hardwood flooring. You can also get wide plank looks in less-expensive lamina, tile, or luxury vinyl.
---
11.

European Oak Wood Flooring
The most popular flooring in this category is European Oak. These woods come mainly from France and Germany and are cut differently than American hardwoods.
This wood has a unique design, often offering three different cuts from one plank. Many consumers prefer European hardwood flooring to American-style flooring.
A European hardwood floor is a great choice for your next remodel or project. It will give your home a stunning, unique look that only comes from Europe.
---
12.

Hand-scraped Flooring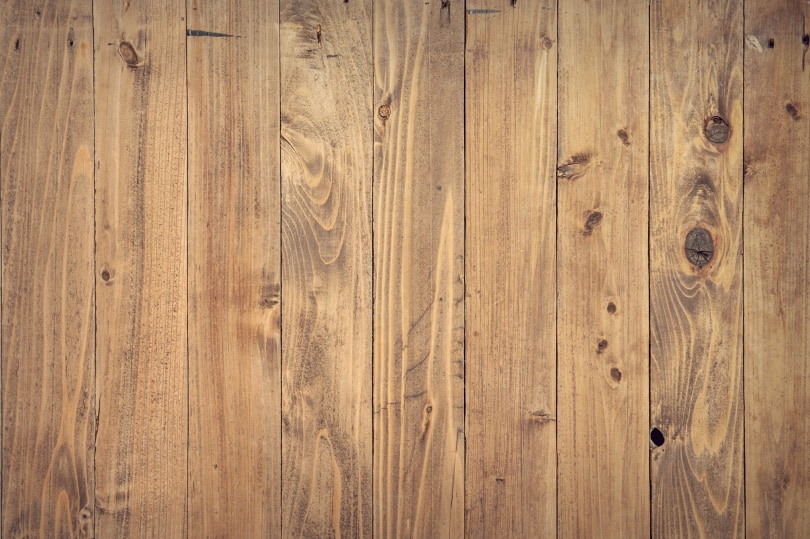 Hand-scraped flooring is a type of hardwood flooring with more definition and texture. Flooring planks are made in the same manner as other hardwood floorings. After the flooring is laid, the surface must be scraped by hand. Finally, the planks will be finished with oil or lacquer. You will be amazed at the variety of planks available when you choose this flooring. Each plank is hand-scraped and finished by an individual. This results in a rustic-looking, textured hardwood floor that has lots of charm.
---
13.

Rustic Wood Flooring
Rustic floors bring back memories of nature and natural textures, which can have a calming effect on the viewer.
You can use rustic flooring for various styles in many ways. You can either mix sand with the floors to enhance their texture or use reclaimed materials that have been used in other ways before they are put to good use. Particularly reclaimed floors have nail holes, saw marks, and patina which add character.
However, rustic textures can bring depth and character to any room. These textures are great for cottages, farmhouses, and lodges.
---
14.

Distressed Wood Flooring
The distressed wood adds character to your flooring, creating a stunning effect in every room.
Distressed wood looks like it has a story. This will make your home feel cozier and homier. The wood flooring looks unique and is a great choice for any room.
Most of the distressing happens in factories. It is possible to find an aged lumbar, which has been through distress and make it look amazing for your home.
---
15.

Wire Brushed Hardwood
This type of flooring can be finished with a wire brush. The wood's softer parts are removed, and the heart grain is more evident. This creates a weathered look. Although it may seem like it damages the surface, it does the opposite. It gives the surface a grainy look that is more comfortable than the smooth high gloss. Also, it hides any scratches and dents that may occasionally occur. It is a good middle ground between a highly distressed look and a high-gloss finish.

What is the newest trend for hardwood floors?
Greige (gray+beige) hardwood flooring will become the new standard for wood floor color trends, as it combines the simplicity of gray and the depth of beige.
Are hardwood floorings going out of fashion?
Hardwood flooring is a great choice and will not go out of fashion. Hardwood flooring has been a mainstay in homes around the globe, despite all the other flooring trends.
Are hardwood floors worth it?
According to Realtor.com, hardwood flooring offers a 70% to 80% return on investment and can even increase a home's selling price by 2.5%. It's an excellent return on investment when it comes to home improvements.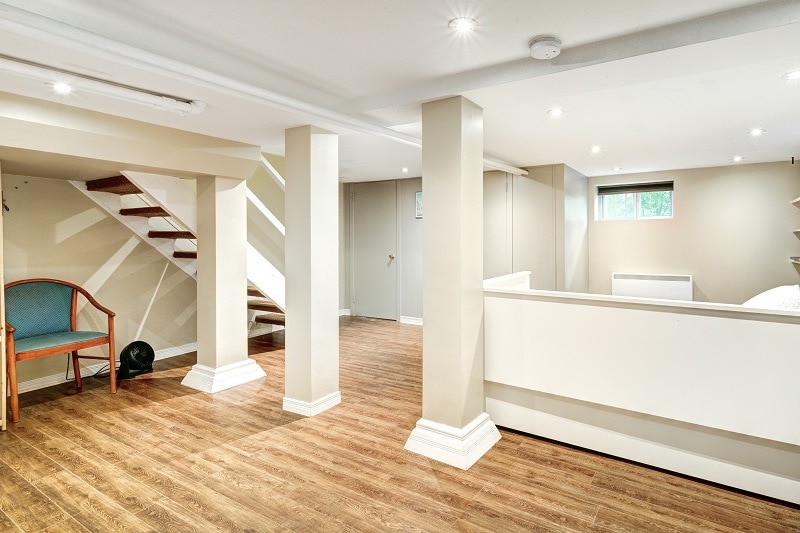 Is it better to refinish than replace hardwood floors?
Refinishing hardwood floors is almost always less expensive. They will need to be replaced, and you will have to purchase additional wood.  It is advisable to refinish rather than replace the hardwood floors because this will still be cheaper than replacing the whole floor.
Is dark or light flooring better?
Both light and dark flooring work well together. While light floors can look more fashionable and conceal imperfections, dark floors will last longer and show less dirt.
Related Read: 8 Commercial Interior Design Trends This Year

Conclusion
As you can see there is much happening in the wood flooring industry. The trending options are numerous and will likely stay around for many years, so your options are limitless.
You might also be interested in: Cost to Install Vinyl Plank Flooring (Cost Per Square Foot)
---
Featured Image Credit: Piqsels