10 Dining Room Table Trends in 2023 – Design Ideas for A Modern Home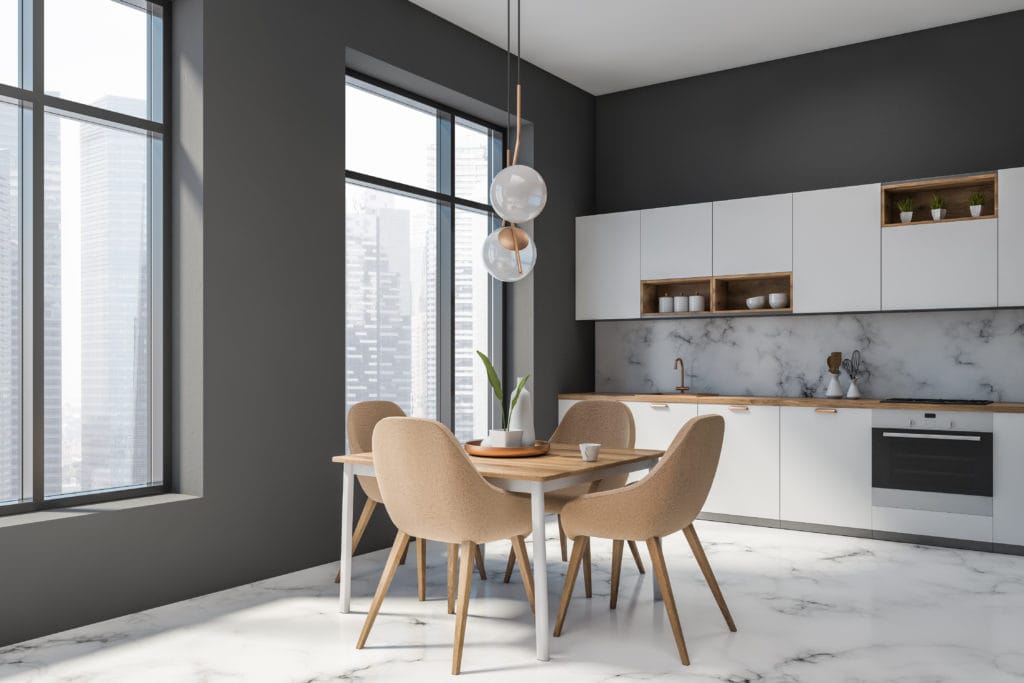 The dining room table is one of the most important items in your home because both you and your family members likely spend plenty of time there. So, when it's time for a new table in your home, it can be challenging to find something functional and attractive. If this sounds like your situation, keep reading as we look at the most popular dining room table trends this year.

Top 10 Dining Room Table Trends
Wood
1.

Modsy Green Dining Table
One of the most popular dining room table trends in American homes today is a switch to a traditional wooden frame. Wood is biodegradable and replenishable, so it's a more environmentally friendly choice than plastics or metals. The Modsy Dining Room Table is the perfect example of how wood can look elegant and sophisticated while remaining functional. This design might be a little large for some homes, but if you have the space, this large table will fit 10, so it's perfect for holiday dinners.
---
2.

Hart Round Pedestal Dining Table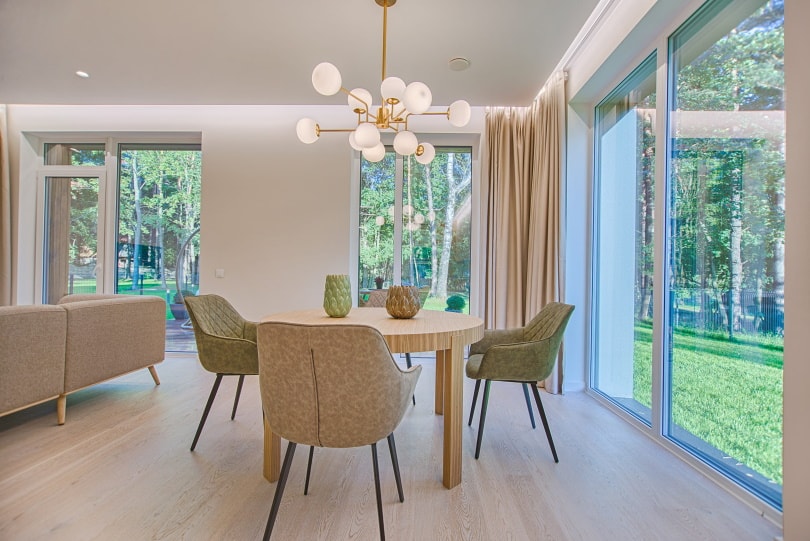 This round dining table is a great example of a wood table that will work great in any dining room, and it's versatile enough to use in other areas of the home. The solid construction is durable and will last many years, and it seats four comfortably without sacrificing too much legroom.
---
3.

Table and Bench
The Etsy Table and Bench is a unique design that brings the outdoors inside and turns your dining room table into a picnic table. This one is more attractive than the type that you would find outside, and it's extremely comfortable. It's well suited to large families and will look great in any room.
---
4.

Lliff Street Farmhouse Table
A farmhouse table is an amazing all-wood design with plenty of room for family members and friends. It's stable yet provides plenty of legroom, and you can even use one of the wooden support beams as a footrest, making it more comfortable to sit at for games and other activities.
---
5.

Walnut Table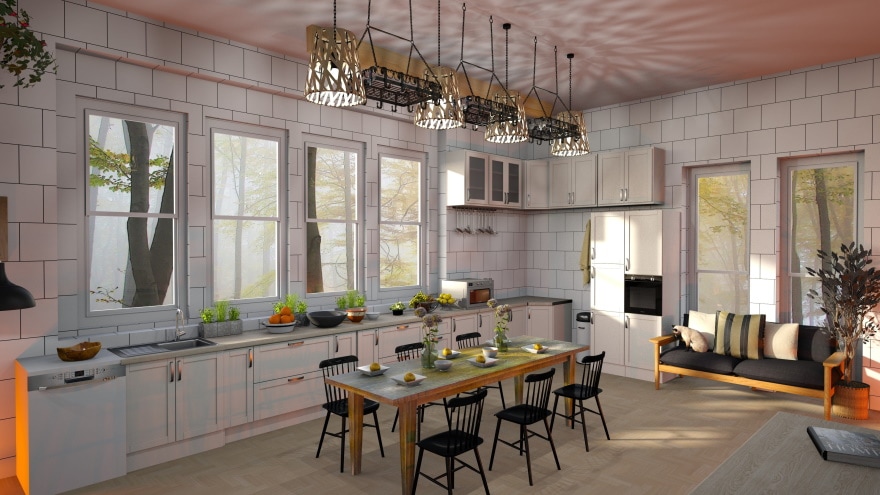 One great thing about wood is that you can create large tables with plenty of seating relatively inexpensively. They are extremely attractive and can seat 10 or more. It works well in rustic settings, and you can pair it with several different types of chairs, so there are enough options to make sure you get something you like.

Glass
6.

Picture Perfect Home Dining Table
Glass is a popular trend this year, likely due to its clean appearance. Glass is also less likely than many other materials to hold bacteria, and an easy-to-sanitize surface is often preferred. The glass dining table is a large square table with plenty of seating space for family members and friends. It also has a modern base that keeps the table stable while looking great.
---
7.

Glass With Wooden Legs
This smaller round glass table with a large wooden base, so it's a great choice if you are trying to keep up with modern trends. It's quite stable and seats four, so it's perfect for small families.

White
8.

Small Round White Dining Room Table
HKCungs Dining Room Table has a white design, which is a popular trend today, and it's easy to see why. It looks amazing, and this small round table will fit into nearly any dining room. We like the wide base that will help keep the table stable even when several people eat at once, while providing plenty of legroom.
---
9.

Rectangular Dining Table
A rectangular table that makes use of the popular white color. The tabletop is a white marble that looks even more amazing when you get up close, and it has wooden legs, which makes use of the current trend of using wood and other environmentally friendly materials.
---
10.

Homary Modern Table
The Homary Modern Table is white and has unique features. It has a rectangular shape, but the corners are rounded, helping it appear a little more inviting. The sides also fold down, enabling you to place it against a wall and use it as a half-table, so it's perfect for small homes, single people, and couples.
What Are the Popular Dining Room Table Trends?
Wood: One of the biggest trends today is wooden tables. Wood is a renewable resource that is also biodegradable and recyclable. With the current push toward being more environmentally friendly, it's no surprise that people are choosing it over plastics and other composites. Wood is extremely sturdy and is easy to carve into nearly any shape.
Glass: Glass has always been a popular choice for dining room tables, but it has become a particularly popular trend since the COVID-19 pandemic began, as people want a surface that is easy to clean and sterilize. The hard surface does not enable bacteria to hide in microscopic cracks like many other materials, and glass tables just always look amazing.
White: White is a popular color for the dining room this year, not just for tables but also for chandeliers and other items. White works well with many other colors. The brighter table also helps you feel more alert and makes the area feel more lively and inviting.

Summary
Wood materials are popular right now because they are more environmentally friendly than many other materials, and there is a push toward reducing our carbon footprints. White tables also seem to be big now, as are glass tables. All the designs on this list will look great in any home no matter what your style of dining room.
---
Featured Image Credit: ImageFlow Shutterstock