4 Sustainable DIY Bamboo Fence Plans You Can Build Today (with Pictures)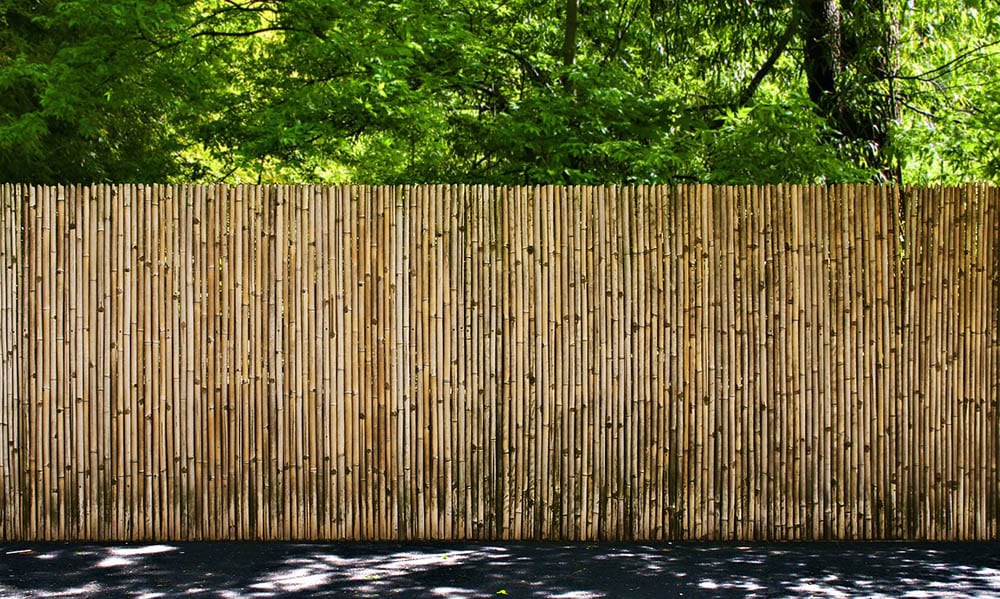 Bamboo plants are an important symbol in feng shui, where they're considered a symbol of good luck. So, if this ancient practice backs the use of them to create positive energy in your environment, why not build a whole fence out of them? Surely, you'll be several times as lucky! You might be surprised to find this out, but there are numerous ways to arrange bamboo within the confines of a fence.
Some methods are quicker than others or require more tools, but any style of bamboo fence is just the thing your yard needs to stay private and luscious. Bamboo fences are a super-strong and sustainable fencing choice, and you can do it at home. Let's check out some plans for bamboo fences.

The 4 Sustainable DIY Bamboo Fence Plans
1.

Staggered Bamboo Fence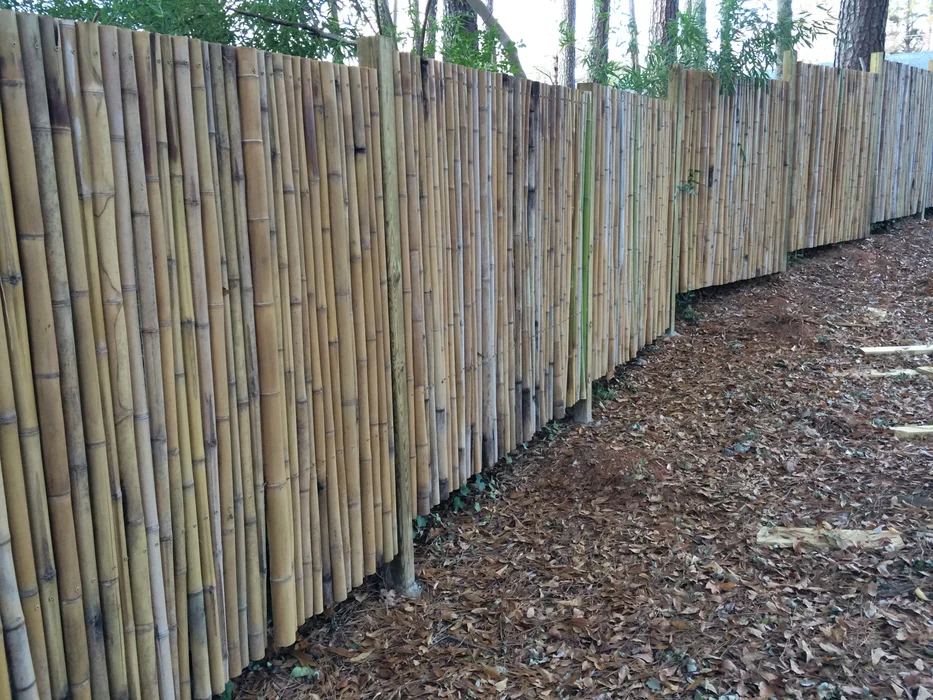 | | |
| --- | --- |
| Skill Level: | Intermediate |
| Materials: | Bamboo, 2x4s, self-tapping screws |
| Tools: | Drill, any saw |
This fence has a timelessly elegant design that makes your yard feel like a real Zen garden. For this plan, you cut about 6 to 8 feet of bamboo fence to the same height, then stagger the height up or down. How you arrange these resulting panels is up to you.
---
2.

Bamboo Screen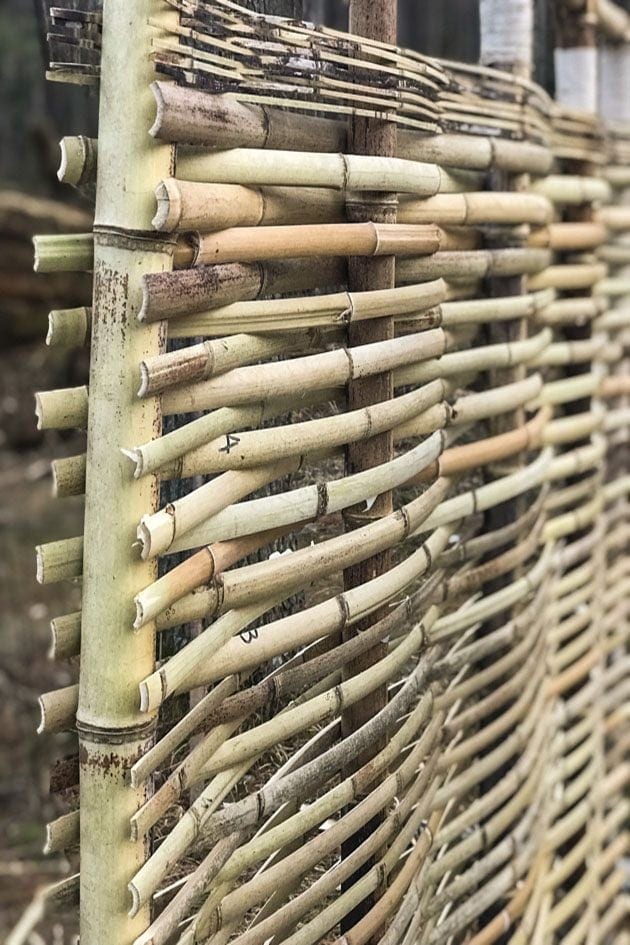 | | |
| --- | --- |
| Skill Level: | Beginner |
| Materials: | Bamboo strips, bamboo |
| Tools: | None |
Bamboo screens aren't used just for Japanese period dramas anymore. Using a special splitting process to produce bamboo strips, you can weave your own screen-style fence. There's little in the way of equipment if you buy commercially produced bamboo strips, but it might get tedious to weave a whole fence.
---
3.

Bamboo Privacy Fence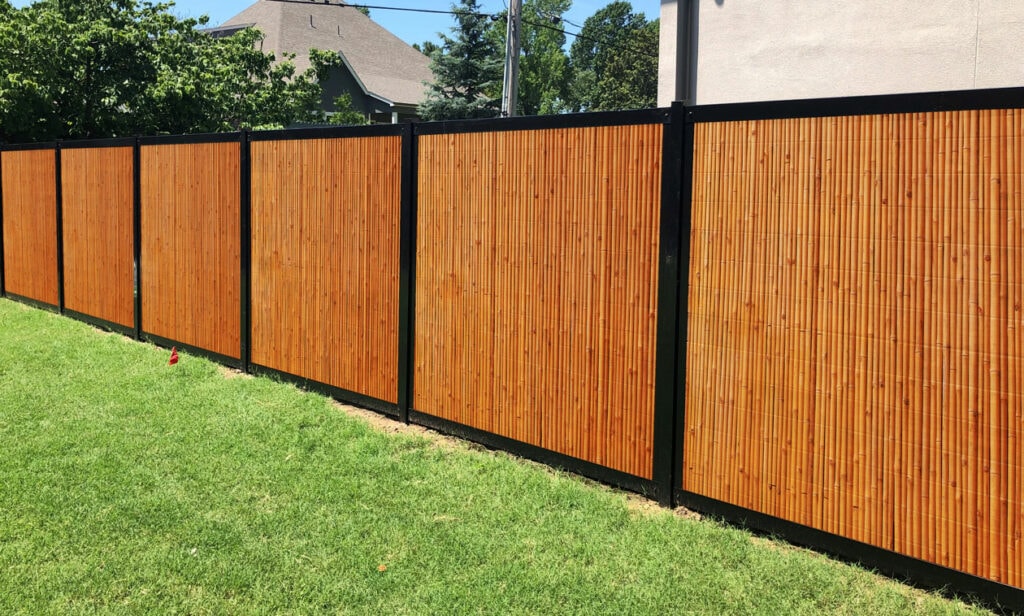 | | |
| --- | --- |
| Skill Level: | Intermediate |
| Materials: | Bamboo, metal/wood frame |
| Tools: | Drill, hammer |
If you want zero contact with neighbors, consider this bamboo privacy fence to declare your misanthropy. This stylish fence uses wood or metal as rails to create boxes in the fence design. Painting the rails black is a particularly good choice to contrast with the bamboo, and the effect is lovely.
---
4.

Bamboo Plant Fence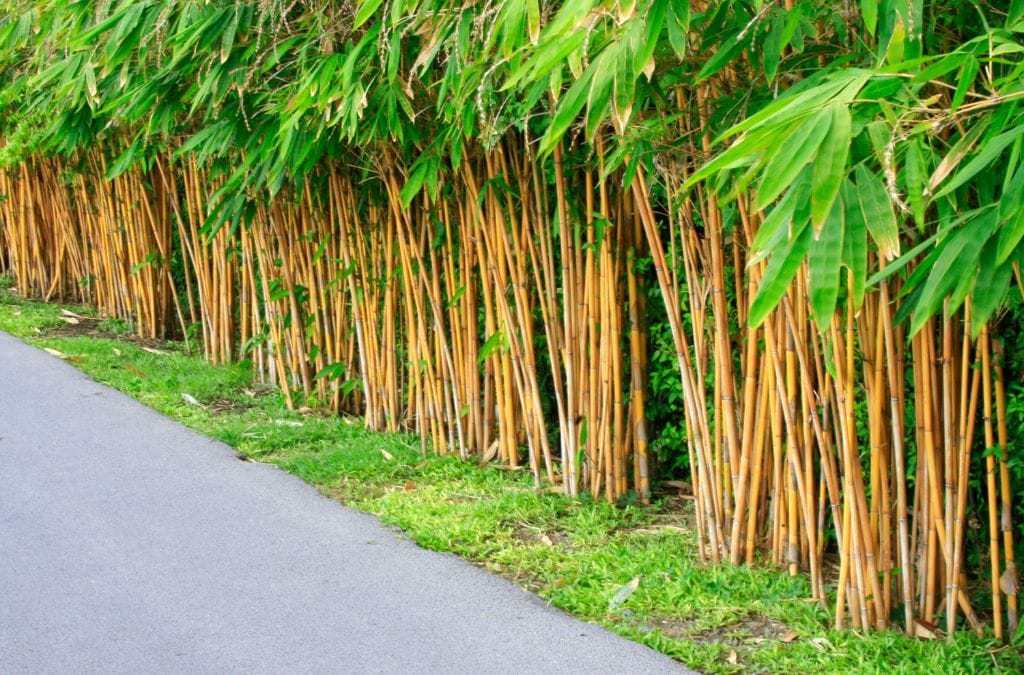 | | |
| --- | --- |
| Skill Level: | Beginner |
| Materials: | Pots, bamboo plants |
| Tools: | Gardening tools |
If you're not so sure about power tools, you can still build a fence yourself with bamboo plants. Using a straight row of potted bamboo plants, you can grow an impenetrable wall rivaling any privacy fence out there. Bamboo grows notoriously thick and dense, so it might actually be a more sensible and natural way to fence your property.

Why Use Bamboo?
Bamboo is a gorgeous way to go green in your life and support sustainable materials like it. It grows fast, making it useful for building, but it's bamboo's extreme strength that sets it apart from other building materials. In parts of Asia, bamboo poles were framed with bamboo rods, and the walls were built from thin sheets of bamboo strips. As if that's not enough bamboo, the flooring was typically made from the same sheets.
Bamboo is biodegradable, so you don't have to worry about it clogging up a landfill when its lifespan is over. Lastly, bamboo is grown without pesticides that could leach into the soil and harm the wildlife where it's grown. That makes it more useful than some mass-produced alternatives.
---
Featured Image Credit: FreeImagesGuide, Pixabay