10 Best KitchenAid Blender Reviews 2023 – Top Picks & Guide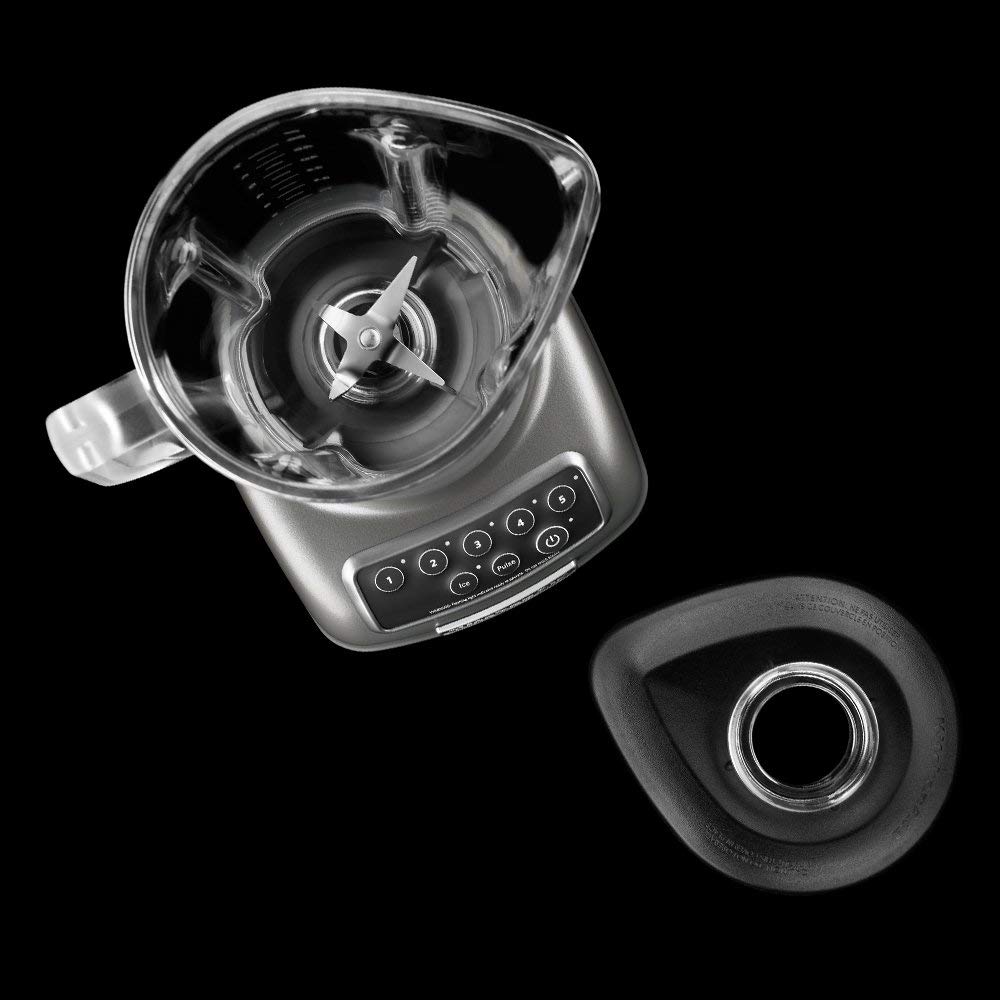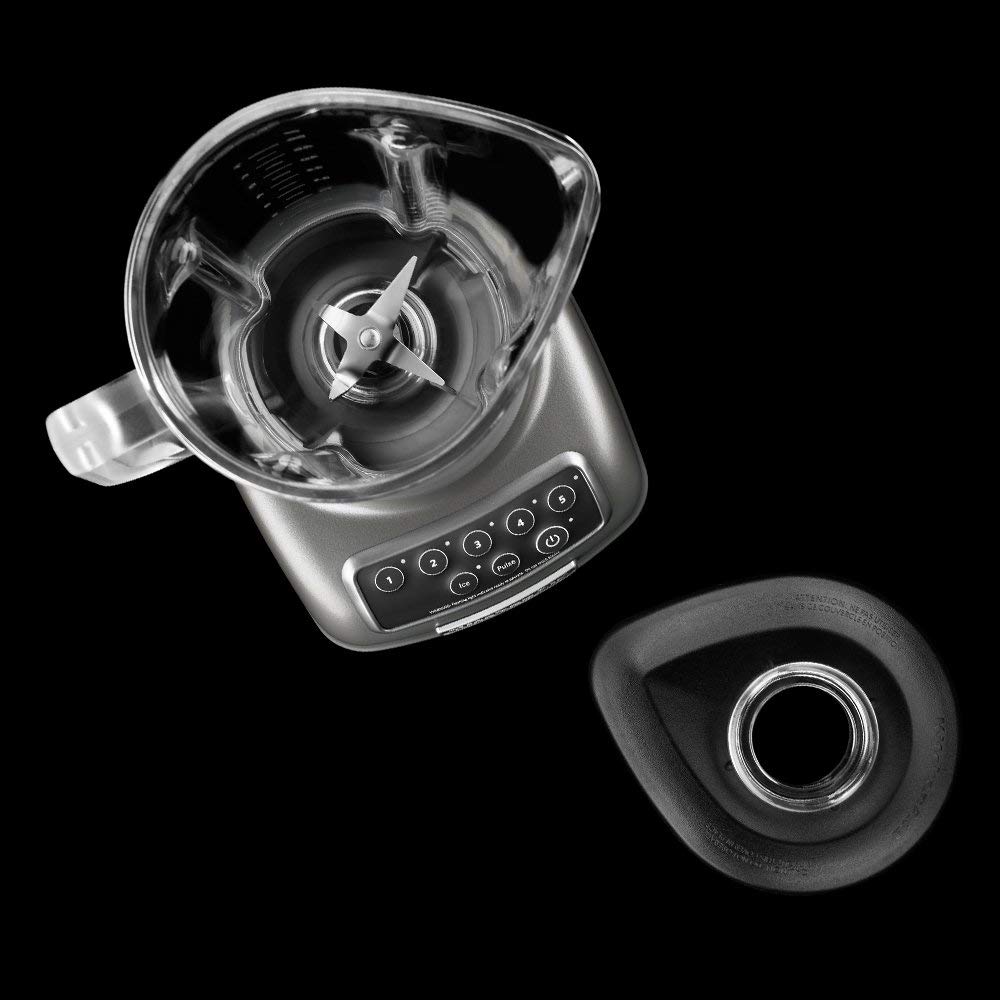 KitchenAid is such a well-known quality brand for kitchen appliances that it's no wonder that they're a top choice for blenders.
You may be surprised to learn that KitchenAid manufactures a wide variety of blenders, each with different capacities, power levels, and designs. As you start to research different blender options, you'll quickly learn that it can be hard to find the best one for you.
We've created a list of reviews of the 10 best KitchenAid blenders to help you in your search. There's also a buying guide that lists all the different features and options of different KitchenAid blenders, so you can be well-informed as you look for the best blender for your needs.
A Glance at our Favorites in 2023
Rating
Image
Product
Details

Best Overall

KitchenAid ksb560es

Durable
Dishwasher safe pitcher
Shatter resistant pitcher
CHECK PRICE

Best Value

KitchenAid KSB1570SL

Stainless-steel blade
Intelli-Speed motor control
Steel-reinforced coupler
CHECK PRICE

Premium Choice

KitchenAid KSB8270CA

Professional grade
Die cast metal base
Thermal control jar
CHECK PRICE

KitchenAid KSB1575ER

Intelli-Speed motor control
Five speeds
BPA free
CHECK PRICE

KitchenAid KHB2351CU

Removable blending arm
Non-slip handle
Dishwasher safe jar
CHECK PRICE
10 Best Kitchenaid Blenders
1.

KitchenAid ksb560es Blender – Best Overall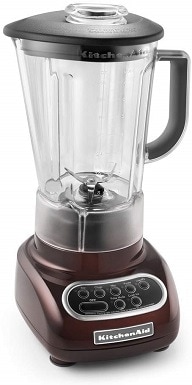 The KitchenAid ksb560es Blender is our best overall choice because it has a large-capacity pitcher and a 0.9-horsepower motor. This puts the blender solidly in the medium-powered category, so it's great for smoothies and light ice-crushing tasks. The pitcher is shatter-resistant and dishwasher-safe, and clean-up is easy since you don't have to remove the blade. The control pad has presets that Kitchenaid calls "Intelli-Speed controls." These include options like pulse, liquify, stir, chop, and mix, which give the blender five speeds. The metal base is die-cast and extremely durable. Lastly, it's available in an assortment of colors to coordinate with any kitchen color scheme.
We found that the blender leaks after using it for a while, which could be because of the way the blade attaches to the pitcher.
Pros
 Pitcher is dishwasher-safe
 No need to remove the blade for cleaning
 Clean-touch control pad features Intelli-Speed controls
 56-ounce, shatter-resistant pitcher
 Durable, die-cast metal base with steel-reinforced coupler
 Five speeds
 Available in an assortment of colors
 0.9-horsepower motor
---
2.

KitchenAid KSB1570SL Blender – Best Value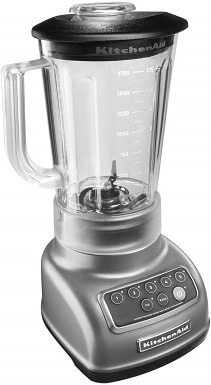 The KitchenAid 5-Speed Blender is the best KitchenAid blender for the money because it has great features for a low cost. It features five speeds with Intelli-Speed motor control, which means you can choose a preset and the blender picks the optimal speed. It's made of quality materials like a stainless-steel blade and die-cast metal base. We also appreciated the steel-reinforced coupler that transfers power efficiently from the motor to the blade. It also has a 56-ounce, dishwasher-safe pitcher.
Although the blender doesn't specifically state the wattage, it's around 550. You may find that it struggles to crush ice as well as the other blenders on the list. It also tends to leak where the blade connects to the pitcher.
Pros
 Stainless-steel blade
 56-ounce dishwasher-safe pitcher
 Intelli-Speed motor control
 Die-cast metal base
 Five speeds
 Steel-reinforced coupler
---
3.

KitchenAid Thermal Control Blender – Premium Choice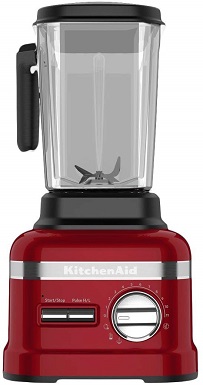 If you want a blender that's professional-grade and can handle just about anything, then the KitchenAid Thermal Control Jar Blender is our premium choice recommendation. It has a powerful 3.5-peak-HP motor, which is powerful enough to turn ice into snow. It has an asymmetric stainless-steel blade that's designed for consistency and smooth results. The three presets, which KitchenAid calls its "Adapti-Blend," allows you to choose soup, smoothie, or juice. The blender then uses optimal speed and power to produce the desired recipe. It also has variable speeds from one to 11. The thermal-control jar even allows you to heat soup in five minutes. It has an 87-ounce capacity, and the jar, blades, and lid are all dishwasher-safe for easy cleanup.
We're calling it our premium choice for a reason: It's expensive. This could be worth it if you plan to use it daily for complicated recipes and need something extremely powerful. The blender does struggle if it doesn't have enough liquid to blend along with whole pieces of food. It's also large and heavy. If you have limited cabinet or countertop space in your kitchen, then this might not be the best choice.
Pros
 Professional-grade blender has a powerful 3.5-peak-HP motor
 Asymmetric stainless-steel blade
 Three preset "Adapti-Blend" recipe programs
 Variable speed from one to 11
 Durable die-cast metal base
 Dishwasher-safe, BPA-free, thermal-control jar
Cons
 Expensive
 Struggles to blend whole foods
 Large and heavy
---
4.

KitchenAid Diamond Blender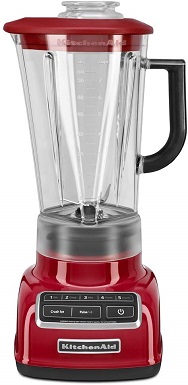 The KitchenAid Diamond Blender has a patented pitcher that is shatter-, scratch-, and stain-resistant. It's also a large capacity of 60 ounces, BPA-free, and dishwasher-safe. Like the other KitchenAid blenders, the metal base is durable and die-cast. It comes with five speeds and has an Intelli-Speed motor that senses the contents and maintains optimal speed. This saves you from having to determine what speed to choose. It's also available in a wide variety of colors.
This is another blender that's tall and heavy because of the pitcher's large capacity. If you don't have a great deal of kitchen space, this might not be the best choice. The blending is also inconsistent and struggles with bigger pieces of food. Lastly, the bottom of the container always leaks a little onto the base, which can be inconvenient to have to clean every time.
Pros
Available in many different colors
Intelli-Speed motor control senses contents and maintains optimal speed
Five speeds
BPA-free, 60-oz diamond pitcher is dishwasher-safe
Durable die-cast metal base
Cons
Tall and heavy blender
Inconsistent blending
Leaks
---
5.

KitchenAid 3-Speed Hand Blender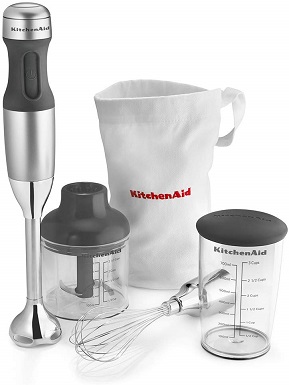 KitchenAid has a great hand blender option that offers three speeds and a removable 8-inch blending arm. The handle has a grip that's both comfortable and non-slip. It comes with a 3-cup BPA-free blending jar. There are measurements on the side of the jar, which includes a lid, and it's top-rack dishwasher-safe. We also appreciated the additional attachments: a whisk attachment to whip ingredients easily, a chopper attachment that chops ingredients quickly, and a 2.5-cup bowl with lid.
The attachments, especially the blender arm, do not seem to fit tightly onto the motor. When used as an immersion blender, the arm pops off easily. However, when you do want to remove the parts and switch them out, they are hard to attach and remove. It also doesn't seem powerful enough. It does well with softer foods but struggles to chop harder ones, like carrots.
Pros
Removable 8-inch blending arm
Soft-grip handle offers a non-slip, comfortable feel
3-cup BPA-free blending jar
The blending jar is top-rack dishwasher-safe
Includes whisk attachment and chopper attachment
Cons
Difficult to remove the parts
 Not enough power
 Blender attachment is a poor fit
---
6.

KitchenAid KSB6060BM Blender
The KitchenAid High Performance Series Blender is another high-power option. It has variable speeds from one to nine and a 3.0-peak-HP motor. It includes a tamper for tough ingredients. The parts are professional-grade, and it's a heavy, durable blender with a die-cast metal base. We also like that it comes with a 10-year hassle-free replacement warranty.
As you might have guessed from it being a high-power option, this blender is on the pricier side. It's also big, bulky, and heavy, so it can be hard to move it around or find space for it. Unlike the diamond pitchers, this one isn't stain-resistant, so if you blend ingredients like red peppers, it will stain.
Pros
 Variable speeds
 3.0-peak-HP motor and tamper
 Die-cast metal base
 10-year hassle-free replacement warranty
Cons
Expensive
 Big, bulky, heavy
 Pitcher is not stain-resistant
---
7.

KitchenAid 4-Speed Blender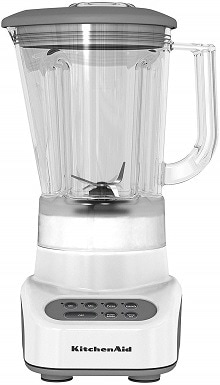 The KitchenAid 4-Speed Countertop Blender is a great option for those who don't have much space in their kitchens, as it isn't as tall and bulky as others on the list. It has four speed settings, along with a "chop ice" preset and pulse. Like other KitchenAid blenders, it has an Intelli-Speed sensor to maintain a consistent speed. The base is made of solid, die-cast metal. The 48-oz pitcher is dishwasher-safe and made of polycarbonate plastic, so it's durable.
There's something about this design that makes it hard to attach the pitcher to the base. Because of this, it tends to leak and make a terrible grinding noise. The blades also wear down easily and can even break. The quality of this one is questionable.
Pros
Four speed settings, plus "chop ice" and pulse modes
 Intelli-Speed electronic sensor to maintain a consistent speed
 Solid die-cast metal base
 Dishwasher-safe 48-oz. polycarbonate pitcher
Cons
 Hard to attach the pitcher to the base
 Poor quality
 Blades break easily 
 Leaks
---
8.

KitchenAid Magnetic Drive Blender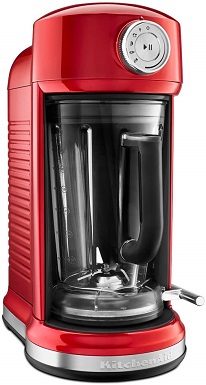 For a unique, stylish option, KitchenAid has the Torrent Magnetic Drive Blender. It allows you to select a setting and walk away. The blender automatically shuts off when blending is complete. The motor is a solid mid-range of power at 1.8-peak-HP. It has a special Magna Lock System that locks the jar in place and allows it to be easily removed. It also includes four Adapti-blend recipe programs for things like juices, smoothies, and soups.
This is a large and heavy blender, so it's difficult to maneuver and will take up a great deal of room in your kitchen. It tends to leak too. The motor is noisy and breaks easily.
Pros
Can select setting and walk away
1.8-peak-HP motor
Magna Lock System locks jar in place
Four Adapti-blend recipe programs
Cons
 Large and heavy
 Leaks
 Motor is short-lived
 Noisy
---
9.

KitchenAid KSB7068FP Blender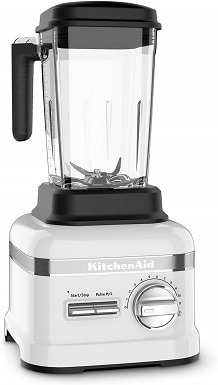 The KitchenAid Pro Line Series Blender is another professional-grade option with a 3.5-peak-HP motor. The precision power dial offers continuous and variable speeds from one to 11, so you can choose the perfect speed no matter what you're blending. Like the others, it has a die-cast metal base. The BPA-free jar is huge at 90 ounces and is dishwasher-safe.
With that much power, there's no surprise that this is on the higher end of the price range. The plastic jar cracks easily, especially if you use hot ingredients. It's also extremely loud and noisy because of the high horsepower. Lastly, the lid is difficult to remove.
Pros
 3.5-peak-HP motor
 Precision power dial offers continuous variable speeds from one to 11
 Die-cast metal base
 Dishwasher-safe BPA-free 90-oz jar
Cons
 Expensive
 Plastic jar cracks easily
 Noisy
 Lid is difficult to remove
---
10.

KitchenAid 5 Speed Hand Blender
KitchenAid also has a Pro Line 5 Speed Hand Blender that comes with a 12-volt, rechargeable lithium-ion battery. It has five attachments, including an 8" blender arm, 13" blender arm, whisk attachment, chopper attachment, and three interchangeable blades. The chopper bowl and additional container both have lids and side measurements.
Even though this is a hand blender, it's quite expensive. The battery is weak and doesn't give enough power to the motor, especially for all the different types of attachments. It also dies quickly and is difficult to replace. The blender itself is bulky and heavy, which can make it difficult to use for people who have trouble with their hands. It's also short-lived, and the blades don't seem sharp enough to do a good job.
Pros
12-volt, rechargeable lithium-ion battery
 Five attachments
 Five speeds
 Three interchangeable blades
Cons
 Expensive
 Weak battery
 Battery dies quickly
 Unit is short-lived
 Bulky and heavy
 Blades don't seem sharp enough
---
Buyer's Guide: How to Buy the Best KitchenAid Blender
There are several things to consider when shopping for a KitchenAid blender. We've created a buyer's guide to help you know what to look for.
Countertop Space
How much space do you have to work with? Will you need to store your blender in a cabinet? When you look at the different size options, it's important to consider these things. Depending on where your electrical outlets are in your kitchen, you may even have to find out whether a blender can fit under your upper cabinet. Conventional blenders are always bulkier than personal or immersion blenders, so storage and working space will be important.
Power
The more powerful the blender motor, the higher the wattage and horsepower. These types of blenders typically work faster and can quickly liquefy your ingredients. Powerful blenders are typically made to last longer than lower-powered ones, but they also tend to be larger, louder, and more expensive.
If you know you'll be frequently needing your blender to crush ice or turn nuts into smooth nut butter, then you'll want a high-powered motor of 1,500 watts or more. Some of these blenders can even heat the ingredients because of the friction from the blades. This is ideal if you like to make soup or bulletproof coffee.
If you don't need a heavy-duty blender, then a mid-powered one at around 1,100 watts works nearly as well. They can crush ice or grind nuts, though neither will be as fine and smooth as a high-powered blender. But for smoothies or pureeing, they do a good job.
At the bottom of the power-range are blenders around 600 watts, but these don't handle crushing ice or grinding hard foods very well. They can handle easy purée jobs and that's about it.
Speed
You'll find that the blenders on our list have multiple speeds, along with the option to pulse or run continuously. Some even come with additional features that have presets for specific types of drinks or food. These include ice crushing, soup making, or smoothie blending.
Cleaning
Blenders can be extremely easy to clean. All you need to do is add water and a drop of dish soap, turn it on high, and the blender will clean itself. Rinse thoroughly and pat it dry, and it'll be ready for the next time you need to use it.
Certain blenders also have dishwasher-safe parts. This is typically just the pitcher, though, as you don't want to dull the blade by running it through a hot dishwasher.
Price
Most low- to medium-quality blenders are going to be around $100, sometimes less. These are your basic blenders that do well at pureeing soft foods or can handle smoothie-blending as long as it doesn't require crushing ice.
Medium-quality blenders will have more power and more features and cost somewhere between $100 to $200. These types of blenders will be able to blend smoothies, puree foods, and crush ice fairly well.
At the top of the price range, usually around $200-$400, with some even more expensive than that, you'll find the high-performing blenders. These typically have the highest horsepower and wattage and are capable of blending anything you need. Many will include special features and be of long-lasting quality.
Pitcher Type
Blender pitchers are made either of heavy-duty glass or plastic.
Though you may think that glass would be better since it doesn't stain or absorb food odors, it can become a safety hazard. Thin glass can shatter easily, particularly if you try to blend hot foods. Thick glass is safer but it can be heavy.
Many blenders will use a high-quality plastic pitcher instead. There is no risk of shattering with these pitchers, and they are typically extremely durable, safer, and lightweight.
---
Conclusion
Our best overall choice is the KitchenAid ksb560es Blender because it's a solid medium-powered blender. It has a large-capacity, shatter-resistant pitcher that is dishwasher-safe. It also has a 0.9-horsepower motor that's capable of light ice-crushing tasks.
The KitchenAid KSB1570SL 5-Speed Blender is our best value choice because it has many great features for the money. It has five speeds, a 56-ounce pitcher, and presets that make it easy to let the blender choose the optimal speed for whatever you need it to blend.
We hope our reviews of the best KitchenAid blenders and buying guide have helped you create your own list so that you can find the best one to meet your needs.
Other blender brands we've reviewed: