5 DIY Bamboo Headboard Plans You Can Make Today (With Pictures)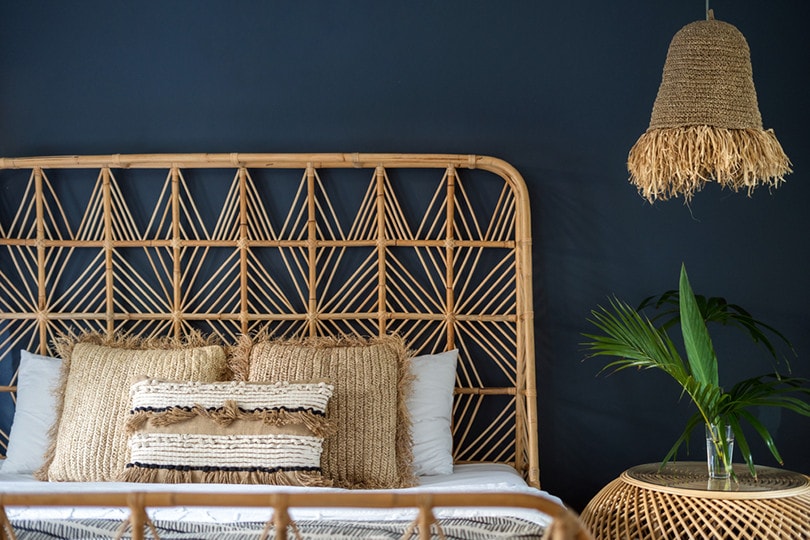 Bamboo is sustainable, fairly easily sourced, and can be easy to work with. If you're looking to make a new headboard and have a good supply of decent bamboo, why not use it to make a natural-looking headboard for your room. Light bamboo works especially well in spacious and airy rooms and goes well with natural and neutral lined colors, but you can use darker bamboo or change the design so that it works equally well as part of a Scandi or Japandi décor, or in a boho bedroom.
To help guide you, below are the DIY bamboo headboards you can make yourself.

Top 5 Bamboo Headboard Plans
1.

Bamboo Headboard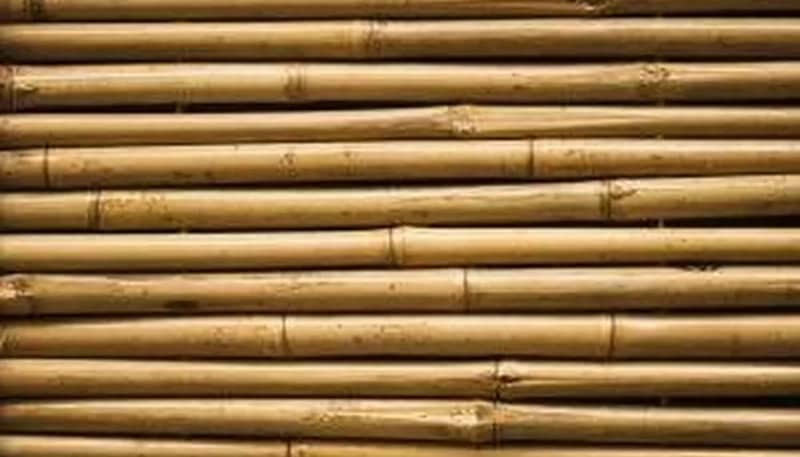 | | |
| --- | --- |
| Materials: | Bamboo, 1×2 |
| Tools: | Wood glue, twine |
| Difficulty: | Easy |
Bamboo is one of the fastest growing building materials available, which makes it a very sustainable material. It is flexible, but because your headboard shouldn't have to take any load and won't be put under any pressure, it will be strong enough to withstand this use. This bamboo headboard guide not only shows you how to make one from sustainable bamboo but also how to hang it from the wall for greater stability and to keep it in place.
---
2.

Bamboo Fan Headboard
| | |
| --- | --- |
| Materials: | Bamboo, bamboo strips |
| Tools: | Twine, wood glue |
| Difficulty: | Easy |
Bamboo has an authentic and homely look when used in the bedroom. It's also flexible and easy to maneuver into various shapes. Making a bamboo fan headboard is a creative way to add some artistic elements to your bedroom. It also makes a beautiful and striking decoration for your living space, and you can add a few decorations to make it less basic. You can also include a mechanism that allows it to open and close, making it more captivating and unique.
This DIY bamboo fan headboard guide shows you the plan you can follow and the necessary tools and materials to make it. It also shows you the best way to hang it on the wall for greater stability.
---
3.

Curved Bamboo Headboard
| | |
| --- | --- |
| Materials: | Bamboo |
| Tools: | Twine, wood glue, saw |
| Difficulty: | Moderate |
A curved bamboo headboard upgrades your bed and gives your bedroom a boho aesthetic. Bamboo is flexible, and bending it is not a challenging task, unlike most wood. To make the headboard more attractive and give it a magical look, consider adding fairy lights to illuminate it when it's dark. You can also add some decorations and potted plants on the curved ends.
This DIY project uses long, flexible bamboo canes to allow it to curve away from the wall without snapping. The bamboo canes can be curved individually and glued together, joined with twine, or glued together and then curved using high pressure. The end goal is to create a beautiful and stable curved bamboo headboard.
Related Read: 9 DIY Bamboo Fountains and Water Feature Plans You Can Make Today
---
4.

Twin Bamboo Headboard
| | |
| --- | --- |
| Materials: | Bamboo |
| Tools: | Twine, wood glue, saw |
| Difficulty: | Moderate |
Bamboo can be used to make headboards of different shapes and sizes. You can use whole bamboo or strips to make this twin bamboo headboard according to the design and pattern you want. Making a DIY twin bamboo headboard should take less time than a queen-size bed since it's typically smaller, thus less work.
The trick with this DIY build is to ensure the headboard has an intricate design that will make it stand out despite its small size. Adding some designs and a few trinkets will enable it to stand out.
---
5.

Rattan Bamboo Headboard
| | |
| --- | --- |
| Materials: | Bamboo, plywood, bamboo strips |
| Tools: | Twine, wood glue, scissors |
| Difficulty: | Moderate |
A bamboo headboard adds a sense of serenity to the bedroom. A rattan bamboo headboard is more challenging than other headboards since it takes more time and requires you to know some weaving techniques, especially if you want to add intricate designs. For this DIY project, you need some sturdy bamboo to function as the frame and some bamboo strips and twine. You can get these supplies at your local lumber or hardware store.
This guide has the plans you can use to make a DIY rattan bamboo headboard and the tools and materials you'll need. For a better look, consider securing the rattan headboard to the wall using wall studs or hangers instead of attaching it to the bed. This way, it serves the purpose of a bed frame and a wall hanging.

How Do You Use A Room Divider As A Headboard?
Try to choose a room divider, or screen, that is at least as wide as the mattress of your bed. Move the bed away from the wall, ensure the screen is flat (you may have to remove hinges but try not to unless necessary) and push it up against the wall before replacing the bed. You shouldn't have to attach the screen to the bed or the wall.

Conclusion
Bamboo is a sustainable, natural material, that grows freely in certain parts of the world. It is also a great material to work with because it has a degree of flexibility that other woods don't offer. It can be bent and moved into shape with the fear of it snapping easily. However, you will need to take care when sawing across the bamboo to avoid it splitting and splintering. Because bamboo is lightweight, it is a beneficial material for headboard construction as it can be hung from the wall without the fear of damaging said wall.
---
Featured Image Credit: brizmaker, Shutterstock