11 Easy DIY Bed Headboards (With Instructions)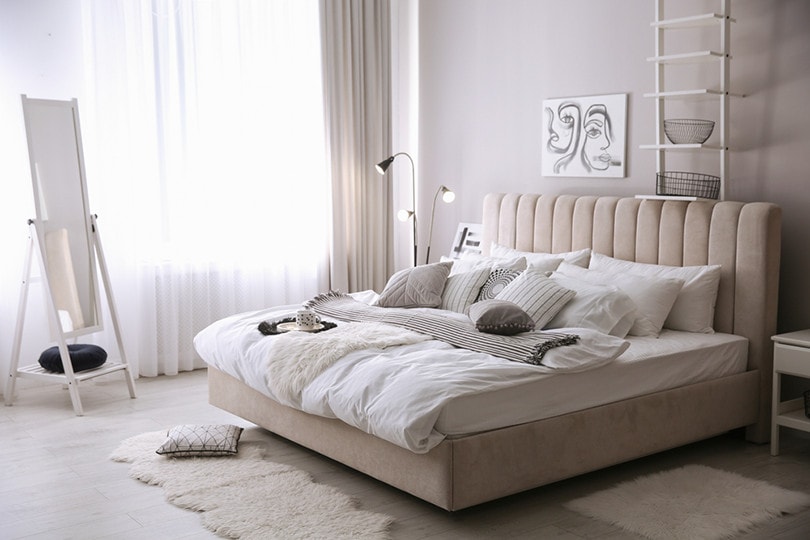 Your bedroom is a haven when you retreat to unwind and relax while getting proper rest and sound sleep. The décor you chose for this room, including its furnishings, can help or impede those functionalities, especially when it concerns your bed.
Headboards act as statement pieces or focal points for your bed and can add style to this essential furniture. However, a fitting headboard doesn't have to come from the store, as there are some designs you can construct yourself with items around the house, and there's no shortage of creative ways to give your bedroom that brilliant finish.
If you have the tools and materials to create a stylish, unique headboard, here are 11 DIY ideas you can try out in your garage or workshop.

11 Easy DIY Bed Headboard Plans
---
1.

DIY Cushion Headboard By SSS Edit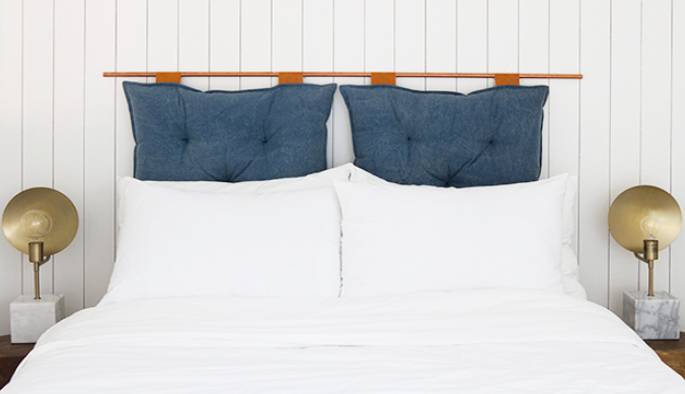 | | |
| --- | --- |
| Materials: | Floor cushions, faux leather, copper or brass pipe |
| Tools: | Exacto knife, hammer, needle and thread, tape measure, nails |
| Difficulty Level: | Easy |
Another easy bed fixture to construct is the SSS Edit, a project you can work on and finish in a couple of hours. Hang a pair of floor cushions against the wall above your bed for a perfect modern, relaxed, and cozy vibe.
You'll cut strips of leather to sew on as the cushion holders after you've installed a ¾ inch of copper pipe for looping your DIY headboard. Two large cushions are sufficient for a double bed, and their designs should match or contrast as functional art.
How long or short you cut your brass or copper pipe holder depends on your bed's size, and you can use a matching bracket to attach it to the wall. Simply hanging cushions or a rug over your bed is also one of the easiest DIY constructions, as you can merely hammer brass nails without piping.
---
2.

DIY Reclaimed Wood Headboard by Colors and Craft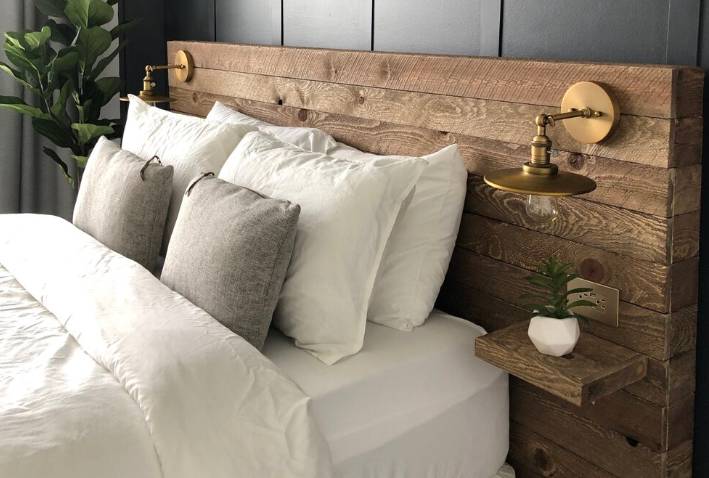 | | |
| --- | --- |
| Materials: | reclaimed wood, paint, |
| Tools: |  jigsaw, hammer, screwdriver, sander, |
| Difficulty Level: | Easy |
For your queen or king-sized bed, a reclaimed wood headboard adds character, is cheap, and friendly to the environment. Besides, you don't need advanced woodworking skills to create a reclaimed wood headboard, and you can even complete the project within a day.
Hunt for old shiplap or wood panel pieces and fasten them together to make a headboard that fits your large bed. Add trim or wood-colored paint and varnish for the finishing touch. You can construct any size according to your preferences and desires, transforming your bedroom with additional rusticity and a weathered look.
It's also possible to make reclaimed wood headboards from IKEA strips with a glued back and then apply them to a frame for structural rigidity.
---
3.

DIY Corrugated Metal Headboard by Hometalk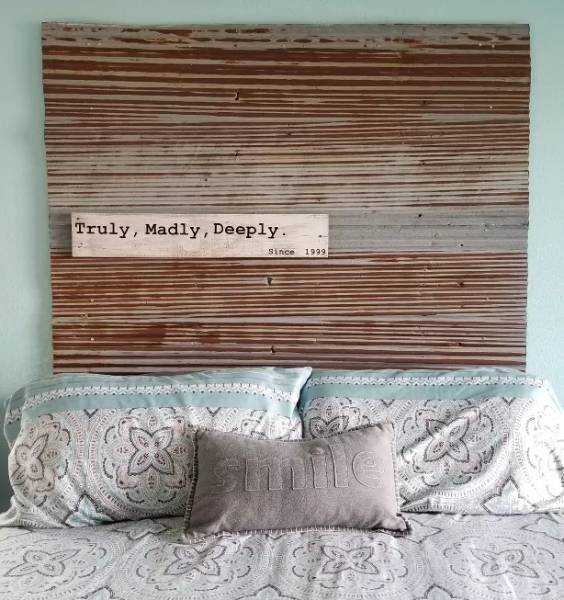 | | |
| --- | --- |
| Materials: | Old metal headboard, metallic paint |
| Tools: | Zip ties, hanging wire, hammer, nails |
| Difficulty Level: | Moderately hard |
If you're looking for a vintage and minimalist look, a metal headboard adds a balance between cozy and retro, while standing the test of time. You can use any corrugated metallic fixture, including wrought iron, brass, or copper pipes and sockets.
A little experience is required for metal work if you don't acquire a complete fixture, but in the end, you'll add sophistication and intimacy to your space. Whether you have a pipe or plain corrugated sheet metal, you can also paint and decorate your metallic headboard to suit any wall art or overall bedroom décor.
Fabric on your metal headboard lets you change colors according to your taste and your bedroom's décor, whether woven, blanket, or linen yardage. Clip these together in a flowing design using curtain rings, zip ties, or hanging wire, or secure with a bow on both sides of your headboard.
---
4.

DIY Bookshelf Headboard by My First Apartment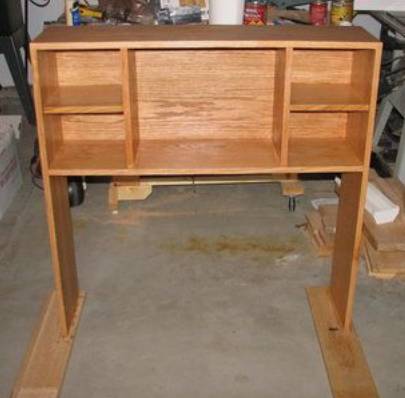 | | |
| --- | --- |
| Materials: | Old bookshelf, wood panels, plywood, paint or varnish |
| Tools: | Sander, hammer, nails, screws, paintbrush |
| Difficulty Level: | Moderate difficulty in construction, easy to decorate |
Building a DIY bookshelf headboard offers two solutions, one is a plus for your bedroom décor, and another is extra storage space. Bookshelves, as sturdy and a decorative element, make excellent headboards that suit all types of beds.
Creating a bookshelf headboard is easy and cheap, and it is a great accessory if you love to read before bedtime. You can find old hard or soft cover books to adorn your board, some that you may need to nail to plywood for added structural integrity.
In addition to books, your bookshelf headboard shelves can hold other items, including nightlights, clocks, or additional bedroom paraphernalia. If you can't get hold of complete bookshelves to refurbish, use wooden boards and apply some DIY skills to create one today.
---
5.

DIY Quilted Fabric Headboard by Art & Home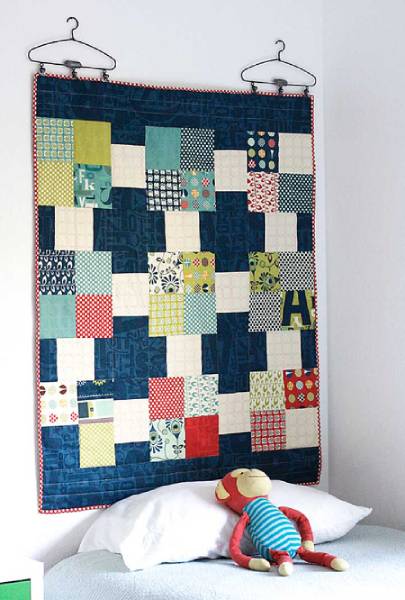 | | |
| --- | --- |
| Materials: | Quilted fabric, wood panel, plywood |
| Tools: | hot glue, sewing kit |
| Difficulty Level: | Easy |
You can make small sections and join them together to create a DIY quilted fabric headboard, which doesn't take long to complete. If you have extra fabric, you'll cost-effectively reuse it to cover several pieces of wood and join them with batting or on a wood panel plywood base.
Make a bold statement with the elegance of a quilted fabric headboard, which looks sophisticated and complicated yet easy to construct in a day. With a little DIY, you'll customize a fabric design whether your quilt is detailed or stapled onto wood panel bases.
It's also possible to mix other design attributes into your quilted headboard, such as buttons, to give the quilt a tufted look. An added trim with brass tacks makes it cushiony, giving your bedroom décor completeness and singularity. The flexibility of working with quilted fabrics gives your bed a classic mid-century appearance.
---
6.

DIY Pallet Wood Headboard by Rice Design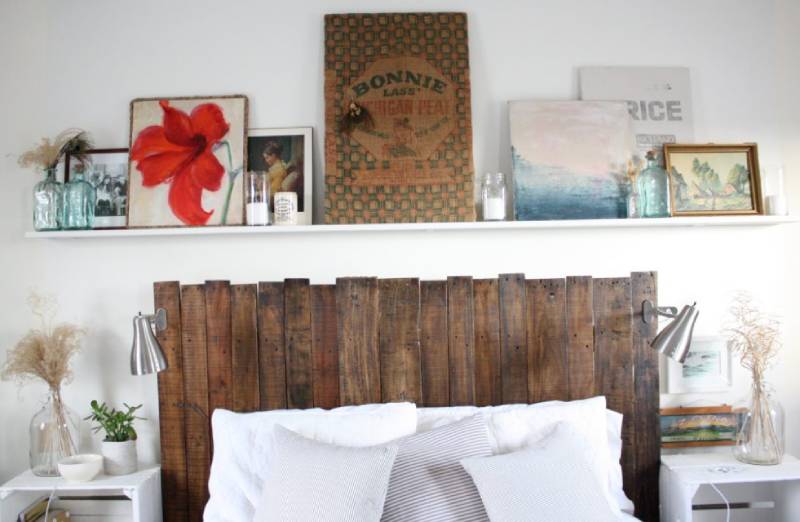 | | |
| --- | --- |
| Materials: | wood pallets, paint or staining varnish |
| Tools: | drill, nuts, bolts, washers, nails, hammer, sander, crowbar |
| Difficulty Level: | Moderate to intricate difficulty depending on your pallet wood headboards features |
If you have a collection of pallets lying around, turn them into a DIY pallet wood headboard by following a simple tutorial. Turning a disused pallet into a rustic board is an effortless project that doesn't require much woodworking skill or complicated tools.
You can attach a pallet wood headboard to the wall or your bed's frame, whether painted, patterned, or embellished with fabric. For instance, a wallpapered pallet wood headboard adds an extra feature to your décor by complimenting or contrasting your fixtures or wall art.
It's easy to come by pallet wood, as pallets are readily available in lumber yards, flea markets, and home improvement stores. Held together by bolts and stained, your headboard's shape, size, and additional features determine the number of pallets you'll use.
---
7.

DIY Upholstered Fabric Headboard by Better Homes & Gardens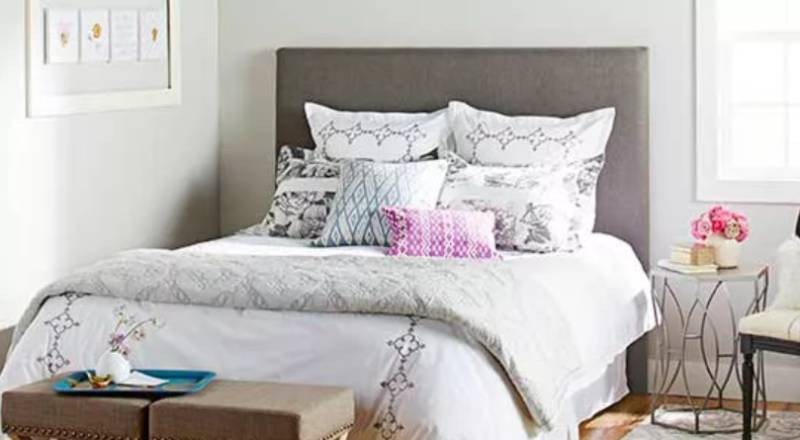 | | |
| --- | --- |
| Materials: | Upholstery fabric, wooden base |
| Tools: | Scissors, sewing kit, hot glue, staple gun |
| Difficulty Level: | Easy |
The best thing to do with different upholstery textiles is to make a DIY upholstered fabric headboard, a functional and easy-to-do project. The look is simple enough to tackle- all you need is a fabric of your choice and a staple gun to pin it onto a piece of plywood or an old dresser mirror part.
With a little DIY know-how and a couple of tools, you can transform your plain wooden board into a chic, winged, or trimmed upholstery headboard. A half-finished embroidery project, for instance, can form part of a tapestry at the head of your bed for that vintage but fresh look.
You can add a layer of foam to give your upholstered headboard some padding or use buttons to match your classic, mid-century modern bedroom décor. Once you have the materials and tools, you can re-upholster an already upholstered headboard with leather for less than it costs to buy a new one.
---
8.

DIY Faux Tiled Headboard by Sweet C's Designs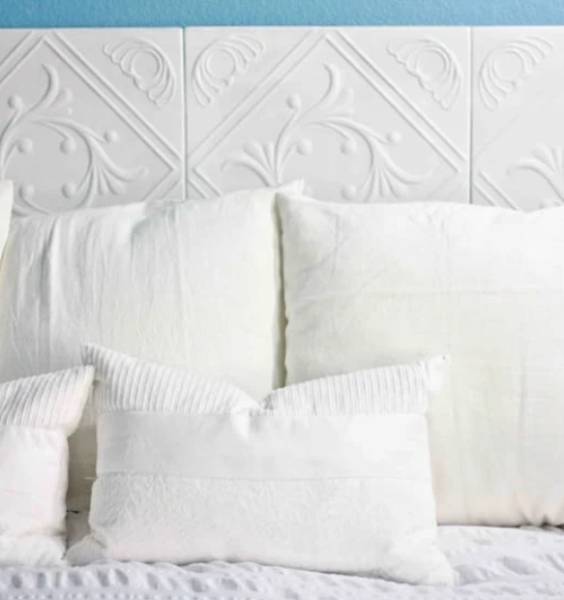 | | |
| --- | --- |
| Materials: | Faux tiles, frame |
| Tools: | Paint, tape, wire, hanging wire |
| Difficulty Level: | Easy to craft and decorate |
For a cheap, easy-to-make but stylish and unique headboard, faux tiles will do the trick as they inspire creative flexibility. Made from foam, you can easily mount ceiling tiles and paint them whichever color for a ceramic or metallic look.
DIY faux tiled headboards are a genius idea, a mounted project that best fits anyone on the move. Use plasterboard and place the tiles on it, a project that takes minutes and costs nothing.
A great thing about faux ceiling tiles is how soft and pliable they are, which means you or your child won't hurt your head when you bump into them. Whether you go big or small, the number of faux tiles you use depends on your headboard design's functionality and decor fittingness.
---
9.

DIY Window Headboard by Decor & the Dog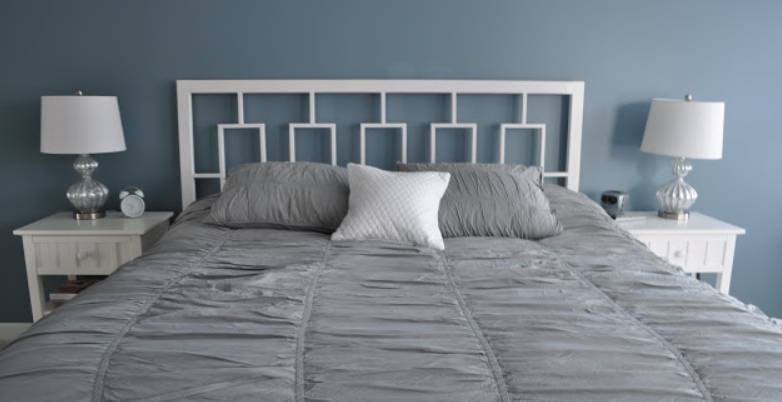 | | |
| --- | --- |
| Materials: | Old window frame or wooden shutters, paint or varnish |
| Tools: | Drill, sander, nails, hammer, screws, wall anchors |
| Difficulty Level: | Easy to construct and decorate |
You can add a super decorative element to your bed and bedroom with a minimalistic DIY window headboard while offering symmetry. Depending on your requirements, a painted window frame of metal or wood is adjustable while remaining budget friendly and easy to construct.
Another hack involves using old window shutters to build your DIY headboard with materials you'll find at flea markets or garage sales. You can also drill holes into the window frame, which you'll attach to the wall or bed frame for rustic excellence.
Besides being sturdy, a window headboard is environmentally friendly as you reuse what could have been discarded. You can also leave your window or shutters for the weathered look, paint, and varnish with different colors or designs.
---
10.

DIY Rope Headboard by The Painted Hive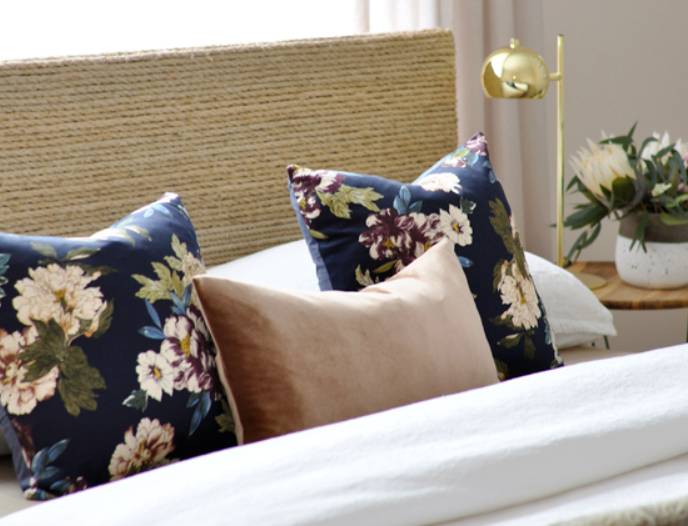 | | |
| --- | --- |
| Materials: | Rope, curtain rods, hard or soft board base |
| Tools: | Hot glue, plastic ties |
| Difficulty Level: | Easy to design and construct |
With ingenuity and creativity, you'll create this DIY rope headboard today using readily available and refurbished materials. You can repurpose curtain ropes and rods, attach an old knotty rope to a metal or wooden frame, or make a craft sisal rope headboard for authentic rusticity.
There are many materials to use for your rope headboard, and rope art is in a category of its own for excellent ideas. Also called macramé, rope-weave or knot art will have double-sided functionality as a focal point for your bed's décor and headboard.
You can hold your rope arrangement together by applying dots of hot glue or use rods to support your headboard in place. Mount this decorative design on your wall. However, note that this headboard is not appropriate for young kids.
---
11.

DIY Framed Tufted Headboard by Make It & Love It
| | |
| --- | --- |
| Materials: | Wooden frame from an old dresser, tuft material, fabric, buttons, paint, or varnish |
| Tools: | Hammer, paintbrush, drill, screws, nails, peg holders, sewing kit |
| Difficulty Level: | Easy to transform the wooden frame into a tufted headboard |
You can construct a DIY framed tufted headboard  from an already existing frame perhaps of an old dresser mirror with broken glass. A little tufting experience is necessary, plus painting the frame and affixing buttons that add charm to any upholstery project.
For the fabric, use an old duvet cover or curtains for their delicate patterns and color variety. You can create framed tufted headboards in any size, whether attached to the bed frame or mounted to the wall.
Besides old dresser mirror frames, you can quickly create a structure for your framed tufted headboard using wooden planks, a door, or windows. Use acrylic paint or stain the wood to ideally match your bed frame, but blend in with nearby fixtures and décor elements.
Conclusion
With a DIY headboard, you can add major style to your bedroom using disused furniture pieces, room dividers, print panels, and many more. Besides adding appeal to your room, there are many styles you can choose from, and while at it, you get to save money without sacrificing functionality, style, and flexibility.
A DIY headboard impacts the décor of your bedroom no matter its size, as you can fill up space or make your sleeping area feel special. Some aren't even boards, just a collection of art and craft ideas that go well to present your roost in a different light. Also, your headboards won't take up valuable space as you can mount them directly to the wall or attach them to your bed frame.
---
Featured image Credit: New Africa, Shutterstock