4 DIY Floating Bed Frame Plans You Can Construct Today (With Pictures)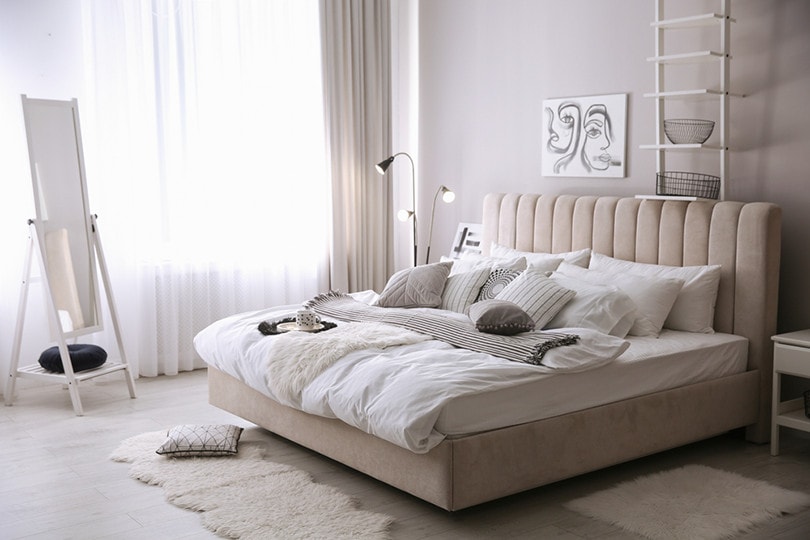 Even though homeowners have multiple options, from traditional to cottage to mission-style beds, a floating bed will always be one of the most unique choices. The bed is not only easy to make using locally available resources but also brings a timeless charm to the bedroom.
As the name hints, a floating bed is ingeniously made to appear as if it is floating on air, supported by either wall brackets or hidden legs. They give an illusion of more space in the room and feature a multitude of designs.
But it goes without saying a bed frame is the most crucial part of the floating bed. It is a staple piece that forms a platform where the mattress lies, and most bed design ideas revolve around it. Unluckily, bed frames are expensive, which has increased the popularity of DIY options. Let's look at some DIY floating bed options below.

The 4 DIY Floating Bed Frames
1.

DIY Floating Bed Frame With Lights by Makey
| | |
| --- | --- |
| Material: | Wood (2×4, 2×3, and 1×3), particle board, screws, sandpaper, wood stain, and LED light strip |
| Tools: | Miter saw, circular saw, power drill, tape measure, sander, stain/paintbrush, pocket hole jig, and chalk line. |
| Difficulty Level: | Simple |
Floating beds with lights bring a youthful look into your bedroom thanks to the warm lights emitted from underneath. The source of light may be LED strips, small light bulbs, or fluorescent tubes. Most homeowners prefer LEDs to other sources because they are energy efficient and produce no heat. This is essential in summer when temperatures are usually high, and you don't want to overwork the HVAC system. Furthermore, LEDs emit different colors, which you can control with remotes. Turn on the red light, and you have a good night's sleep—it doesn't disrupt the circadian rhythm.
These bed frames may be visible or hidden under the mattress and bed covers, depending on your design style. If you want a major part of the frame to be visible, then add lively characters through wood carving using a chisel and a mallet or a CNC machine.
---
2.

DIY Floating Bed With Nightstands by Instructables
| | |
| --- | --- |
| Material: | 2×6 lumber, 2×4 lumber, 3/4-inch plywood, screws, and construction adhesive. You will also need wires, USB ports, and LED light strips, depending on the choice of your smart features. |
| Tools: | Table saw, miter saw, nail gun orbital sander, tape measure, carpenter's triangle, pencils, screw gun or drill, hammer or rubber mallet, several C-clamps, sawhorses, soldering rod wrench, and a ratchet. |
| Difficulty Level: | High |
We cannot deny that nightstands are useful in any modern bedroom. They provide accessible storage areas and elegantly transform the bedroom. However, finding a perfect-sized nightstand is not easy. In this situation, you can customize a floating bed frame with a nightstand.
The nightstand can be anything from a simple box-like nightstand to a complex smart nightstand. A box-like nightstand requires at least four equal pieces of 2x6s. The pieces will be joined together to form the stand box. You may screw the stand on a headboard which will act as the back cover.
With modernization in full swing, the future of smart floating beds with nightstands is right here. These stands incorporate features like charging pads, USB ports, and Bluetooth speakers. Some have motion-activated lights, refrigerated drawers, and app-lock and unlock drawers.
---
4.

DIY Floating Bed Frame With Headboard Slats by HomeMadeModern
| | |
| --- | --- |
| Material: | wooden planks, velvet fabric, foam, and plywood |
| Tools: | circular saw, angle grinder, palm router, orbital sander, and drill |
| Difficulty Level: | simple |
A floating bed on its own is beautiful but adding headboards gives it a clean impression and a modern vibe. Headboards on any bed play many roles. The board's insulative properties form a barrier between the wall and the mattress, keeping cold at bay.
When safely secured in place, it prevents the wall from wearing out due to friction caused by the bed's movement. Lastly, the board is like a backrest on a chair, and with pillows, you have a comfy place to rest your back while operating a laptop on your lap or reading a nighttime novel.
Constructing this floating bed with a headboard takes two forms. You can use plain wood or spruce it up. Plain wood blends well with minimalism in that the frame occupies the smallest space possible. Simply get a wood plank, be it fresh from a timber yard or reclaimed, and fix it on one of the two shorter sides to be used as a headboard.
Tufted headboards are characteristically soft and inviting. It favors a wide range of materials, mainly plywood, lumber, velvet fabric, and foam. These headboards make the bed appear big and luxurious, so if you are looking for means to reduce large bedroom open space, this is your best shot.

Conclusion
Floating bed frames give the bed its shape and support the mattress. This simple piece should be both strong and stunning. While buying a complete bed frame is expensive, DIYing gives you the freedom to design one according to your test and preferences at the lowest cost. You can add as many features as you want or simplify everything with minimalism and a wooden headboard.
A floating bed frame with LED lights allows you to brighten up spaces while feeling safe when sleeping. If that sounds complex to come up with, try a traditional floating bed frame. It has wide side rails and is good when you don't like spreading the bed. Lastly, add playful characters like nightstands, and you'll have a personalized bed with minimal cost.
---
Featured Image Credit: New Africa, Shutterstock