22 Free DIY Pizza Oven Plans You Can Build Today (Wood-Fired, Clay & Brick)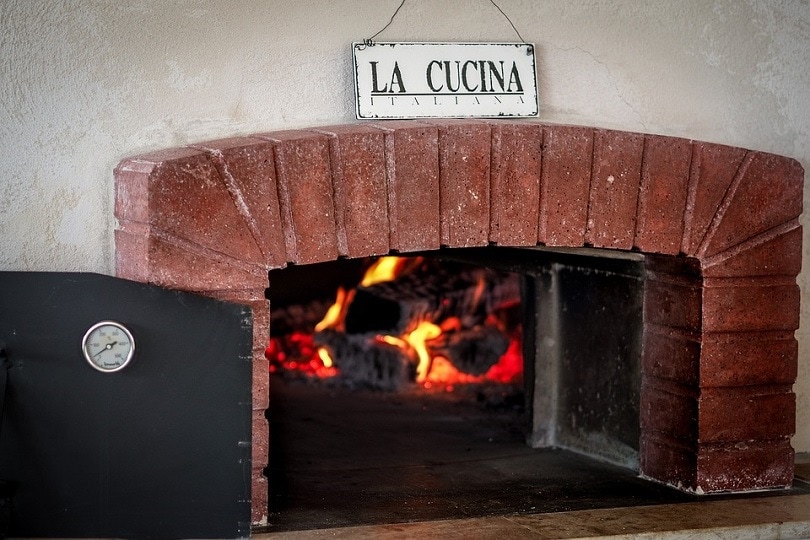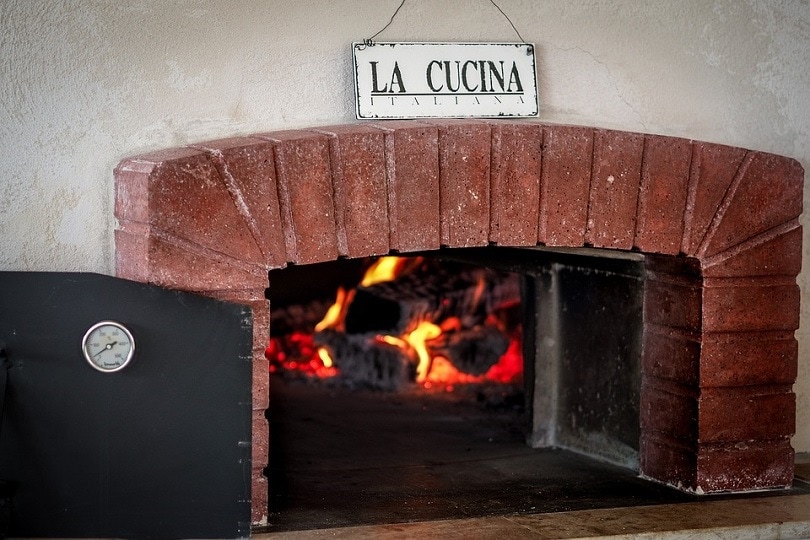 If you want to cook an excellent pizza, you need a pizza oven. Pizza ovens cook hotter than regular ovens, which allows you to make the melty pizza you've been craving. They can also cook a vast number of other items, like veggies and giant cuts of meat. Of course, pizza ovens are often vast and expensive. If you purchase one from the internet, you'll probably be stuck with high shipping costs.
For this reason, you may consider figuring out how to make a pizza oven of your own. Surprisingly, this is pretty simple. The overall design of a pizza oven is very straightforward. With a little know-how and a plan, you can quickly build one in your backyard.
Below, we've listed 10 of our favorite DIY pizza ovens. Some of them are relatively easy to build, and others would be great as the garden's centerpiece. Many of them would go great with an outdoor eating area as well.

DIY Pizza Oven Plans
1.

Wood Fired Oven Plans from Flamesmiths
The Flamesmiths' wood oven plans include detailed instructions on building your own cinder block base, as well as a choice of oven sizes. All the plans utilize refractory insulation over the dome and under the floor, which ensures that the oven stays hotter for longer and yields the best tasting food. They offer plans for the three different wood fired ovens, giving you a selection of sizes to choose from so that you can download and print them off. There's also a time-lapse video that you can use to make sure you're doing everything right.
---
2.

MyOutdoorPlans Outdoor Pizza Oven
MyOutdoorPlans has a number of free pizza oven plans, including this one that creates an attractive and compact pizza oven. It uses concrete blocks, fire bricks, and fired clay to create the ideal oven environment.
---
3.

Outdoor Pizza Oven from HowToSpecialist
If you intend to build a pizza oven from scratch, you will need a wet saw to cut the bricks down to size. You will also need at least two dry weekends because you will have to leave the mortar to dry before you can complete the rest of the plan. If you're up for the challenge, this outdoor pizza oven from HowToSpecialist will stand as a monument to your achievements, as it is part of a full outdoor kitchen area complete with its own shelter as well.
---
4.

The Pompeii Brick Oven Plans From Forno Bravo
The Pompeii Oven from Forno Bravo is a traditional Italian pizza oven that uses fire bricks as the primary material. It also uses high temperature mortar and insulation. The oven got its name from the brick ovens that have been unearthed at ancient sites in Pompeii and its domed design ensures that the oven retains the heat of the burning wood, which allows you to cook the perfect pizza without running out of fuel.
---
5.

Instructables Insulated Clay Pizza Oven Plans
This design uses terracotta tiles as the insulating material under the floor of the oven. This saves money compared to buying expensive refractory bricks. The use of recycled bricks for the exterior of the oven means that you can match the oven to the look of your property, if you wish, and it gives a rustic look that is perfect for the mature garden. This is another design that uses the dome shape to circulate heat around the whole oven.
---
6.

Buildipedia Brick Bread Oven
This Mediterranean style bread oven from Buildipedia is not only ideal for baking your favorite olive bread or focaccia, but it will also make traditional Italian style pizzas. This design uses a combination of ceramic fiber blanket, vermiculite and Portland cement to create the insulated oven. The bread oven is a black oven, which means that the wood fire is burned inside the oven for about an hour and you prepare your chosen bread or pizza after almost all of that fire has been removed. This style of pizza oven retains the smoky flavor you want.
---
7.

Recycled Outdoor Brick Oven from Permaculture
This outdoor brick oven is made from recycled bricks so that it retains the permaculture design feel. The design also used some recycled cinder blocks and hardcore rubble. If you have left over materials from a previous project, then this guide can show you how to use them in the creation of your own outdoor brick oven.
---
8.

Sunset Classic Adobe Oven
An adobe oven is made from sun baked clay and shaped like a beehive. This traditional design hails from the American Southwest. This build uses a mixture of adobe soil and Portland cement and like traditional adobe ovens, you use this one by building and burning a fire in the oven before letting it die down and then cooking on top of it.
---
9.

The Year of Mud Cob Pizza Oven
Like the adobe oven, a cob oven is one that is made from mud and it gives a truly rustic and traditional feeling to any outdoor area. Cob actually combines clay sand, straw, and water and it hardens to a solid shell when left to dry. This build also uses a stone base that is ideal because it retains the natural outdoor look: perfect for building a wilder area of the garden. This guide shows you how to make a pizza oven from building a shelter to diging and installing a drainage trench before digging a foundation and creating the dry-stone base. It is quite the undertaking but absolutely worth it.
---
10.

The Cob Oven Project
This is another cob oven design using an adobe soil mix to create the heard outer shell. This one also uses a dry-stone wall base, but you will also find really handy guides on modifying the design to your own needs. There's information on how to dry the adobe too. The size of your pizza oven will be determined by the amount of room you have, but this guide offers details on creating oven dimensions to match your preferred size of pizza, for the truly die-hard pizza lover.
---
11.

The Swishy Wood Pizza Oven from Traditional Oven
Traditional Oven has provided an extensive guide on creating their Swishy wood pizza oven. There's dozens of pictures throughout the guide, which lets you check your progress and make sure you're getting everything just right. The finished item looks like a small house and the finished oven wouldn't look out of place used at a professional restaurant. Costs were kept down during this build by using leftover paint and even some left-over roof tiles to finish the pizza oven construction.
---
12.

Backyard Pizza Oven Plans from Food Truck Empire
Compared to the last guide, Food Truck Empire's pizza oven plans are modest in size. However, the oven looks professional when finished, and they claim that you could potentially build it for less than $100 and suggest that there's no reason that you can't build your own for $500 even if you have to source all materials from the local hardware store. There's videos throughout the guide, ensuring that you can replicate their own finished oven design.
---
13.

DIY Pizza Oven by CITYGIRLMEETSFARMBOY
This DIY pizza oven is exceptionally cheap. You can build it for under $150 in some cases. Plus, it works great and only requires materials that you probably have lying around. All you need is wood and various pieces of stone, which you may already have!
Out of all the plans we looked at, this is by far the easiest. However, it isn't necessarily the prettiest. So, if you want one to be the centerpiece of your garden, you may need to look elsewhere.
---
14.

Wood Fired Pizza Oven by Instructables
This wood-fired pizza oven is relatively small. However, it is big enough for a small pizza, and it can be transported and un-built very easily. It is perfect for renters or those that don't need a permanent pizza oven.
We also found it to be very inexpensive. You need wood and some other basic materials and tools.
---
15.

DIY Simple Outdoor Pizza Oven by apiecesofrainbow
We liked this pizza oven. In fact, out of those we reviewed, it probably works the best. It is effortless to make and can efficiently be designed to fit your aesthetic needs. It takes two days to build, but it is incredibly cheap.
---
16.

DIY Cheap Exercise Ball Pizza Oven by David Parker
This one isn't incredibly hard. However, it isn't the easiest one on this list, either. You will need some necessary materials and various tools. With that said, overall, it does seem fairly simple. The plans are easy to follow, and this pizza oven seems like it will last quite a while. It is quite fancy and looks professionally made.
It also uses an extraordinary method to get the correct shape. You need to have an exercise ball on hand!
---
17.

Brick Pizza Oven by Lovely Recipe
This oven takes quite a bit of time. However, it is very nice when you get done with it. You will need quite a few tools and pieces of material, so expect it to cost a little more than the other options on this list. It is incredibly fancy and one of the nicest ones on this list.
---
18.

DIY Brick Pizza Oven by BrickWood Ovens
This is another very fancy pizza oven. You can decorate it however you wish to fit your aesthetic better. It works well and looks nice out in the garden or an outdoor eating area. It does take a bit more material than other options, so plan on it costing a bit more than the others on this list.
---
19.

Mattone Barile Grande Pizza Oven by BrickWood Ovens
If you have an outdoor kitchen, this oven is the perfect option. It is quite significant to need a bit of room and more expensive than the other options. However, it is also extremely versatile. You can cook a large variety of things in it.
It looks professionally-made. You may have seen a similar oven at your favorite pizza place.
---
20.

Traditional Wood Fired Pizza Oven by thegreeneyedgirl
This is similar to our last oven plan, but it is quite a bit smaller. It should still be big enough for full-sized pizzas and would look very nice in an outdoor kitchen. It is only moderately-expensive, depending on how much materials cost in your area.
It is very permanent, so don't plan on moving it after you have built it.
---
21.

DIY Brick Pizza Oven by My Outdoor Plans
This oven is made of bricks, but it is more straightforward than some of the other brick options on this list. The oven is decently large, so you should be able to fit quite a bit in it. The plans are pretty straightforward and easy to follow. The oven doesn't look too fancy but should be plenty if you want something simple.
---
22.

  Wood-Fired Pizza Oven by Kevin Phillips
If you want something very traditional, this pizza oven is the way to go. It is a bit complicated to build, but the plans help lay everything out. It is very aesthetically pleasing when you get done with it.
More Free DIY Plans You Can Build Today!
---
Featured image credit: Riedelmeier, Pixabay