4 Boho Bedroom Décor Ideas You can Try Today (With Pictures)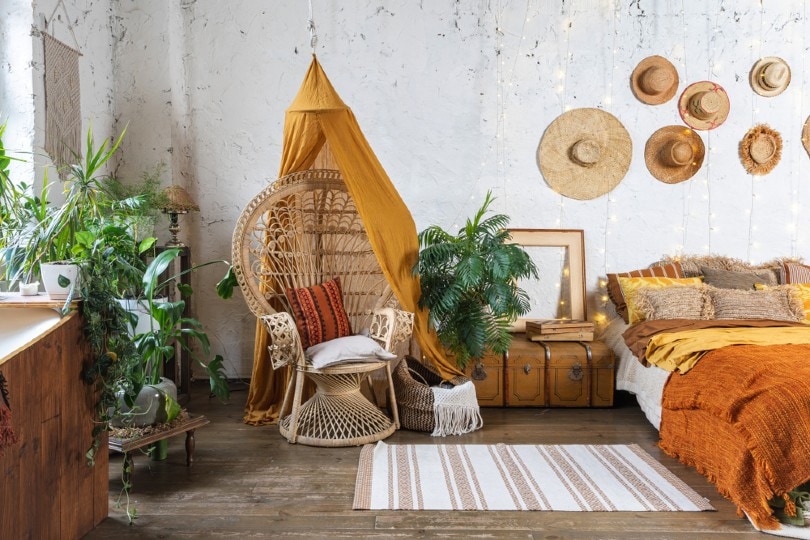 Are you looking to create a dreamy, boho-style bedroom? With just a few small touches and some creativity, you can easily transform your space into somewhere that embodies the free-spirited lifestyle. Here are four bohemian bedroom décor ideas to get you started!
The Top 4 Boho Bedroom Décor Ideas
1.

Boho Oasis
Starting with the most important piece of furniture in any room, you can use a boho bed frame and a matching hippie headboard to create a feature wall and make your bed the focal point.  Choose something bold and unique that reflects your personality, such as an upholstered option with intricate patterns. And don't forget to use lots of pillows to accent your boho bed.
This beginner-friendly boho oasis is perfect for those who want to ease into the trend. It features lots of plant life, natural light, and warm colors to create a cozy and inviting atmosphere.
---
2.

Summer Boho Room
When summer arrives, you'll be ready for it with this summer boho room. Utilize woven and rattan furniture to channel comforting vibes while adding some colorful throw pillows to make the space even more inviting.
For a final touch, hang up some fairy lights or artwork on the walls to bring a touch of whimsy. This style is perfect for when you want to stay in and relax at home during those hot summer days. And if you have hardwood floors, you can add a patterned rug or faux fur throw to bring the whole look together.
---
3.

Elements Bohemian Bedroom
Ever wondered what it takes to create the perfect boho bedroom? Well, one of the most important elements is plenty of, well, elements. From plants and mirrors to blankets and shelves, this boho bedroom provides everything you could possibly want to build your dream space.
Mix and match different elements to your heart's content, but make sure they're all in the same color palette so that the look is cohesive. Don't be afraid to go bold with statement wall art or a bright-colored bedspread!
What makes this one so great is the sheer versatility of it all. The sky's the limit when it comes to creating your own unique boho bedroom.
---
4.

20-Step Boho Bedroom
If you're the type who likes to have each step of their decorating process planned out, then this 20-step boho bedroom is the one for you. This look covers everything from wall treatments to furniture choices and even small details like textiles.
You'll start with bedding and tones and gradually work your way up to the larger pieces. Don't forget to add some greenery throughout the space, as plants can help bring life and freshness into the room.
You'll end with a cozy nook area where you can relax and enjoy all of your hard work. This one is great for those who want to create a space that looks perfect, down to the smallest details.

Tips on How to Create the Perfect Boho Bedroom
One of the appealing things about boho bedroom décor is that there are so many options for creating a unique and inviting space. Here are some tips on how to create the perfect boho bedroom.
Consider the Atmosphere
You want to create an atmosphere of comfort and relaxation, which you can achieve by using a mix of soft fabrics like velvet, linen, cotton, or fur for your bedding, curtains, and rugs.
In addition, incorporating natural elements such as plants, stone accents, and wood furniture can help to create a sense of warmth.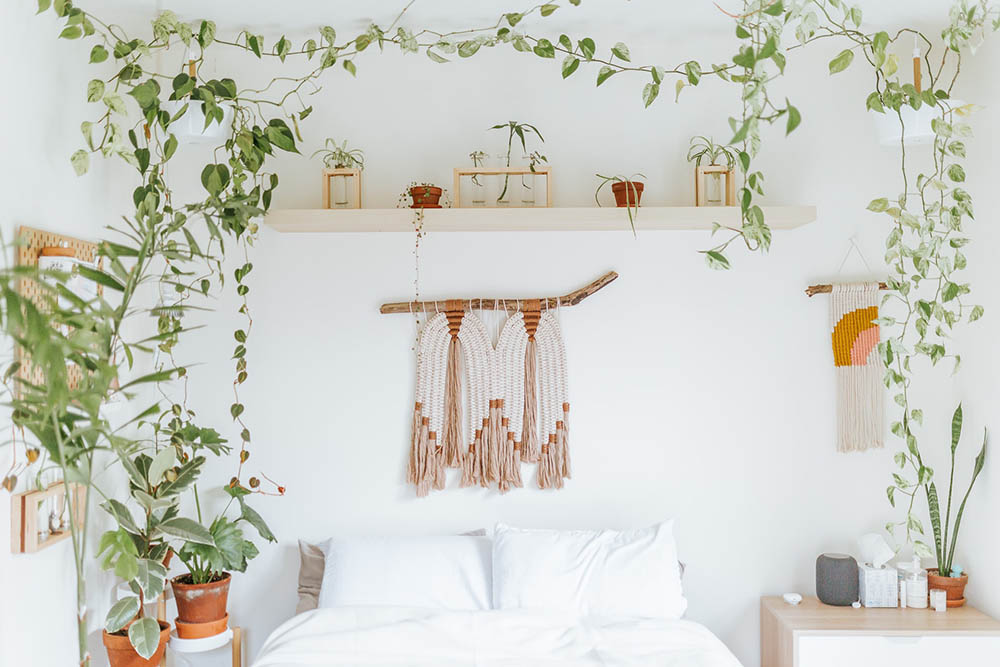 Mix and Match Textiles
When it comes to textiles in boho décor, the more layers you add, the better! Choose a variety of colors and patterns for your pillows, throws, curtains, and bedding. Texture is key here, so don't be afraid to mix different materials for a truly unique look.
Add Fun Accessories
There are endless possibilities when it comes to accessories. Incorporate items like dream catchers, macramé wall hangings, or vintage pieces that express your personal style and bring life to the room.
Bring in Natural Light
If possible, position your furniture and accessories to best take advantage of as much natural light as possible. This will help create an airy feel that is perfect for a boho bedroom. Don't forget to add some plants to bring life to the space!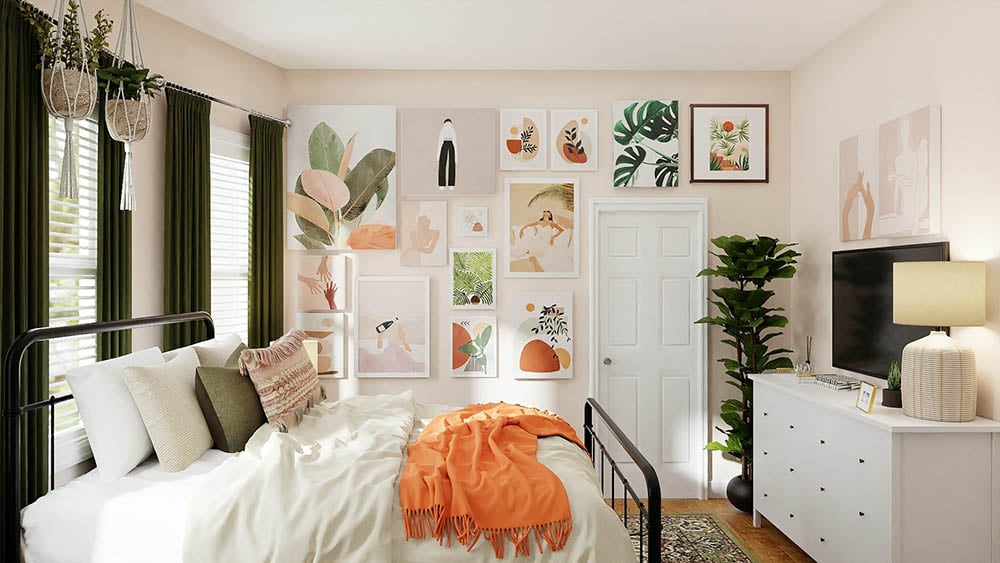 Take Your Time
Creating a boho bedroom should be fun, and there's no pressure to rush. Take your time selecting pieces you truly love and experiment with different combinations until you find the perfect look for your space. With these tips, you can create the perfect boho bedroom of your dreams!
Conclusion
Creating a boho bedroom is the perfect way to make your space feel cozy and inviting. With these four décor ideas, you can easily turn any room into a relaxing oasis of tranquil vibes.
From adding some hanging plants to creating an eclectic wall gallery, there are so many different ways to achieve the perfect bohemian look in your bedroom. Have fun with the process, and make sure to be creative with how you incorporate these elements into your décor.
See also: 12 Farmhouse Bedroom Wall Décor Ideas
---
Featured Image Credit: brizmaker, Shutterstock