17 DIY Plant Hangers Ideas You Can Try Today (With Pictures)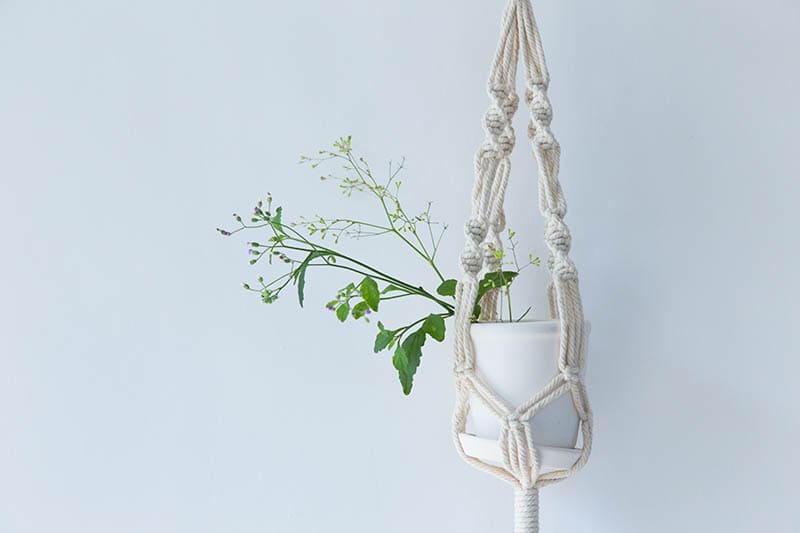 When your love of indoor plant life gets out of control, space to accommodate it all quickly becomes scarce. Shelves, counters, and tables overflow with greenery, yet you still demand more room to sate your constant need for houseplants.
Finding a sunny spot for plants to spread is an all too common problem for green thumbs everywhere. As a result, plenty of people have found innovative hanging solutions to share with fellow indoor gardeners. Give your houseplants more room to grow with these creative DIY plant hangers.

The 17 DIY Plant Hangers
1.

Barrel Sling Plant Hanger by Clever Boom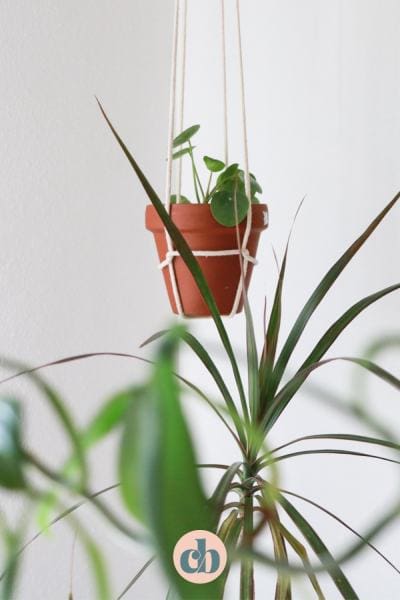 Setting up a swinging plant doesn't get any easier than with this barrel sling plant hanger. All you need is a 12-foot-long piece of rope and a hanging hook. With a clever wrap and a single knot, you can create a simple, fashionable hanger you'll want to replicate for numerous plants around the house.
---
2.

Macrame Plant Hanger by Feeling Nifty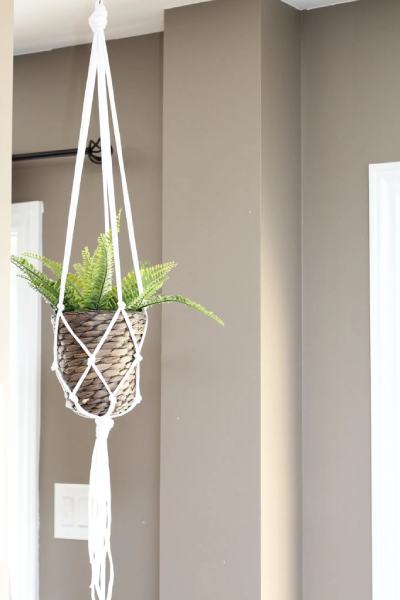 Ready to up the ante after mastering the barrel sling? Time to move the macrame from the wall to the window to create a dazzling DIY macrame plant hanger. In truth, it's easier than it looks. Like the barrel sling, this plant hanger configuration achieves an attractive look with a cleverly simple tying technique and a creative selection of natural or synthetic cord materials.
---
3.

DIY Knotted Bottles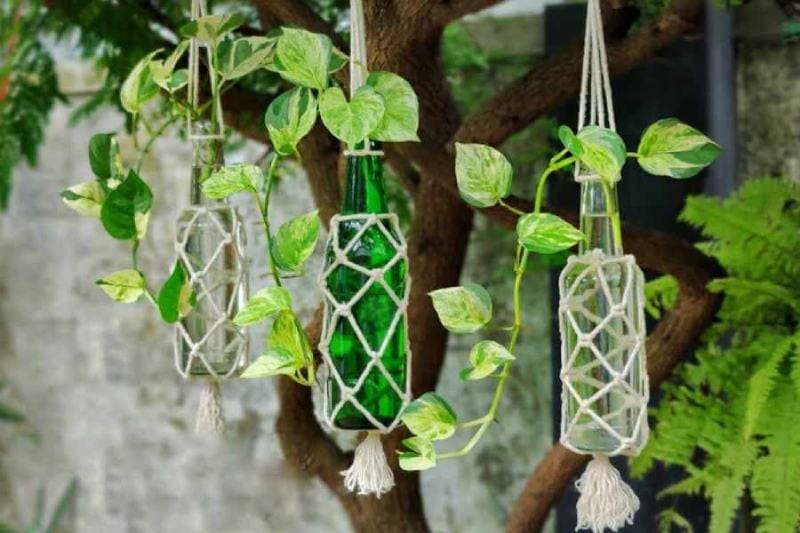 Sustainability is an admirable goal, and upcycling offers plenty of chances to exercise your creativity while helping Mother Nature. For houseplant parents, an old glass bottle can find a new life as a unique plant pot, and this DIY knotted bottle holder can be the perfect way to hang it. A variation on the macrame plant hanger gives this intertwined design a custom fit for any longneck container.
---
4.

DIY Small Plant Hanger
It's the barrel knot with a twist! A few added beads go a long way in supplying an essential hint of flair to this DIY small plant hanger. Alongside the added decorative technique, you'll learn a handy way to measure the perfect length for your container.
---
5.

Easy Rope Plant Hanger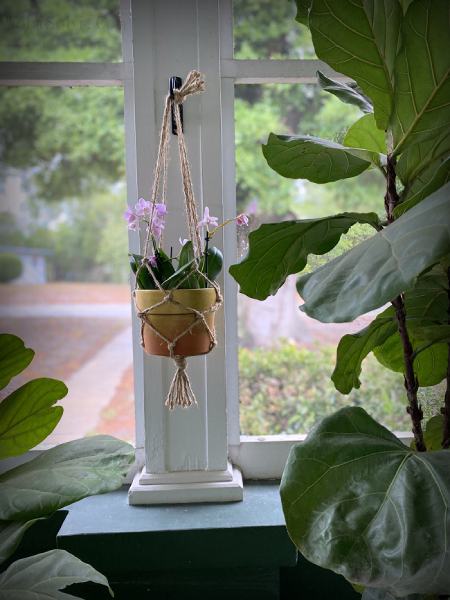 The creator of this easy plant hanger flips the macrame concept on its head to give you a simple way to guarantee perfect knot placement around your pot. With this technique, you can ensure consistency across varying pot sizes for a cleaner look throughout the house. As a bonus, you'll learn how to paint your terra cotta pot with a chic gradient effect.
---
6.

DIY Cotton Rope Hanging Planter by Lia Griffith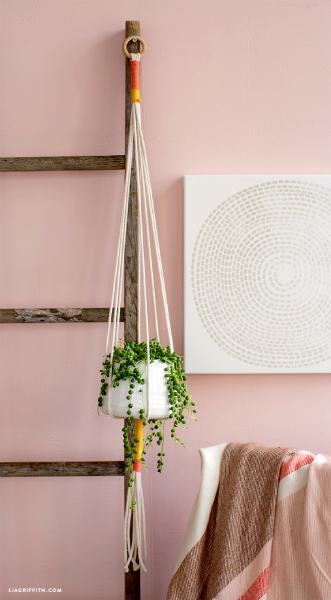 This DIY hanging planter is an easy way to set up pots of all sizes when you don't feel like trying your hand at a macrame holder. The long trailing ends present a fun opportunity to inject bold, bright colors into the design with different wraps. Include one or several yarn colors in intriguing patterns around the ends of the holder to make this basic model a custom creation.
---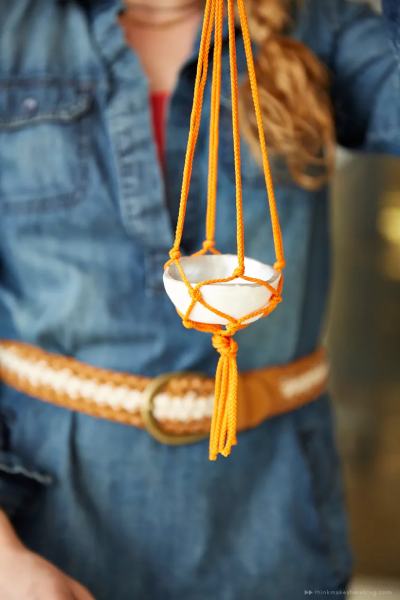 Hanging pots aren't reserved for larger plants. Give your succulents, cacti, and other undersized houseplants a chance to swing with the rest of them by making these mini macrame hangers. Since it's already a fun and offbeat solution, you can take the design's novelty to another level by using colorful cords for a bold, eye-catching feature.
---
8.

Vertical Plant Hanger by The Inspiration Board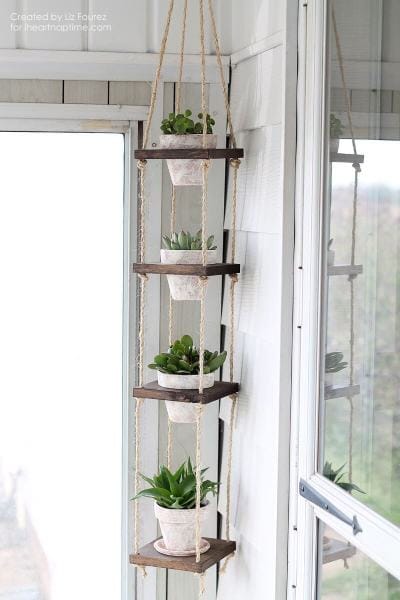 Keep your plants in line with a DIY vertical plant holder. Square pieces of wood connect via rope lengths to form a dangling shelf system. By cutting holes in each tier, you'll lock the pots into place and prevent unfortunate spills from accidental bumps. You'll need a decent amount of comfort around power tools to complete the job, but the extra effort will result in a much more functional solution than the average rope hanger.
---
9.

Quick & Easy Macrame Plant Hanger by Cuckoo4Design
Don't toss that cheap plastic hanging pot from the store just yet! If you need an attractive holder for your brand-new plant, you'll only need a few extra materials to turn its original packaging into a gorgeous macrame hanger. Learn how to tie spiral knots and fashion a descending helix hanger; it's a convenient and easy way to give your latest purchase a forever home.
---
10.

Embroidery Hoop Hanging Shelf by Weekend Craft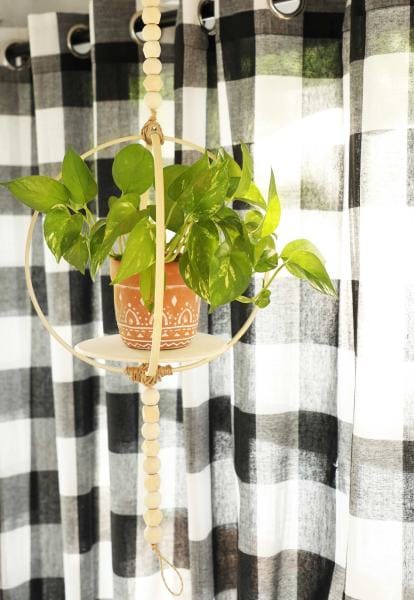 The most fulfilling crafts projects borrow everyday items and reimagine them in new roles. In these DIY plant holder instructions, embroidery hoops look right at home as the frame for a hanging shelf. Wood beads add an artistic angle to complete the look. It comes together easily enough with a few spots of glue, but the finished product provides an impressive display for your most treasured houseplant.
---
11.

Hanging Succulent Planter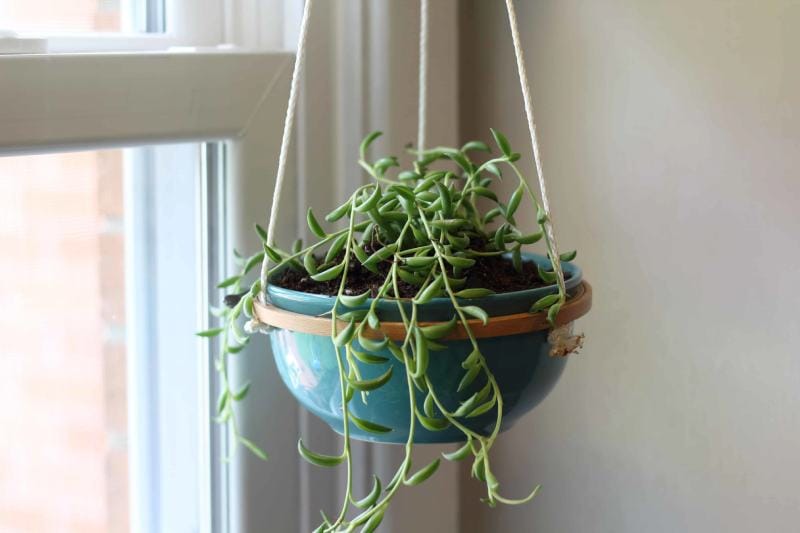 Succulents often shine their brightest in a well-placed hanging planter. Give vining plants like String of Pearls or String of Bananas the opportunity to cascade as they desire. With an embroidery hoop and cord, you can craft an inexpensive and easy-to-make succulent holder to give your plants room to stretch out and beautify your space.
---
12.

DIY Plant Hammock by Clever Boom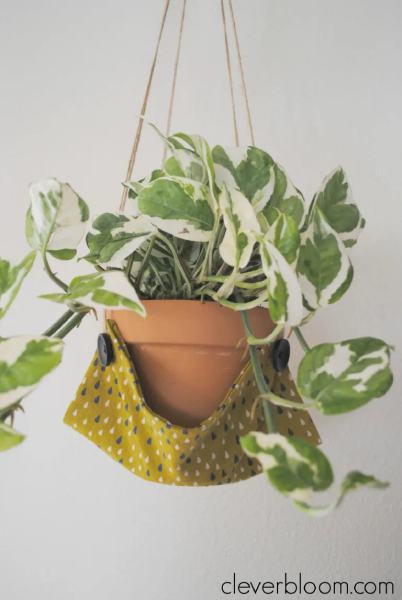 If knitting macrame isn't your style, this quirky plant hammock will instead test your sewing skills. A cloth holder cradles your plant while it hangs from rope pieces attached to its corners. Although it's one of the easiest DIY plant hangers you can make, the endless fabric pattern selection gives you a chance to personalize your homemade holder in a way macrame never could.
---
13.

Hanging Hoop Basket by Cuckoo4Design
Another take on the embroidery hoop hanger, this hooped pot holder ups the wow factor with an attractive wicker basket nesting snugly in the center band. A square knot completes the design. It takes a little extra time and money to build, but you'll love how stunning your new plant holder looks from any angle.
---
14.

Wall-Hanging Macrame Plant Holder by Joyful Derivatives
If you don't think macrame belongs anywhere but the wall, here's the perfect plant holder solution for you! Fulfill your love of Boho decor and vibrant flora in one fell swoop with a traditional wall-hanging macrame planter.
The plant pot attaches to a wooden dowel on the cord. Instead of knotting them, you use twine or string to create the macrame pattern. With a few creative color choices for your string, you can inject a bold accent into the design.
---
15.

Leather Plant Hanger
More attractive doesn't have to mean more complicated. Take a different approach in crafting a beautiful plant holder with this leather plant hanger. The natural texture and color create an incredible complement to any indoor greenery. While it only takes a few precise measurements to pull off, this inventive solution is sure to delight.
---
16.

Wooden Plant Hanger Frame & Shelves by Eryn Whalen Online
Turning your houseplants into a work of art takes little more than a few pieces of wood and some twine. You'll learn how with this breakdown of plant wall decor techniques; one is a simple frame to highlight hanging pots and the other is a shelf to hold plants and accessories. If you have a bare space to fill on the wall, these easy-to-make pieces offer your favorite plants a fitting display.
---
17.

Industrial Pipe Hanger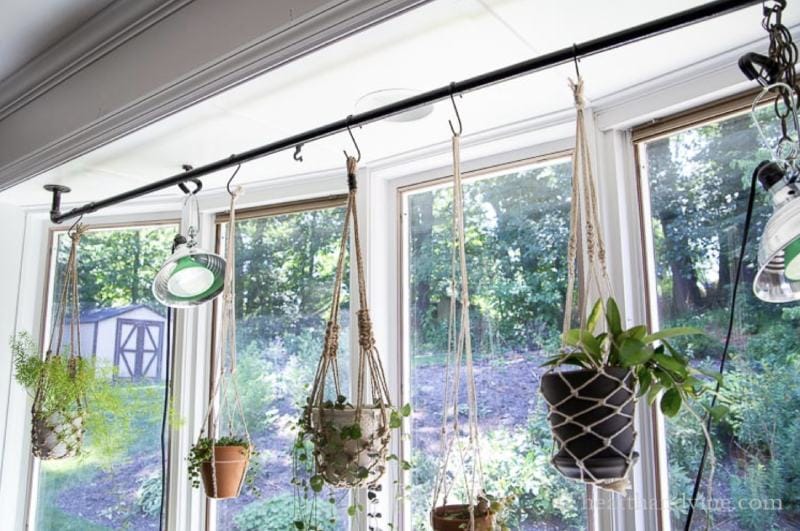 After finishing your rope holders, you'll have to find a place to hang them. Hooks are practical but not the most inspired choice. Boost the aesthetics by giving your plants an attractive, industrial-style support with a repurposed pipe. The six-foot ceiling-hanging rod in this how-to can accommodate several plants, making it stylish and convenient in a modern home.
Conclusion
Whether you're running out of space or trying to save your plants from a curious cat, a hanging plant pot is a convenient solution to everyday indoor gardening problems. Try these unique, attractive, and all-around engaging DIY plant hanger projects to keep your greenery looking its best.
See also: Where to Buy Macrame Cord? (Online & In-Store Options)
---
Featured Image Credit: pornpawit, Shutterstock