7 DIY Brick Fire Pit Plans You Can Build Today (with Pictures)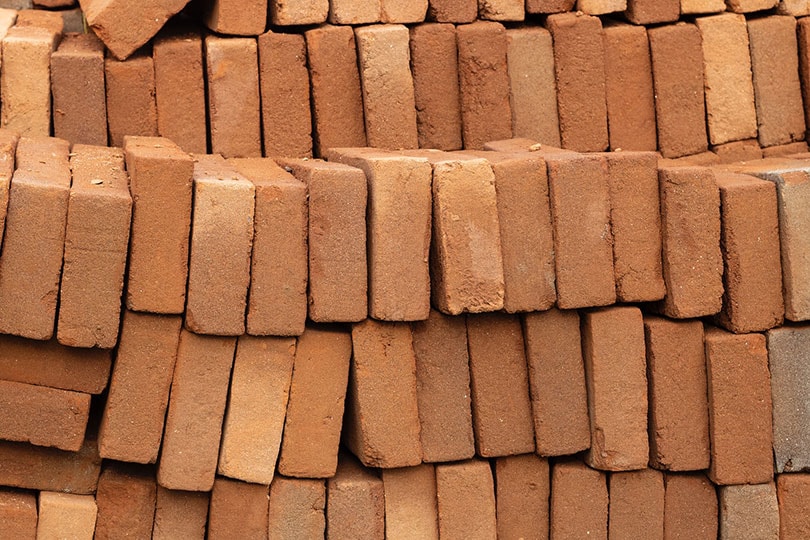 Fire pits have been an integral part of outdoor spaces for centuries. Today, many designers propose expensive and complicated gas-burning fire pits that can cost hundreds of dollars and require propane lines and tanks to function. But you do not have to deal with all of that to get the fire pit you've been dreaming of.
Here are seven simple DIY brick fire pit plans that you can build today. These designs use typical stone materials you can find at your local home improvement store and do not require complicated gas to make work. The end products look great and are functional. A nice-looking brick fire pit can add ambiance, flavor, and value to any outdoor space, and it can be built in an afternoon by the typical homeowner.
The 7 DIY Brick Fire Pit Plans:
1.

Above Ground Brick and Gravel Fire Pit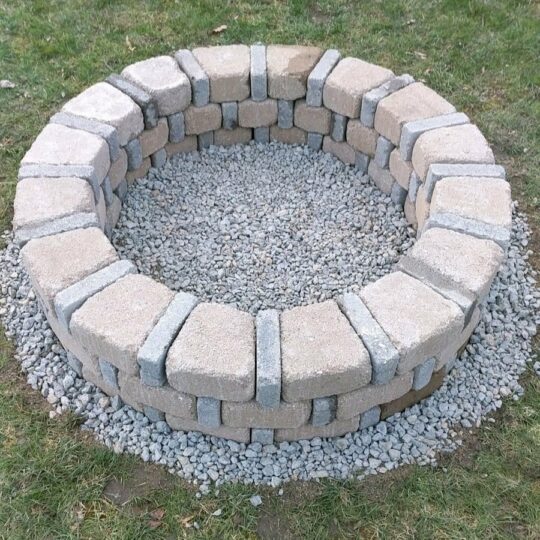 Materials: 96 Belgian wedge wall bricks, 3 bags of gravel, 2 bags of leveling sand
Tools: Shovel, level
Complexity: Basic
This plan for an above-ground brick and gravel fire pit is extremely simple and easy to pull off. All you need is the correct number of wedge wall bricks, some leveling sand, and a good eye. Just lay out the bricks where you want them, pour the sand and build up the ring. Add the gravel into the bottom after you are done for a classic raised fire pit that is equal parts charming and functional. The best part about this plan is you do not need to dig any complicated holes to make it work.
This design can be easily adjusted to make a wider, shorter pit or a tall narrow one. Extra gravel can be added in or around the pit to create the desired look. The sky's the limit for the design and functionality of this fire pit.
---
2.

Simple In Ground Brick Fire Pit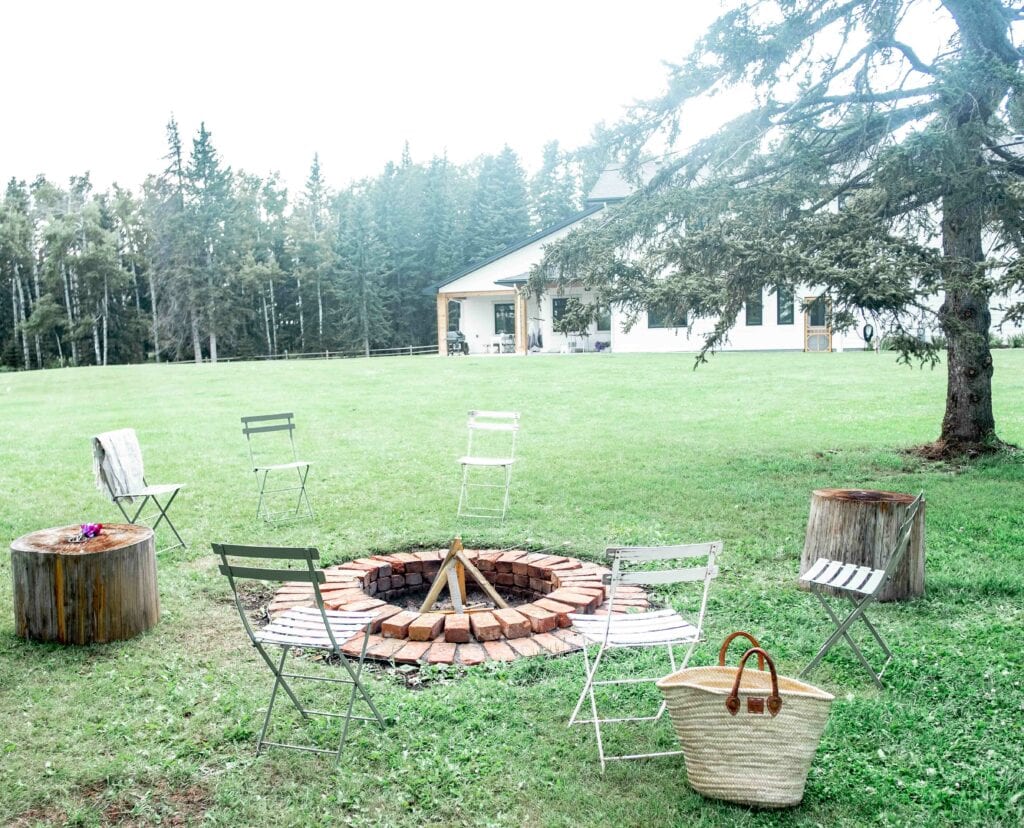 Materials: Red brick, standard sand, polymeric sand, plastic edging, plastic spikes, brick adhesive, brick paint, and grass seed
Tools: Shovel, rubber mallet, hammer, level, string
Complexity: Intermediate
Some people prefer a completely above-ground fire pit, while other people prefer a fire pit that is dug into the ground. This simple in-ground fire pit plan utilizes a solid hole to contain your fire material. The result is a beautiful fire pit that has two layers, a safe pit and a classic look that blends perfectly with the surrounding yard.
While the appearance of this fire pit is simple, the construction process is a little more involved than a typical above-ground pit. The hole has to be dug, and then the bricks have to be layered in the ground to create a solid hole that won't fill in. Then the bricks are glued together, painted for uniformity, and seeded with grass to hide any imperfections that might crop up during construction. In the end, the hard work will be worth it. This plan will leave you with a well-built fire pit that will last a lifetime.
---
3.

Square Brick Fire Pit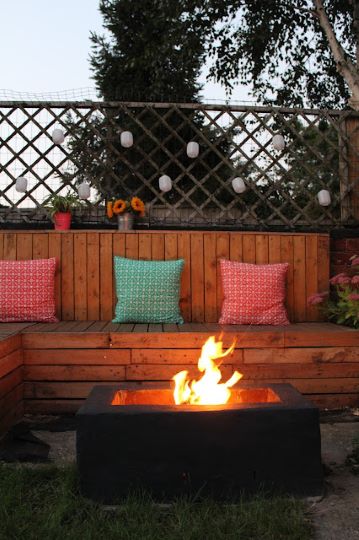 Materials: Red bricks, mortar, standard gravel, brick paint, wire mesh, optional wood top, screws
Tools: Mixing bucket, trowel, screwdriver, tin snips
Complexity: Basic
If you find the idea of measuring out a circle of bricks that will fit together intimidating, this fire pit plan forgoes all of that for a basic square shape. Instead of laying out a circle in the lawn, this fire pit is built up into a square that is much easier to visualize and plan. The result is a solid fire pit that functions both as a centerpiece and as a functional wood fire grill.
This plan includes an optional wood top and a grate that will allow you to cook goodies over an open flame. The resulting aesthetic is tastefully rustic and will stand out from other basic circular fire pits. The extra effort to install the wood top and grate is well worth it and adds a unique touch to your fire pit.
---
4.

Concrete Tree Ring Fire Pit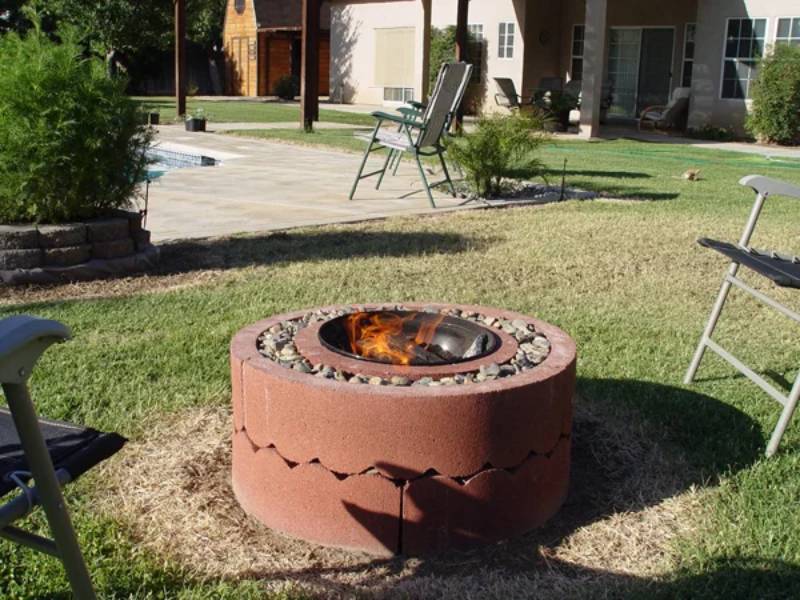 Materials: 4 individual 14" concrete tree rings, 6 individual 24" concrete tree rings, 2 cubic feet of gravel, optional grill, brick adhesive
Optional: Weber grill
Tools: None
Complexity: Basic
This ingenious design utilizes versatile concrete tree rings to create a functional fire pit that can be easily constructed in an afternoon. The tree rings are put on top of one another and glued together to create a uniform fire pit with absolutely no tools. Simply stack the tree rings with the glue in between them, and you are off to the races.
This fire pit uses an 18-inch inner ring surrounded by a 24-inch outer ring with tasteful rocks filling the gap between the two spaces. The rock is purely decorative, and you can swap out gravel for river rock, pebbles, or lava rock for a unique look. The design can also be tweaked to create a single 24-inch ring for a larger footprint if you plan on building bigger fires. The makers of this plan even added an option to add a Weber grill into the middle if you want a fire pit that doubles as a cooking range as well. The versatility is truly spectacular.
---
5.

Simple Cinder Block Fire Pit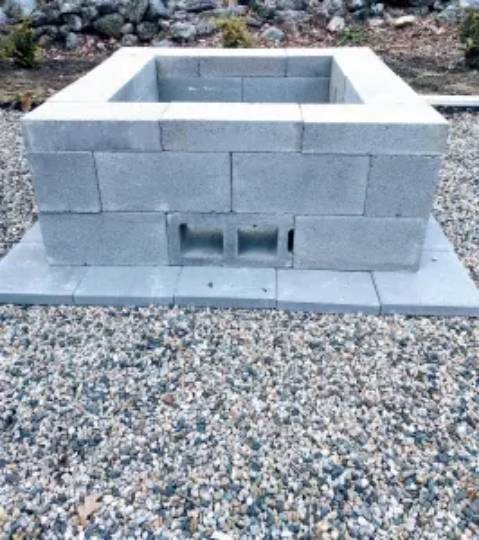 Materials: Patio pavers, 20 cinder blocks, 10 cinder block caps, paint, mortar
Tools: Trowel, paint roller
Complexity: Basic
If you are having a hard time finding brick or find that brick is too expensive in your area, do not worry, you can make a fire pit out of cinder blocks and make it look like brick. This simple cinder block fire pit uses two layers of cinder block and a top layer of cinder block cap to create a well-ventilated, square fire pit.
The holes in the cinder block allow for excellent airflow, and the stackability of the blocks makes this design extremely easy to build. Simply stack the layers with mortar in between on top of the patio pavers for a simple fire pit that will last years and burn safely. After you are done putting the cinder blocks together, you can paint them red to look more like brick (or any other color) to create a vibrant backyard feature. Warm evenings around the fire are just a couple of hours away.
---
6.

Brick Flagstone Fire Pit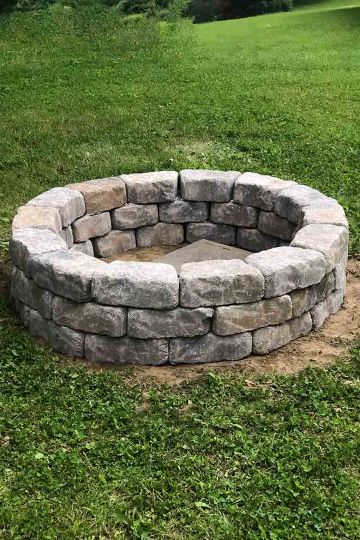 Materials: 42 brick flagstones, 5 tubes of construction adhesive
Tools: Rubber mallet, level, caulk gun
Optional: Shovel
Complexity: Basic
This flagstone fire pit design is a play on the typical circular brick fire pits. The flagstones give this plan a more rugged and natural look compared to the more uniform surfaces of typical bricks. Simply stack the flagstones in two layers and glue them together. You can optionally use a shovel to dig out the middle for a deeper pit if you so choose.
The flagstones are a nice deviation from the typical design. The surfaces are rougher and the resulting look is more rustic than average. The rubber mallet might be needed to whack the rough stones into place, but that is often the hardest part of the job. This design is perfect for anyone looking for something just a little different to add a little more character to your outdoor space.
---
7.

Simple In Ground Patio Brick Fire Pit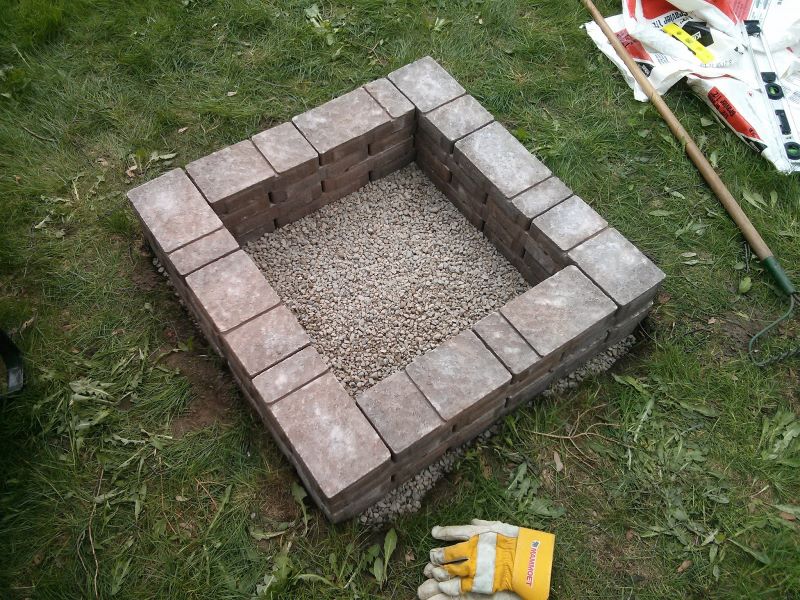 Materials: Patio bricks, filler gravel, mortar
Tools: Shovel, level, mixing bucket, trowel
Complexity: Basic
This fire pit design is appealing because it combines the simplicity of a square fire pit with the functionality of a sunken fire pit. Instead of measuring out infuriating circles, simply dig a square hole where you want to put your fire pit and then ring it with square patio bricks. Viola that is it. You can use mortar to seal the bricks into place and then dump your gravel into the bottom.
The appeal of this design lies in how easy it is to do on your own. Another great feature of this design is the fact that you can choose whatever kind of brick or patio stone you want to use to create the outer perimeter. Simply buy the style and size brick that you want and ring the square hole. Beautiful fire pits do not have to be complicated or expensive to pull off.

Where To Put Your Fire Pit
Before rushing out to buy the materials that you will need to build your own DIY brick fire pit, you should map out the spot you are going to put it. A fire pit cannot be put anywhere on your property. A fire pit should be 10 feet from any home or structure at a minimum. Some counties have local laws that regulate the distance that a fire pit can be from any structures.
The other things you want to look out for are nearby trees and underbrush. A fire pit should be at least 10 feet from any trees, and that includes overhanging material. You do not want to have any tree branches overtop your fire pit to avoid the risk of fire. A ring should also be kept clear around your fire pit of at least 6 feet that is free from any plants or debris.
All of these restrictions can limit where the best place to put your fire pit is, but it is necessary for safety reasons. The last thing you want is for a nice evening outside to turn into a fire emergency.
Safe Fire Pit Fillers
There are restrictions on what you can fill your fire pit with. The safest choice for a fire pit filler is sand or dirt. Many plans and designs call for gravel and lava rock to be used. However, you should not put natural rocks you find on your property, pebbles, or river rock in the bottom of your fire pit. Many rocks will crack and could possibly explode if heated to a high enough temperature, which can be dangerous for people sitting near the fire.
When in doubt, use sand or dirt. Those materials cannot explode if overheated. They might not look the best, but they are the safest options by far.
Conclusion
With a little bit of planning and a trip to your local home improvement store, you can build your own brick fire pit in just a couple of hours. These designs are versatile, simple, and elegant and are aimed at the typical homeowner. You do not need to be rich or experienced to enjoy the cozy benefits of an outdoor brick fire pit. You just need to grab one of these amazing plans and map it out for yourself.
---
Featured Image Credit: Lluvia Morales, Unsplash