8 DIY Brick Bench Plans You Can Make Today (With Pictures)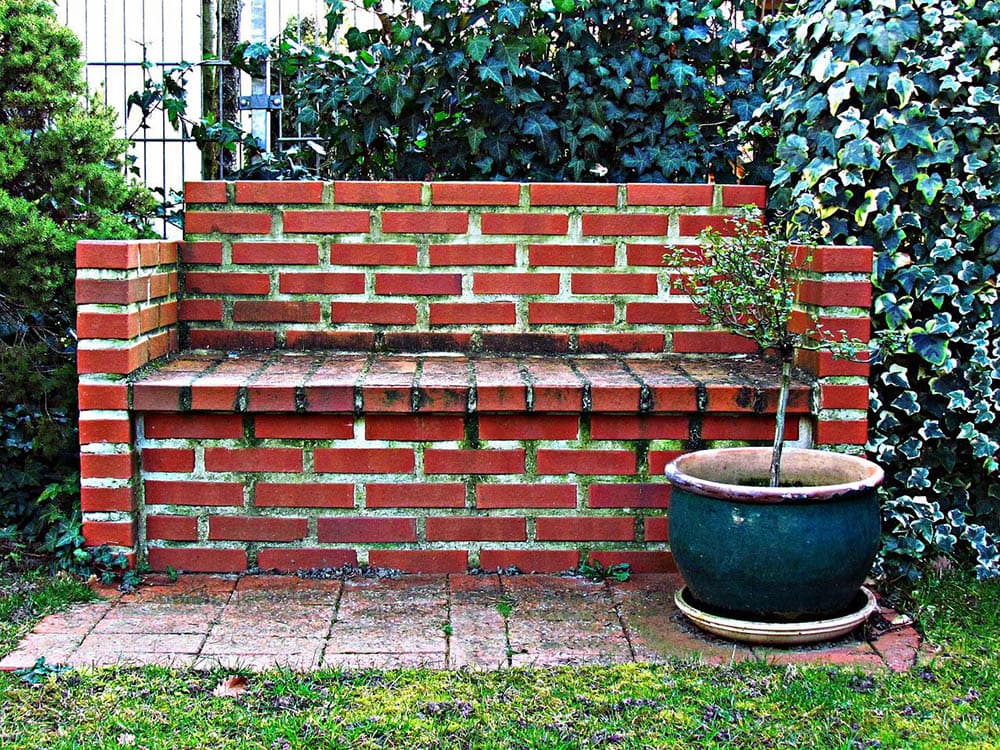 If you want to add some character to your garden, sometimes just replacing the benches or adding a centerpiece seating area will do the trick. If you consider yourself a creative individual and you are looking for some unique ideas to guide you in the right direction, you've come to the right place.
This article will provide you with eight different projects for building a stunning brick bench. Some of these projects contain elements made entirely out of brick, and some have brick along with other materials.

The Top 8 DIY Brick Bench Plans
1.

Brick Garden Bench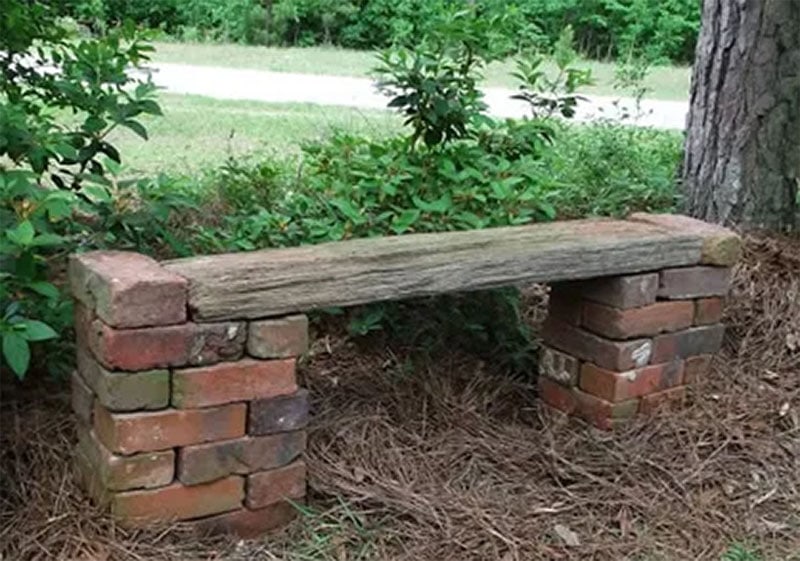 | | |
| --- | --- |
| Materials: | Bricks, repurposed wooden boards |
| Tools: | Shovel |
| Difficulty: | Easy |
This DIY garden bench made out of repurposed bricks and planks is a great way to utilize what you already have and create a cute seating place in your garden. It will give any garden a unique character. While this DIY bench looks beautiful, it will require minimal material and skills to craft. You will only need some recycled bricks and a repurposed plank to make this bench in no time at all.
---
2.

Reused Brick Bench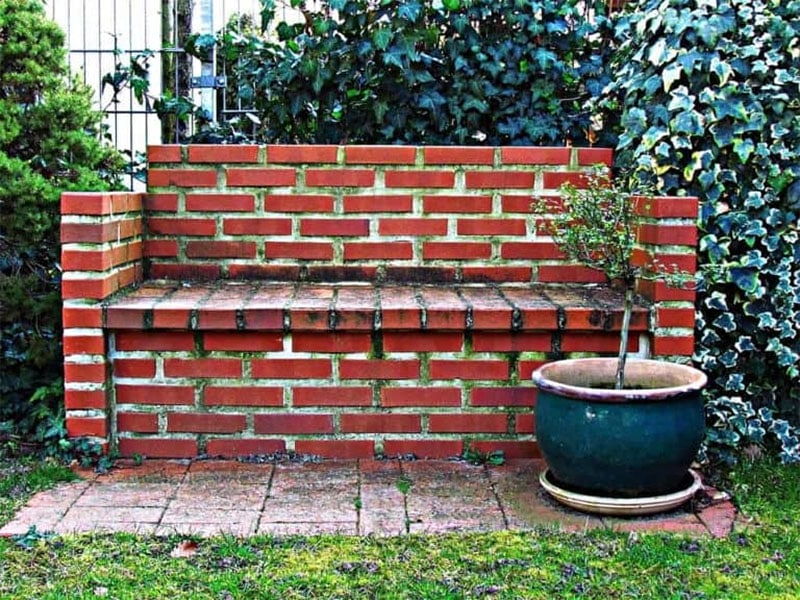 | | |
| --- | --- |
| Materials: | Concrete, bricks, mortar, tiles (optional) |
| Tools: | Shovel, trowel |
| Difficulty: | Easy |
The second option in this article is this DIY bench made out of only recycled red bricks. While bricks have proven to be an excellent choice when building many different structures, benches are a new and innovative idea that will take over the landscape design. This design adds a vintage feeling to any garden, as the standard red brick will always stay timeless. Minimal experience is required to craft this project on your own.
---
3.

Brick Bench and Planter
| | |
| --- | --- |
| Materials: | Bricks, concrete, planks, soil, plants |
| Tools: | Tape measure, shovel, trowel, level, hammer |
| Difficulty: | Moderate |
This planter bench made entirely of bricks is a very creative way to decorate your garden. This project will not only give a pleasing aesthetic to your garden but will also be practical and serve for everyday use. With this DIY plan, you can create charming planters for your vegetables or plants and turn them into a seating area that all your guests will adore. It will add a fairytale atmosphere to your landscape and give it a warm feel.
---
4.

Stone Garden Bench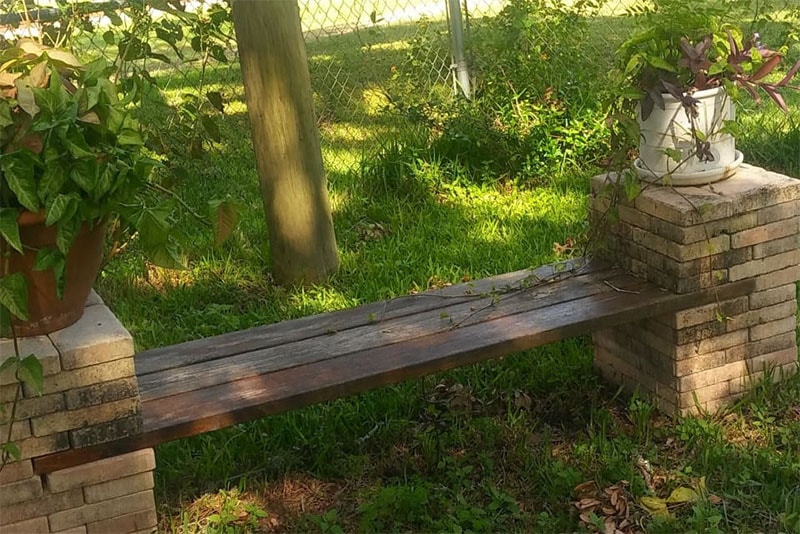 | | |
| --- | --- |
| Materials: | Rumble stones or pavers, three boards, brackets, screws |
| Tools: | Tape measure |
| Difficulty: | Easy |
This stone garden bench is incredibly easy to make on your own and can be made in less than one day. All the materials needed to craft this piece are the ones you can already find lying around on your property and give them a new purpose. It will give your backyard a rustic, farmhouse feeling but still keep a modern touch. This DIY plan can serve as a guide but you are welcome to improvise as much as you desire and adjust this amazing project to your own unique needs.
---
5.

Brick and Blue Stone Bench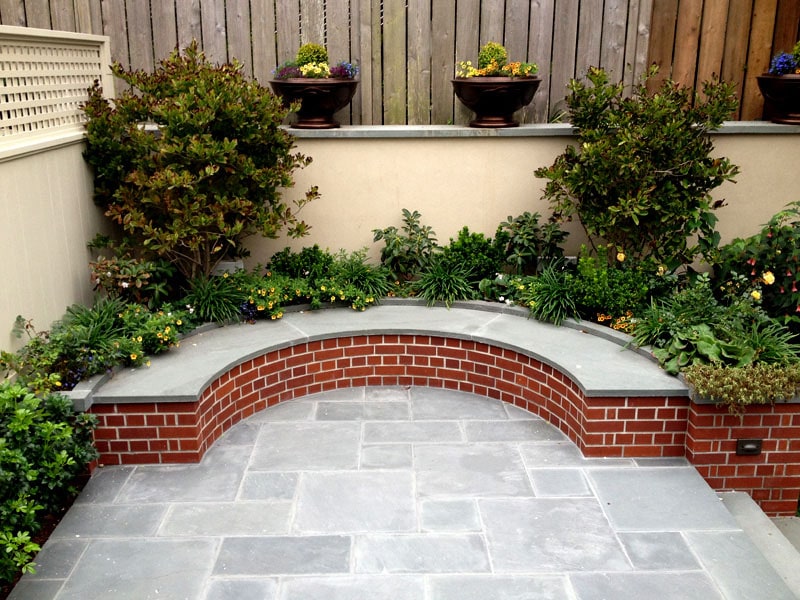 | | |
| --- | --- |
| Materials: | Bricks, concrete, bluestone |
| Tools: | Shovel, trowel, reinforcement bars |
| Difficulty: | Moderate |
This arched brick bench plan is a great project to craft with your friends or family, as it may take some more time and effort to make. It is a beautiful project to add to your garden, patio, or backyard by adding dynamics and elegance to it. The intense shades of red on the bricks will work beautifully with the surrounding plants and make your garden stand out with all the vibrant colors.
---
6.

Brick Bench and Fire Pit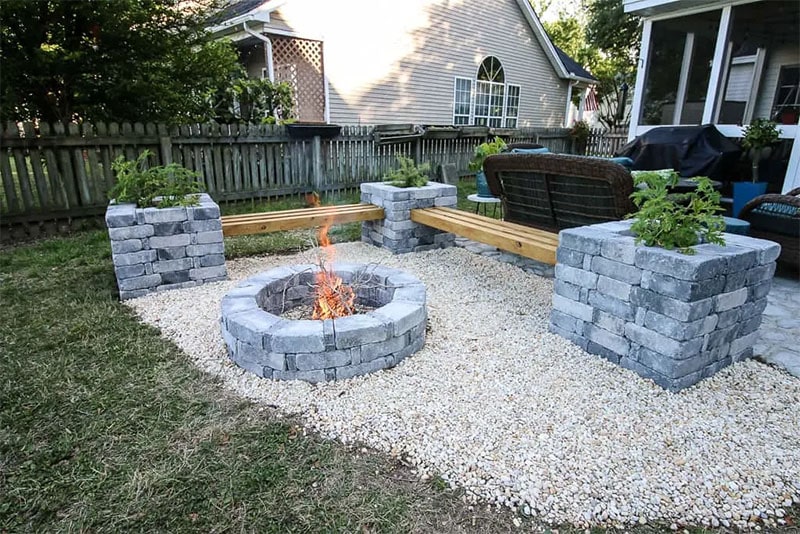 | | |
| --- | --- |
| Materials: | Bricks, planks |
| Tools: | Level, construction adhesive |
| Difficulty: | Easy |
This bench and fire pit DIY plan, made out of brick, is another fantastic project to take on with your family. It doesn't take much time and effort to build, and you can finish it in a day. These two elements will give your garden warmth and character while complementing each other.
After you build this project, you will be able to enjoy every summer here, spending quality time with your family around an open fire
---
7.

Paver and Cedarwood Bench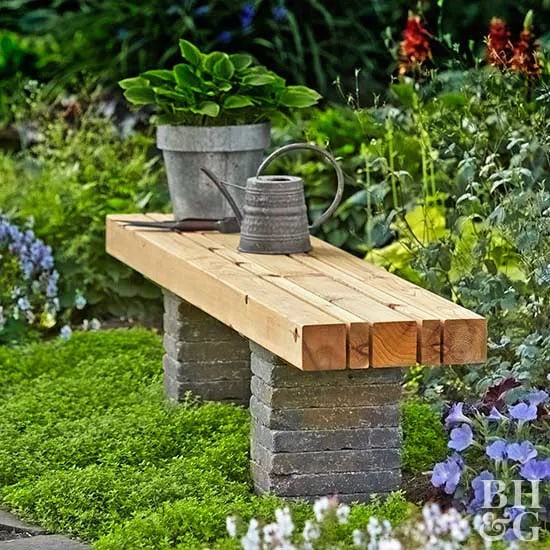 | | |
| --- | --- |
| Materials: | Paver stones, pea gravel, decking screws, |
| Tools: | Landscape adhesive, drill, shovel, level |
| Difficulty: | Moderate to Hard |
A perfect garden bench does exist, and it comes in the form of brick or pavers and cedarwood. This DIY garden bench is effortless to make and requires minimum materials and no experience. You can have a garden bench in no time, using only wood planks and blocks from your chosen material. It will make your garden look like it came straight out of a fairytale, and you will love spending every second on your new cedarwood bench. It can also look great on your patio or porch.
Related read: 7 DIY Hall Tree Bench Plans You Can Make Today
---
8.

Brick Fireplace With Bench Seating
| | |
| --- | --- |
| Materials: | Brick, lightweight block, stone,  concrete mix, steel reinforcements, concrete block,  firebrick, mortar, sand, angle iron, plywood, flue liner |
| Tools: | Shovel, level, hammer, trowel, angle grinder |
| Difficulty: | Hard |
While this DIY brick fireplace and brick seating can be challenging to make, the effort will be worth it in the end. It will require more time, effort, and materials to craft, but the end design looks amazing. You could spend your entire summer around the firepit, cooking new meals, while spending time outdoors and relaxing in nature.

Final Thoughts
All these plans are relatively easy for anyone to try, no matter your experience or the tools you possess. You can build them in just one day and enjoy your beautiful creation for the rest of the summer. Hopefully, after reading this article thoroughly, you can choose a bench plan that is ideal for your garden.
Whether you are looking to repurpose some old bricks, build a creative plant bench, or give your garden a vintage makeover, the plans above can help you build the perfect bench.
You May Also Like:
---
Featured Image Credit: kasiaczernik, Pixabay