15 Creative DIY Christmas Decorations You Can Make Today (With Pictures)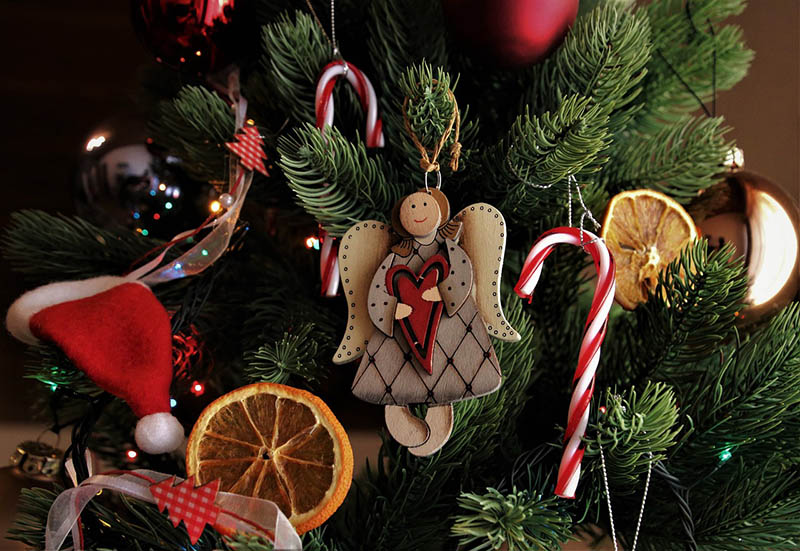 With so many memories tied to the season, Christmas is the perfect time to engage your creativity with homemade holiday accessories. Unboxing a personalized ornament is guaranteed to spark joy when the holidays arrive, and each one will offer a story to share with friends and family. Get inspired to make fond memories of your own with these clever and creative DIY Christmas decorations.

The 15 DIY Christmas Decorations
1.

DIY Rag Tie Garland by A Fireman's Wife
| | |
| --- | --- |
| Supplies: | Jute string, scissors, red fabric, buffalo check fabric, green fabric, white fabric, burlap |
| Difficulty: | Easy |
While this creative Christmas rag tie garland is surprisingly easy to pull off, you will need tons of patience. The process involves tying alternating strips of fabric around a jute string, which can take a few hours, depending on the length. The results are worth the effort, offering a bushy bouquet of prints, colors, and textures you can customize with different fabrics.
---
2.

DIY Snowy Mason Jar Luminaries by Instrupix
| | |
| --- | --- |
| Supplies: | Mason jar, Epsom salt, glitter, glue, twine, greenery |
| Difficulty: | Easy |
A snowy mason jar is a quick decoration requiring only a few secret ingredients, namely Epsom salt and glitter. Paint a mason jar with tacky glue, apply a blend of salt and glitter, and you'll have a delightful candle holder to offer a shimmering, soft glow. Use a spray adhesive to bond the salt for a firmer hold, and add twine around the top and a bit of faux greenery to complete the seasonal look.
---
3.

DIY Christmas Stockings by Meghan Makes Do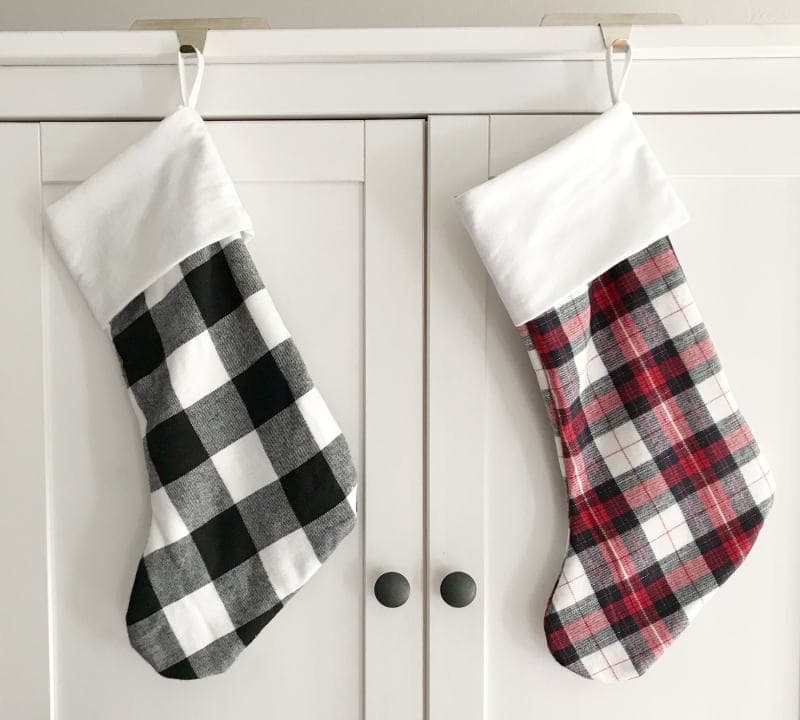 | | |
| --- | --- |
| Supplies: | Fabric, sewing machine, thread, scissors, pen |
| Difficulty: | Intermediate |
Stockings are a great project for getting in some practice on the sewing machine, and this DIY stocking tutorial makes it as straightforward as possible to get incredible results. Two fabrics combine for a multi-layered decoration that gives you plenty of room to try fun mashups of color and pattern. It will take a few hours to finish a family's worth of stockings, but you'll have no problem enjoying them for years.
---
4.

DIY Ribbon Wreath by DIY Candy
| | |
| --- | --- |
| Supplies: | Wire wreath frame, wire ribbon, pipe cleaner, scissors |
| Difficulty: | Easy |
A Christmas-y statement doesn't have to be a challenge, as you'll discover with this easy DIY ribbon wreath. But while it won't require tons of effort or know-how, you will need a decent amount of ribbon, approximately 75 feet. Fortunately, you'll work through it quickly as you create rows of furrowed cloth around a wire frame.
---
5.

DIY Nesting Wooden Christmas Tree Shelf by Woodshop Diaries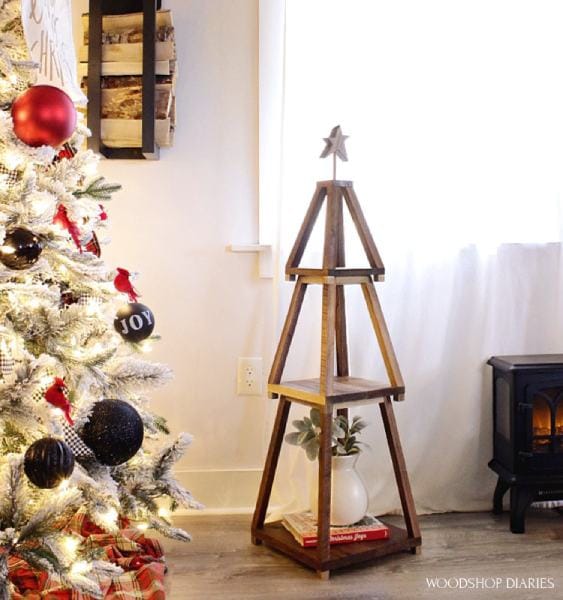 | | |
| --- | --- |
| Supplies: | Miter saw, nail gun, drill, dowels, plywood, wood glue, wood screws |
| Difficulty: | Intermediate |
A DIY decoration is more satisfying when it's also functional. A wooden Christmas tree shelf is a pleasant rustic touch that supplies space to hold candles and accessories, making a complete holiday showcase. In a clever twist, the three tiers break down and nest in one another for easy storage.
---
6.

Mini DIY Christmas Wreaths by DIY With My Guy
| | |
| --- | --- |
| Supplies: | Garland ties, dried orange slices, burlap |
| Difficulty: | Easy |
While their larger counterparts sit on front doors as a Christmas welcome for incoming guests, mini Christmas wreaths extend the holiday cheer to indoor spaces by adorning cabinets, mantels, windows, and dining room chairs. Each wreath only takes a few minutes to construct. The wire garlands bend to form the wreath, and dried orange slices go on for a creative splash of color and substance.
---
7.

Modern DIY Advent Calendar by Shoe Makes New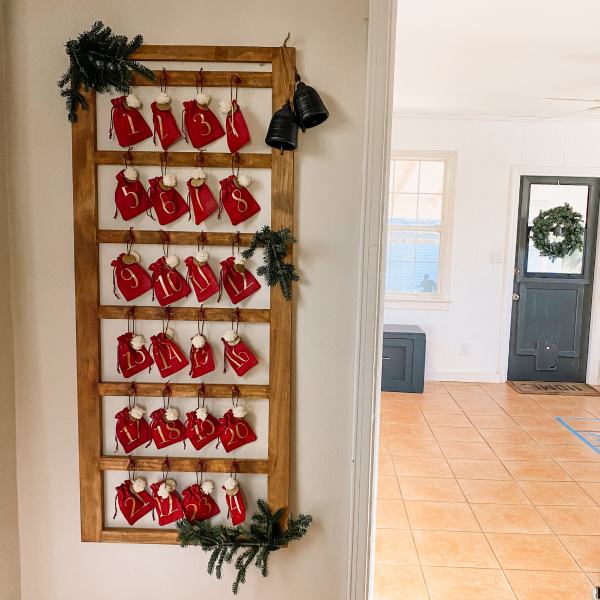 | | |
| --- | --- |
| Supplies: | Drill, miter saw, 1×3 board, 1×2 boards, dowels, stain, pocket hole jig, pocket screws |
| Difficulty: | Intermediate |
Advent calendars stretch the excitement of the season for the whole family, giving kids a fun way to count down the days. As part of a new tradition, yours should be particularly meaningful. In these wooden DIY advent calendar plans, you'll learn to craft a handsome, sturdy decoration to enjoy for years and years.
---
8.

Giant DIY Christmas Ornaments by DIY & Crafts
| | |
| --- | --- |
| Supplies: | Large plastic balls, deli containers, coat hangers, waterproof glue, spray paint, garden hooks |
| Difficulty: | Easy |
The creator of these showy oversized Christmas ornaments says it can cost under $20 to make a statement in your neighborhood this holiday season. Glue a painted deli cup to the top of a plastic ball, repeat several times, and you'll have a set of ornaments fit for a redwood. While they won't fit on your average Christmas tree, they're sure to add a head-turning splash of color to your front porch.
---
9.

DIY Christmas Lantern by Woodshop Diaries
| | |
| --- | --- |
| Supplies: | Table saw, miter saw, drill, nail gun, scrap wood, wood glue, screws |
| Difficulty: | Intermediate |
A Christmas lantern can be relatively easy or fairly complicated, depending on the quality of the scrap wood you use. To simplify the project, a few 1×6 and 2×6 boards cut to size are all you need.
The cuts and construction are straightforward with a table and miter saw, and a decorative spindle leg adds an inexpensive touch of traditional flair. Paint the completed post black or your favorite color, add a candle and ornaments, and position it near the tree as an impressive complement.
---
10.

DIY Popsicle Stick Snowflakes by Mom Endeavors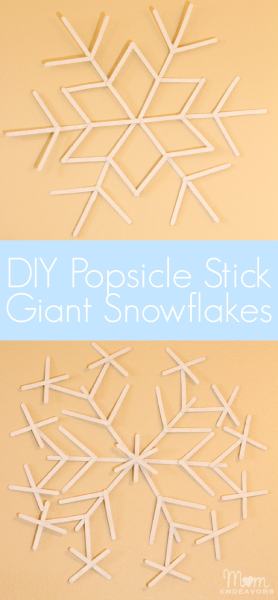 | | |
| --- | --- |
| Supplies: | Popsicle sticks, glue |
| Difficulty: | Easy |
Put your kids to work this holiday season with a fun popsicle stick Christmas crafts project. A little glue to hold them in place is all it takes to fill your walls with jumbo snowflakes, each one as unique as the real thing. Add some paint to the mix to see how far your children can flex their imaginations.
---
11.

DIY Faux Fireplace by Totally the Bomb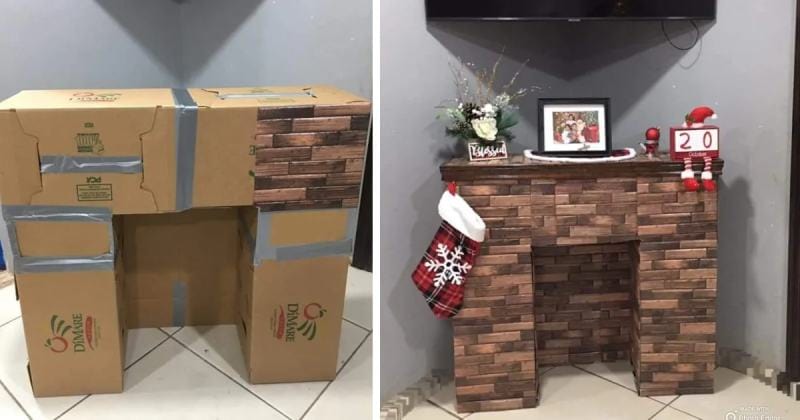 | | |
| --- | --- |
| Supplies: | Cardboard boxes, duct tape, adhesive tiles |
| Difficulty: | Intermediate |
Whether it features a roaring fire or not, a decorated brick fireplace carries the warmth of the season. And even if your modern home is lacking in that department, it doesn't take much effort to construct a fun and fairly convincing fake.
The phony fireplace in these plans works with three simple ingredients: tape, sticky brick-patterned tiles, and leftover cardboard boxes. Add a decorative top to hold decorations and stockings. Get creative with different brick and stone patterns to bring your holiday theme together.
---
12.

DIY Marbled Christmas Tree Ornaments by Alice and Lois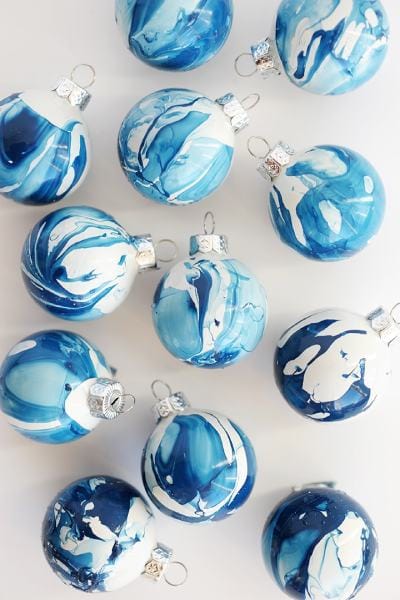 | | |
| --- | --- |
| Supplies: | White ornaments, nail polish, plastic container, stirrer, nail polish remover, wax paper |
| Difficulty: | Easy |
A marbled Christmas tree ornament looks anything but handmade, and you'll be surprised how creating a collection of these stunning decorations requires minimal effort. Mix a little nail polish with water, dip and swirl some plain white ornaments, and you'll have a whole tree's worth of ornaments ready in no time. Experiment with different combinations of nail polishes for a mesmerizing assortment of flowing colors.
---
13.

Mini DIY Christmas Trees by Say Yes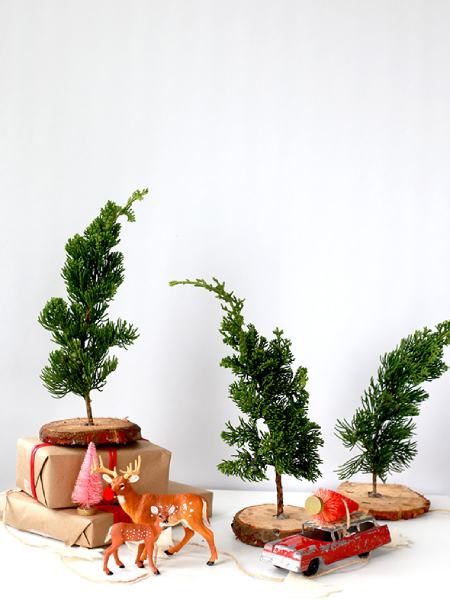 | | |
| --- | --- |
| Supplies: | Evergreen tree trimmings, glue gun |
| Difficulty: | Easy |
There are thousands of DIY tiny Christmas tree plans, but none are as genuine as these mini trees made from repurposed cuttings. Held in place with hot glue, a twig sits upright in the center of a wood disk. With supplies in hand, it can take under an hour to crank out a forest of authentic tabletop evergreens. Leave them bare or use them as a blank canvas to decorate as you see fit.
---
14.

DIY Christmas Bells by Life on Summerhill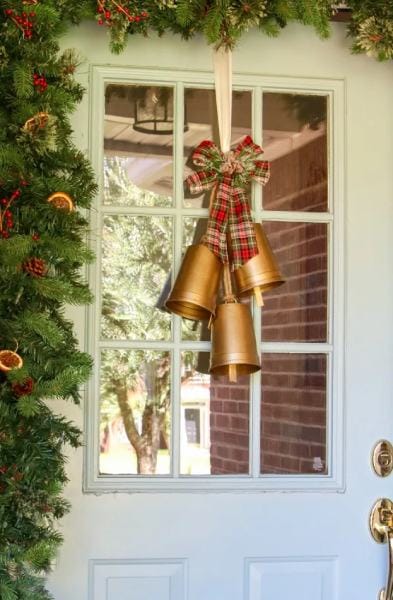 | | |
| --- | --- |
| Supplies: | Bushings, paint buckets, spray paint, drill, jute rope, antique wax, glue gun, screws, ribbon, faux leather |
| Difficulty: | Easy |
Transforming recycled materials into something completely new is always satisfying. If you have old paint cans, put them to good use by making striking DIY Christmas bells. Shimmery spray paint and well-appointed ribbon decorations create a delightful hanging ornament for the front door.
---
15.

DIY Origami Star Garland by Girl About Townhouse
| | |
| --- | --- |
| Supplies: | Square sheets of paper, string, craft knife |
| Difficulty: | Easy |
As another great project for the family, an origami star garland is a simple option to spruce up stair railings, mantels, and Christmas trees, a perfect finishing touch on a decorated home. Use various holiday patterns and colors to suit your theme. Give your fingers a good stretch and see how long you can stretch this crafty decoration.

Final Thoughts
Holiday crafts offer a chance to rejoice in the fun of the season and create treasured moments with the family. They don't have to be expensive or difficult to make; your only limits are your imagination! Get inspired with these creative DIY Christmas decorations and fill your home with the holiday spirit today.
---
Featured Image Credit: 💙♡🌼♡💙 Julita 💙♡🌼♡💙, Pixabay