25 Impressive DIY Dresser Plans You Can Build Today (with Pictures)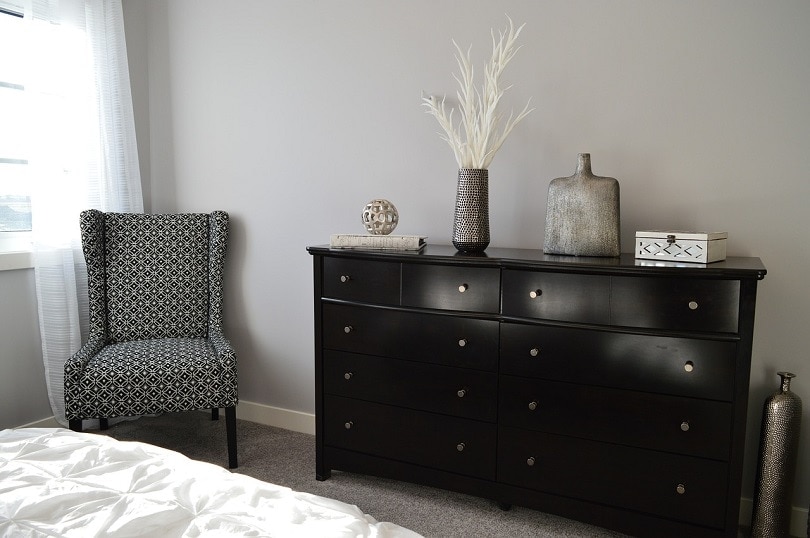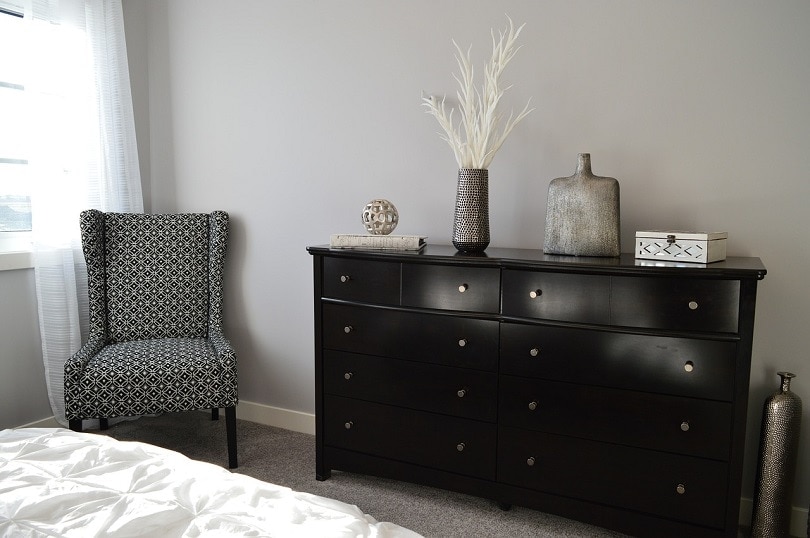 Every bedroom needs a dresser. It's a great place to keep your clothes stored neatly and offers space on top for other items as well. Almost everyone has a dresser, but most of them were purchased from the store. There's nothing wrong with that, but a dresser can be a fun project to build if you have some basic to intermediate level woodworking skills and a few tools. You can even build a dresser out of recycled materials, as you'll find out.
To help you get started, we've gathered 25 different plans that teach you how to build a dresser of your very own. Each is unique in its own way, so pick the plans that are a match for your personal tastes and modify them to make the dresser of your dreams.

The 25 Impressive DIY Dresser Plans
1.

How to Build a 5-Drawer Dresser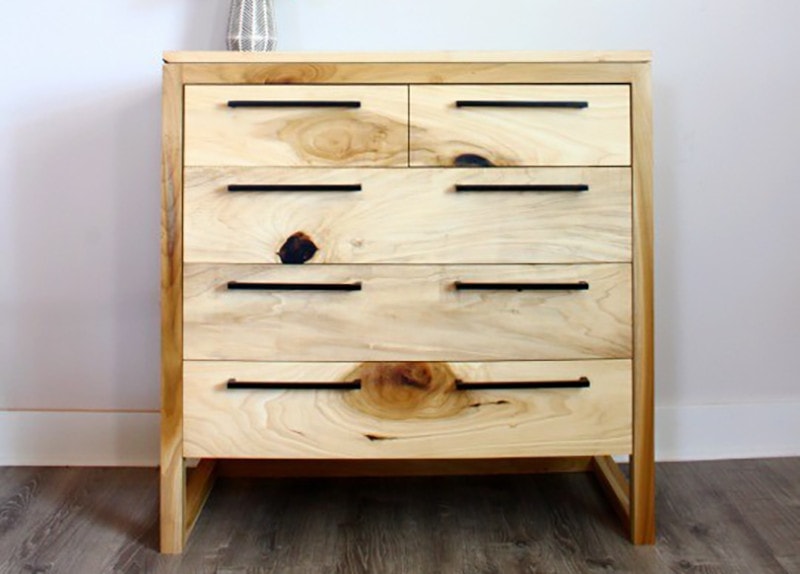 This five-drawer dresser isn't terribly complicated, but you wouldn't know that by looking at the finished product. Anyone who knows you made this beautiful dresser will certainly be impressed. It has a very natural but elegant look.
---
2.

Build-Basic DIY 7-Drawer Dresser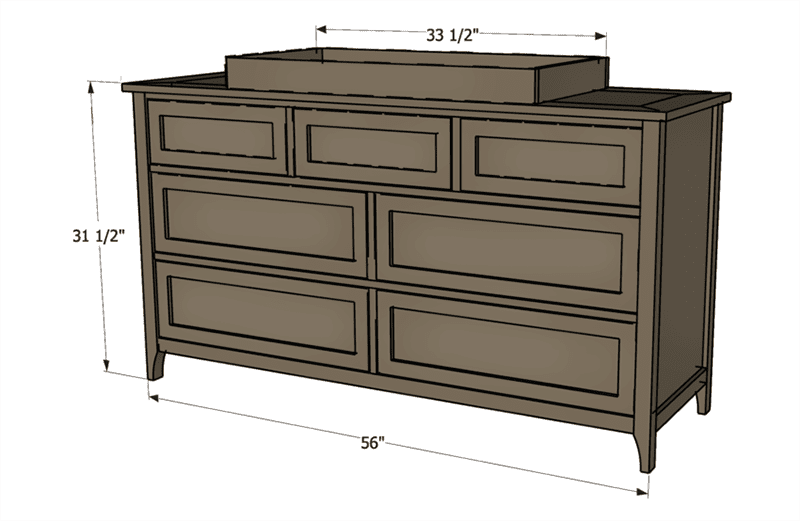 This set of plans even includes printable templates for the different parts you'll need to build a seven-drawer dresser. The plans are well laid out and the entire build costs under $200.
---
3.

6-Drawer Tall DIY Dresser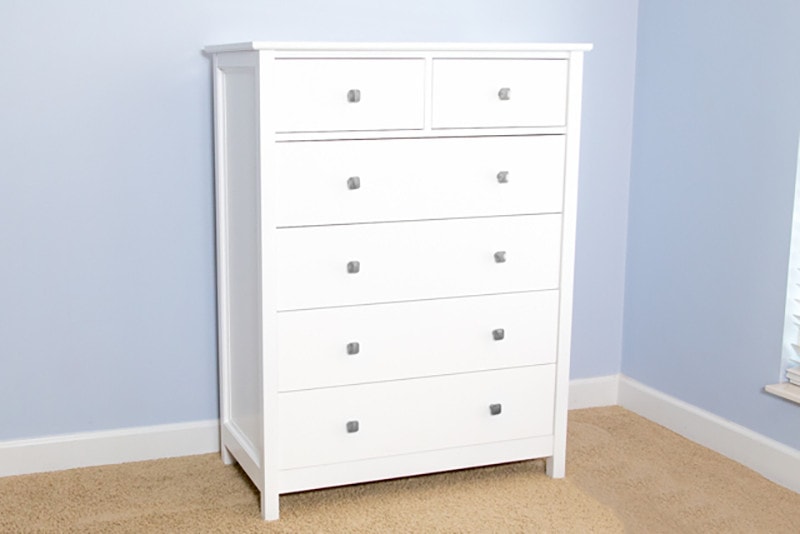 If you'd prefer a dresser that's taller than it is wide, you might like to build this 6-drawer tall dresser. It's four feet tall and three feet wide and made from pine boards and plywood, keeping costs down. You will need a jig and some other specialty tools to complete this build though.
---
4.

DIY Hudson Dresser Plans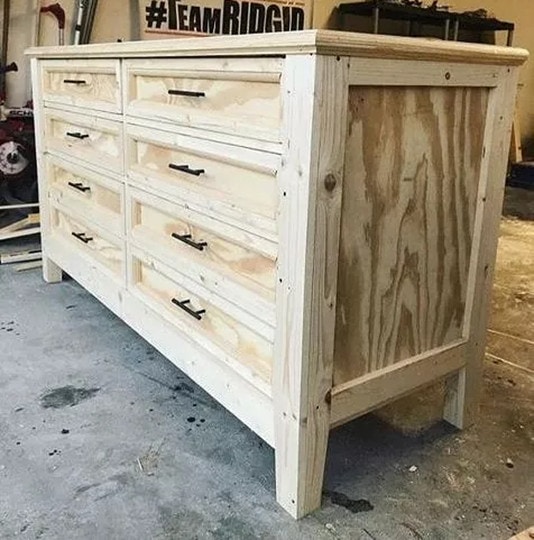 This build is rather advanced and detailed, but the plans are well laid out and you can follow step by step to complete it. The finished result is very rustic but could be finished in other ways for a totally different appearance.
---
5.

How to Build a Dresser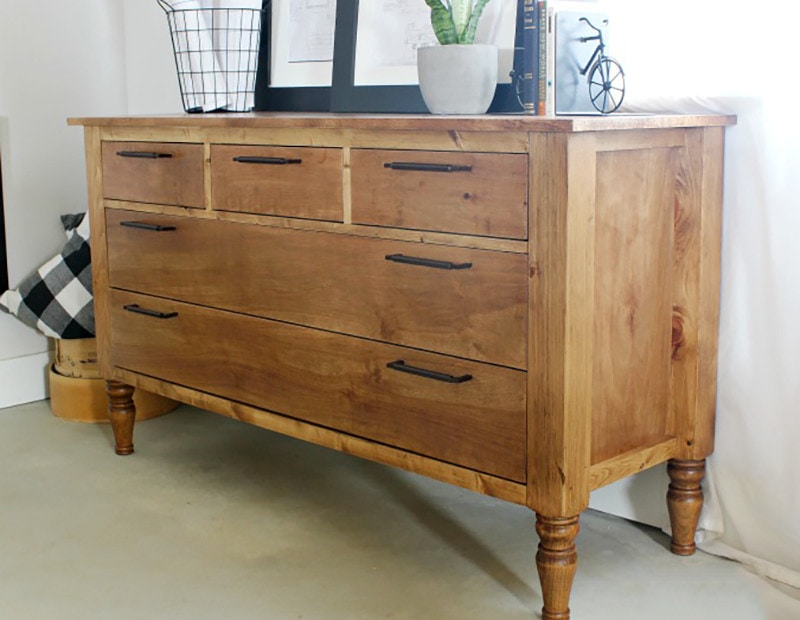 You can build this DIY dresser on a set of vanity legs like the original builder. Luckily, there are instructions to walk you through the process of building this piece with an entire video tutorial for you to follow along as well.
---
6.

DIY 9-Drawer Dresser Tutorial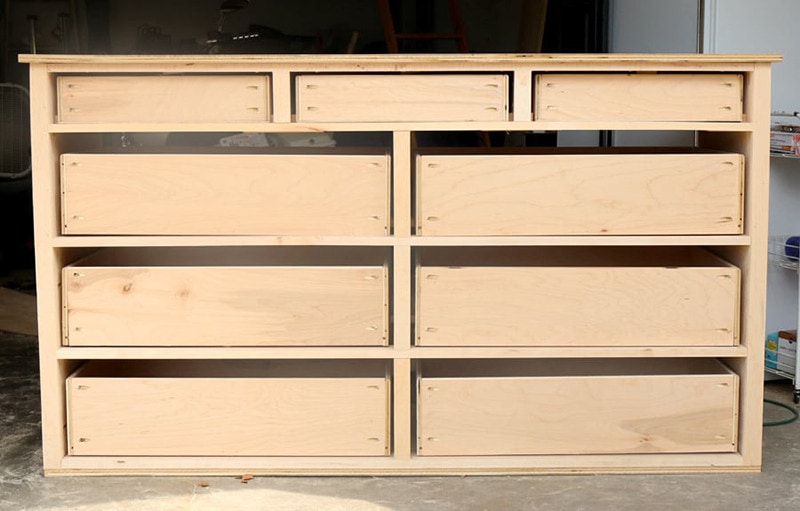 If you're looking to maximize your storage with as many drawers as possible, then check out these plans for a nine-drawer dresser. There are printable plans and thorough instructions with pictures, making it easy for you to recreate what you see when building a nine-drawer dresser of your own.
---
7.

Plans for a 6-Drawer Dresser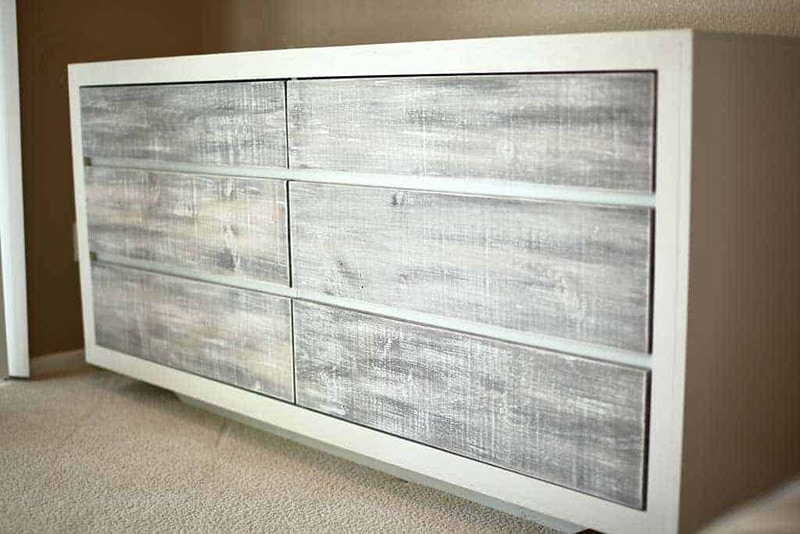 If you're going for a modern but rustic look, try this six-drawer dresser. There are detailed plans for you to follow with plenty of pictures documenting the process that the original maker went through.
---
8.

Dresser Plans from Pallet Wood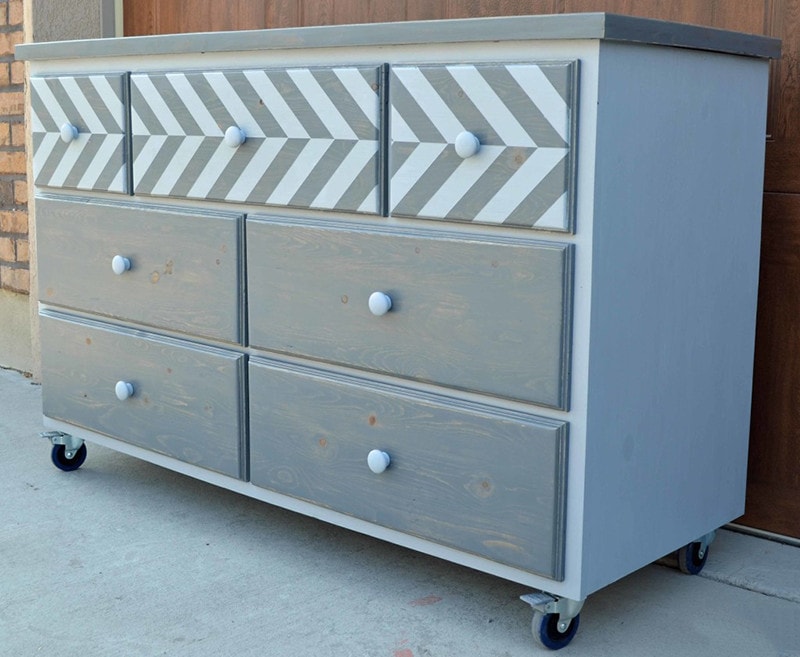 This seven-drawer dresser has a Chevron top, but that's not what makes it special. The coolest thing about this project is that it's made from recycled pallet wood! If you're looking for an affordable dresser project you can make from repurposed materials, this one fits the bill.
---
9.

Steppe 6-Drawer Dresser Plans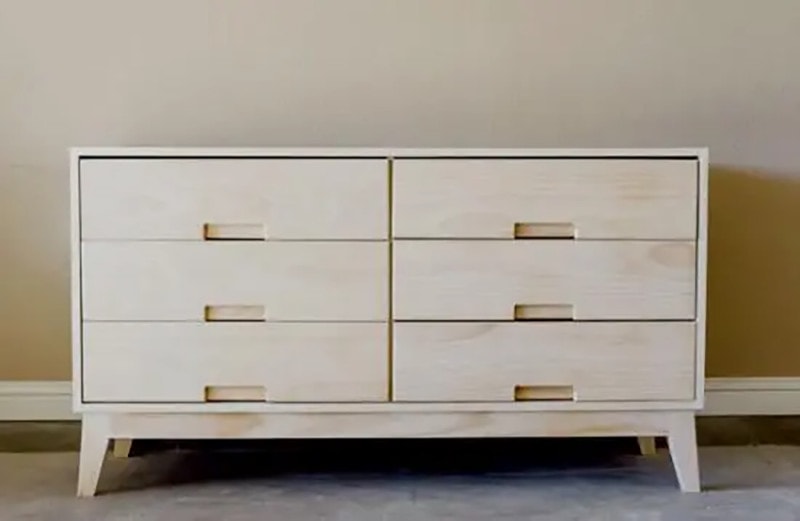 Attractive and simple, this Steppe six-drawer dresser is elevated on legs. There are no drawer pulls necessary since the handles are cut into the wood on the front of the drawers, creating a very clean appearance that can be finished however you would like.
---
10.

Plywood Dresser with Dowell Legs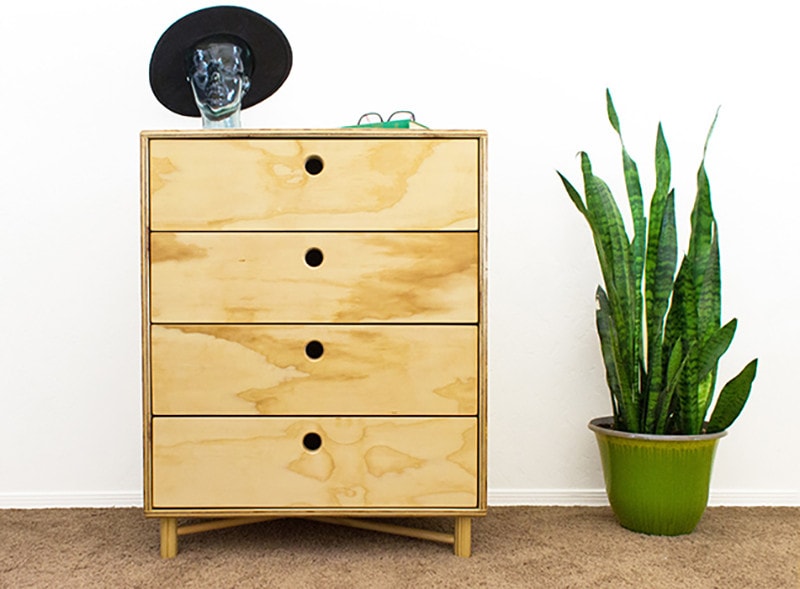 What's unique about the dresser you can build with these plans is that it uses wooden dowels for legs. The rest of the dresser is made from plywood, but the finished product looks deceptively nice. It's an affordable project that takes only moderate skills to build but looks far more expensive than it is.
---
11.

Build a Modern 8-Drawer Dresser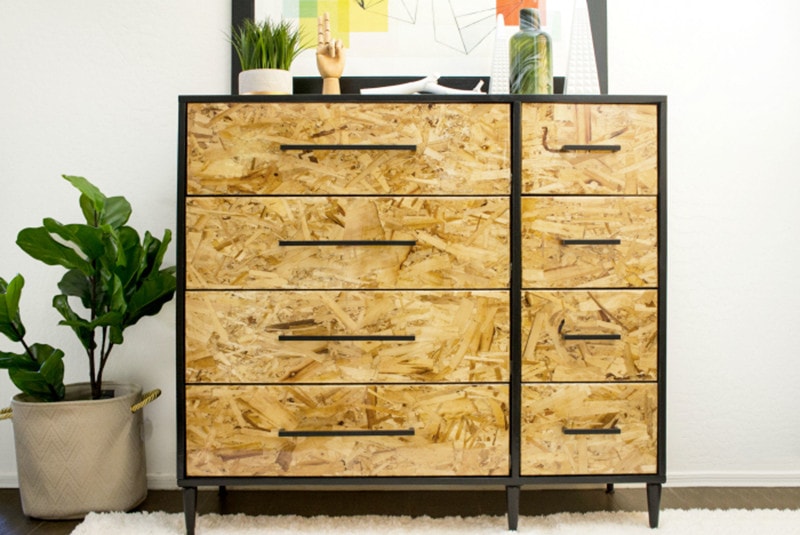 This eight-drawer dresser looks surprisingly good, despite being made out of OSB. It features four large drawers beside four small drawers and sits atop six legs. There's a thick gloss finish over the OSB drawer fronts, which makes them smooth to the touch so you won't get splinters, plus provides a sheen that transforms the look of the wood.
---
12.

Advanced Hudson Dresser Plans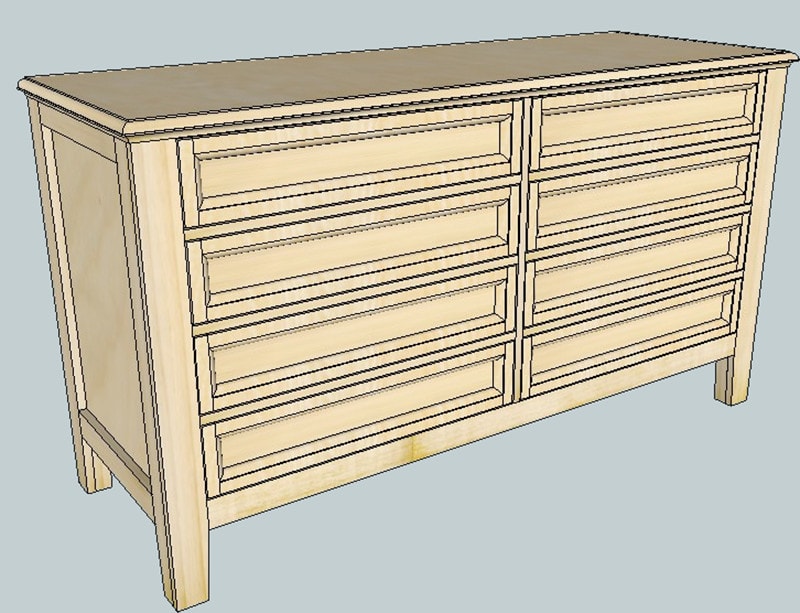 These plans for a DIY Hudson dresser will require some upper-level woodworking skills and more tools than the average DIYer possesses. You might call it advanced. But if you have the right skills and tools, it's a challenging project with a beautiful end product.
---
13.

How to Build a Chest of Drawers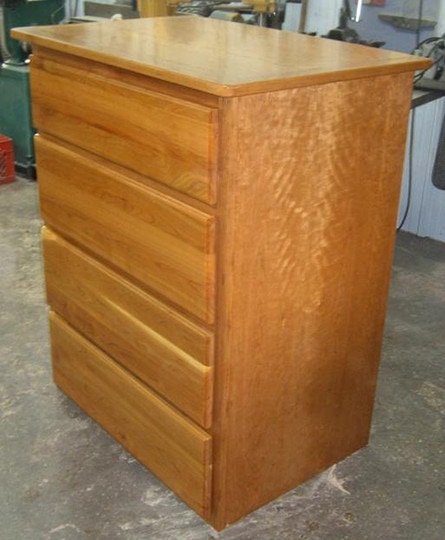 We generally like the projects like this chest of drawers that don't look like they were made in someone's garage. This dresser looks like it was a high-end piece of professional furniture purchased for a high price in a store. No one has to know you made it yourself, unless you want to tell them.
---
14.

How to Build a DIY Dresser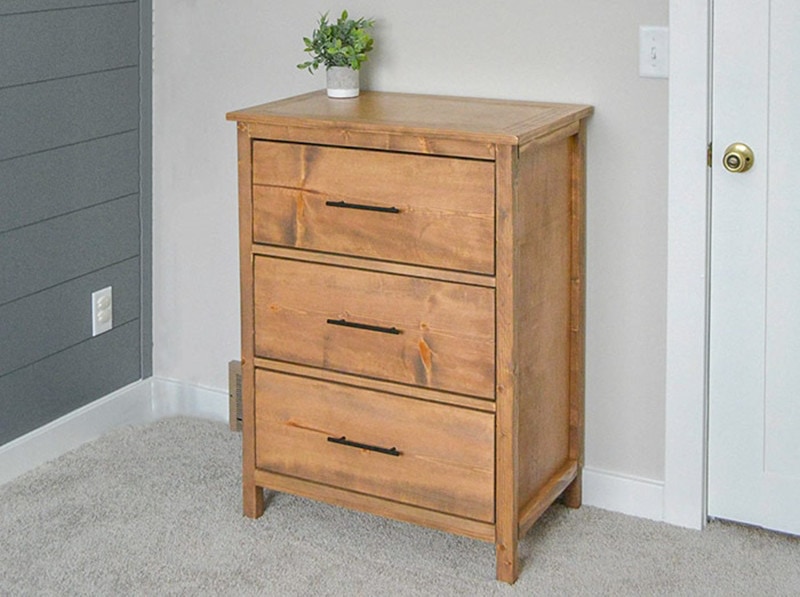 A dresser doesn't have to be difficult to be attractive. This dresser is rather compact and has just three drawers, but it's an easy build you can put together with only minimal tools and skills.
---
15.

Wide Chest of Drawers Plans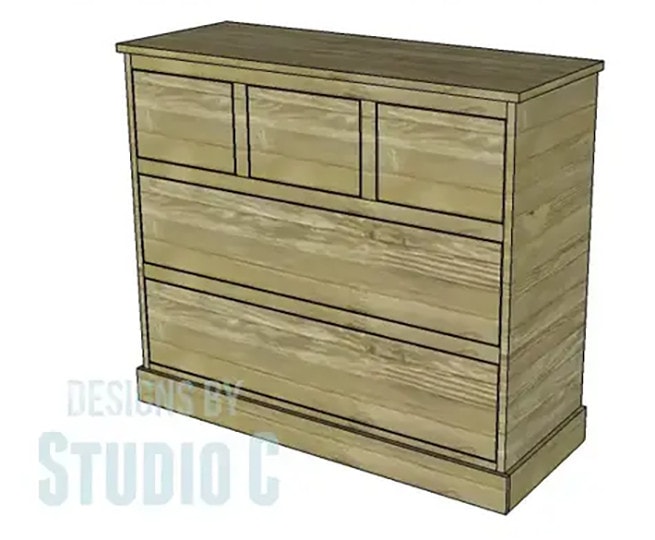 This inexpensive dresser is made almost entirely from plywood, helping to keep costs down and ensuring that all the necessary materials are readily available anywhere. These plans are to build a dresser with two large drawers with a set of three smaller drawers on top. They're detailed and easy to follow, making this project a great choice for any enthusiastic DIYer.
---
16.

Wood Dresser with Wheels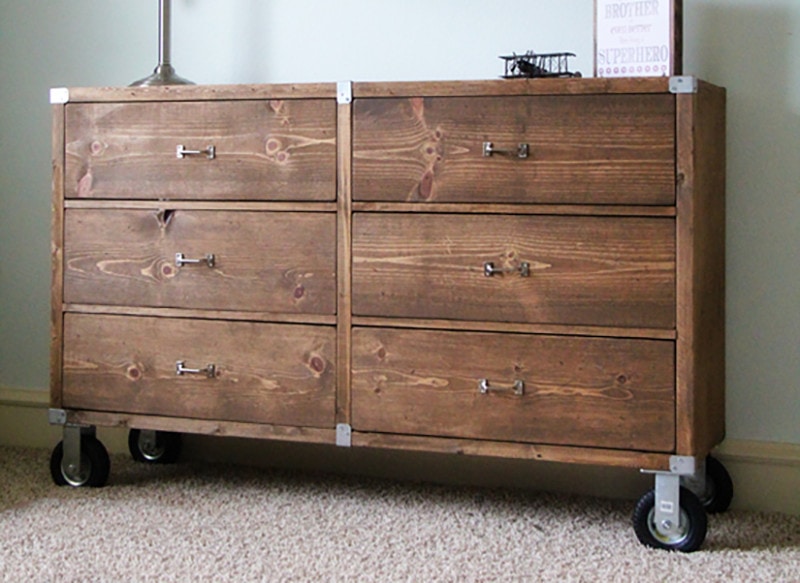 If you're the type of person who likes to move your furniture around for a new look and feel every so often, then this wood dresser with wheels is something you'll be interested in. Since it's on large wheels, it's easy to move around whenever you get the urge to redecorate your bedroom.
---
17.

Beach Cottage Dresser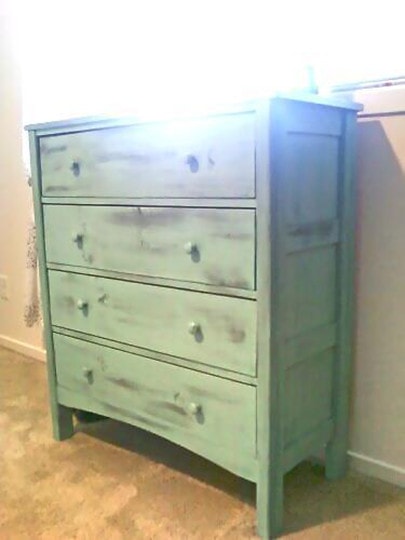 This beach cottage dresser has a distressed finish to make it look artificially aged, but underneath, it's just a four-drawer dresser that you can finish in any way you can imagine. Just follow along with the detailed instructions after gathering all the materials on the list and you should be able to complete this project in a day.
---
18.

Modern Farmhouse Dresser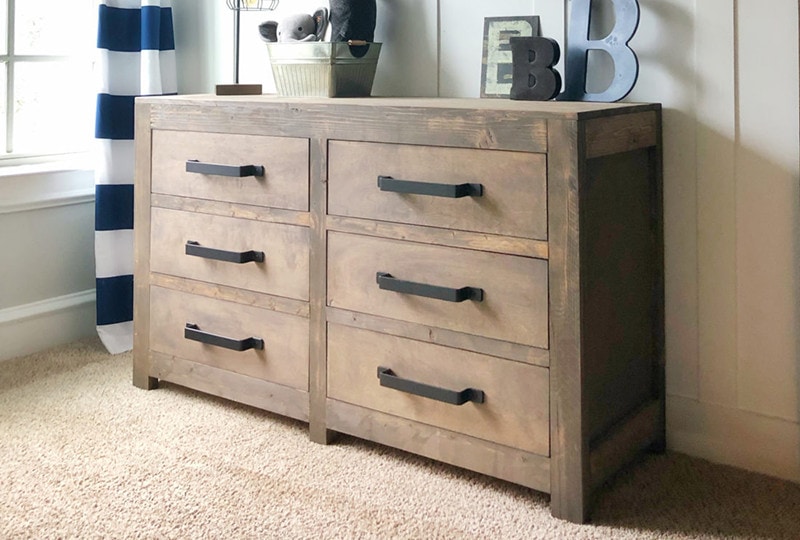 If you're looking for a project that's easy to follow along with, then this modern farmhouse dresser is a good choice. There are pictures documenting every step of the process, making it simple for you to repeat the same steps. Diagrams and measured drawings make it easier to understand how the dresser comes together.
---
19.

Easy Crate Dresser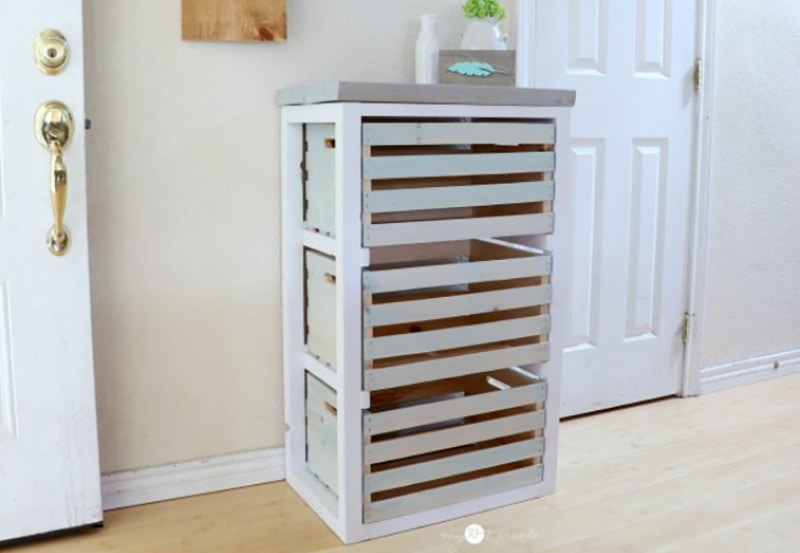 Looking for a shorter project that will only take a couple of hours? This easy crate dresser is made from three crates and a few pieces of lumber. The free plans will help you assemble this simple design and you'll have an interesting dresser built in an afternoon.
---
20.

9-Step 6-Drawer Dresser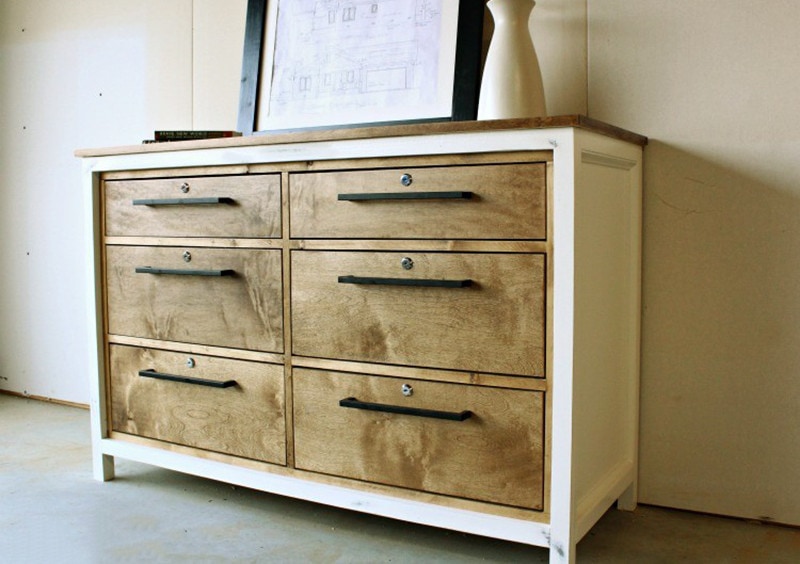 For those who need a bit more security with their chest of drawers, this six-drawer dresser features drawers that lock by key. It's an attractive build that can be put together in just nine steps.
---
21.

2-In-1 Dresser Desk Plans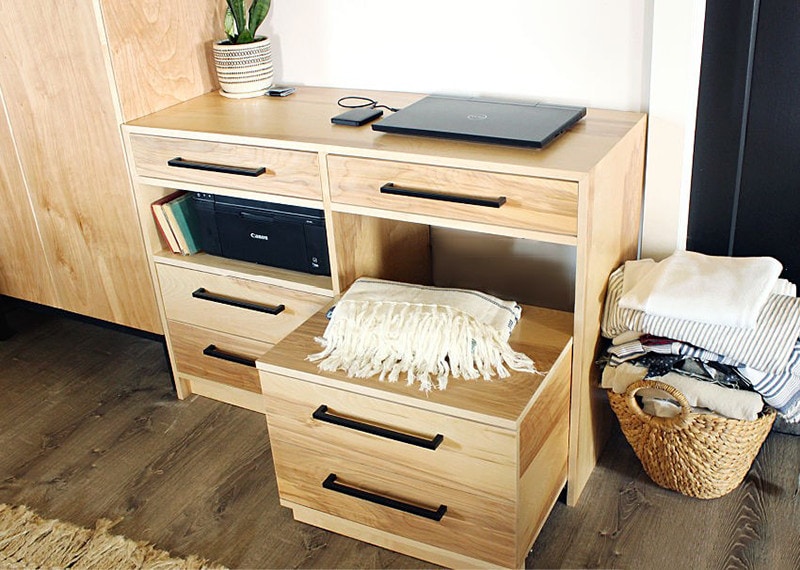 This design is probably unlike anything you've seen, but it's not as difficult to build as you might think. It makes incredible use of space by combining a desk and a dresser into one piece of furniture.
---
22.

DIY Rustic Dresser Plans and Tutorial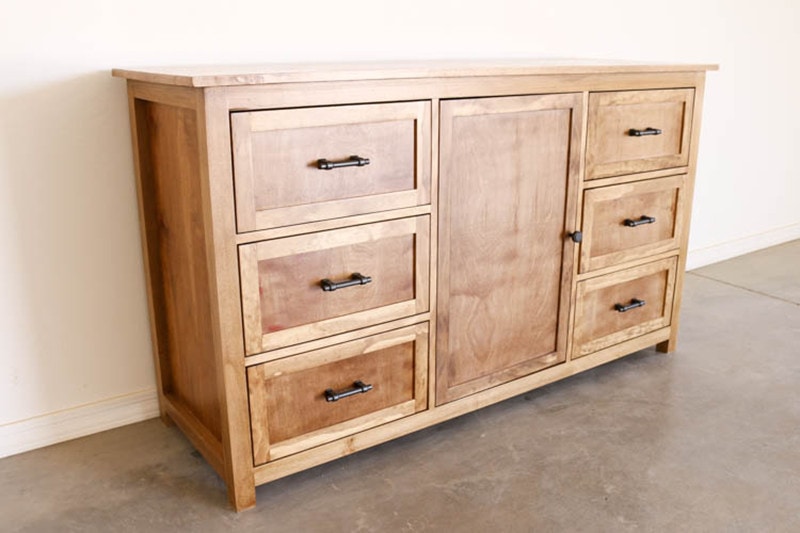 The dresser plans we've gathered up to this point have dealt exclusively with drawers. If you want a bit of cabinet space in your dresser as well, then this DIY rustic dresser is for you. It's got a stack of three drawers on each side with a large cabinet in the middle, allowing you to store much larger items than a standard dresser.
---
23.

Modern DIY Armoire Dresser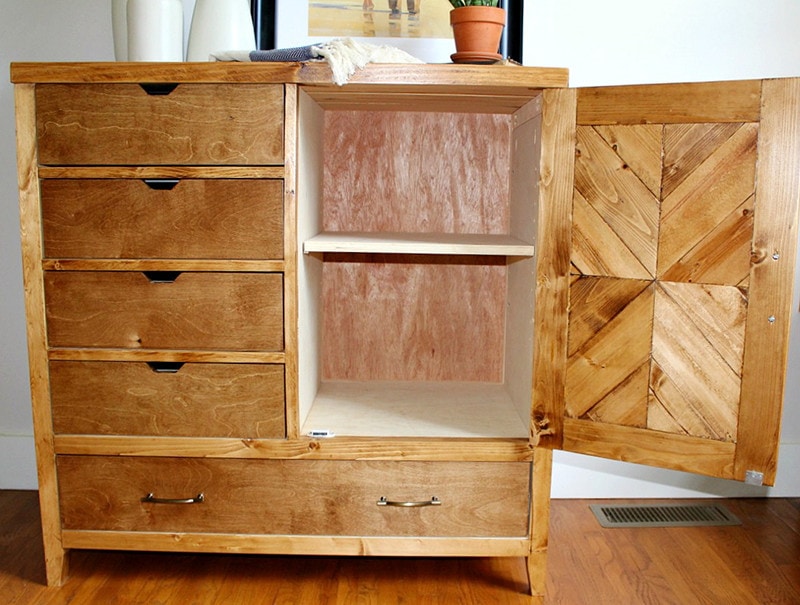 Here's another set of plans to build a dresser with a cabinet, though the drawers are arranged much differently. This just goes to show the wide range of what's possible to build. Don't feel boxed into any set of plans. Make the item you see in your mind. The plans are just a good place to start.
---
24.

Modern Dresser Console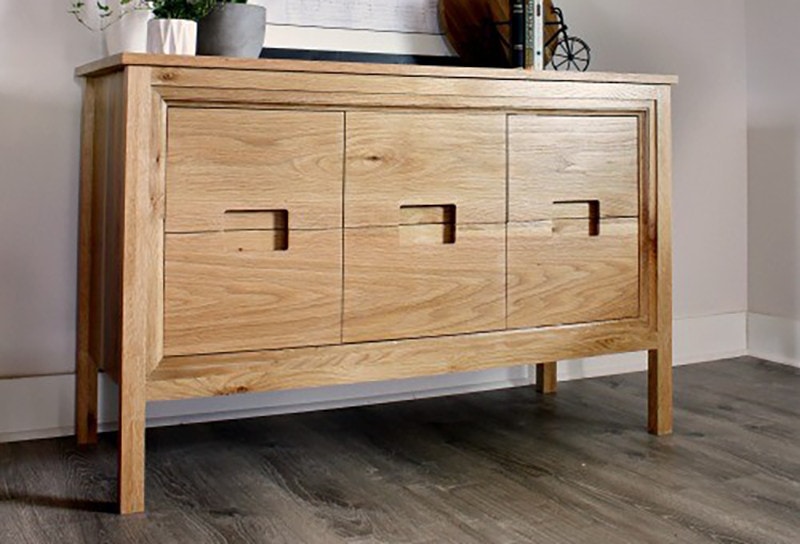 This dresser console has some very neat handles that set it apart from other plans we've seen. The bottom drawers have top handles and the top drawers have bottom handles so they meet in the middle. Since the handles are just cutouts in the wood, it creates a very geometric design that's pleasing to the eye.
---
25.

Mid-Century Modern Dresser Base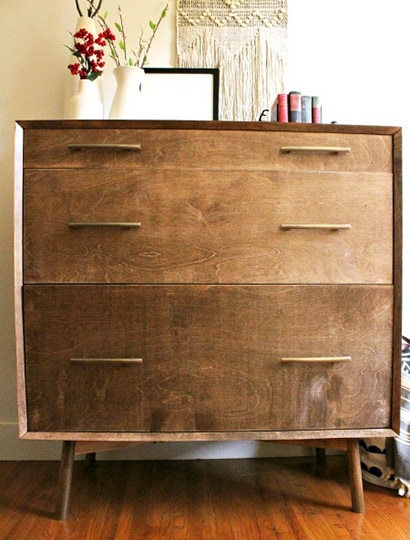 This dresser base has three drawers and stands on round legs. The plans are detailed and include plenty of pictures that follow the original build, so it's easy to follow along and build something similar for yourself.

Conclusion
We hope you've enjoyed learning how to build a dresser from scratch and that one of these sets of plans looks like a great fit for you and you're excited to get started on your new project right away. But if not, remember that these are just starting points. You're free to alter any of these plans in whatever way you see fit to make them your own. Change the design or the way any dresser is finished to create an entirely new look that fits the image you have in your head.
---
Featured Image Credit: ErikaWittlieb, Pixabay