30 Creative DIY Project Ideas For A Man Cave On A Budget (With Pictures)

The man cave is a place to retreat. It not only gives husbands and boyfriends somewhere to escape to, but it allows their partners to enjoy some peace and quiet, too. It provides a single room where everything from pool table to shotguns and even the homemade bar and bar furniture can live. There are hundreds of ways that you can kit out this kind of room, and the best man caves are those that mix the greatest loves of their users.
Below, we've found these creative DIY projects that you can start today. The best part is you can learn how to build a man cave on budget! They range from simple to complicated and complex builds. And, most of them require the use of recycled and reused materials like pallets and cinder blocks, Jack Daniels' bottles, and even shotgun shells. You really can find something that matches your tastes in this list.

The 30 Creative DIY Project Ideas For A Man Cave
1.

Man Cave Wood Pallet Bar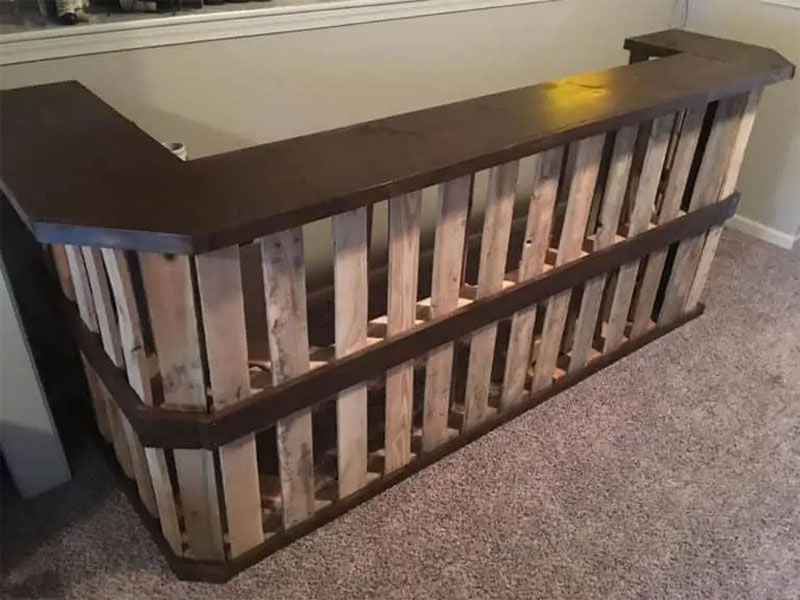 Using three pallets and a couple of other boards, you can create the ultimate addition to your man cave – a bar. This is a relatively simple but great looking design and you can customize it according to your required dimensions and your chosen style.
---
2.

Pallet Dart Board
If you have a steady supply of used pallets, you could deck out the entire house, but for now, you can build a dartboard to go with your man cave bar. The lights are a great touch, and you can mount a blackboard to keep track of the score.
---
3.

Wine Cork Dartboard
If you don't have pallets but you do have a fairly serious wine drinking problem, this cork dartboard is a good alternative. There are probably a good thousand corks there, so you might need to ask friends and family to donate their leftover corks for this project. And considering most wine is sold with screw caps, you'll have to be picky about the bottles they buy, too.
---
4.

Pallet Basketball Backboard
If having built your bar and dartboard, you somehow find you still have a pallet or two left, put them to good use constructing this basketball hoop and backboard.
---
5.

Tire Shelves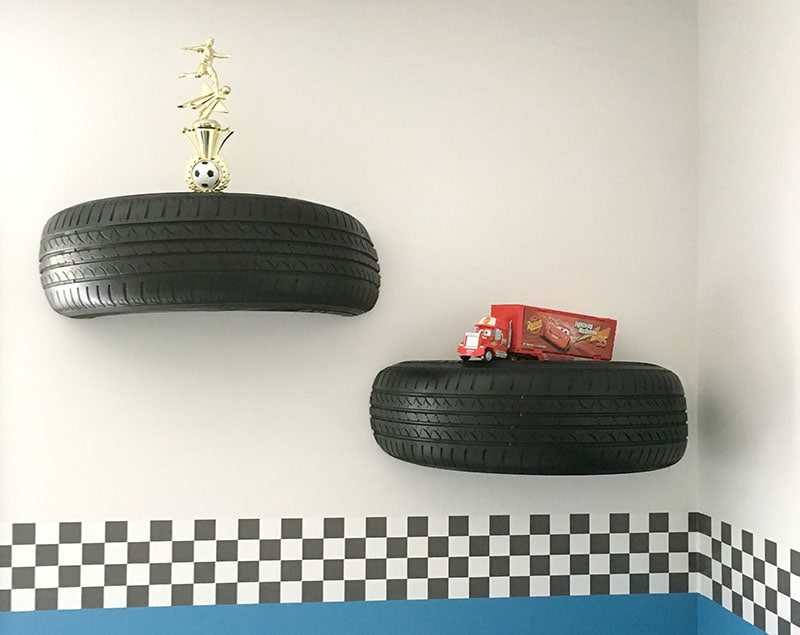 There's a surprising number of similarities between a boy's bedroom and a man cave. These dirt tire shelves may have first been used in a boy's bedroom but they would look great in your man cave.
---
6.

Tire Chairs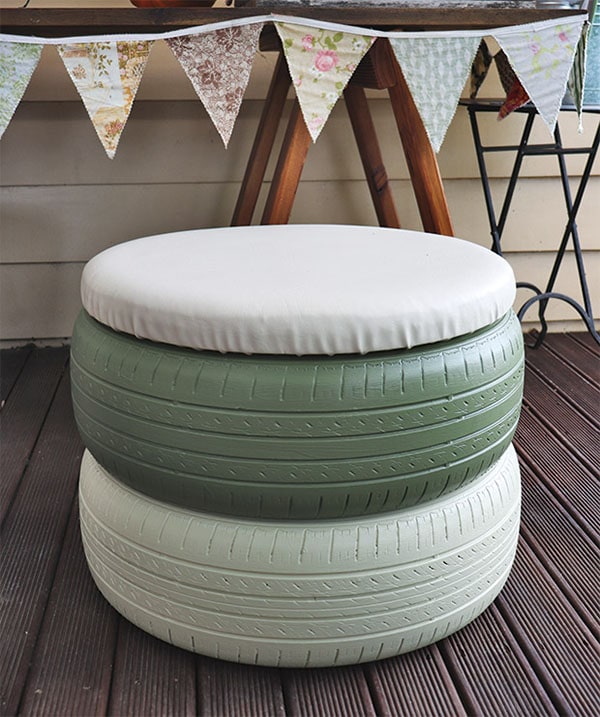 The tire shelves would look even better if accompanied by tire chairs. Easy to make and virtually indestructible, these tire chairs look simple but can be painted in any color and the foam cushion is surprisingly comfortable to sit on.
---
7.

Tire Tables
One of the great things about using tires in this way is that you don't have to worry about the tread depth and whether they are still considered road legal and safe.
---
8.

Tire Ottoman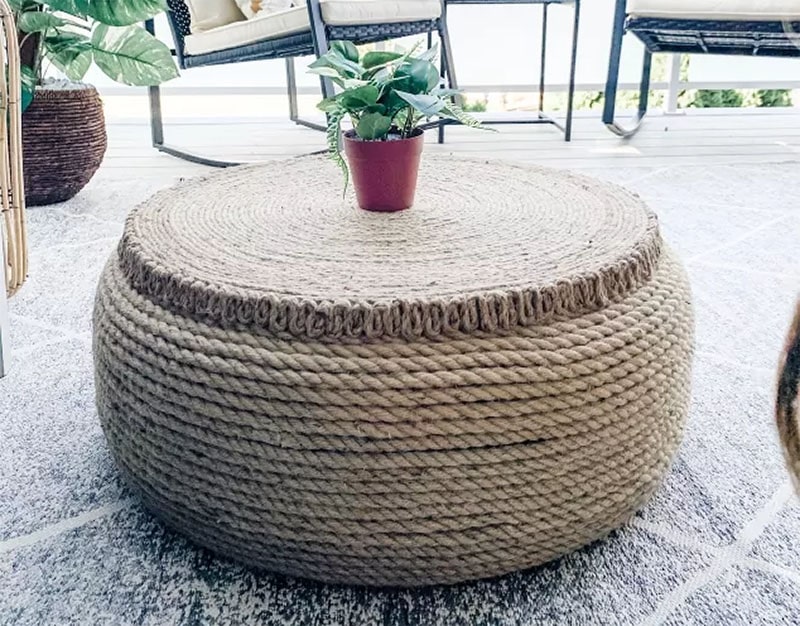 If you're feeling really adventurous, you can combine the durable tire with natural-looking rope to create this rustic looking ottoman table. Rest your feet or your beers on this DIY project.
---
9.

Baseball Bat Table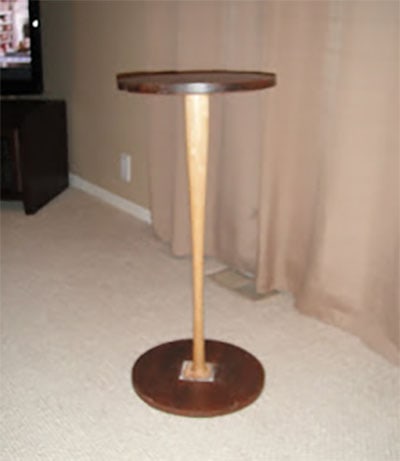 If you want to show your love of baseball, you can turn an old baseball bat into the stem of a table. Add a baseball-themed tabletop and you've got a great looking holder for your pitcher.
---
10.

Tree Stump Tables
A tree stump table is really easy to make, as long as you have access to a decent stump. If you don't have one in your own garden, you can always check social media groups and reclamation yards to see what you can find. From there, all you need to do is cut it, sand it, and treat it. And then you can use it.
---
11.

Beer Keg Table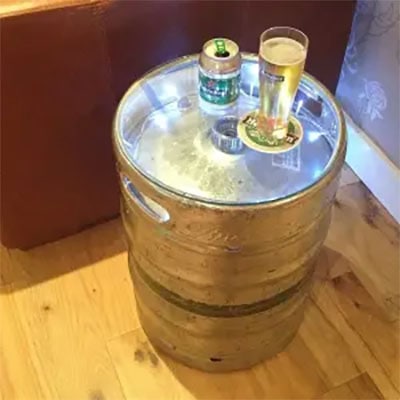 Beer kegs and man caves go together. They're symbiotic. This table combines a metal beer keg with a glass tabletop and throws in some low voltage lighting to make the table easier to find in the dark.
---
12.

Shotgun Shell Coat Rack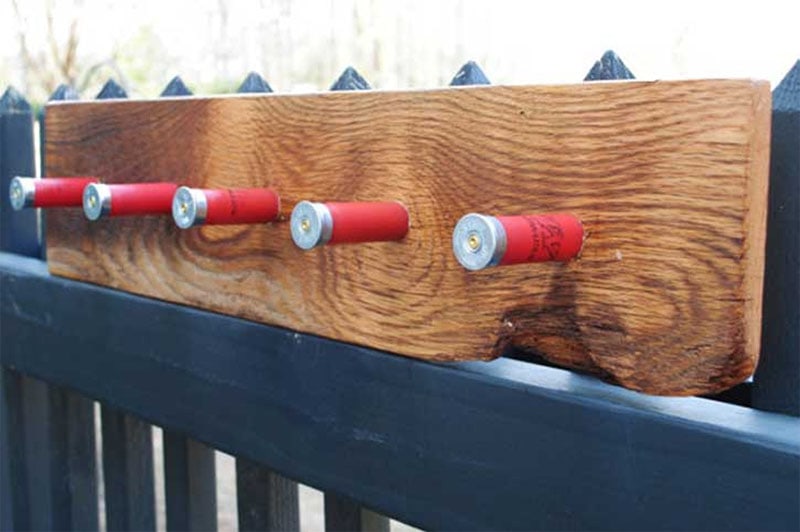 If you are looking for somewhere to hang coats, all you need for this shotgun shell coat rack is a piece of wood and a few shotgun shells.
---
13.

Foosball Coat Hangers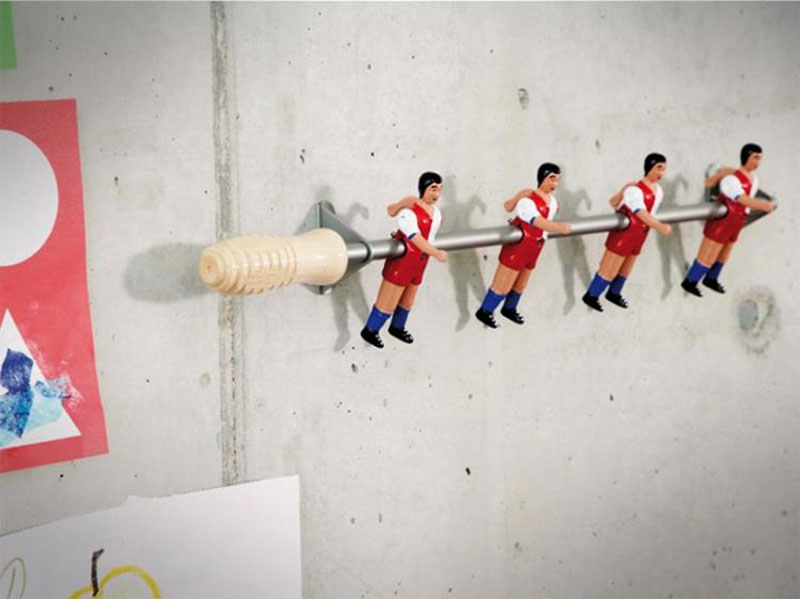 For all you foosball lovers, this coat hanger is pretty easy to make, just remember to fix the bar in place, otherwise, your coats will never stay put.
---
14.

Marquee Letters
Using plywood and string lights, and a generous amount of glue, you can create lit marquee letters. Make your own welcome sign, illuminate your own name, or be creative and give your man cave a name and its own sign.
---
15.

Football Field Rug
You can buy football field themed rugs readymade, but why bother when you can make one for a fraction of the price and turn it into your own indoor football field? Be prepared for a lot of taping, but you can even cut out the numbers for the 10-yard markers from your white electrical tape.
---
16.

Pallet Signs
Pallet signs are easy to make and effective and with the right tutorial, you don't even need lettering stencils to add the words, instructions, directions, or other lettering you want.
---
17.

TV Aquarium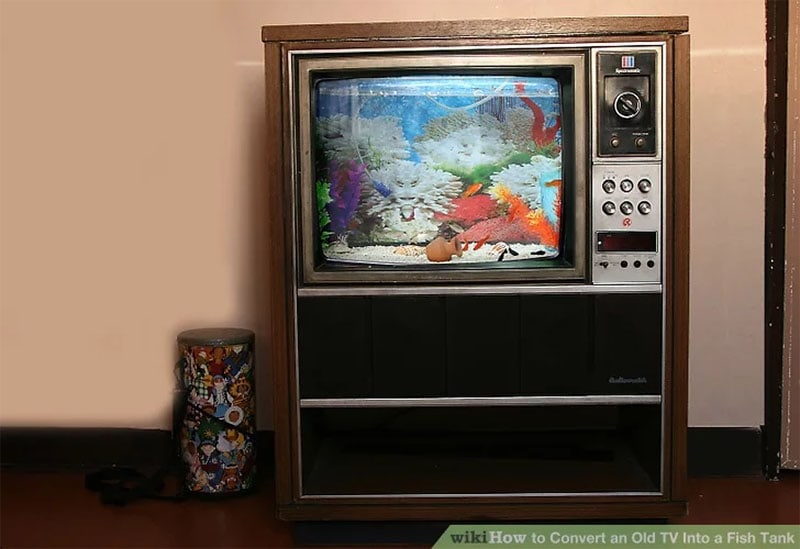 If you have an old TV that no longer works, there are probably a few ways you can customize it for inclusion in your man cave, but why not turn it into an aquarium? The older the TV the better looking the design of this build.
---
18.

License Plate Lights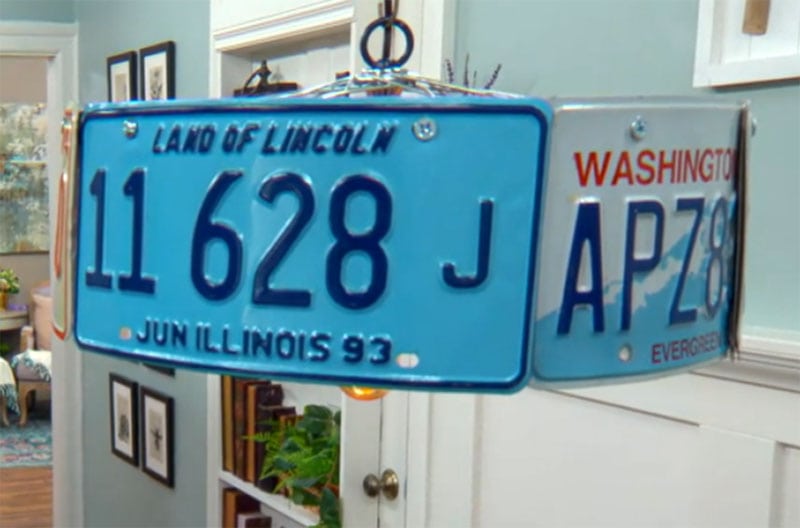 If you have a couple of old license plates, why stop at just hanging them from the wall? Combine three and turn them into a unique looking light shade that would look great in a garage or a man cave.
---
19.

Drum Pendant Lamp
Drum pendant lamp usually refers to a pendant lampshade in the shape of a drum. If you're making your own and have an old drum laying around, there's no reason it can't mean that the lamp is actually made from an old drum.
---
20.

DIY Shotgun Lamp
Turn an old and unused shotgun into a standing lamp. It will look great in a rustic man cave and would look especially good next to your pallet bar and on your tire table.
---
21.

Jack Lights
Bottle lamps are quite easy to make, and while you can use any bottle of any style to make one, the Jack Daniels bottle is especially ideal. It has an iconic look that is easily recognized, is a decent size, and it is a strong and robust glass bottle.
---
22.

Beer Bottle Clock
The last entry in the list had to include the use of pallets somehow, and this beer bottle clock doesn't disappoint. You need a clock mechanism and some fairly robust clock hands so that they show up against the wood. Then you just need 12 empty beer bottles, wherever you might get them from.
---
23.

Antique Baseball Bat Side Table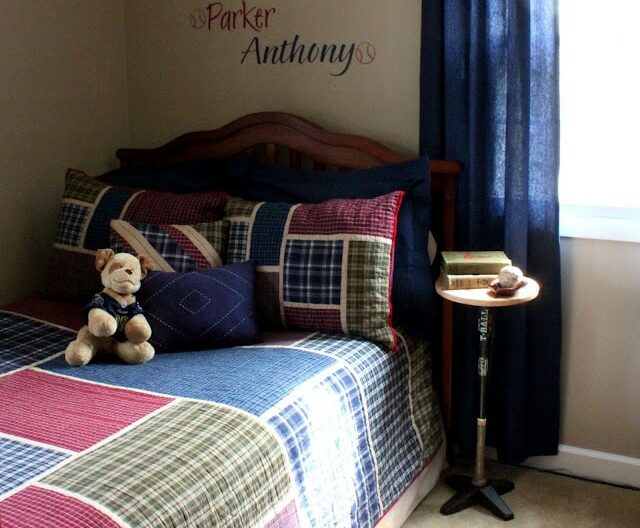 Transform an old baseball bat and discarded plant stand into a unique side table. Sand and paint the feet and tabletop to resemble a baseball while leaving the bat as is for a touch of nostalgia. This is a functional and stylish addition to your budget-friendly man cave.
---
24.

Picture Frame Hidden Gun Storage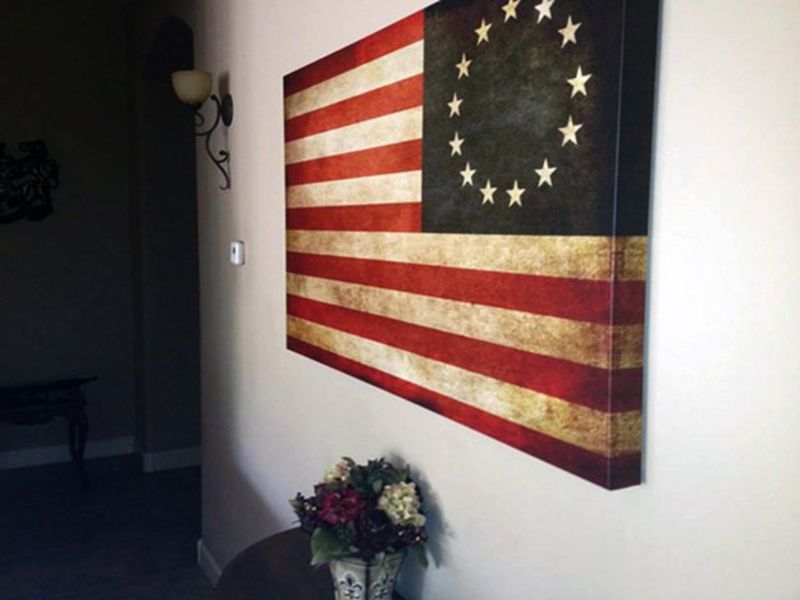 Keep your firearms secure and hidden with this James Bond-style DIY project. Using a decent-sized picture frame, two wall mounts, and brackets, you can create a concealed cabinet-style storage space.
---
25.

Skateboard Deck Lamp
A college student and Reddit user shared a DIY project to make a 4-bulb ceiling lamp with street cred. The materials include a skate deck, PVC, weatherproof sockets, a hole saw, and epoxy. Follow the detailed process to create your own unique and stylish lamp!
---
26.

Cinder Block Bench
Add extra seating to your outdoor space with this easy DIY project. Using cement blocks and materials from your local hardware store, create a comfortable bench for less than $30. Perfect for hosting summer BBQs or sitting around the fire pit with family in the fall.
---
27.

Mini Red Solo Cups Lights
Get game day-ready with this fun DIY project. Use a strand of LED Christmas lights, a screwdriver, and mini red cups to create a festive strand of lights. Make an opening in the bottom of the cups with a screwdriver and push the lights through. Hang them up, plug them in, and enjoy!
---
28.

Screwdriver Coat Rack
Give old screwdrivers new life by turning them into a unique and functional coat rack. Using several old screwdrivers lying around, create a custom arrangement that suits your style. Simply drill new holes in a plank of wood, attach the tools, and mount it to the wall. This DIY project is a great way to add a rustic touch to your man cave or garage.
---
29.

Man Cave Sign with Bottle Opener
Create a fun DIY project by making a man cave sign with a built-in bottle opener using old tools like hammers and wrenches. Personalize the sign with your own design, such as a "Man Cave" or "Dad Cave" theme and enjoy a unique addition to your man cave decor.
---
30.

DIY Beverage Dispenser
This tutorial provides step-by-step instructions for making a homemade beverage dispenser using pipes and a wooden base. The dispenser can be used to serve various drinks and is customizable to fit different bottle sizes.

Conclusion
In a lot of ways, the man cave is like a child's bedroom in that the only thing that holds you back is your imagination now that you can learn how to build a man cave on a budget. If you can grab a good supply of pallets, half a dozen tires, and some empty beer and whiskey bottles, you've got everything you need to fully decorate this unique room.
You might also like:
---
Featured Image Credit: Stelmakh Oxana, Shutterstock