14 Free DIY Lumber Rack Plans You Can Make Today (with Pictures)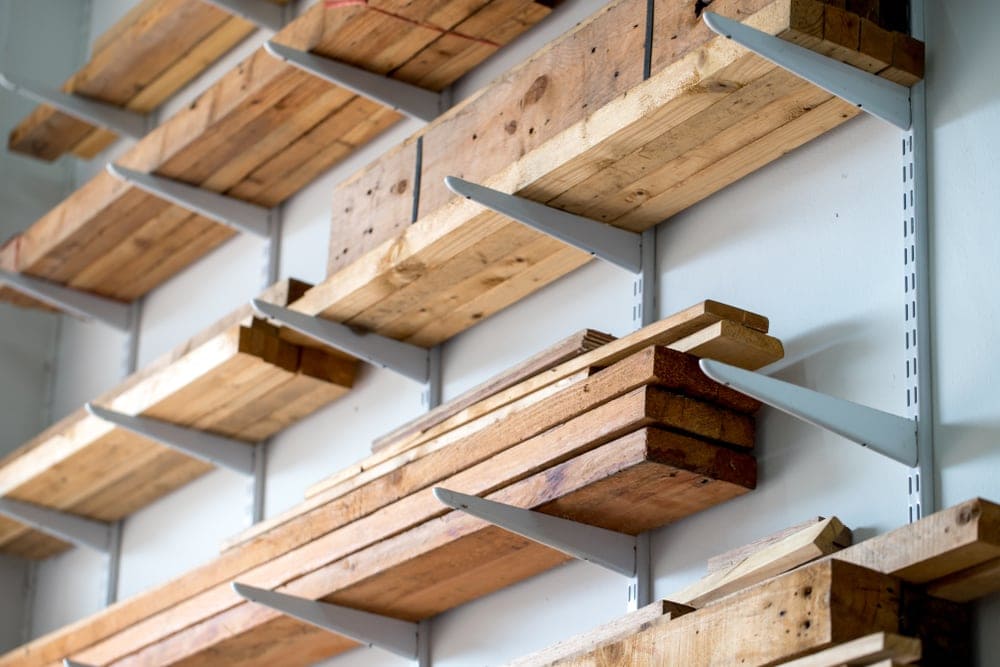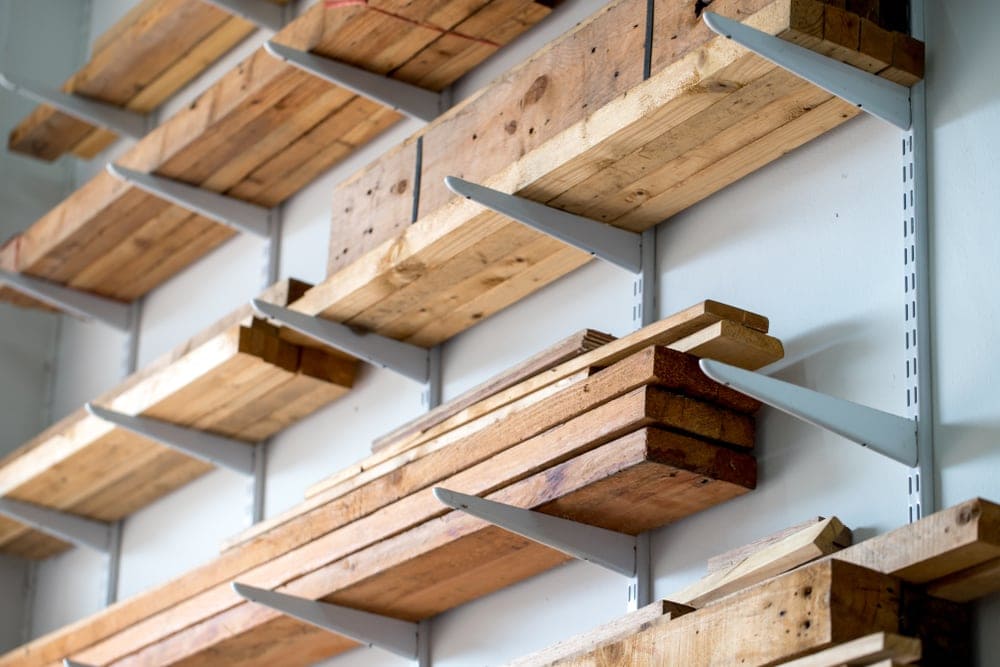 If you are a hobbyist woodworker or a craftsperson, you appreciate the value of a clutter-free workspace. However, storing lumber can be a challenge, especially if you do not have enough room.
But thanks to lumber storage racks, you can store your wood in a neat, easily accessible pile without taking up too much space.
While you could enlist the services of a professional to make a lumber storage rack for you, consider learning how to build a lumber rack to cut costs.
This article goes over 14 ten types of lumber storage racks that you can make yourself. Read on.

Things to Consider When Constructing a Lumber Storage Rack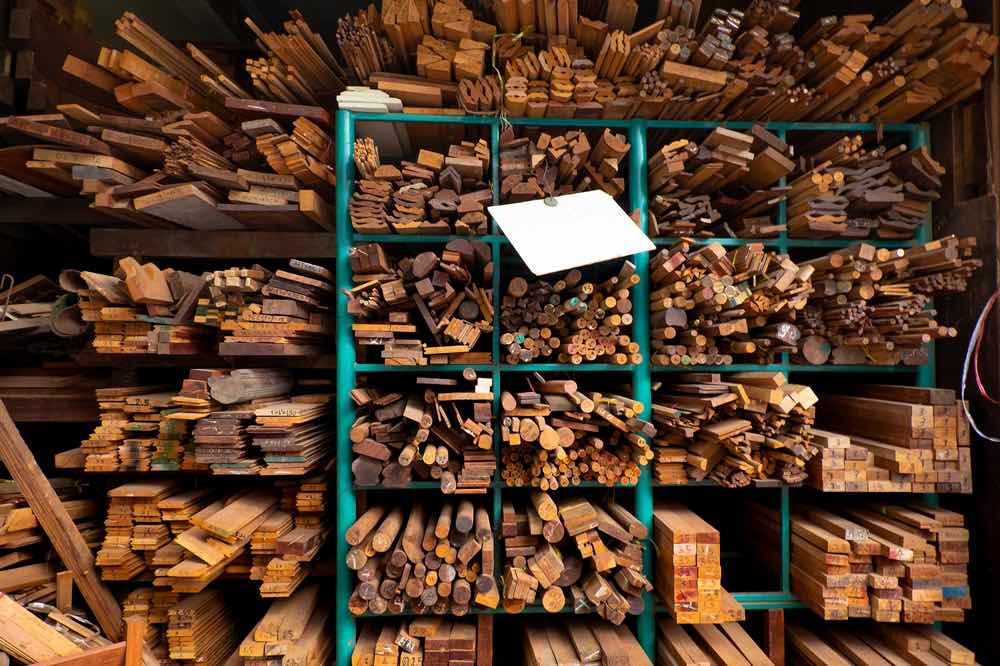 To ensure that you end up with a rack that will serve your needs well, consider the following factors before embarking on the project:
Space
The amount of usable space that you have will determine the size, as well as the design, of your lumber storage rack.
For example, if you have a great deal of space available, you have the freedom to build any type of storage rack that you desire. However, if the space is limited, you might have to look into lumber storage rack designs that can allow you to utilize your walls or even the ceiling.
Cost
Unfortunately, the bigger the rack, the more it will cost you to build. However, do not let that deter you from creating your ideal rack. Be creative and think about ways to obtain quality materials at a low cost. For example, you can find free materials on sites such as Offer Up, Craigslist, and Facebook Marketplace. You can also look around your home for materials that you can recycle.
Purpose
The kinds of projects that you work on require certain types of materials more frequently than others. For example, do you typically use more boards or plywood? Different types of lumber require different storage conditions.

The 14 DIY Lumber Rack Plans
Depending on your needs, the following are convenient lumber storage racks that you can make for yourself:
1.

Ceiling-Mounted Lumber Storage Rack
The ceiling-mounted lumber storage rack allows for storing of longboards overhead. This rack's design also allows you to remove the vertical components from the ceiling easily when not in use.
---
2.

Overhead Lumber Storage Rack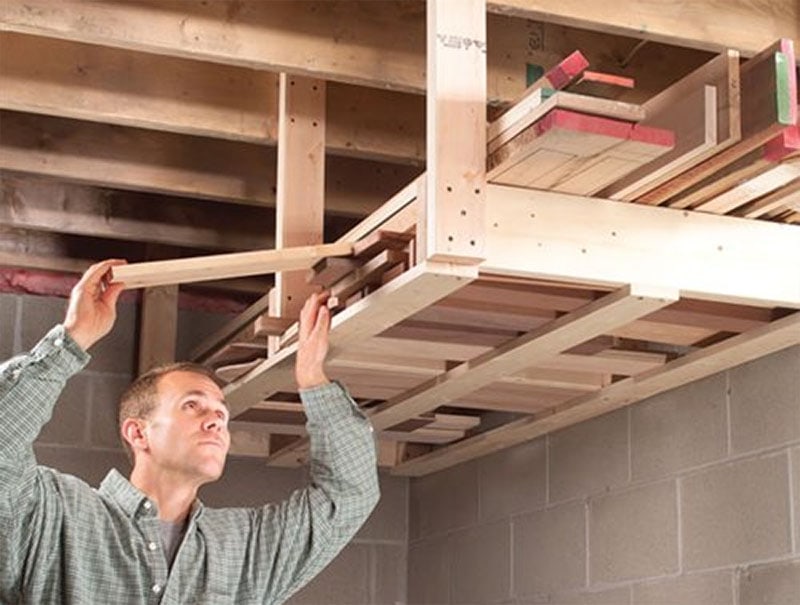 This rack features an intuitive design. Here, you can store your longboards parallel to the rack, while storing the shorter boards perpendicularly. This not only allows for easier access but also for the storage of boards of various sizes. It is also one of the cheapest plans to execute. Additionally, you can use the same design on your wall if placing it overhead is not your cup of tea.
---
3.

Scrap Wood Lumber Rack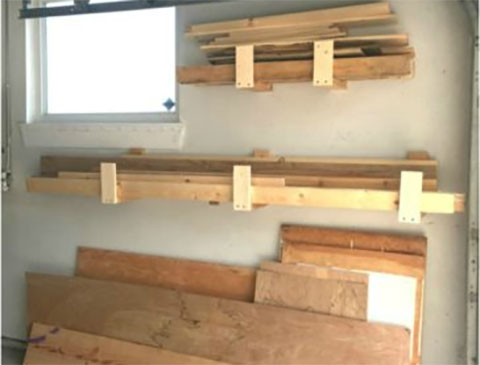 Do not let that scrap wood go to waste, as you can use it to make a rack for your lumber. You can easily make this lumber holder by screwing several 2x4s to wall studs. Be sure to utilize long screws. You can customize the design to either hold long or short pieces of wood, depending on the type that you typically work with.
---
4.

Vertical Lumber Organizer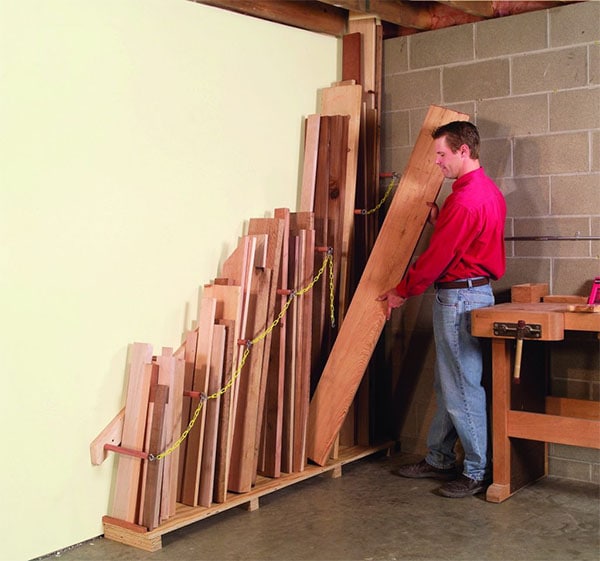 If you feel that you can make the most out of your space by sitting your boards vertically, then the vertical lumber organizer solution is just what you need. It organizes your boards on a size basis. This storage rack requires minimal wood to construct. However, you will need a chain to secure the boards.
---
5.

Pallet-and-Loose Lumber Enclosure Tower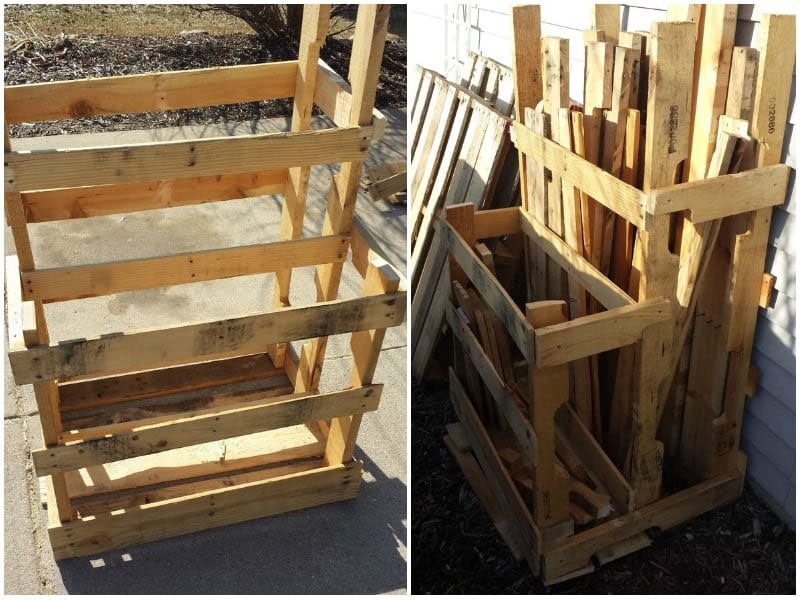 In case you have some pallets lying around, you can use them to make this lumber storage rack. All you need to make this pallet-and-loose lumber enclosure tower are two and a half partially disassembled pallets, which you will then assemble to make a rack.
---
6.

Metal Storage Rack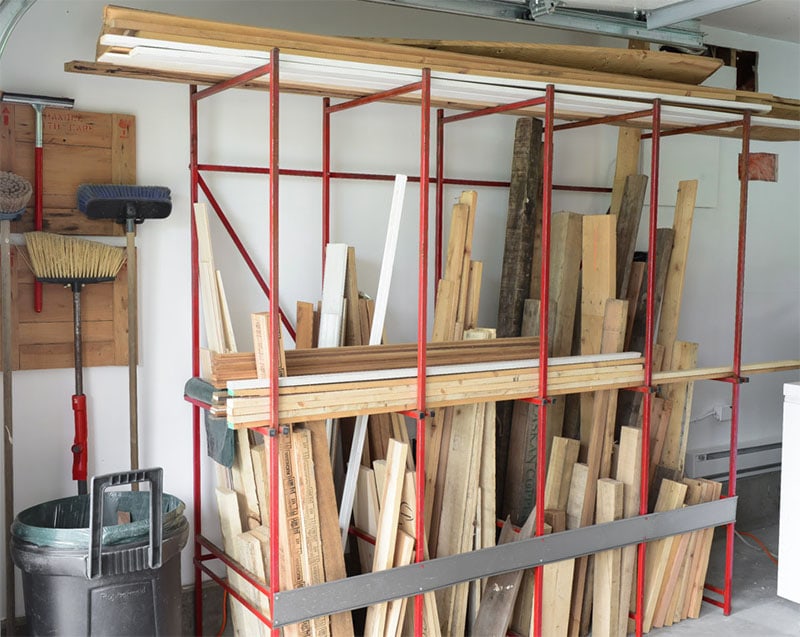 The best thing about metal is that you can purchase it cheaply. If you run into a treasure trove, seize it to make this lumber storage rack.
---
7.

Conduit Lumber Storage rack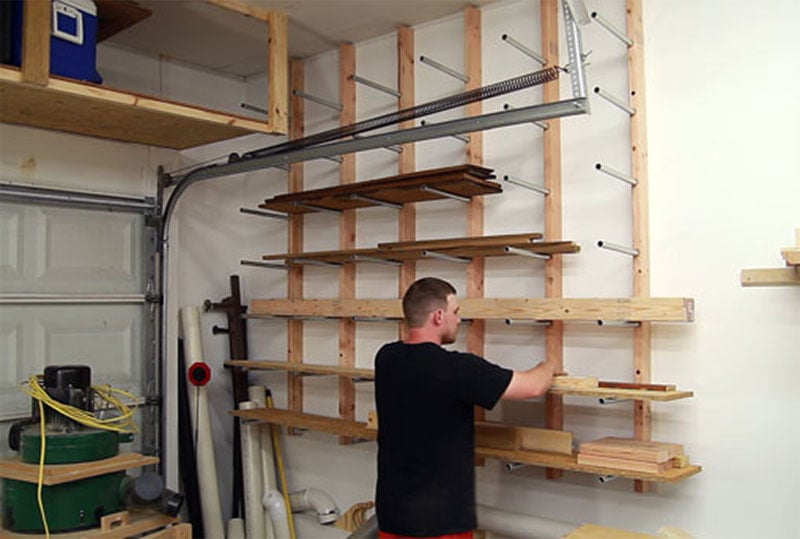 If you are not lucky enough to get metal to recycle but you have ample wall space and height, then consider making this conduit lumber storage rack. The benefit of utilizing a conduit for this purpose is that it is strong enough to hold lumber while being much cheaper than iron pipes.
---
8.

Mobile Lumber Storage Rack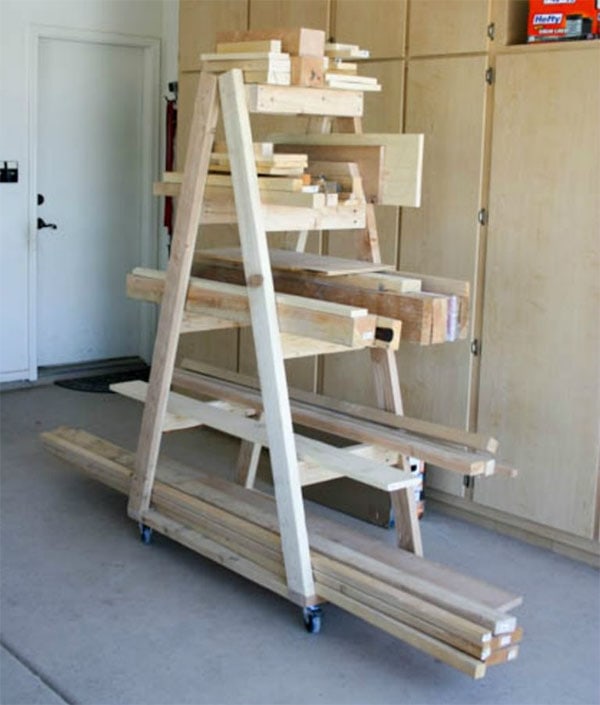 If you prefer a rack that you can move around while holding boards of different sizes, then this simple mobile lumber rack is what you need to construct. All you need are a couple of 2X4s and four wheels.
---
9.

Super Simple DIY Lumber Rack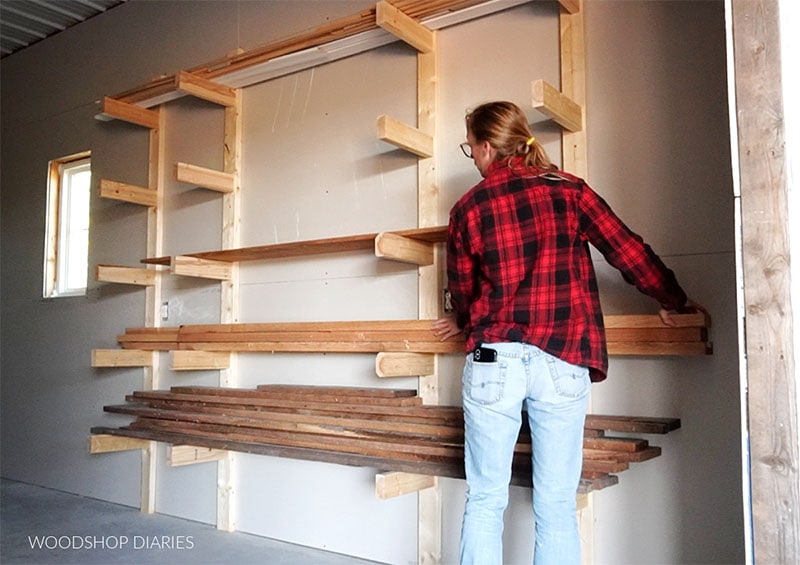 If you need a place to store your lumber but don't want a super complicated and in-depth project, this is the DIY plan for you. It's a simple but extremely effective lumber rack, allowing you to get this project done and then move on to building something a little more fun.
This lumber rack looks great too and doesn't take up a ton of space, but you will need to have an open wall to mount it.
---
10.

Wall-Mount Lumber Rack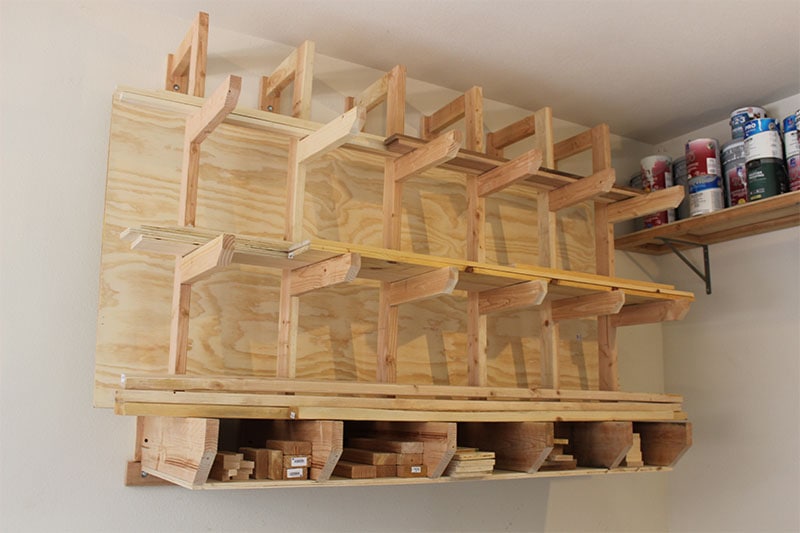 This isn't the simplest wall-mount lumber rack, but it gives you a ton of versatility. The different shelves allow you to sort wood by size or type, and it's incredibly sturdy.
But don't let the initial complicated look of this lumber rack scare you away, this guide from Gadgets and Grain does a great job of walking you through everything you need to know to build it.
---
11.

Easy and Compact Hanging Lumber Rack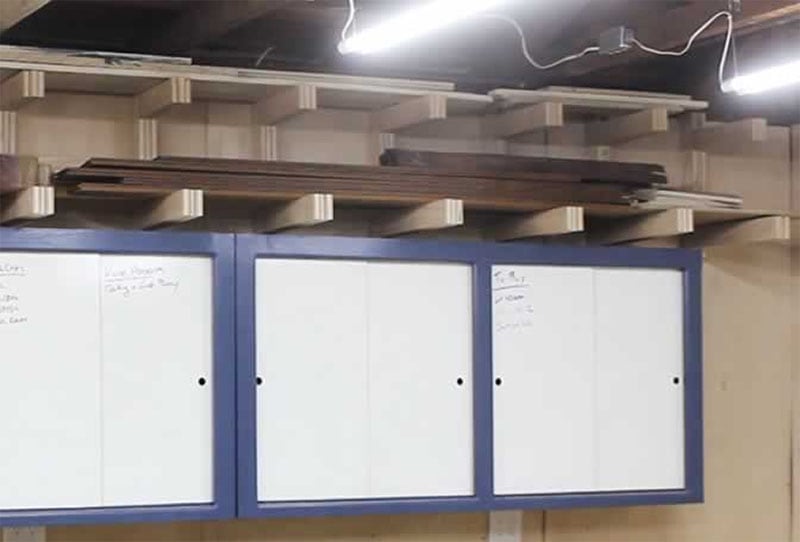 Is space at a premium inside your garage? If so, this is the lumber rack you want. It doesn't take up much space, and it holds a ton of lumber for you. Even better, it's pretty simple to build and won't take up your entire day to get this project done.
Finally, you won't find a more comprehensive guide than the one Arrow Fasteners pushes out for this DIY lumber rack. Not only are the steps extremely comprehensive, but they have tons of videos that walk you through everything you need to build it.
---
12.

Free-Standing Lumber Rack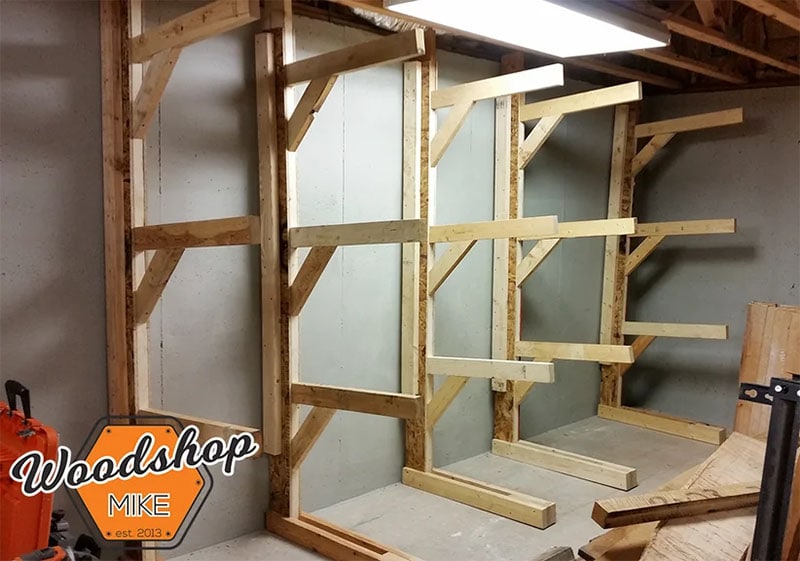 While most of the lumber racks on our list utilize wall space, sometimes the wall doesn't have space or can't handle all that weight. That's where a free-standing lumber rack like this one thrives. It's still not a mobile lumber rack, but you don't need to rely on the wall in your garage or workshop to hold all the weight from the lumber.
Finally, this DIY guide will walk you through everything you need to know to make this lumber rack any size you want.
---
13.

All-In-One Lumber Rack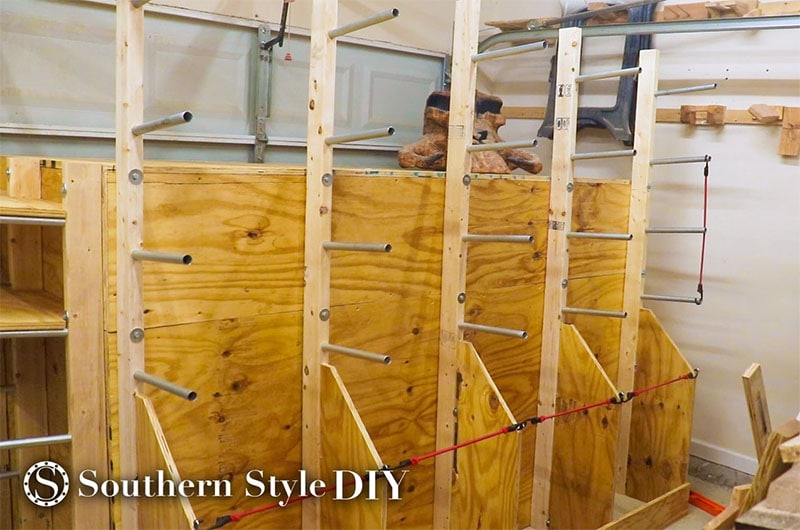 While this all-in-one lumber rack from Southern Style DIY is a pretty comprehensive and in-depth project, when you finish, you'll have an outstanding lumber rack you can use for years to come. Even better, the guide from Southern Style DIY does a phenomenal job of walking you through everything step by step.
It's not a beginner's project, but if you have so much lumber that you need a lumber rack, this probably isn't your first project.
---
14.

Super Simple Rolling Lumber Rack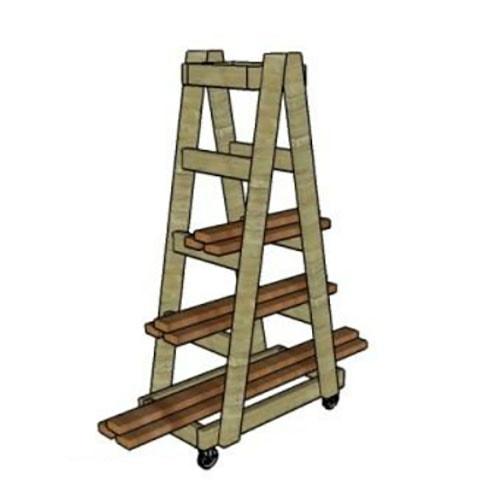 If you need a lumber rack you can move around for different jobs and don't want to spend a ton of time building it, this super simple rolling lumber rack is an outstanding choice. But while it's easy to use and mobile, it still holds a ton of lumber and does everything you could want from a rolling lumber rack!

Final Thoughts
You need to store your lumber properly to not only protect it from damage but also to organize your workspace. Fortunately, learning how to build a lumber rack should be something you could pull off without too much difficulty.
See Also: 10 DIY Saddle Rack Plans You Can Build Today (Free & Paid)
---
Featured Image Credit: JueWorn, Shutterstock