Do You Need a Bed Frame? Benefits & FAQs
The quickest answer to the question, "Do you need a bed frame?" should be an affirmative yes, you do!
But some people prefer placing their mattresses on the floor to avoid straining their budgets. This is because bed frames are quite expensive, yet the floor can provide the needed support. However, such people miss out on a range of benefits that bed frames offer, from improved sleep quality to enhanced bedroom aesthetics.
Today's guide will answer why you need a bed frame for your mattress. We will also look at the positive and negative sides of sleeping without a bed frame to help you decide the best option for your case.

What Is a Bed Frame?
The underlying support structure that holds a spring box and mattress, including the footboard, headboard, legs, and side rails, is known as a bed frame. It supports your mattress by keeping it above the ground, protecting it from dust, moisture, and general floor gunk.
There are different types of bed frames, each offering various decorative and functional aspects. They include the following:
Platform bed frames: Also known as solid foundations, platforms are standard bed frames with wooden panels supporting the mattress instead of a box spring. They offer stable and uniform support with no bounce. As such, they are capable of making softer mattresses sturdier.
Slatted foundations: As the name implies, slatted bed frames use slats to provide support. Such slats could either be solid or sprung. Solid slats are metallic and offer the same support as platform beds.
On the other hand, sprung slats are arched and provide adaptive support. They have a bouncy feeling when pressure is applied to them. As such, they can make firm mattresses feel softer on the body, ultimately improving your sleep quality.
Adjustable bed frames: Besides offering the necessary support for your mattress, flexible bed frames provide a range of comfort setups. An adjustable bed will work best if you want to sleep in a reclined position or elevate your limbs. They create a more comfortable sleep environment, which can be helpful for people on post-surgery recovery or those suffering from chronic pain.

Benefits of Using a Bed Frame
While a bed frame isn't an absolute necessity, nobody wishes to miss out on the following perks it offers:
1.

Support
The primary role of bed frames is to provide support for the mattress. In that case, you should use one to keep your mattress stable, thus redistributing your weight evenly as you sleep. But the floor can do that, right?
Well, the floor can provide even support for the mattress, but bed frames offer different levels of support. For example, a sprung slat foundation can change the feel of the mattress on your back, offering more versatility than the floor.
In addition, some bed frames are specifically designed for a given type of mattress. For instance, sleeping on a foam mattress is more comfortable on a bed frame than on the floor.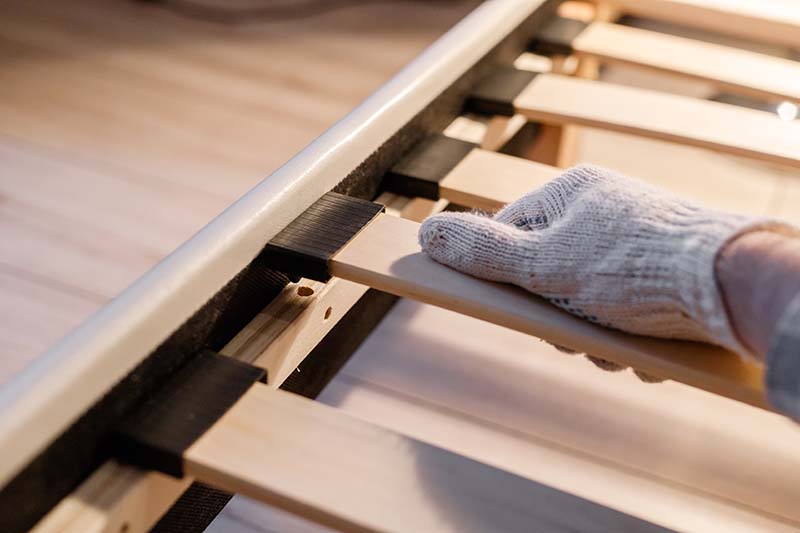 ---
2.

Improved Breathability
A bed frame raises the mattress off the floor, improving air circulation below and around the mattress. Since poor airflow leads to drafts and potential moisture during cold weather, it is imperative to use a bed frame for your health.
It's worth noting that excessive moisture during humid weather can facilitate mold and mildew growth on a bed sitting on the floor. It also creates a breeding ground for dust mites. Because nobody wishes to have mites near their face levels as they sleep, it would be best to allow air circulation beneath the bed – that's where a bed frame comes into play.
Some mattress designs, though, such as the Japanese-style futon mattresses, do not require a bed frame. If you use them, hanging them outside regularly to air out and prevent mold, mildew, or moisture buildup is advisable.
---
3.

Extra Storage Space
Lack of ample storage space is a common challenge in most homes, and bedrooms, to be specific. Thankfully, the space created underneath a bed frame can serve as an excellent space for storing shoes, supplies, home equipment, or out-of-season clothing.
Before storing materials in the under-bed, you must wrap them in a storage bin or bag to keep them dust-free and organized throughout their storage length. Also, ensure you regularly run a dust mop beneath the bed to get rid of dust that finds its way under the bed and around the bins over time. For carpeted rooms, using a vacuum cleaner would be ideal.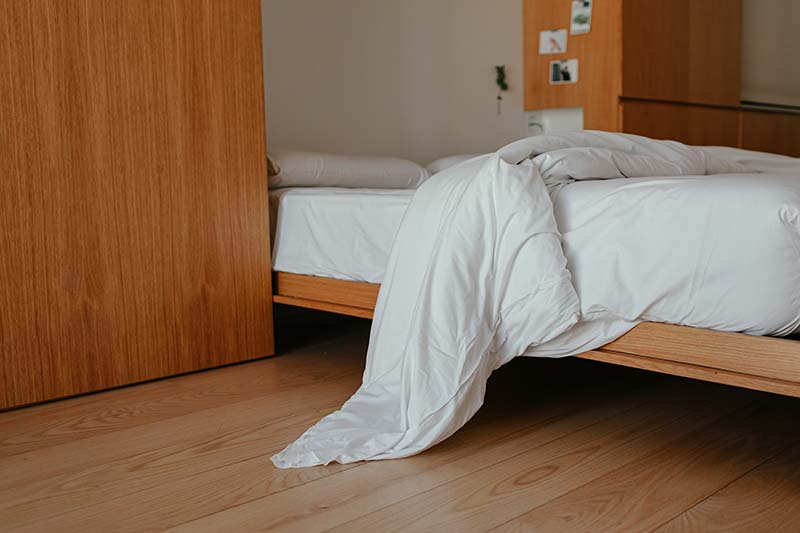 ---
4.

Better Aesthetics
Bed frames elevate your mattress and your room's aesthetics. While it may not be your priority, consider using them to achieve a clean, minimalist look instead of the lazy and messy appearance of laying a bed on the floor.
If you opt for the floor, the entire room will look bare, to say the least. Thankfully, you can change the room's vibe entirely by adding this furniture piece. The best news is several bed frame types offer different beautiful designs—just find what matches your taste!
---
5.

Improved Mobility
Some people find it hard to get into and out of a bed that's placed so low. It's even worse if they suffer challenges limiting their mobility, such as back pain, tender joints, arthritis, and chronic pain. But with a bed frame, their problems are half solved.
Another benefit of added height is the ease and comfort of putting on socks or shoes, lying on the back to read a book, and other essential practices in which people engage. While a child's height can allow them to do such things on the floor comfortably, it's not as much fun for adults.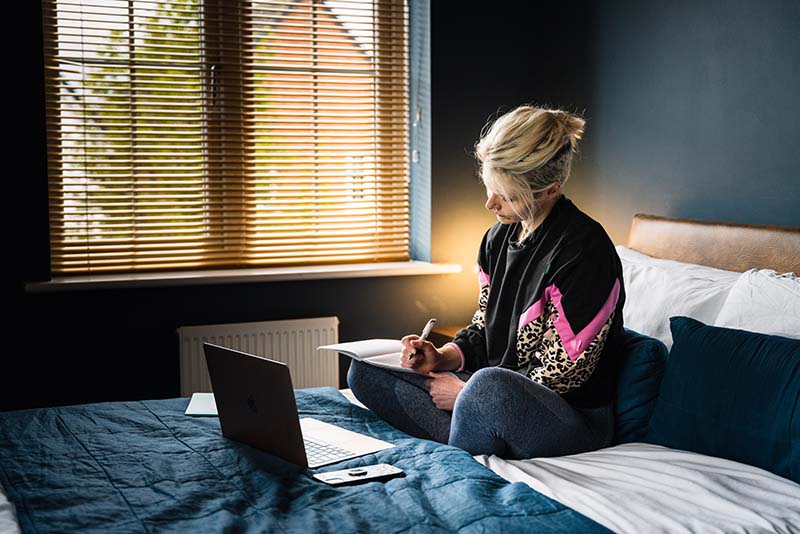 ---
6.

Protects Your Mattress
Mattresses tend to last longer when held by a bed frame because it allows them to breathe, therefore limiting moisture. You must note that water weakens and ultimately damages the mattress material. It also makes your mattress get dirty on the outside and inside.
Furthermore, failure to use a bed frame can void your mattress's warranty. This is true because some brands stipulate that they can't pay for replacement if anything goes wrong with products left on the floor. While 10 years is the average lifespan of a mattress, placing them on the floor can lead to a shorter lifespan, typically ranging from 6–8 years.
---
7.

Box Spring Support
Retailers often sell mattresses and box springs as a set since they are used together. If you put them on the floor without a frame, the box spring could easily move as you use the bed. The bed frame helps stabilize the box spring, keeping the mattress in place.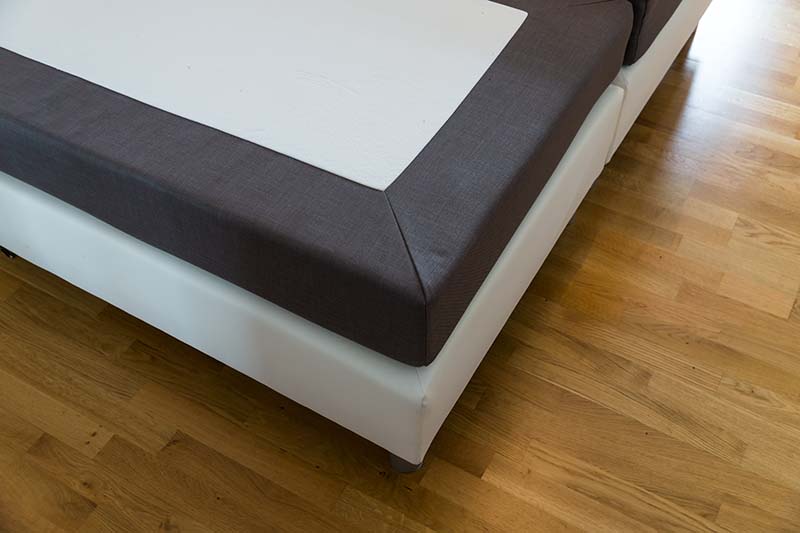 Is It Okay to Sleep Without a Bed Frame?
Research¹ has shown that people who sleep on the floor instead of investing in a bed frame have the following reasons to back up their decisions:
A bed frame is too expensive.
They prefer the support of the floor, citing the quality of sleep as just fine.
They don't care much for marginal comforts.
Beds on the floor don't produce squeaking sounds, except when the floorboards are squeaky.
It's easier to weed out significant others who prefer luxury to simplicity.
While the reasons may sound sensible, they aren't enough to rule out the negatives associated with sleeping on the floor. We do not advise our readers to sleep without a bed frame for the following reasons:
Sharp Pressure Points and Pain
You ought to expect a firmer feel if you place your mattress on the floor. Unlike sprung slats and other bed types, floors provide extra-firm support that can cause sharp pressure points and pain in the back, neck, and waist. Bed frames will make a mattress feel softer on the body, thanks to their bouncy support, which floors don't provide.
Health Hazards
Besides the pains and strains, sleeping on the floor exposes you to potential dust mites, mold, or dust, which pose different health risks such as allergies and diseases. Additionally, sleeping close to the floor can lead to extreme cold or warmth during the night, depending on the season. This ultimately contributes to lower sleep quality than sleeping on an elevated bed.
Sliding Bed
As mentioned earlier, a bed frame helps stabilize the mattress to ensure you get some sound sleep during the night. Since floors don't have boundaries other than the wall, floor beds quickly slide when used, thus creating a poor night's sleep.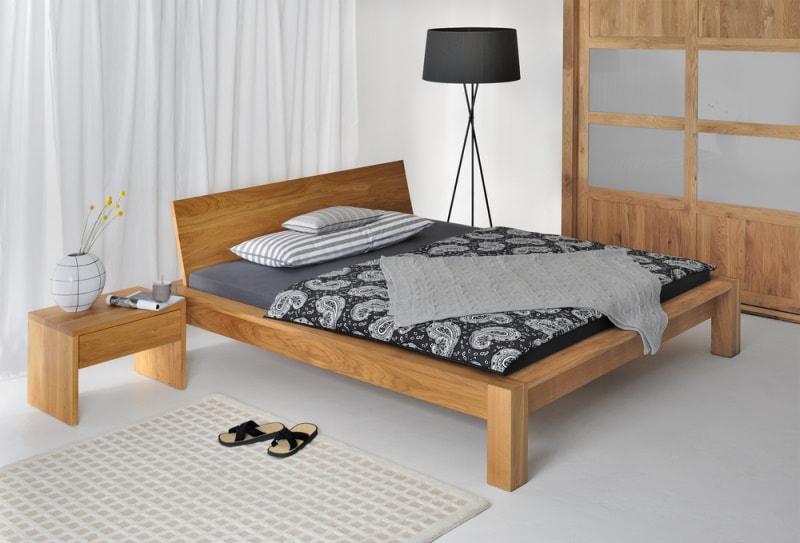 Do You Need a Frame? Wrapping Up
Like a three-piece suit, a complete bed consists of a mattress, box spring or foundation, and a bed frame. However, much like the suit, you can change its setup in many ways to suit your preference. Do you prefer a bed without a frame? It's your choice!
Meanwhile, the key takeaway is that using a bed frame has more benefits than sleeping on the floor. It provides extra storage space beneath the bed, offers even support, enhances the entire room's appearance, protects your mattress, and lets you set up a box spring bed.
We hope this article provided you with insightful information!
---
Featured Image Credit: Jaros, Shutterstock