8 DIY Raised Bed Greenhouse Covers You Can Build Today (With Pictures)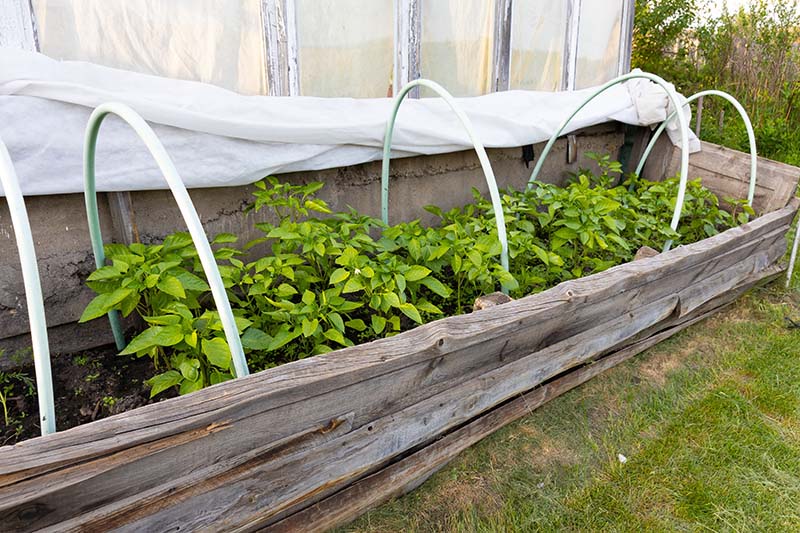 Greenhouse covers are a great way to add some insulation to your garden without having to build large and expensive greenhouses. These covers are put over raised beds to help extend your growing seasons while keeping your soil and plants warm when the temperatures start to drop. Greenhouse covers come in all sorts of shapes and sizes. The good news is that they are simple to build and often cost less than $100 to complete.
Here are eight DIY raised garden bed greenhouse covers you can build today.

The 8 DIY Raised Bed Greenhouse Covers
1.

Simple PVC Greenhouse Cover
| | |
| --- | --- |
| Materials: | 3/4 PVC pipe (70'), T-joints (x14), elbows (x24), four-way connectors (x3), plastic cloth cover |
| Tools: | Miter saw, PVC glue, duct tape |
| Complexity: | Basic |
This PVC greenhouse cover is very simple to build. As long as you have a saw and are able to configure the PVC in the proper shape, you can easily build the frame. When it comes time to put on the cover, you just need to use duct tape (or zip ties) to attach it to the frame. The whole thing is very light and can be easily moved or removed if necessary. The result is a very lightweight and versatile cover that is great for a variety of raised beds. If you are handy, you can easily adjust the design to fit many different types of garden boxes.
---
2.

Raisable Greenhouse Topper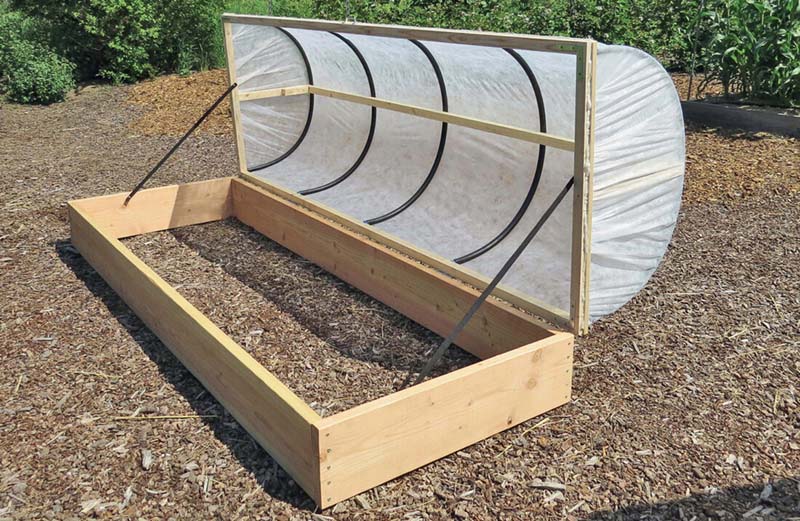 | | |
| --- | --- |
| Materials: | 2x2x8 (x5), wood screws, wood glue, 8' screen molding (x3), 3-½" square hinges (x2), plastic tarp or bird netting to cover, corner braces (x4) |
| Tools: | Pipe cutter, nail gun, drill, screwdriver |
| Complexity: | Intermediate |
Upgrade your gardening game with this raisable greenhouse topper. This topper is light and is able to be easily raised to care for the plants and then put back down when it is time to keep them warm. The arched design is a little tricky to get right, so some experience working with tools, wood, and plans is suggested in order to complete this project. If you want to keep this cover raised for long periods of time, you might want to put this box in a protected area to keep the cover safe from the wind and weather. You don't want your hard work to be damaged by a storm.
---
3.

Adjustable Cloche Cover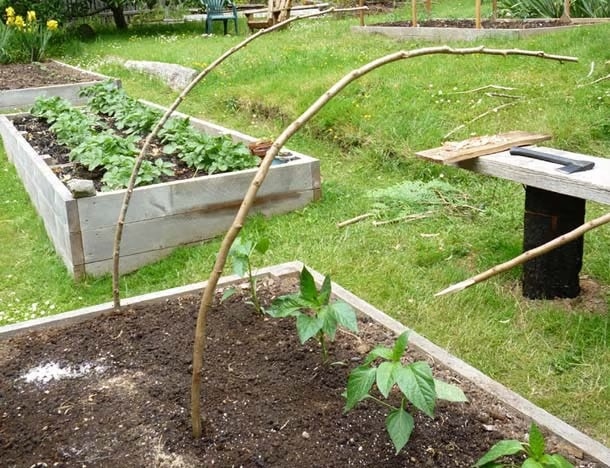 | | |
| --- | --- |
| Materials: | Sticks (or PVC pipes), twine, plastic covering, 1x2x8 |
| Tools: | Miter saw, gloves |
| Complexity: | Basic |
This simple cloche cover can be built from sticks and branches from your yard. All you have to do is bend them into long arches and stick the ends into the soil in your garden beds. Then attach your plastic covering to the sticks via twine. If you do not have an abundance of long, supple sticks lying around, you can also use PVC pipes. You can build as many arches as you need to cover your garden beds and adjust them to fit or match your exact vision. This is a very simple and elegant solution to getting a raised garden bed cover of your own.
---
4.

Old Window Cold Frame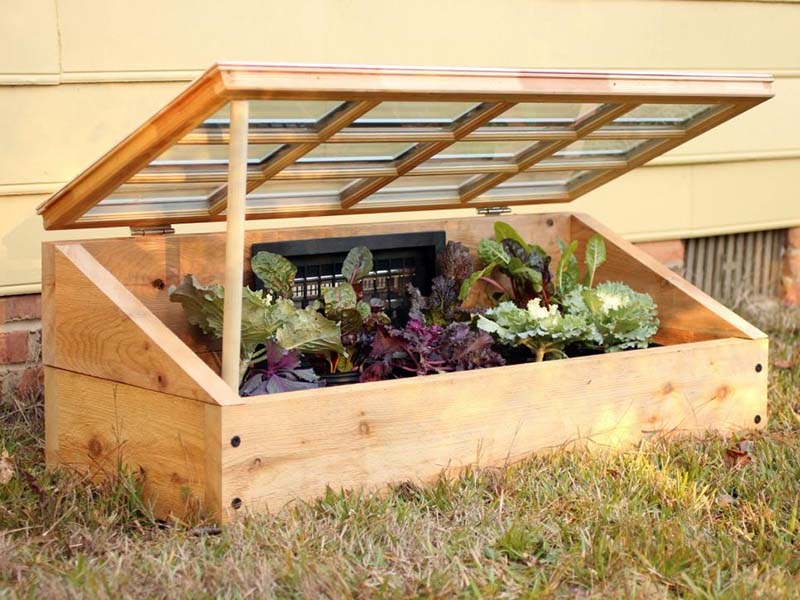 | | |
| --- | --- |
| Materials: | Old window, 2x2x8 (x4), hinges (x2), wood screws |
| Tools: | Miter saw, drill |
| Complexity: | Basic |
This raised bed greenhouse cover repurposes old windows to create a simple and stylish cover. These plans are versatile in that you can follow them and build your own box at the same time, or you can simply apply the window frame cover to an existing garden box. The old windows work to trap heat, look great and recycle materials that would otherwise end up in a landfill. You can adjust these plans to fit any window size if necessary. You can find old windows at architectural salvage shops, antique stores, and estate sales. Be careful working with the old windows so as not to break or crack them.
---
5.

Easy Plastic Cold Frame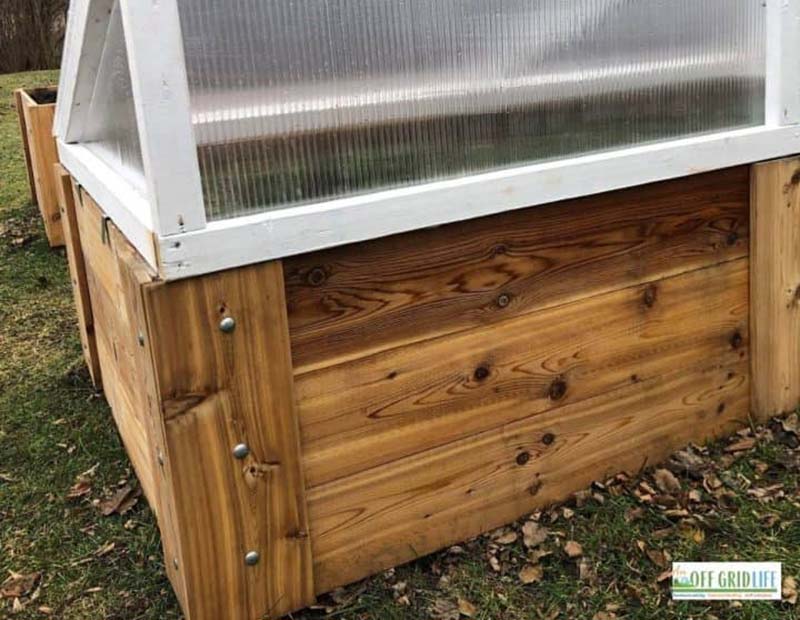 | | |
| --- | --- |
| Materials: | 2x2x8 (x4), stainless steel staples, plastic cover, wood screws, hinges (x2) |
| Tools: | Drill, miter saw, staple gun |
| Complexity: | Basic |
One of the easiest ways to create a greenhouse cover is to build a square frame and stretch a sheet of insulating plastic across it. This basic plan does just that. You can build the cover along with a special box, or you can attach the cover to an existing garden box. The hinges allow you to easily open and close your garden box when you need to. Be careful with the plastic, as it could fade and rip over time. You might want to keep extra plastic on hand to re-stretch the cover if you need to. This is not the sturdiest greenhouse cover, but it is affordable and easy to build.
---
6.

Retractable PVC Cover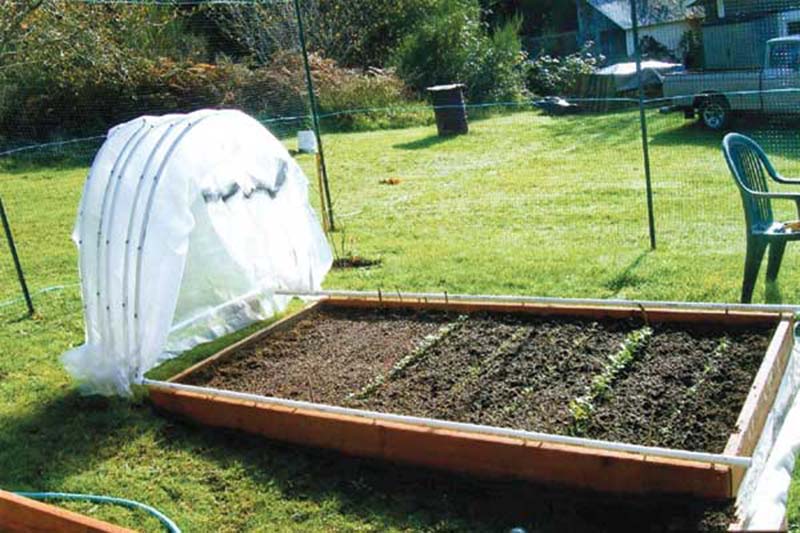 | | |
| --- | --- |
| Materials: | 9' schedule 40 PVC sections (x5), PVC rails to frame garden bed, PVC tees (x10), PVC hoops for rail (x10), plastic sheeting |
| Tools: | Razor blade, drill, PVC glue, pipe cutter, or miter saw |
| Complexity: | Intermediate |
This ingenious PVC cover is retractable. This is a clever twist on the old raisable greenhouse cover design. Instead of raising your greenhouse cover, you roll it back. This is accomplished by attaching a series of arches to a PVC rail frame and then attaching the plastic covering over the top. Creating the frame is fairly simple but maintaining it and getting it to slide properly can be a little tricky. You can adjust the length of the rails to fit almost any garden box.
---
7.

Versatile Cold Frame Squares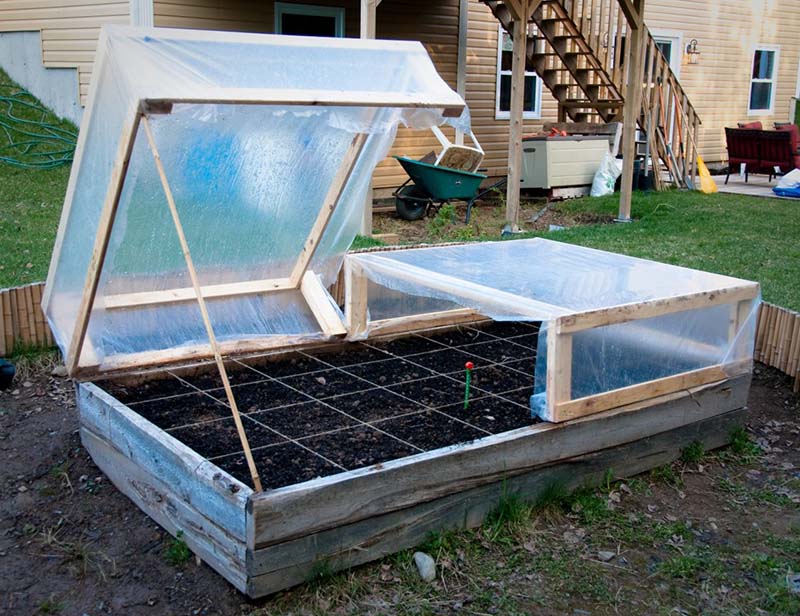 | | |
| --- | --- |
| Materials: | Scrap wood, wood screws, UV resistant plastic covering, hinges (optional) |
| Tools: | Miter saw, drill, staple gun |
| Complexity: | Basic |
This design features a versatile cold frame square that can be configured in a number of different ways. The simplest way is to create a moveable box that you can simply set over your raised beds when you see fit and remove them when you need to. You can also use hinges to attach the covers to the box. The plans call for scrap wood, but you can buy your own wood if you don't have extra lying around. All you need is wood to build a simple box frame to attach the plastic cover. You can build them as large or as small as you need to. The highest expense will be the plastic covering.
---
8.

Spacious Raised Bed Cover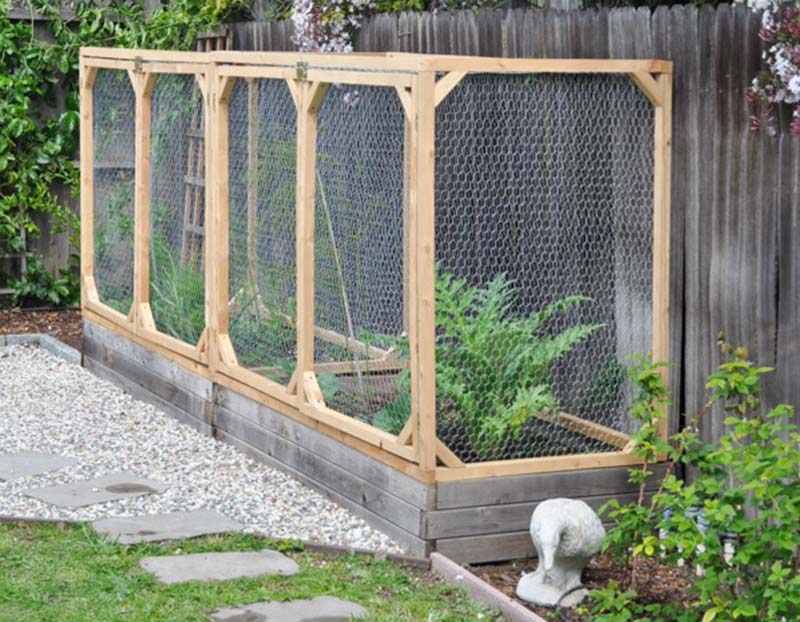 | | |
| --- | --- |
| Materials: | 2x2x8 (x16), hinges (x4), chicken wire, stainless steel staples, wood screws, locking bolt |
| Tools: | Miter saw, drill, wire cutter, staple gun |
| Complexity: | Intermediate |
Many raised bed garden covers are low to the ground, cramped, and do not give you room to work in the bed when the greenhouse is attached. This design changes that by making the cover much larger and more spacious than other similar DIY projects. The original plans call for chicken wire, but you can also swap out the wire for plastic sheathing to create a warmer greenhouse. Even with the chicken wire, this cover will protect your garden beds and add shade to your plants.

Why Use a Greenhouse Cover
Greenhouse covers can transform your raised beds into a year-round venture. Many places have a dead period where plants cannot grow and when seedlings can easily freeze and fail. A greenhouse cover can allow you to plant earlier, maintain existing plants through the winter and start seedlings outside. All of this can help extend the life and utility of your garden, especially in colder places where the growing season is typically only six months out of the year.
If you want to plant earlier, stave off winter, or don't have room to start seeds inside, you might want to consider getting a greenhouse cover. These greenhouse covers work best with existing raised garden beds.
Removable vs. Permanent Covers
There are two types of greenhouse covers for raised beds. There are removable covers that allow you to move, remove, or retract them during the warm months. You also have permanent versions that are attached year-round. Some permanent greenhouse covers can be a pain to deal with during the summer when you do not need the extra warmth and protection. However, many removable covers are fragile and can be damaged or lost if you are not careful. The choice between the two will be up to you depending on your goals, exact garden beds, and the design you feel most comfortable putting together yourself.

Conclusion
These eight greenhouse covers represent all of the major types available to build. They are very versatile and easy to adjust to meet your exact needs for any given garden. People with extra tools and experience can tweak any one of these plans to fit any garden bed. If you have an afternoon, you can easily extend the growing period for your garden by weeks or even months depending on what type of cover you decide to go with.
---
Featured Image Credit: Al.geba, Shutterstock