20 Free DIY Bike Rack Plans You Can Build Today (With Pictures)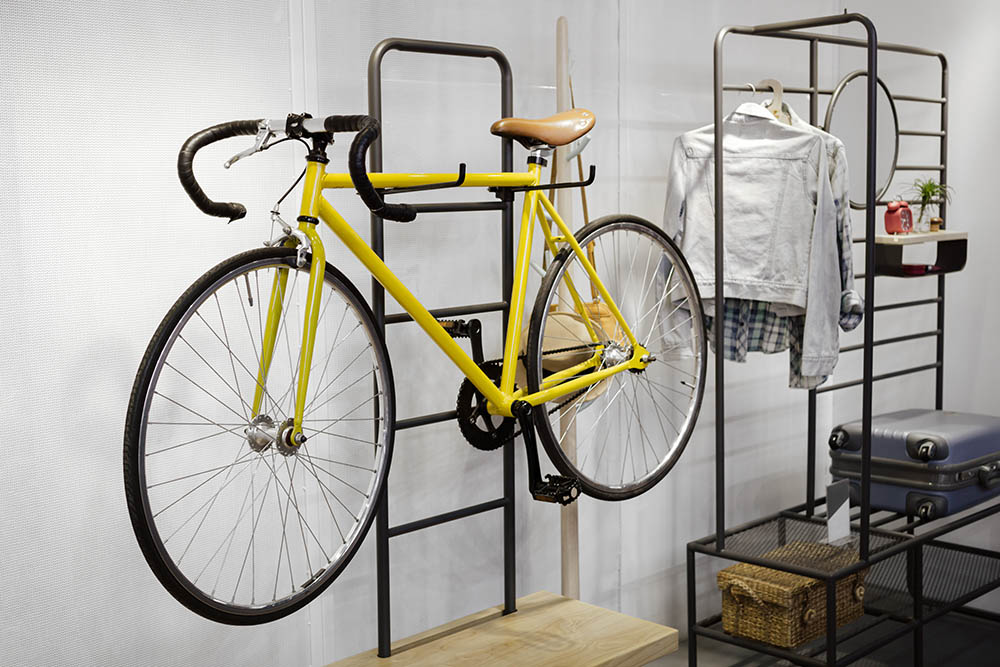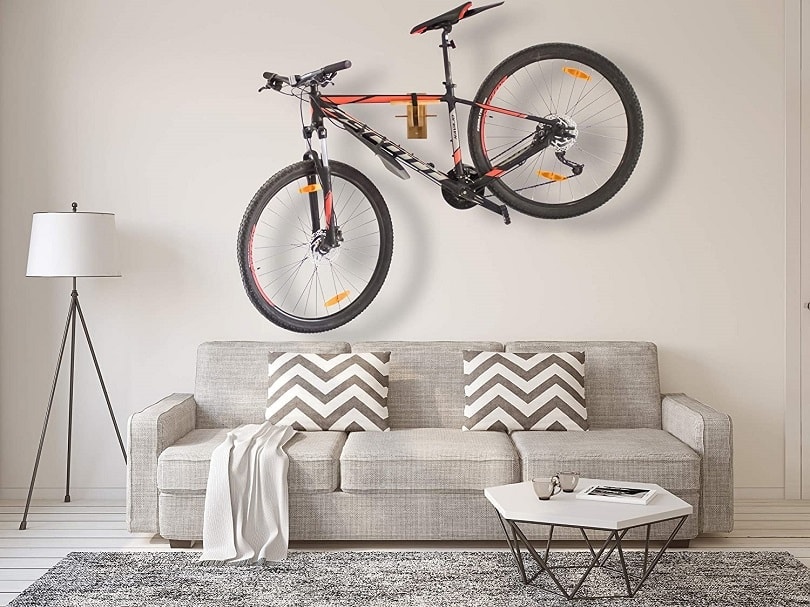 Learning how to ride a bike is one of the loveliest parts of childhood. It is a bonding experience between parents and children and a skill that sticks with you all through life. In today's world of talk on climate change and the renewed importance of healthy lifestyles, many adults have made commuting by bike a daily habit.
However, bikes aren't the most ergonomic when it comes to storage. Having bikes laying around haphazardly in a garage or across an apartment can be annoying and even dangerous. These free plans will teach you how to build a bike rack with a variety of different materials. All of them have detailed plans and materials listed to give you step-by-step guidance towards organization. Scroll down to find one that will work for you and your situation.

The 20 Free DIY Bike Rack Plans You Can Build Today
1.

DIY Bicycle Rack With Helmet Storage from Addicted 2 DIY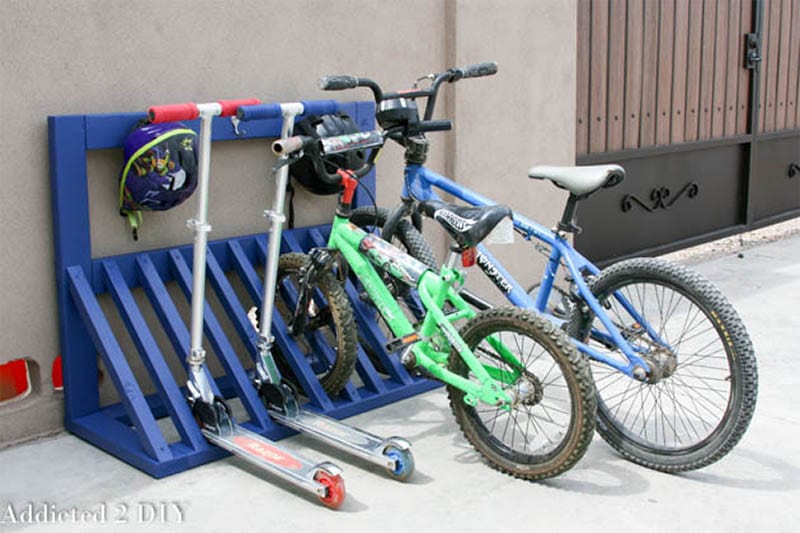 Simple is always a good place to start. This bicycle rack puts safety first since the creator assumed that helmets would need a home as well. The rack is made from wood and doesn't take long to put together. The choice of color is up to you and your kids. Get the plans from the Addicted 2 DIY blog.
---
2.

DIY Bike Stand from Instructables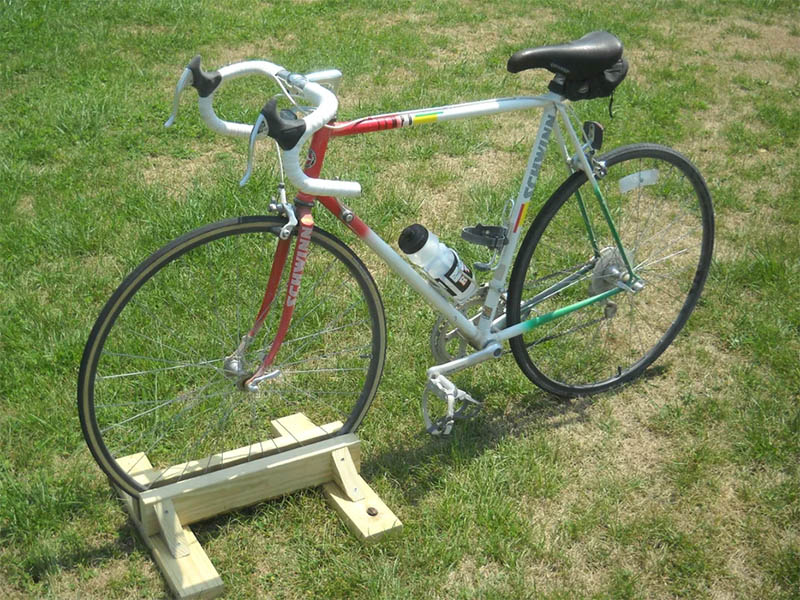 Another simplistic design made for single bikes, especially those without a kickstand. It serves to keep them in place and standing vertically. The small build keeps it out of the way of any other clutter in a crowded space. Use the simple idea from Instructables to solve stability issues.
---
3.

Wall Bike Rack With Plants from Instructables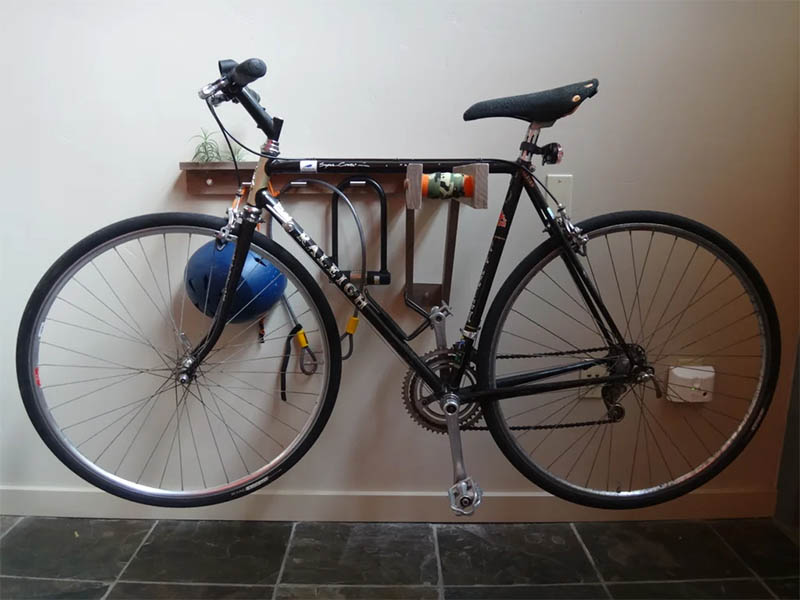 A more complicated one than those before, this is still an easy way to hang up multiple bikes. Hang it up higher to free up some floor space underneath. This design acts partly as a bike rack and partly as a shelf and hanger for other household things. The creator on Instructables suggested topping the shelf with plants to give it a more aesthetic feel.
---
4.

DIY Bike Storage Rack from Single Tracks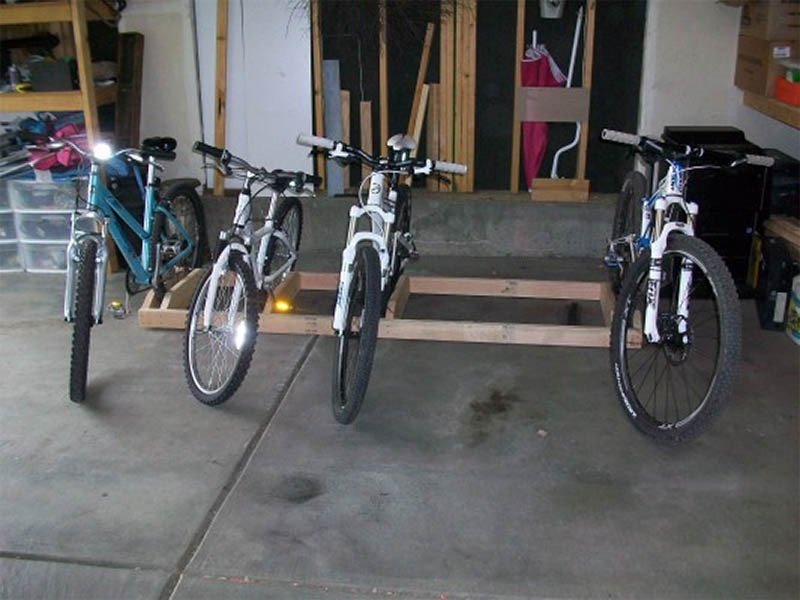 This bike storage rack is especially useful for several adult-sized bikes lined up in a row. It keeps them separated enough to stop them from scratching or bumping into each other. At the same time, it still doesn't take up too much space. Get the idea from the cycling website Single Tracks.
---
5.

EP76 Copper Bike Rack from Homemade-Modern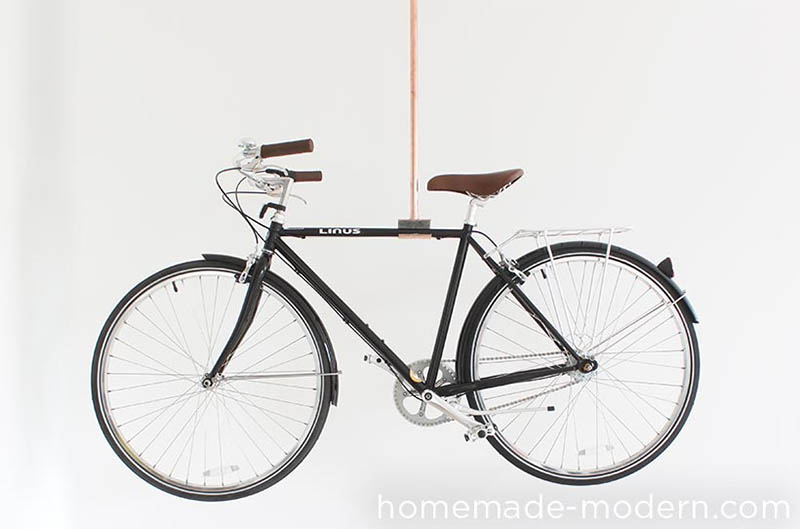 Don't have any floor space left in a small garage or home? No worries, there are plenty of solutions for you. This bike rack is made for single bikes to be hung up. Making more of them side by side will allow you to get more up there if needed. This rack is made with copper pipes and a few other simple materials. Find the full design and details at Homemade-Modern.
---
6.

Bike Rack of Wood from Instructables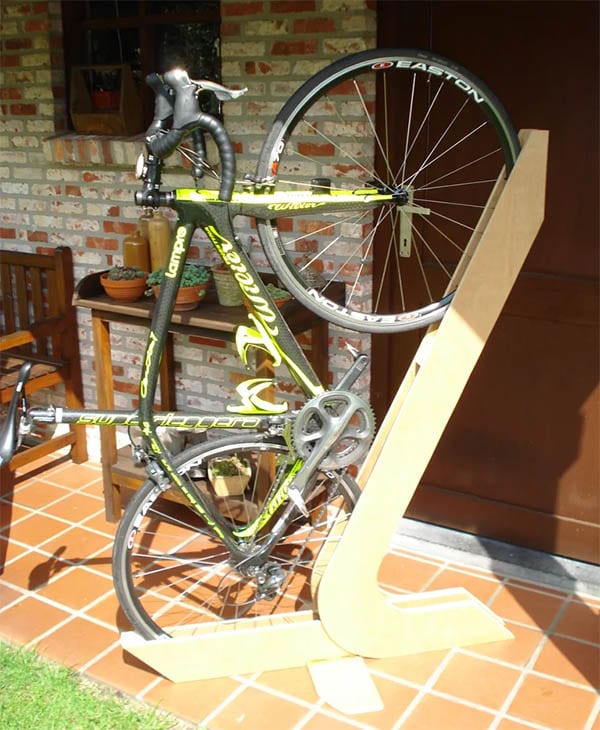 Another wooden idea for a bike rack, this mount has a slanted vertical design. The usability of this intuitive bike rack is down to the type of space that you can use to store your bikes. This may be your solution if you need a way to get them off them mostly off the ground but aren't able or aren't allowed to put holes in the wall to hang this up. Head over to Instructables to find the design.
---
7.

Bike Hook Out of Pipe Fittings from Liv-Cycling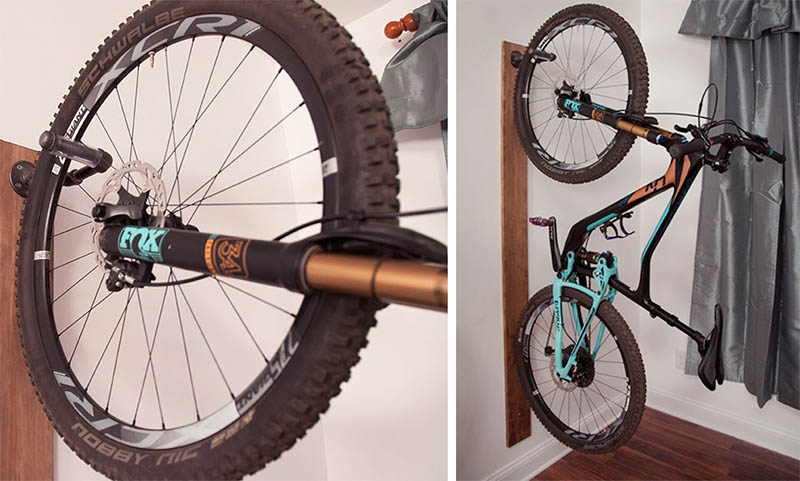 A bike rack with a minimalistic approach and a vintage look. This design comes out more like a bike hook than a rack. It is very easy to slide the bike on and off of the hook, making storage painless. If you have the space to allow the bike to stick out from the wall, you might find this design appealing. Try it out from the online cycling hotspot Liv-Cycling.
---
8.

PVC Bike Rack from Kids Activities Blog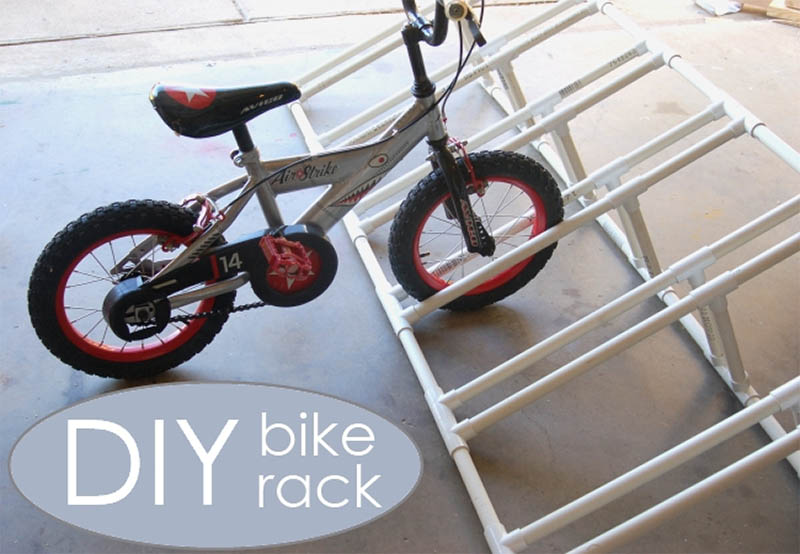 A truly easy install comes when you bring PVC pipes into the mix. This bike rack is quick to make and is a good one to get your kids out to help you. It is also as extendable as you need it, whether you have three or ten bikes to get organized. Kids Activities Blog helps you make this yourself with their detailed directions.
---
9.

DIY Floating Wall-Mounted Bike Rack from Crafted Workshop
Incorporating an aesthetic appeal into a design is never a bad thing. This bike rack design gives itself a floating feeling. It may need to be dimensionally fitted to work with the center rods of your bike. If this is the one for you though, this is very doable. Check out the design and dimensions given at the Crafted Workshop and then change the dimensions to fit your bike.
---
11.

DIY Crib Rail Bike Rack from Kelly Leigh Creates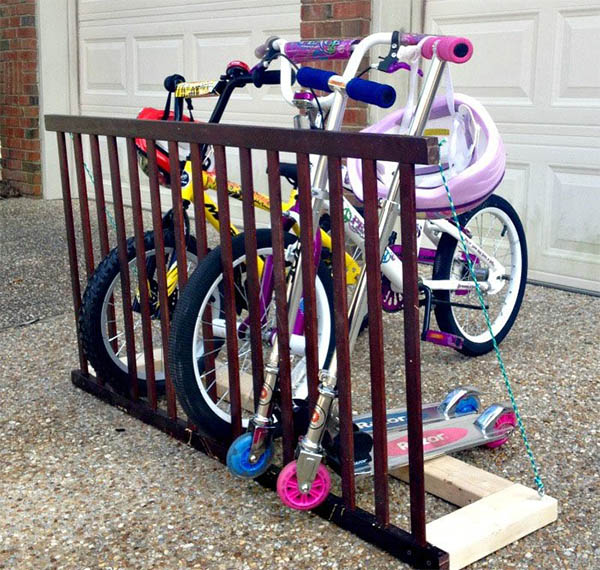 We have cycled through some very creative ideas, however, this one cuts the cake. Kelly Leigh recycled an old crib instead of just throwing it into the dump. She takes one of the rails from the outside of the crib and gives a useful guide of how to convert this into a useful bike rack for adults and kids alike.
---
10.

DIY Wall Mounted Bike Rack from DIY Huntress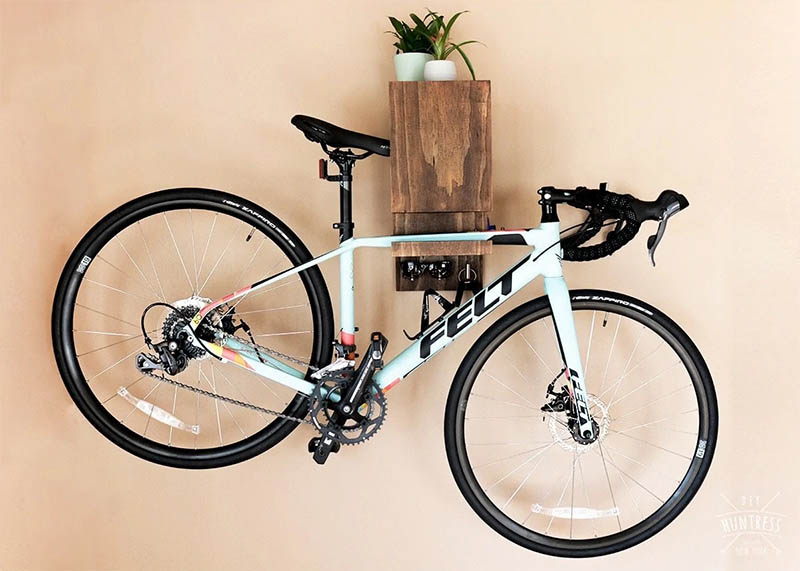 Being dual-purpose has its charms in the world of DIY. Sam from the DIY Huntress has taken the idea of a wall-mounted bike rack and turned it into a small shelf on the top as well as designing one inside the middle square. This way, you can store your helmet close to the bike and keep everything even more organized. Head to the DIY Huntress blog to try this yourself.
---
11.

Simple Pallet Bike Rack from Instructables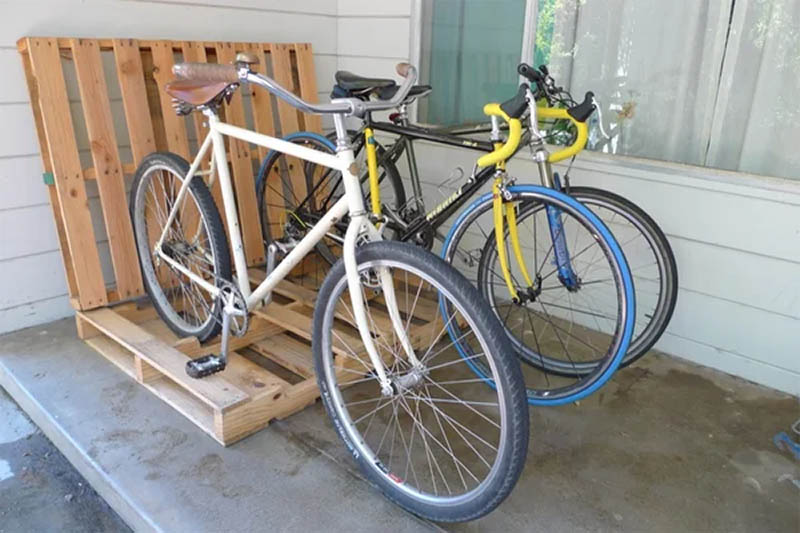 As you have seen with some of these designs, recycling is the name of the game. When it comes to DIY, one of the big benefits is keeping the build cheaper than if you would have had to go out and buy the product. This pallet bike rack accomplishes just that. Extremely cheap and easy to make. Just follow the directions on Instructables to nail it.
---
12.

Truck Bed PVC Bike Rack from Instructables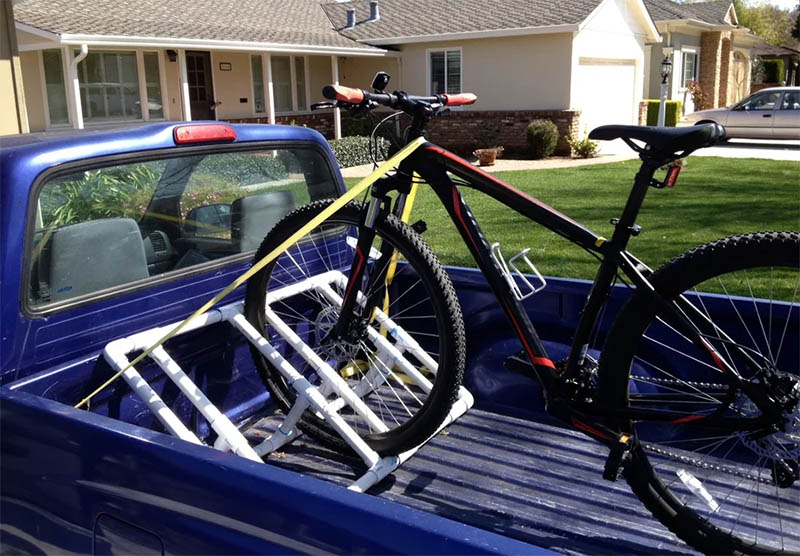 Not everyone has room in their homes or garages to store their bikes. Or perhaps you take your bike to the mountain or track so often it doesn't feel worth it to bring it indoors all the time. Either way, making a small PVC bike rack to fit in the back of your truck is an easy way to allow frequent transportation. Instructables has the design if this is the way you choose to go.
---
13.

Old Handlebar Bike Rack from the REI Blog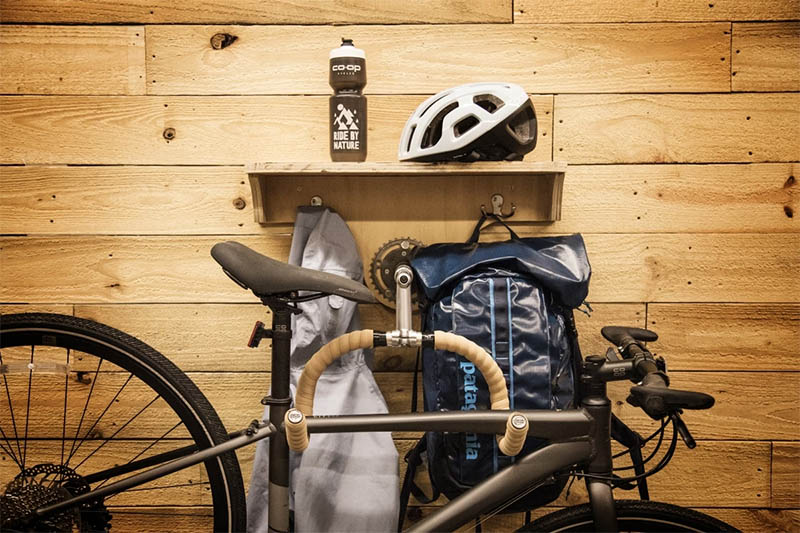 Those who cycle frequently may be excited at the opportunity to salvage something from a bike that is worn out. You may also find old handlebars from a local bike shop. Once the materials have been found, putting it all together is a breeze with REI's detailed instructions and the photos included for every step.
---
14.

DIY Bike and Scooter Rack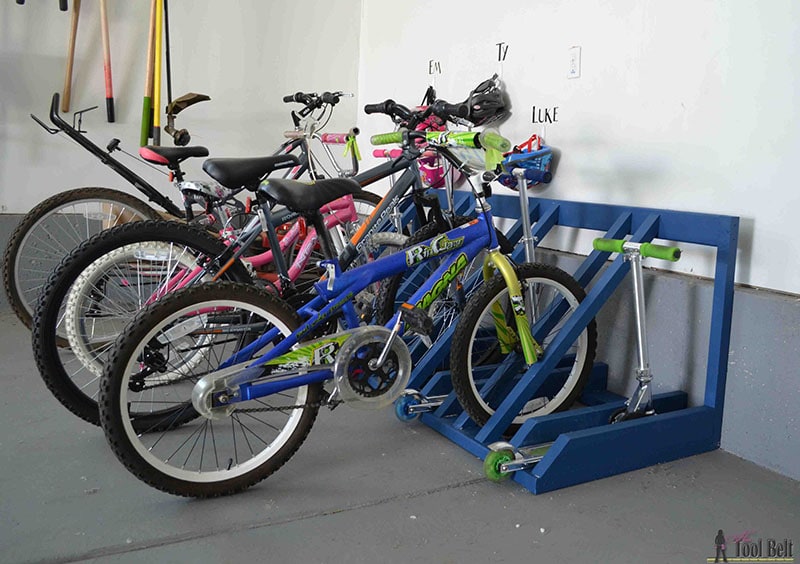 The DIY Bike and Scooter project is perfect for people who want to store their bikes in the garage. It holds four bikes but is easy to customize for more or less, and you build it using mainly 2×4 and 2×2 boards that are easy to find at your local home improvement center. The step-by-step instructions are easy to follow, and there are no difficult cuts, so most people can complete it in a day or two, even if they are a beginner.
---
15.

Vertical Bike Rack by 3Dwarehouse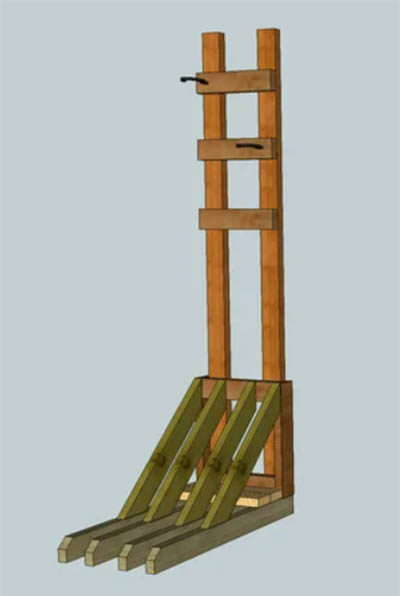 The Vertical Bike Rack by 3Dwarehouse holds two bikes vertically side by side. It's extremely durable and isn't hard to build. The instructions are downloadable and easy to follow. After you build it, you can finish it with stain or paint to match your interior. It uses less wood than some other designs, so it's less bulky and can fit in a smaller area.
---
16.

Basic Bike Rack From WordsNWood
The Basic Bike Rack from WordsNWood is similar to other bike racks on this list but smaller, so it's less expensive and easier to build and doesn't take up much space. The author uses 2×3 and 2×6 boards to make it, which you can find at your local home improvement center, and there are plenty of images to help you know that you are doing the right thing while you work.
---
17.

DIY Wall Mount Bike Rack From The Handyman's Daughter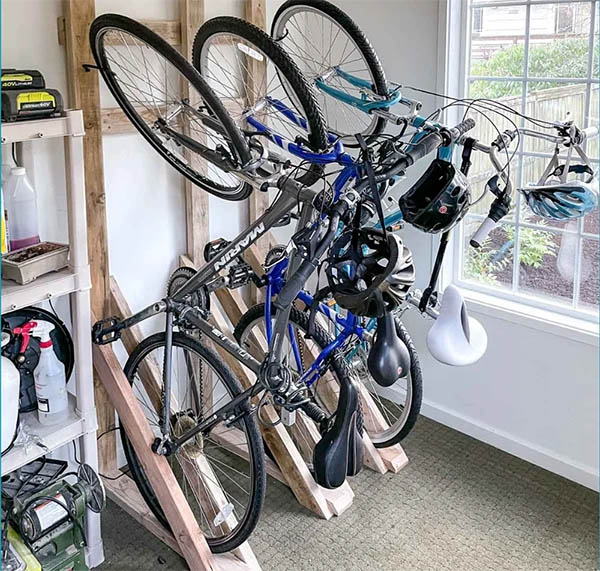 The DIY Wall Mount Bike Rack from The Handyman's Daughter is a fantastic plan that you can use to hold three bikes side by side in a vertical position. It's attractive and effective, and since you mount it to the wall, it doesn't require much wood, nor is it hard to build. The author uses 2×4 boards that are common and easy to find, along with bike hooks to keep the bikes secure. The instructions are easy to follow, and you can build it in a few hours.
---
18.

Simple Bike Rack From Family Handyman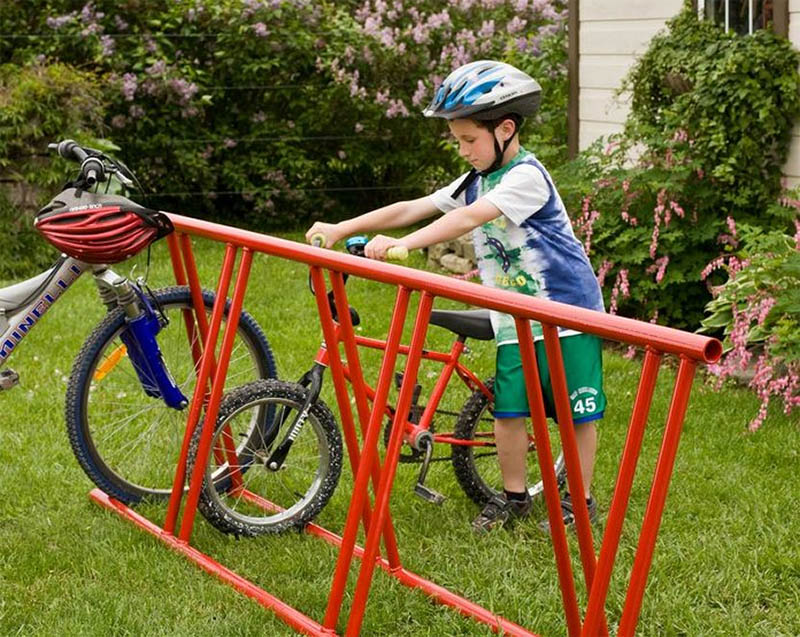 The Simple Bike Rack from Family Handyman uses steel pipes to make an extremely durable bike rack that can hold several bikes and last many years. It's not too difficult to build but requires cutting and welding pipes, so it's not as beginner friendly as most other plans. If you have the tools, though, the instructions are easy to follow, and you can complete the project in a day or two.
---
19.

This Old House Mobile Bike Rack
The This Old House Mobile Bike Rack is a great project if you want to store your bikes without putting holes into the wall. The castor wheels make it easy to move around, and you can get behind it to clean. It's easy to build and only takes about 2 hours to complete once you have all the materials. Adding paint or stain will help it look great in any room. The only downside is that it won't hold larger bikes.
---
20.

Bunnings Workshop Portable Bike Rack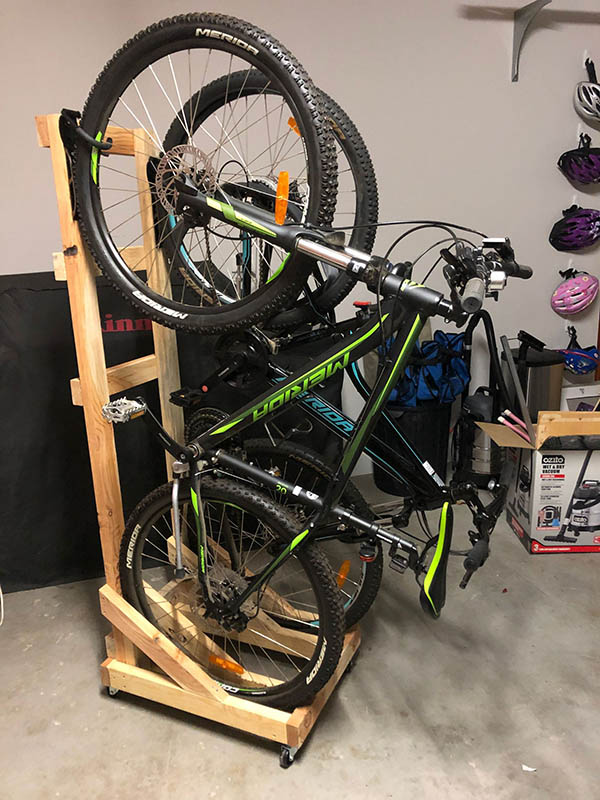 Bunnings Workshop Portable Bike Rack is a portable rack similar to the last project but is better suited to adult-sized bikes. It enables you to store two bikes in a tight space. The author explains how to find the right size for the rack and shows you how to build it in just six steps. Several images will help you follow along, and the finished product is durable and surprisingly maneuverable, even while holding bikes.

Conclusion
We hope that you have enjoyed learning how to build a bike rack of your very own with one of these interesting and innovative plans!
You might also be interested in: 
---
Featured Image Credit: ezphoto, Shutterstock