10 DIY Hummingbird House Plans You Can Build Today (With Pictures)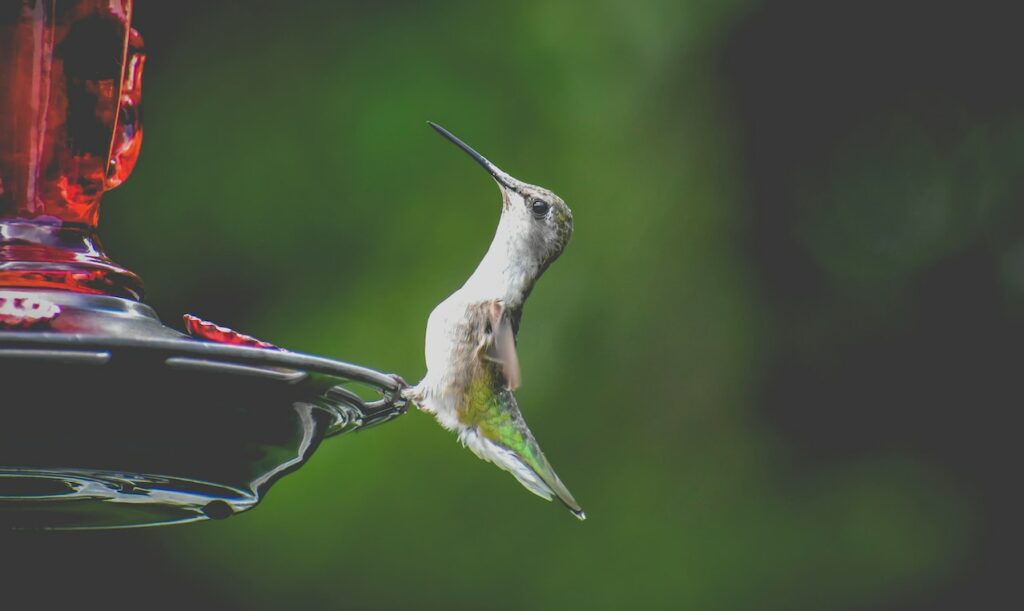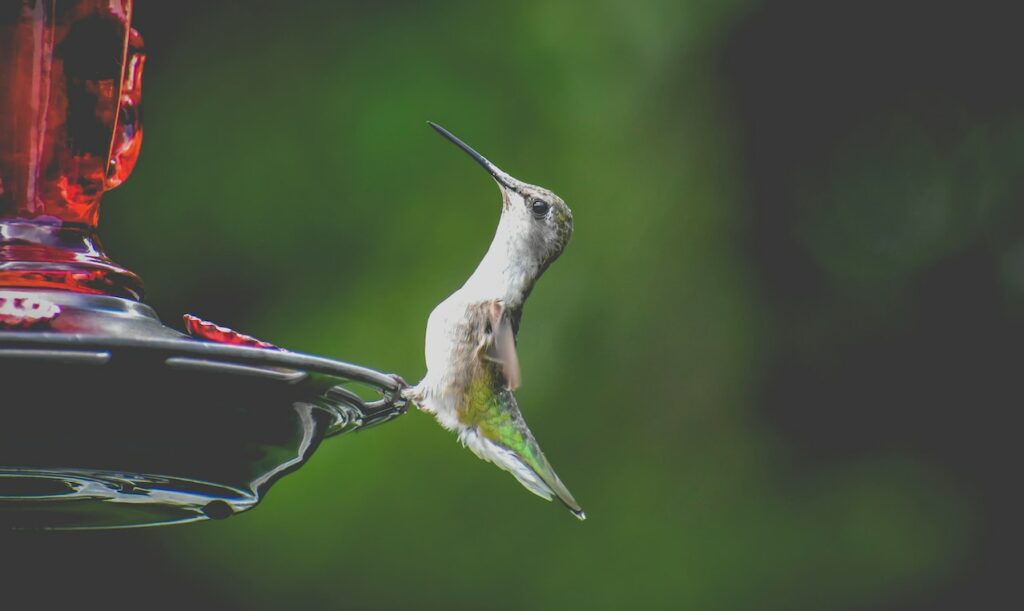 There's no mistaking a hummingbird the first time you see it flitting around your yard. Their speed is lightning fast as they dart flower-to-flower. The essential thing to remember is that it isn't merely building a hummingbird house that will have them moving into your yard. Birds, like other wildlife, need a place that covers the basics of food, water, and shelter.
Fortunately, flowers cover the first two. The best way to attract hummingbirds is with some desirable plants, such as Cardinal Flower, Wild Bergamot, and Beebalm. All are either orange or red. There are also tubular-shaped flowers that make it easier for hummingbirds to get to the sweet nectar; their unique shape also helps them avoid competition with bees and butterflies.
The last essential item is providing shelter. Each of these plans teaches you how to build a hummingbird house. Bear in mind that hummingbirds are quite territorial, unlike social or colony nesters like Purple Martins. Your yard will host one pair only. The female does all the work of raising her young, of which she may have one or two broods. However, you and your family will enjoy watching their new lives unfold. Let's get to the houses!

The 10 DIY Hummingbird House Plans
1.

Simple Cedar Hummingbird House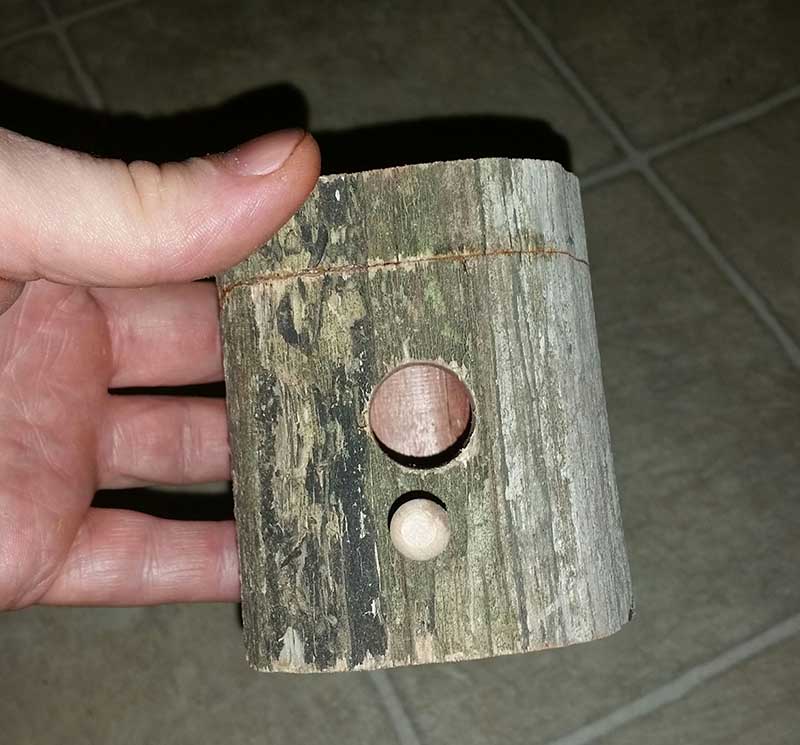 | | |
| --- | --- |
| Difficulty: | Intermediate |
| Supplies Needed: | Cedar wood, dowel/stick, chop saw, drill, clamp |
If you don't want to spend a ton of time on it, try this simple cedar hummingbird house. You can use leftover cedar wood or poles as the raw material, and you just need a few basic woodworking tools and the corresponding know-how. The plan notes that you don't need a drill press but that it makes the job go much smoother than just a lone drill.
---
2.

Wool & Foam Hummingbird Nest
| | |
| --- | --- |
| Difficulty: | Intermediate |
| Supplies Needed: | Foam ball & board, felt, felting needles, wool, moss, sticks, burlap string, feathers |
If you're good at sewing, give this wool-covered foam hummingbird nest a try. Using foam as a base, you'll attach a comfortable, warm layer of wool to create a more open home that hummingbirds will flock to. Burlap string and feathers help add a naturalistic touch that birds enjoy, but you can get as creative or as basic as you want, depending on what you have on hand.
---
3.

Private DIY Hummingbird House
| | |
| --- | --- |
| Difficulty: | Easy |
| Supplies Needed: | Balloon, papier-mache paste, newspaper, awl, glue, fuzzy material |
If you can't sew or work wood but love papier-mache, you can build this secluded hummingbird house in no time. You just need papier-mache paste, a balloon, and some other really basic stuff. You can use nearly anything downy or fluffy to finish the house, but the plan recommends using silk leaves, plant fibers, feathers, or actual down.
---
4.

DIY Terracotta Pot Hummingbird Home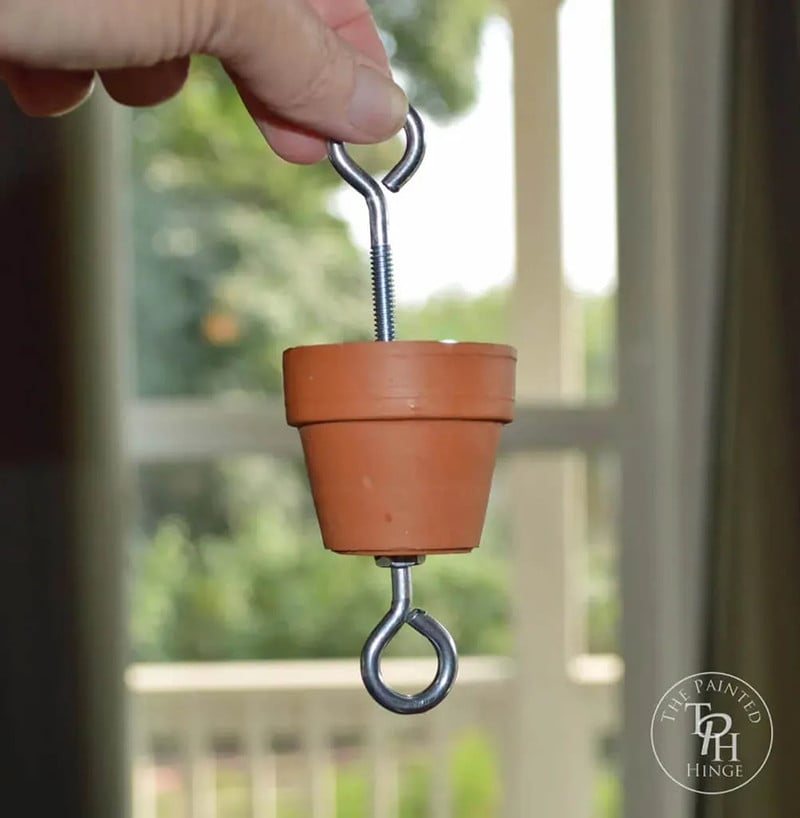 | | |
| --- | --- |
| Difficulty: | Easy |
| Supplies Needed: | Small terracotta pot, watertight silicone sealant, eye screws, coupling nut |
Technically designed as an ant guard for a birdhouse, you can adapt this plan into a mini terracotta condo for local hummingbirds. It takes very little gear to make, and it hangs from nearly anywhere. You can fill it with water to act as a feeder or fill it with fluffy material to encourage hummingbirds to nest in it.
---
5.

DIY Hummingbird Perch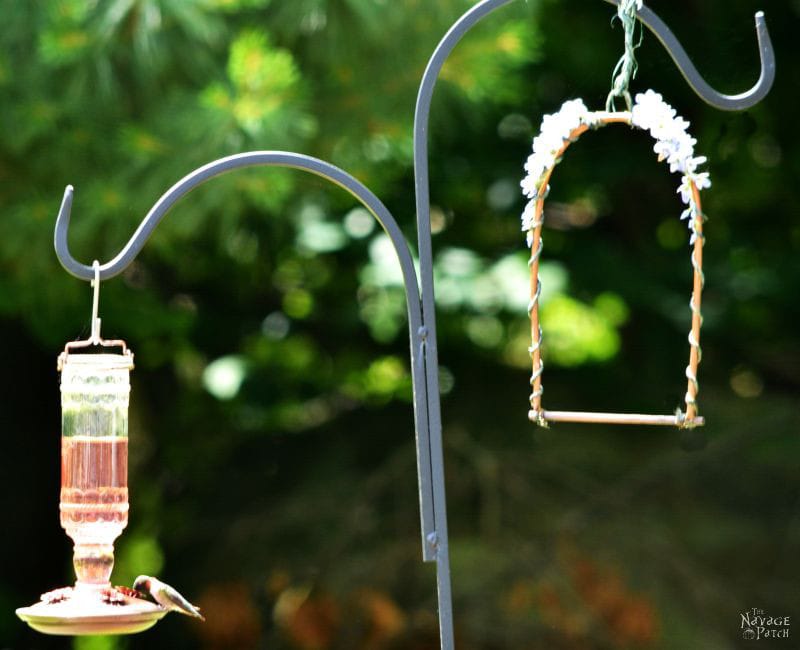 | | |
| --- | --- |
| Difficulty: | Easy |
| Supplies Needed: | Dowel, floral wire, copper pipe, faux greenery |
Hummingbirds prefer open spaces, which makes this simple DIY perch a great idea if you want to give them somewhere to rest in your garden. With just a dowel and some other assorted bits, you can put this perch together in just a few minutes. If you want to attract more birds, you can make more than one and put them near each other to create a bird hangout spot.
---
6.

DIY Upcycled Birdhouse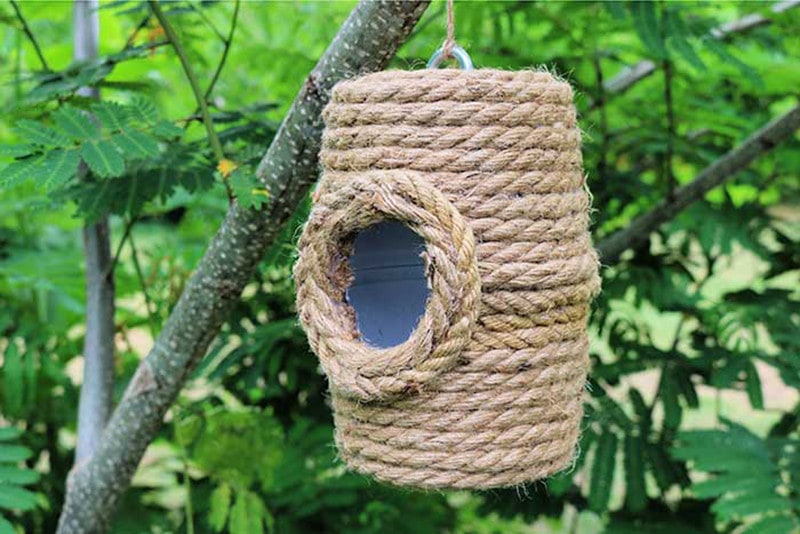 | | |
| --- | --- |
| Difficulty: | Easy |
| Supplies Needed: | Empty margarine/plastic tub, old rope, eyehook |
If you hate buying new stuff and love upcycling, this birdhouse made from recycled materials is right up your alley. With an empty margarine container or other wide, hollow container, you can quickly cobble together a beehive-style birdhouse that birds will love. It mentions that you can use nearly anything you have on hand, so don't hold back!
---
7.

DIY Multi-Unit Hummingbird Complex
| | |
| --- | --- |
| Difficulty: | Expert |
| Supplies Needed: | Scrap wood, chop saw, drill, pneumatic nailer, Fortsner bits, screws, wood glue, nails |
If you're confident in your woodworking skills and have some scrap wood floating around, put some of it to use for this DIY multi-unit hummingbird house. It takes a lot of carpentry know-how to properly join the various pieces, but the cuts are fairly basic and easy to make. This plan has very detailed instructions that you won't have any problem following, so get to work ASAP.
---
8.

DIY Open Bird Box House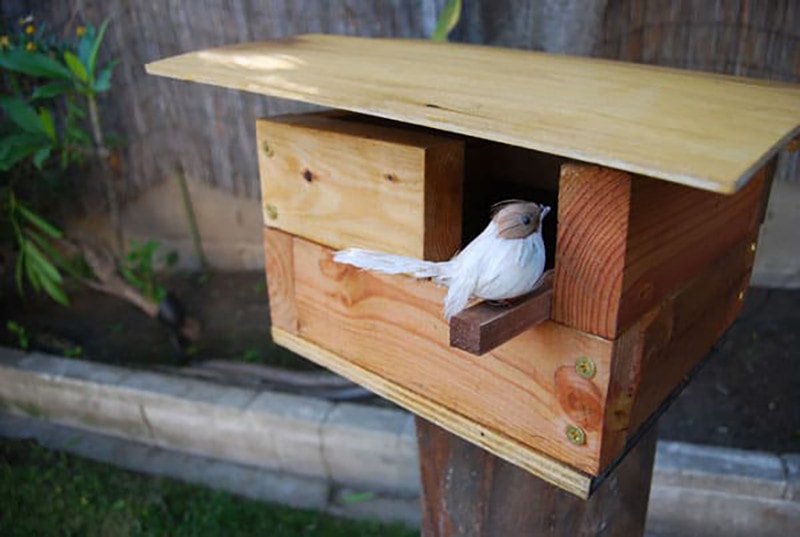 | | |
| --- | --- |
| Difficulty: | Intermediate |
| Supplies Needed: | 2x4s, MDF board, plywood, galvanized deck screws, hinge, drill, circular/chop saw, sandpaper |
Another plan for seasoned DIY masters, hummingbirds adore this open, box-style birdhouse. You have your work cut out for you, but it's nothing terribly complex—anyone with basic woodworking skills can follow along with relative ease. You can adapt and change the plan as desired, and feel free to add some nature touches like faux leaves or feathers.
---
9.

DIY Hummingbird Swing Perch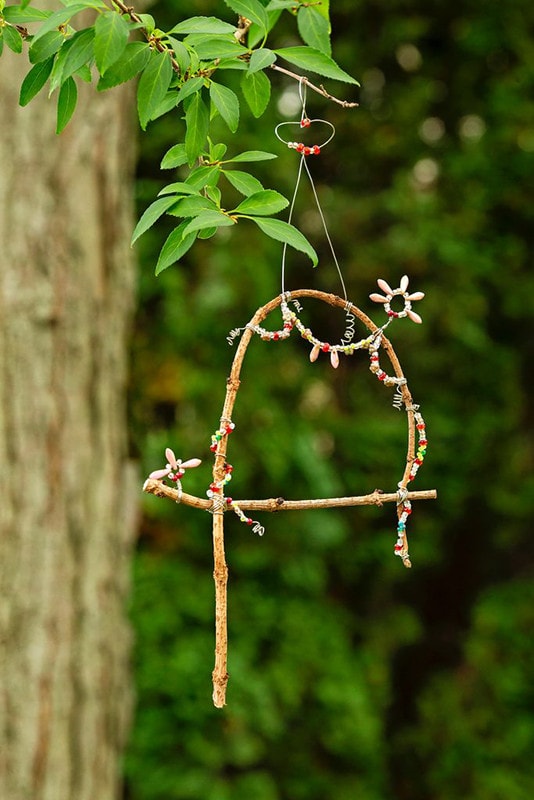 | | |
| --- | --- |
| Difficulty: | Easy |
| Supplies Needed: | Twigs, 18- and 20-gauge wire, wire cutters, round & flat-nosed pliers, beads, pencil |
Perches are a necessity alongside birdhouses, and hummingbirds will love this swinging perch's simplistic charm. You just need some nice, pliable green twigs, pliers, beads, and whatever else you can find to add. String and feathers are the easiest, but lots of bits and bobs would work too. Tie on some faux leaves with burlap string for a splash of color.
---
10.

DIY Horseshoe Hummingbird Perch
| | |
| --- | --- |
| Difficulty: | Easy to intermediate |
| Supplies Needed: | Horseshoe, wire, faux suede cording, glue, beads, chain, dowel, metal paint, sandpaper |
Whether you have a lonely horseshoe or just want something unique, this DIY hummingbird perch is an awesome way to liven up your garden and attract hummingbirds. There are no woodworking or power tools needed, but you'll need a deft hand because of the small parts involved in this plan. Add this perch near a bird feeder and birdhouse to attract hummingbirds and other beneficial pollinators.

Final Thoughts About Hummingbird House Plans
Putting a birdhouse in your yard is an excellent way to invite wildlife into your life. It offers a perfect teaching opportunity for both you and your children. Learning how to build a hummingbird house is quite simple. You can even make it a family project. However, be patient. Choosing a nesting site is a vital decision for hummingbirds to make. With the right one, you'll have some new neighbors right away!
---
Featured Image Credit: chris-f, Pexels