4 Best Spray Paint for Guns of 2022 – Reviews & Top Picks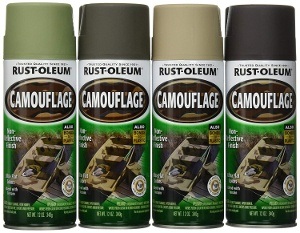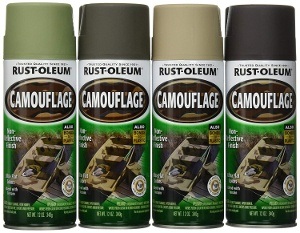 f you're building your own gun or want to put a new finish on one you already own, you may be missing out on a low-cost, fast method that can produce high-quality coatings.
While we often associate spray paint with cheapness and low-durability situations, many companies have released formulations in recent years that have good heat and moisture resistance, as well as stick great to most materials you'll find on a firearm. So, spray paint is a valid alternative to other coating methods and capn provide a quick, cheap, and easy way to make your firearms look great.
However, when you're shopping online, it's not always clear which brands and which formulations are the best for this kind of job. We've done the hard work for you and assembled a list of reviews of the best spray paints for guns, so that you can find the variety that works great for your needs and fits nicely into your budget, too.
---
Our Favorite Products for 2022 Compared
Rating
Image
Product
Details

Best Overall

Rust-Oleum Camouflage

Multiple colors for camouflage
Works on multiple materials
Ultra-flat finish
CHECK PRICE

Dupli-Color Engine Enamel

Heat resistance
EZ touch nozzle
Doesn't peel or crack
CHECK PRICE

Best Value

Krylon Colormaster

Moisture-resistant finish
Fast drying
Sticks to plastic
CHECK PRICE

Brownells Aluma-Hyde II

Semi-gloss paint
Durable finish
CHECK PRICE
Top 4 Best Spray Paints for Guns – Reviews
1.

Rust-Oleum Camouflage Gun Spray Paint Pack – Best Overall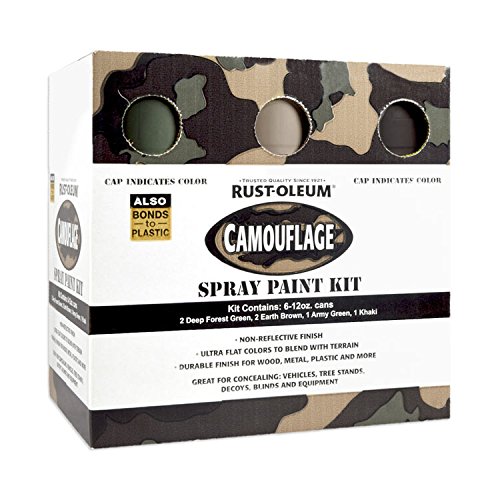 The Rust-Oleum 269038-6 PK Camouflage Pack is a great choice for the discerning hunter who thinks his equipment should blend as well into the natural environment as he or she does. This six-pack comes with four different colors, which means you can create the ultimate patterning for a gun that deer and ducks won't see coming. The paints work on multiple surfaces, such as wood, metal, and plastic, though it doesn't stick as well to plastic surfaces, so keep that in mind when you're painting.
The finish is non-reflective and ultra-flat, which means it doesn't draw the eye in the same way glossy spray paints often do. It also dries in about half an hour which means you don't have to be out of commission for extended periods of time. Overall, this is a great product available at a reasonable price, and if you're looking to camouflage your hunting equipment, you're getting great bang for the buck with this 6-pack. All in all, this makes it our top choice as the best spray paint for guns.
Pros
Multiple colors for camouflage
Works on multiple materials
Non-reflective, ultra-flat finish
Dries fast
Cons
Doesn't stick well to plastic
---
2.

Dupli-Color Engine Enamel Firearm Spray Paint

The Dupli-Color EDE161307 is originally meant for coating engine blocks so you can have the confidence that it will stand up to almost any kind of abuse that you throw at it. It comes with temperature resistance up to 500 degrees Fahrenheit, due to its inclusion of ceramic resins in the paint, which also adds to its durability. It's designed not to blister, flake, crack, or peel, so it's good for surfaces on your weapons that are going to see a lot rubbing.
It also comes with an EZ touch nozzle which makes application much easier. However, there are some things that you should consider before you buy. This is a high-gloss paint, which might tip off prey on your next hunting expedition. It's also not completely water resistant, which means that if you're caught in a rainstorm, you might see all your work run off your guns. However, if you're looking for a durable, heat-resistant paint that will resist most kinds of wear, this is a good paint that can be had at a good price, too.
Pros
Heat resistance
EZ touch nozzle
Doesn't peel or crack
Cons
High-gloss
Not water resistant
---
3.

Krylon Colormaster Spray Paint for Guns – Best Value

The Kryron 51601 is great because it adheres well to most materials, so you should be able to get an even coating across your entire gun, no matter what materials it is made from. It creates a moisture-resistant finish that should last a long time, even in humid conditions. It's also fast-drying, allowing you to put down multiple coats in a half hour.
None of these features would matter if the paint didn't look good, and it does, which leads many to suspect that they'll be out an arm and a leg for this brand. Nope! This is one of the most economical purchases you can make, which is why we've rated it "best value" on our list. Our one complaint isn't with the paint, but with the cans, which sometimes come missing a spray nozzle or with expired, chunky contents. If Krylon fixed this problem, this spray paint would be much higher on our list. Despite this, we think this is the best spray paint for guns for the money you can buy this year.
Pros
Moisture-resistant finish
Fast drying
Sticks to plastic
---
4.

Brownells Aluma-Hyde II Gun Spray Paints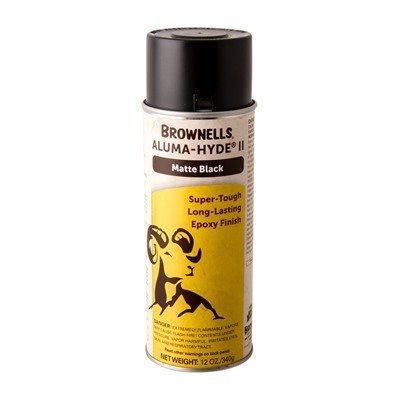 The Brownells Aluma-Hyde II is a good paint with a flawed delivery system and application process. While it bills itself as a matte paint, it's more of a semi-gloss, as it has a slight sheen to it, but that's still less shiny than what you'll get with other spray paints. The finish is one of the most durable that you can get out of a spray paint, given that you're willing to follow the instructions to the letter. In that case, that involves doing multiple coats and then waiting ten days for the paint to cure or baking the relevant parts in the oven, which is a hassle.
Given those downsides, it's hard to justify the price being as high as it is. It's a good finish, sure, but it's lower value in some ways than other entries on our list, and the price is up to three times as high as other options. The delivery system is also poor, as you'll need to buy extra nozzles to ensure that you can use the can without frequent clogging. Overall, you get a good finish, but this spray paint has a laborious application process and is expensive to boot.
Pros
Semi-gloss paint
Durable finish
Cons
Expensive
Long cure time
Nozzles clog
---
Buying Guide – How to Choose the Best Spray Paint for Guns
We hope our reviews of these gun paints have helped you see some of the features and qualities you should be looking for when you go to buy spray paint for your gun. Of course, there's always more you can learn about this process. If you're new to spray painting guns, you should check out this buyer's guide, which is packed full of useful information that will help you make a good decision when you go to buy. Likewise, it's a nice refresher course for gun-painting experts and reading this is a good way to make sure you've done your due diligence before you spend your hard-earned cash.
Paint Quality
One of your first considerations should be the quality of the paint. If it's not going to hold up to extended use, then you're not getting a good deal, no matter how cheap it is. There are far more expensive treatments than spray painting that last for a long, long time, so that's what spray paint has a to try to live up to regarding quality, and thankfully, there are some options that rise to the occasion.
You'll want to make sure that you get a spray paint that bonds well to metal, as not all do. If you're a hunter, you'll probably also want to look for formulations that are matte, instead of glossy, as it will make your weapons harder to spot in many hunting situations. Glossy coats on firearms also aren't as aesthetically pleasing to most people, though that is a personal choice.
You'll also want to get brands with good heat resistance if you're going to be putting it on a firearm. Not all spray paints hold up well to heat, which would quickly lower the quality of your purchase once you used the firearms. You'd hate to have to constantly reapply the spray paint to keep your firearms looking good.
Moisture Resistance
Moisture resistance is one of the most important qualities for a firearm that's going to be used outside, and especially on hunting trips. You're not always going to be hunting in optimal conditions, and while you may not get rained on, some spray paints do poorly in humid conditions. While the paint might not directly run off the gun, moisture can make it more vulnerable to smudging, chipping, or rubbing off in places, which is something no one should have to deal with.
Note that if the product description doesn't specifically say that the spray paint in question is moisture resistant, then it's probably not. It's a valuable enough feature that it's unlikely that the company would fail to point it out when its product has it.
Mixture quality
Some spray paints are made cheaply, and thus clog the nozzle when you try to use them. This can be a pain in the butt, though it is solvable in many circumstances. Cleaning the nozzle with mineral water or replacing the nozzle, if possible, can help mitigate this problem. This is also part of the reason that you're supposed to shake the can before use, as that motion reduces the likelihood of clogs.
On the other hand, spray paint has an expiration date, and if you get an expired can, you should immediately return it for a replacement. There's no way to get a good experience out of an expired can. Unfortunately, there's no good way to tell if a formulation is runny or prone to clogging from a product description alone, so you're going to have to do some research to find this information.
Cure time
Different spray paints require different amounts of time to cure. Some are advertised claiming they're dry to the touch in 10 minutes, or less, which can be a nice feature, especially if you're going to do multiple coats. Other varieties can require days or weeks to cure completely, which is a long time to have to wait before doing a new coat or any touch of work. And, of course, you can't use your firearm during that time.
In some instances, you can shorten the cure time by baking your painted firearm in your oven, but that only works for certain brands, and even then, that's something you should only do if there are provided instructions for doing so.
Can quality
One of the final things to consider when shopping for spray paint for your guns is that the quality of the can makes a big difference in your experience. Some companies go all-out and make efforts to create cans that work nearly all the time and are clog-resistant. Others take a cheaper approach which means that you must take extra steps to prevent clogging.
In most circumstances, it's a good idea to research what kinds of nozzles the brand you're buying uses, and buy a couple of spare nozzles, just in case something goes wrong. That way you won't have to buy a new can of spray paint.
Conclusion
The Rust-Oleum 269038-6 PK Camouflage Pack is our top choice, as it comes with multiple colors great for camo, and has a matte, non-reflective finish. The Dupli-Color EDE161307 comes in second and features great heat resistance and good anti-peel properties, but isn't water-resistant, which keeps it out of first. The Kryron 51601 is our choice for best value due to its low price and the fact that it sticks to almost everything well. The Brownells Aluma-Hyde II creates a high-quality finish, but it's expensive and difficult to apply.
Hopefully, our reviews of the best spray paints for guns have helped you understand what you should be looking for when you do your next project. Armed with this information, you should be able to get a high-quality finish in an easy, low-cost manner, that you'll love for a long time.
Related:
Best Spray Paints for Plastic – Top Picks & Reviews
Best Spray Paints for Wood Furniture – Reviews & Buying Guide