10 Fun DIY Outdoor Halloween Decorations You Can Make Today (With Pictures)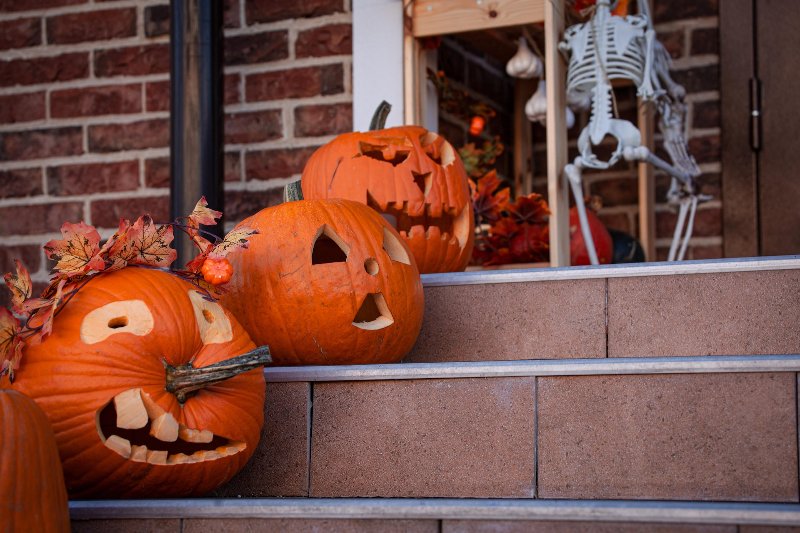 When the Halloween season comes around, we want all the Halloween decorations! It's also the perfect opportunity to let loose our DIY spirit to build all the outdoor decorations that we need to create the ultimate spooky home.
But sometimes our DIY spirit needs a little inspiration, which is why we wanted to highlight 10 of the best DIY outdoor Halloween decorations. Whether you want to copy these ideas or use them to inspire your own, you're in the right place.

The 10 Fun DIY Outdoor Halloween Decorations
1.

DIY Milk Jug Skulls by Instructables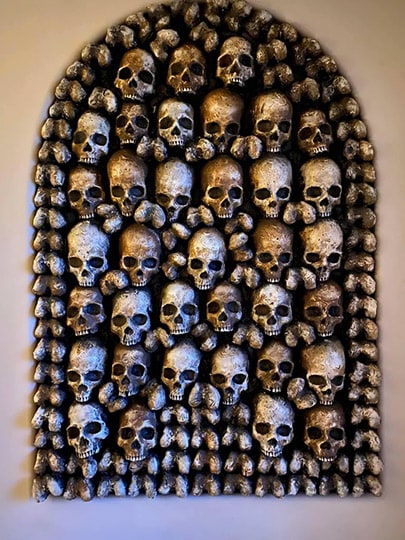 | | |
| --- | --- |
| Materials: | Plastic milk jugs |
| Tools: | Resin "master skull," gloves, heat gun, masking tape, hot glue gun with sticks, sponge, scissors, razor, screwdriver, ice water, towel |
| Difficulty Level: | Moderate |
This is probably the most challenging DIY Halloween decoration project on this list, but we love these milk jug skulls. They provide a downright chilling Halloween look that you can't find with most DIY decorations.
Even better, once you have all the supplies, the only real cost is the milk jugs. If you save them throughout the year, you won't even need to purchase any! However, if you are looking to stock up on these jugs right before Halloween, we recommend picking up jugs of water instead of milk to help keep the cost down.
---
2.

DIY Glowing Jars by Little Yellow Wheelbarrow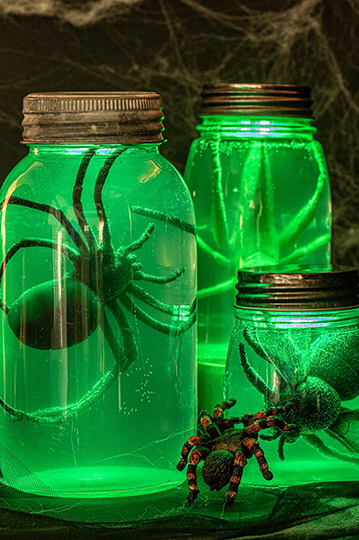 | | |
| --- | --- |
| Materials: | Empty glass jars, plastic bugs, water, green acrylic paint, waterproof lighting, and cardboard |
| Tools: | Glue gun, glue gun sticks, and scissors |
| Difficulty Level: | Easy |
If you're looking for an easy-yet-creepy DIY Halloween decoration, these DIY glowing jars are great. While the final product looks complex, they're super easy to make.
If you follow the guide, all it takes is a bit of time to assemble everything, you don't need many DIY skills. If you shop around for the supplies at the dollar store, you can build these creepy-looking jars without breaking the bank. That's a real win-win for spooky Halloween decorations.
---
3.

Giant DIY Spiders by Better Homes and Gardens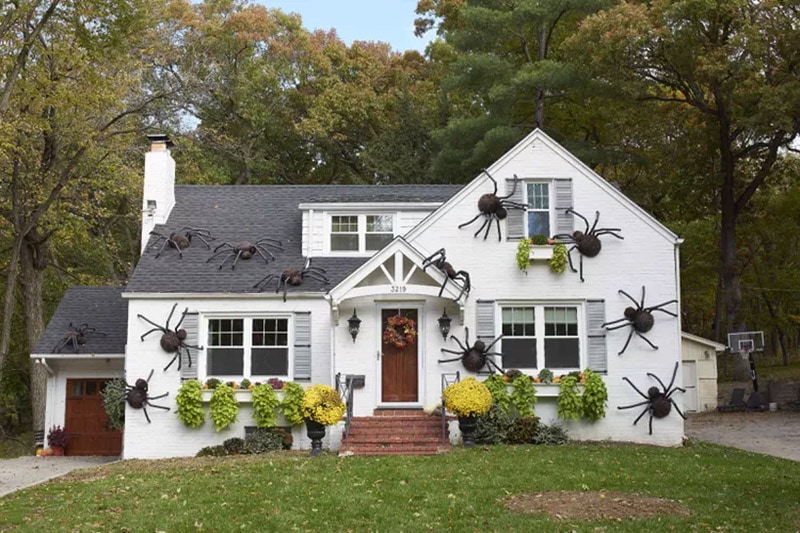 | | |
| --- | --- |
| Materials: | Faux fur fabric, twine, 16-gauge wire stem, 6' x 1" foam tube, zip ties, two 4" foam balls, 2" foam half ball, two 8" half-sphere wire globes, and a 16" half-sphere wire globe |
| Tools: | Hot glue gun, glue sticks, and an awl |
| Difficulty Level: | Moderate |
While these giant spiders aren't quite as complicated to build as the milk jug skulls, it's a close second. The good news is that this DIY guide will walk you through everything step-by-step and even give you options for smaller spiders that you can start with.
But what's cool about these giant DIY spiders is their sheer size. They can take over your home and make it the talk of the town, and you don't need to spend much money to build them. Even better, they're completely reusable, so you can pull them out year after year — you'll just need to find somewhere to store them in the off season.
---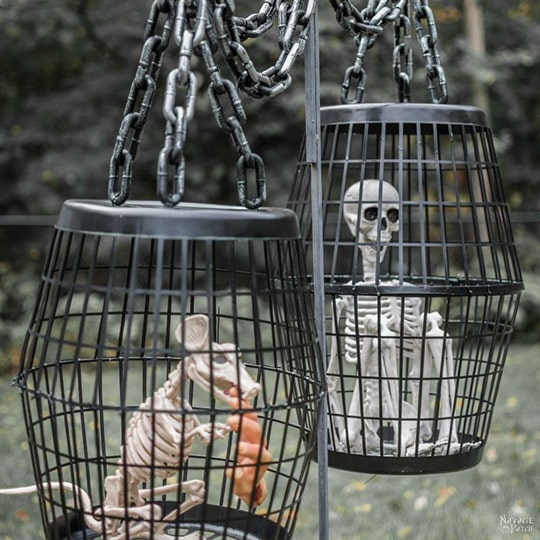 | | |
| --- | --- |
| Materials: | Two laundry baskets, plastic chains, zip ties, black spray paint |
| Tools: | Scissors |
| Difficulty Level: | Easy |
This Halloween decoration is a classic, but we bet that you didn't realize how easy it is to make! Just keep in mind that the guide is to build the hanging cage decorations themselves; it's up to you to figure out what to put inside them. You also need to figure out where you want to hang them or if you simply want to set them out somewhere.
They look great either way, you just have to figure out the final touches on these spooky decorations!
---
5.

DIY Man-Eating Plant by Eden Makers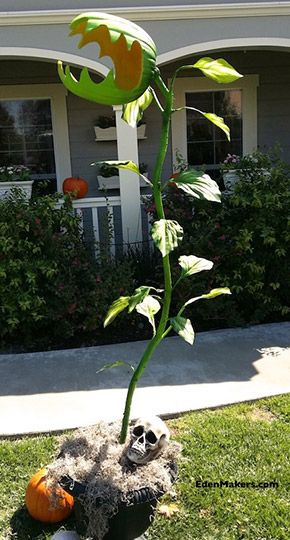 | | |
| --- | --- |
| Materials: | Tree branch, flowerpot, spray foam insulation, artificial pumpkin, spray paint, faux leaves, hot glue, and decorative touches (moss, skeletons, spiders, bones, etc.) |
| Tools: | Hot glue gun and a pumpkin carver |
| Difficulty Level: | Moderate |
If you're looking for a Halloween decoration that looks like it came straight out of a Super Mario game or "Little Shop of Horrors," this DIY man-eating plant decoration is for you! While it's a little more complicated than some of the easiest DIY Halloween decorations on this list, we promise that it's not as difficult as it looks.
Besides, its complex appearance only adds to the final presentation. Once you finish it, you'll have a Halloween decoration that's the talk of the town!
---
6.

DIY Witches Brooms from Canary Street Crafts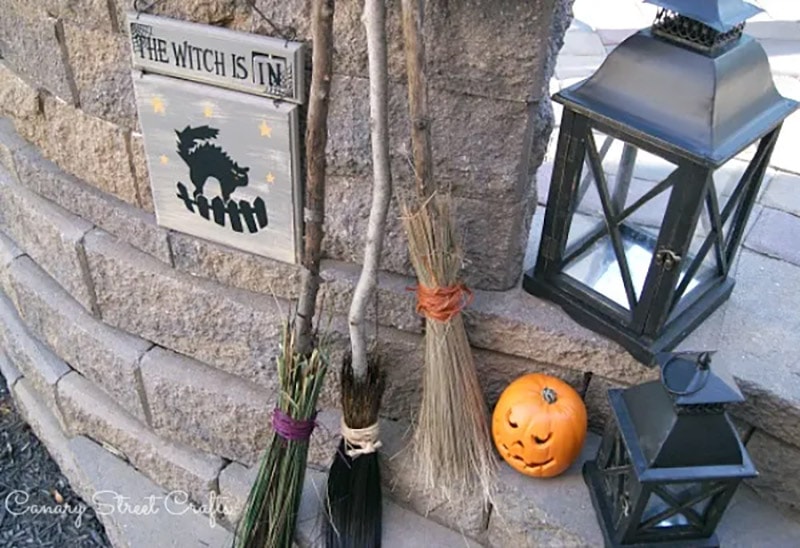 | | |
| --- | --- |
| Materials: | Grass bundles, tree branches, and raffia |
| Tools: | Hot glue gun and sticks, gloves, and a hacksaw |
| Difficulty Level: | Easy |
What DIY Halloween decoration screams Halloween more than witches' brooms? It's a signature Halloween piece, and with this DIY guide, you build your own phenomenal witches' brooms that stand out from the generic ones from the store.
A great perk is that you don't need to be a DIY expert to do this project. Simply gather the supplies and a hot glue gun, and the guide walks you through the rest. Even if you count the time that it takes for the glue to dry, you should be able to finish these brooms in under 15 minutes!
---
7.

DIY Faux Chain by Ribbons and Glue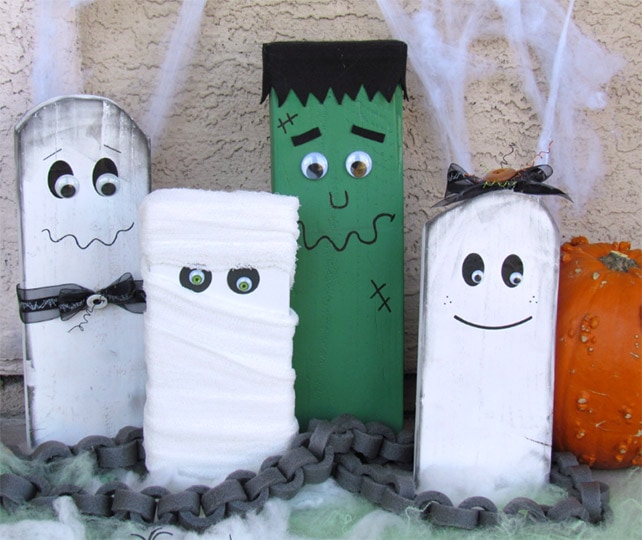 | | |
| --- | --- |
| Materials: | 1" pipe insulation and paint |
| Tools: | Knife, hot glue gun and sticks, and paint brushes |
| Difficulty Level: | Easy |
If you're on a tight budget and want a classic decoration that you can easily tie into other Halloween décor, these DIY faux chains are an outstanding option. Even better, if you head to the dollar store for the pool noodles, you can build these faux chains for just a few bucks!
Keep in mind that while they're easy to make, it can be a bit time consuming. But it's an excellent project for the kids to help out with and get them in the spooky Halloween spirit.
---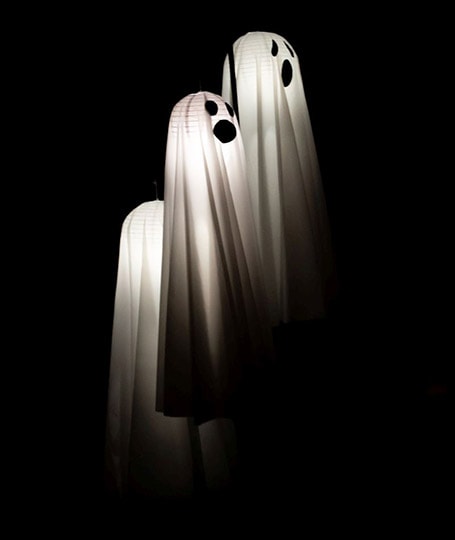 | | |
| --- | --- |
| Materials: | Paper lanterns, plastic table covers, packing tape, string, black adhesive vinyl, double-sided tape, LED tea light candles, and garden shepherd's hooks |
| Tools: | Scissors |
| Difficulty Level: | Easy |
While the supply list for these adorable DIY lighted hanging ghosts is a little long, they're all relatively inexpensive materials, and these ghosts are extremely easy to make. There's also no denying that they look great and fit a wide range of Halloween décor.
Whether you're looking for a project to make with the kids or want something that will put your outdoor decorations over the top, these lighted hanging ghosts are a great option to consider.
---
9.

DIY Fog Chiller by TeeDiddlyDee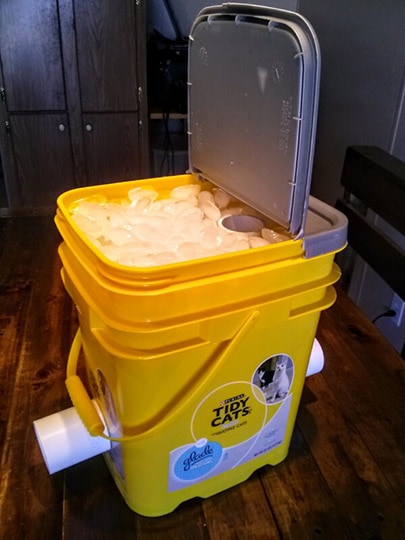 | | |
| --- | --- |
| Materials: | Fog machine, 35-pound kitty litter plastic container, sheet of mesh, three 2" PVC couplings, two 2 1/8" of 2" diameter PVC pipe, four 8.5" pieces of ½" PVC pipe, one 8.5" piece of 2" diameter PVC pipe, 2" diameter right angle coupling, ½" diameter cross connector, four 3.25" ½" diameter PVC pipe, and 4 ½" diameter right angle couplings |
| Tools: | Drill, 2.5" hole saw, hacksaw, and wire nippers |
| Difficulty Level: | Easy |
Who doesn't love fog for Halloween? But while fog is great, it needs to have a chill to really capture the Halloween essence. That's exactly what you get with this DIY fog chiller.
Instead of spending hundreds of dollars on a professional fog chiller, you can make this one for a fraction of the cost, and it's not that hard to put together. Just keep in mind that this DIY fog chiller doesn't create fog; you'll still need a fog machine for that.
---
10.

DIY Ghost Garland by Peppermint Plum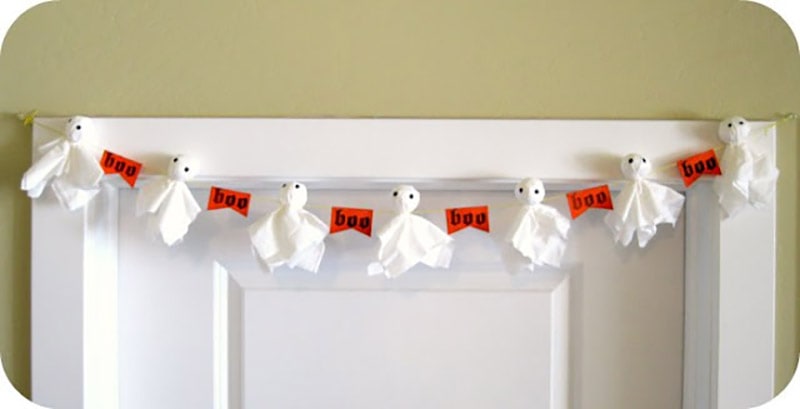 | | |
| --- | --- |
| Materials: | Tissues, cotton balls, floss, black marker, and embroidery floss |
| Tools: | A long needle |
| Difficulty Level: | Easy |
If you're looking for a classic Halloween decoration, it's hard to beat a DIY ghost garland. Whether you're looking for a fun craft to do with the kids or just something that you can quickly hang up around your home, this ghost garland is a great choice.
You don't need any real DIY skills to make them, and they cost pennies to make. In fact, for just a few bucks, you can make dozens upon dozens of ghosts and create as many garlands as you want! This is a great low-budget Halloween decoration that you can use for different occasions.

Final Thoughts
Now that you've had the time to check out these Halloween ideas, it's time for you to unleash your own Halloween spirit and make spooky decorations for your home.
You can start with one of these projects or come up with a few of your own, but don't let the Halloween season pass you by before you get the chance to decorate!
---
Featured Image Credit: Sergey Platonov, Pexels