10 Awesome DIY Picture Frames You Can Make Today!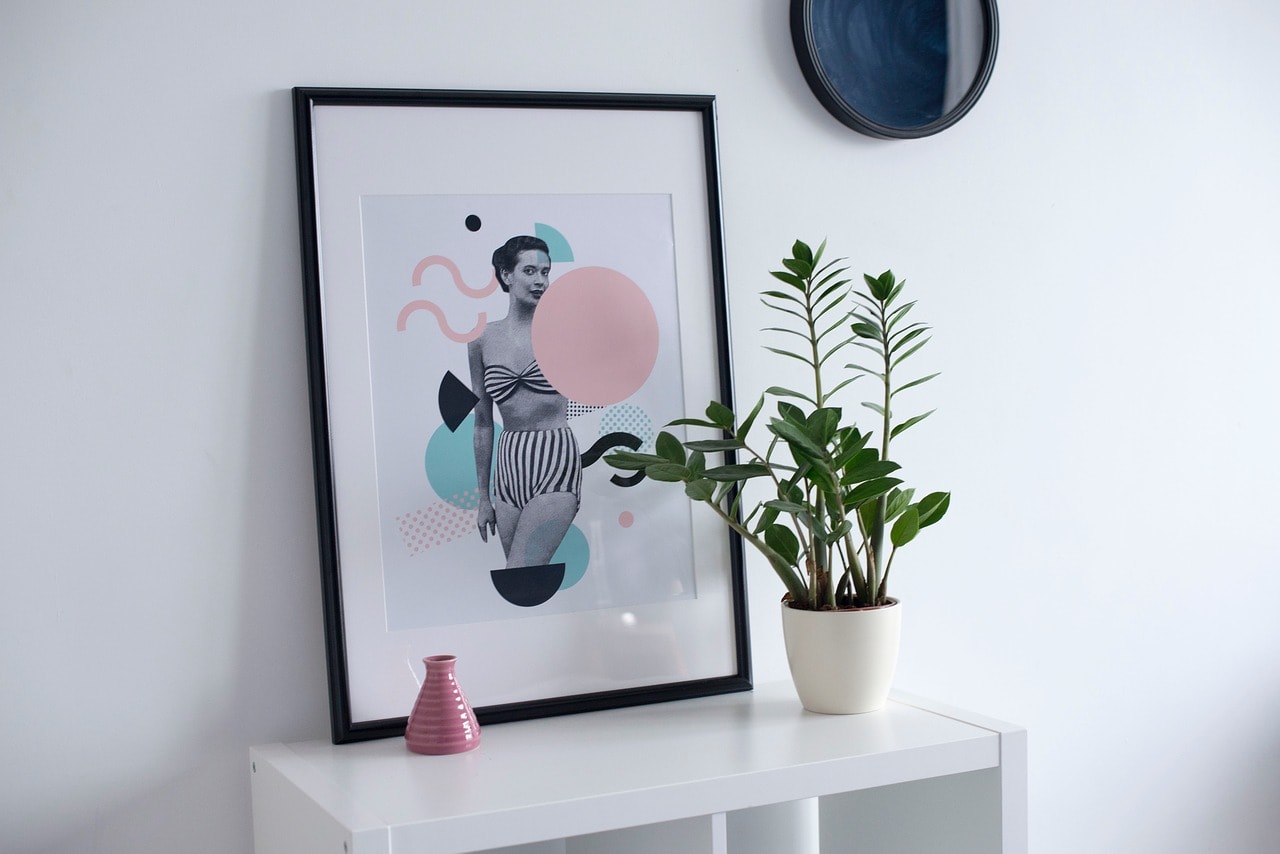 Many pictures look better when they are framed. Whether it is family photos from another generation or unique artwork, framing increases your design and aesthetic levels throughout a space. The problem is that framing is often very expensive, and it can be a hassle to get a frame ordered and then have to check it and pick it up. The good news is there are plenty of amazing options to create your own DIY frames that will save you money and hassle. DIY frames allow you to customize and tweak each individual frame to your liking.
Here are 10 awesome DIY picture frame ideas with plans that you can do in a single afternoon.

The 10 Awesome DIY Picture Frames Ideas
1.

Elegant Custom Picture Frame
| | |
| --- | --- |
| Materials: | Two types of trim, wood glue, picture hanger |
| Tools: | Brad nailer, miter saw, router, clamps, hammer |
| Complexity: | Intermediate |
You only need to shell out a little money for a large and elegant picture frame to hang in your house. You can build your own ornate picture frame using trim found at the local hardware store. Trim is usually available for less than $2 per foot, and you can easily make at least one frame from a single length of trim. All you need to do is layer two types of trim on top of each other, cut the pieces to length, miter the corners, and then fasten everything together. There are a ton of different types of trim available, so the combinations and possibilities are nearly endless. This is a great way to add some character, texture, and volume to your picture frames on a budget.
---
2.

Cute Scrap Wood Picture Frame
| | |
| --- | --- |
| Materials: | Scrap wood, sandpaper, duct tape, paint, picture hanger |
| Tools: | Miter saw, hammer, staple gun |
| Complexity: | Basic |
If you are someone who has done craftwork in the past, you likely have some extra wood lying around. These simple scrap wood picture frames can be made with materials you likely already have. All you need is to find enough scrap wood and then miter the corners, glue them together, sand them down, refinish them and then hang them back up with a simple picture hanging kit. This is a great way to create a gift while repurposing materials. If you are a crafter, you likely won't have to spend a penny unless you want to finish it in a specific way.
---
3.

Large DIY Frame
| | |
| --- | --- |
| Materials: | 1×2 wood to cover your length, wood glue, paint or stain, picture hanger |
| Tools: | Staple gun, brad nailer, miter saw, brush, rags |
| Complexity: | Basic |
This amazing DIY frame is excellent for people looking to frame a large picture. Getting a large photo framed professionally can cost a ton of money. Luckily, 1×2 wood boards do not cost a lot. You can pick up a variety of different types of 1×2 (or 1×3) wood from your local hardware store and save bundles. Once you have the wood, you just need to miter the corners, frame it up, and secure it together. You can paint or stain it to finish. You can customize the frame with the finishing material, but you can also choose from different types of wood, like light spruce or rustic cedar, for a more custom look.
---
4.

Affordable Simple Picture Frame
| | |
| --- | --- |
| Materials: | 1×2 pine, screen trim to match, paint or stain, wood putty, sandpaper |
| Tools: | Staple gun, miter saw, putty knife, clamps |
| Complexity: | Basic |
These simple picture frames are perfect for the DIYer on a budget. According to these plans, you can comfortably make these frames for around $20, which is a steal of a deal if you take the time to do it right. These frames have the benefit of including a little bit of screen molding to differentiate them from the other basic square frames that are often advertised on DIY sites. The screen trim adds some texture and personality to these otherwise basic frames. They are easy to build, easy to customize, and super affordable, making them the perfect picture frame project to tackle on the weekend.
---
5.

Durable Poster Frame
| | |
| --- | --- |
| Materials: | 1/4-inch plywood cut to size, 1x2x8 wood (x3), lattice molding (20 ft.), wood putty, paint or stain, picture hanger |
| Tools: | Nail gun, miter saw, circular saw or table saw, putty knife |
| Complexity: | Intermediate |
Posters are a popular type of artwork, and they are available all over the place. Posters can become an awesome statement piece in nearly any room. However, getting a poster framed is very expensive, or you have to make do with cheap plastic frames that don't look good in the main room of your house. These awesome DIY poster frames are the answer to your poster hanging woes. Using smooth plywood, you can cut these frames to any size to fit large posters that traditionally cannot be placed into regular photo frames. The result is professional looking poster frames that can be painted or stained to your liking. They are also extremely durable and will hold up for a long time.
---
6.

Unique Toolless DIY Frame
| | |
| --- | --- |
| Materials: | Balsa wood strips, magnetic tape, wood glue, paint or stain |
| Tools: | Crafting knife, ruler |
| Complexity: | Basic |
These crafty DIY frames require no tools to complete making them perfect for beginners or for people who do not own large tools like miter saws or routers. The frames work by joining strips of balsa wood using magnetic tape. You put your picture between the strips of wood, allowing the magnetic tape to hold it in place. Then you simply hang the balsa frames using jute or twine from a hook or nail in the wall. These frames won't be able to hold a lot of weight, and they won't protect delicate pictures from sunlight or wear. But they are cheap, easy to make, and require no fancy tools to complete.
---
7.

Basic Box Picture Frame (No Complicated Cuts)
| | |
| --- | --- |
| Materials: | Wood for frames (choose what you like), wood screws, glass pane (optional) |
| Tools: | Miter saw (or hand box saw), drill, jig, clamps |
| Complexity: | Intermediate |
Some people struggle to make complicated cuts. Getting mitered corners just right can be elusive for some people. Or you might not have a powered miter saw but just an old-school hand saw and guide box. These box frame plans are ideal because they require no complicated cuts, and they have a ton of potential for customization. This frame can be fitted with protective glass, or it can be left open. It uses a face frame and a back frame which allows you the opportunity to customize both to your liking using paints or stains, or different types of wood. Getting the box frame equipped with glass is more complicated than simply leaving the frame open. Putting the glass in requires a custom pane, pocket screws, and the use of a jig. You can keep it as basic or complicated as you like.
---
8.

Rustic Pallet Frame
| | |
| --- | --- |
| Materials: | Pallet wood (or 1x3s), bracing strips, stain, wood glue, mod podge, sandpaper, picture hanger |
| Tools: | Miter saw, brushes, rags |
| Complexity: | Basic |
Rustic looks are extremely popular right now, so it is no wonder that there are options to create your very own rustic picture frames. These pallet wood frames allow you to use real pallet wood or decorate fresh wood to look aged. The frames are extremely simple to assemble and work by having you mod-podge a photo directly onto the pallet wood. You can customize them by staining them to your liking or by adding strips to make the frame larger if necessary. If you make a larger frame, just be sure to reinforce the back with the appropriate bracing strips so that it all holds together. This is a permanent frame meaning that once you attach the picture, the frame and photo will be joined forever, so keep that in mind as well.
---
9.

Quirky Tennis Racket Picture Frames
| | |
| --- | --- |
| Materials: | Old rackets, mirror glass (optional), nails, clothes pins |
| Tools: | Hammer, level |
| Complexity: | Basic |
If you are looking for creative ideas that will elevate your decorating game beyond simple square frames, look no further. You can reuse old antique rackets to create a fresh and unique look that is sure to turn heads. These racket frames are perfect for quirky chic design and are surprisingly easy to hang and use. You just have to tack the rackets to the wall and secure them with nails so that they do not sway. Then you can put in reflective glass to create funky mirrors, or you can use clothespins to hang photos directly from the strings. It could be fun to keep an eye out at local thrift and antique stores for the perfect rackets to fit your individual style.
---
10.

Repurposed Clothesline Picture Frame
| | |
| --- | --- |
| Materials: | Old picture frame (or basic hand-built frame), twine, clothespins, paint |
| Tools: | Staple gun, scissors, hot glue gun |
| Complexity: | Basic |
It is a shame to throw away old picture frames just because they are getting a little worn. Picture frames can lose their glass or become pockmarked over time. You can also find old antique frames at local thrift stores pretty easily. For frames like this, you can create an adorable open-faced frame by using twine and clothespins. All you have to do is fix up the frame, repaint it, and staple twine to the backside. Afterward, you will have a place to hang loose photos from the clothes pins. This is a very basic frame that looks great, is functional, and allows you to repurpose some old frames without throwing them away.

Conclusion
There are a number of reasons why you would want to make DIY picture frames. First, they are usually a lot cheaper than getting something framed professionally. Second, they allow you to customize them to fit your liking or to fit odd-sized photos or posters. Lastly, they can make a great gift or thoughtful decor for your friends and family. These 10 DIY frames are easy to build and will provide tons of inspiration and customization for your next crafting project.
---
Featured Image Credit: StockSnap, Pixabay