9 Amazing DIY Rabbit Hutch Plans You Can Make Today
Whether raised as pets or livestock, rabbits deserve a safe, cozy home. The standard pet cage will never be comfy enough, nor does it give you a chance to stretch your woodworking muscles. If you have a few spare minutes (and even more spare wood), treat your bunnies and yourself to one of these sturdy and functional DIY rabbit hutch plans you can build today.

The 9 DIY Rabbit Hutch Plans
1.

Sectional Rabbit Hutch by Instructables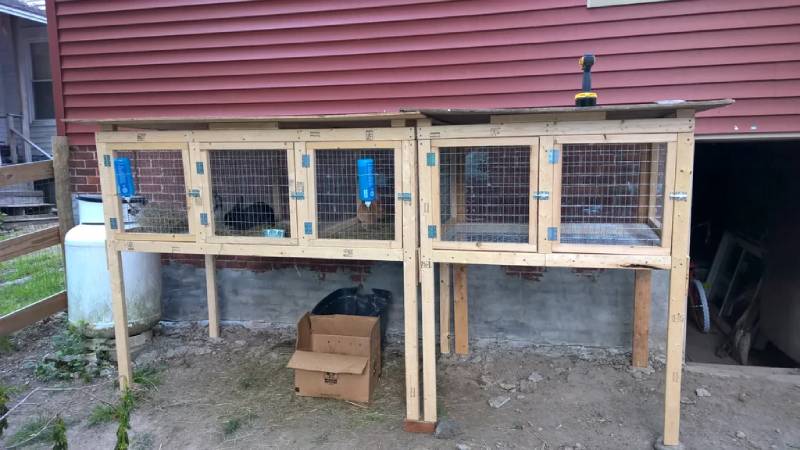 | | |
| --- | --- |
| Materials: | Pine 2x3s, 2×2 furring strips, ½" plywood, welded wire, wire mesh cloth, decking screws, staples, hinges, barrel bolts |
| Tools: | Circular saw, drill, impact driver, hammer, staple gun, square, tin snips |
| Difficulty: | Intermediate |
Give each of your rabbits a private room with this sectional rabbit hutch. A 2×3 pine outer framework and 2×2 furring strips create a segmented skeleton, with 2×3 trim supplying an attractive front face with inset hinged doors.
Several well-measured straight cuts are simple enough to pull off and all you need for a clean look. Raised on four posts, the rabbit hutch also has room to add a simple catcher for droppings, a great way to collect fertilizer for the garden!
---
2.

DIY Rabbit Hutch and Tractor by Self-reliance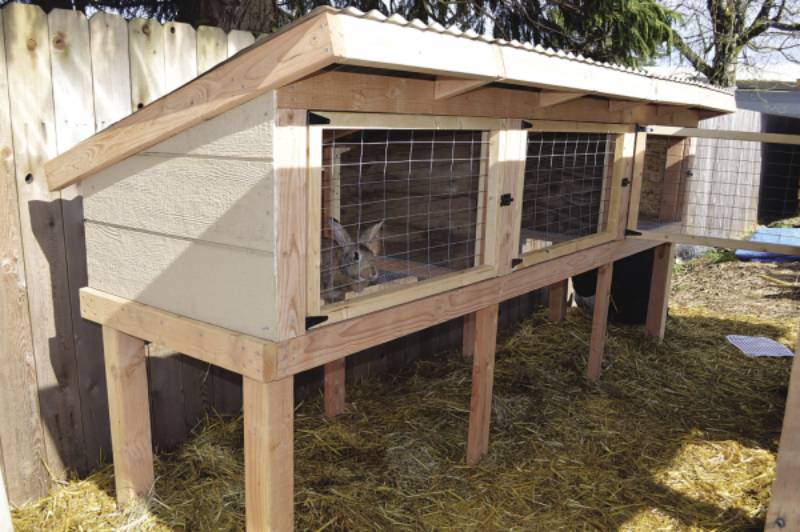 | | |
| --- | --- |
| Materials: | 2x2s, 2x4s, hardware cloth, cedar fencing slats, write panels, corrugated metal panels, screws, staples, hinges, latches |
| Tools: | Circular saw, drill, staple gun |
| Difficulty: | Intermediate |
The layout for this construction is no more complicated than the next rabbit hutch plan, but you'll walk away from the project with two new homes for your pets—a stationary rabbit hutch and a mobile tractor.
The sectioned build is similar to the first plan on this list, with a few exceptions. A plywood separator blocks viewing between the rabbit hutch's rooms, and a varying frame height from front to back integrates a roof slope into the design.
Grazing outdoor rabbits need protection and easy monitoring, which the tractor provides as a portable bottomless pen. The hinged top makes for easy access while giving the kids a chance to hang out with the rabbits without risking one escaping. Pay attention to the wood thickness, as you don't want to make the tractor too heavy to transport.
---
3.

DIY Bunny Hutch w/ Planter by Ginger Snap Crafts
| | |
| --- | --- |
| Materials: | 4×4 posts, 2x4s, 1x2s, 2x6s, roofing felt, shingles, roofing nails, wood screws, cage wire, staples, hinges, lock |
| Tools: | Miter saw, hammer, drill, staple gun, utility knife |
| Difficulty: | Advanced |
A little extra goes a long way in creating a comfortable rabbit space and an attractive backyard feature. In these DIY outdoor bunny hutch plans, the raised hutch boasts a few crucial upgrades. A properly shingled roof supplies a clean architectural look, and the crossbuck door adds rustic flare.
While you love the look, your rabbit will adore the accommodations. A large area gives them plenty of opportunity to stretch their legs and even enough room for a friend to join. The highlight is the attached planter next to the wire cage wall. The designer added a strawberry plant for a hint of greenery on the viewing side and a convenient live snack for your bunny, with the cage working as the perfect trellis!
---
4.

Rabbit Hutch w/ Manure Catch by Little Missouri Homestead
| | |
| --- | --- |
| Materials: | 4x4s, 2x4s, 2x2s, ½" plywood, ½" wire mesh, tar paper, corrugated tin sheeting, staples, screws, hinges, latches |
| Tools: | Miter saw, table saw, drill, staple gun |
| Difficulty: | Advanced |
Gardeners trying their hands at homesteading will love this functional multi-room rabbit motel. Your bunnies will enjoy the space and safety of the closed-off den attached to each room while unwittingly operating a fertilizer production facility.
Rabbit droppings are some of the most nutrient-dense animal manures available. Unlike cow or horse manure, you don't need to compost it to reap its benefits. Add it to the pile for vermicomposting, or deliver it straight to the yard and garden bed. Either way, the collection ramps in this system keep the rabbit hutch clean and supply convenient manure bins to use as you see fit.
---
5.

Indoor/Outdoor Rabbit Hutch by The DIY Plan
| | |
| --- | --- |
| Materials: | 1x3s, 1x2s, sheet metal, hinges, ½" wire mesh, barrel bolt latch, pocket screws, plywood, wood screws, angle bracket |
| Tools: | Drill, miter saw, table saw, nail gun, Kreg jig, jigsaw, staple gun, sander, snips, rivet gun |
| Difficulty: | Advanced |
A simple look is no less impressive than a clean, precise, and sensible finished product. The slight frame of this indoor/outdoor rabbit hutch is easy to maneuver inside, outside, and through entryways but still provides enough room for your rabbit across two rooms. Both rooms offer convenient access with a swing-down door.
The hero feature is the metal sheet tray. Your rabbits can do their business on a removable platform built to withstand the abuse, so cleaning the hutch and repurposing the droppings are as convenient as possible. All-Season Rabbit Hutch
---
6.

Rabbit Hutch Diagram by Countryside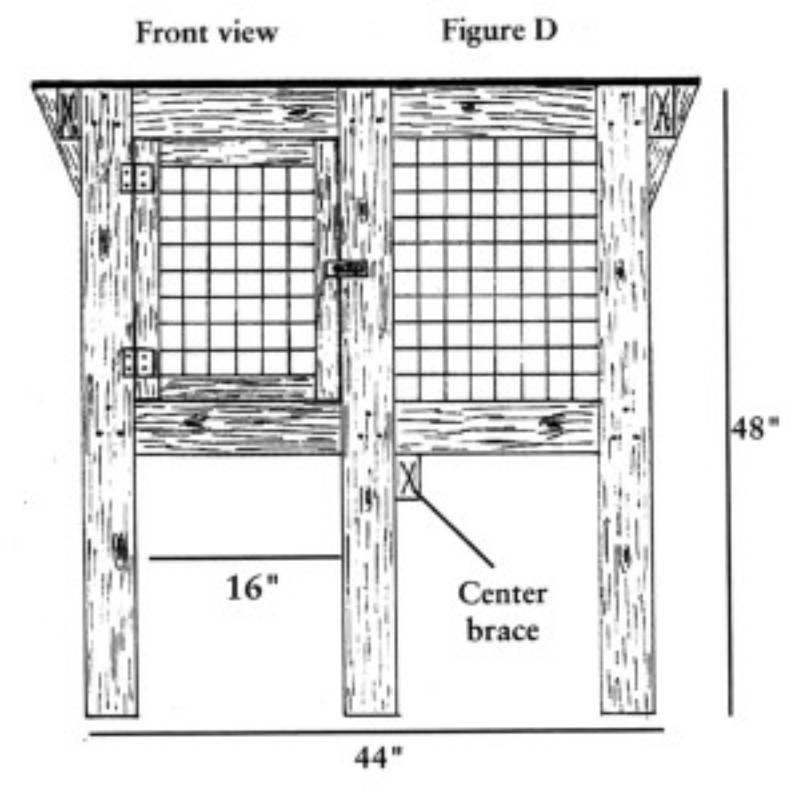 | | |
| --- | --- |
| Materials: | 2x4s, plywood, deck nails, wire mesh, hinges, latch, tar paper |
| Tools: | Table saw, miter saw, hammer |
| Difficulty: | Intermediate |
The construction for this all-season rabbit hutch is perfectly middle-of-the-road in difficulty. Accurate mitered cuts may be the most challenging component, but the large caged area and closed-off sleeping quarters make the perfect environment for your rabbits to stay safe and comfortable in any location. The designer keeps winter in mind for their rabbits, offering useful insights if you're in a northern climate.
---
7.

Simple Grounded Rabbit Hutch by Instructables
| | |
| --- | --- |
| Materials: | Wire mesh, 2x4s, plastic tote, plywood, screws, staples, bungee straps |
| Tools: | Drill, circular saw, staple gun |
| Difficulty: | Easy |
Inexpensive and wildly simple, this easy DIY rabbit hutch still provides everything a rabbit could want from a proper hutch and more!
A repurposed plastic tote becomes a roomy sleeping den when flipped upside down and placed on a plywood riser. And without any legs, this design saves you time while giving your bunnies a wide mat for grazing. Potential upgrades to the design include a plywood cover to block the sun and a wire mesh floor to let your rabbits graze without supplying an opportunity to burrow.
---
8.

A-Frame DIY Rabbit Hutch by Instructables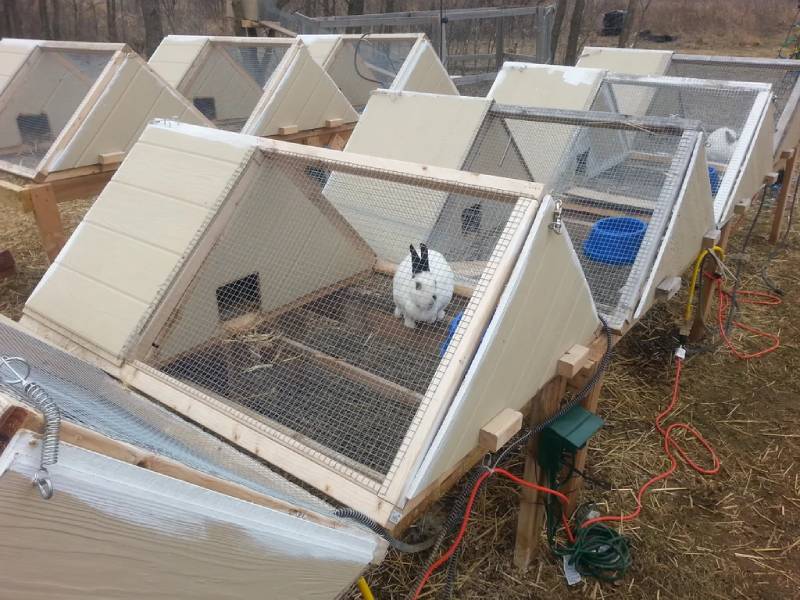 | | |
| --- | --- |
| Materials: | 2x2s, plywood, hardware cloth, nails, screws, hinges, latch |
| Tools: | Miter saw, table saw, drill, nail gun |
| Difficulty: | Intermediate |
An A-frame rabbit hutch is a fantastic way to save on materials and add outdoor durability without sacrificing space or comfort for your rabbit. With a wire mesh bottom and sturdy design, it's perfect for placement on the grassy ground or a simple stand.
End panels have hinges for unobstructed access to the sleeping den and caged sections. Finish up with a couple of carrying handles on either end for more efficient transportation. The replicable build is an excellent solution for a growing collection of bunnies.
---
9.

Cheap DIY Rabbit Hutch by Owl Creek Homestead
| | |
| --- | --- |
| Materials: | Wire mesh cage, 2x4s, 2x2s, screws, J-clips, corrugated metal |
| Tools: | Drill, circular saw |
| Difficulty: | Easy |
The overall build for this simple rabbit hutch is a little more complex than the video shows because the designer also made the cages in a previous video. But it provides an innovative perspective to lend to a premade rabbit cage for a super-easy afternoon project. A few pieces of reclaimed wood for the frame and an angled sheet metal catch for droppings provide all the utility you could want in a straightforward and inexpensive plan.

What Kind of Wood Should I Use for a Rabbit Hutch?
Rabbits have to gnaw to manage their ever-growing teeth, and they'll chew anything they need to find satisfaction, including whatever is in their home. Electronics in the cage are a no-no, and you'll typically want to put the wire mesh inside the frame to block the rabbits from chewing the supports.
Using untreated, unpainted, and unstained wood on the interior sections is critical. Untreated pine is a practical and inexpensive wood for many DIY rabbit hutch builds. If you want to stain or paint, restrict it to exterior sides that your rabbit can't access.

Final Thoughts
No matter how you build your bunny hutch, you always have to keep their health and safety in mind. Essential considerations include a tightly meshed floor for underfoot comfort and grip, mesh siding for airflow, and a system in place to manage the heat, especially in colder winter weather. Have a solution for droppings and be aware of predator and pest threats for outdoor rabbit hutches.
There's plenty to remember if you want to raise happy and healthy rabbits. With these DIY rabbit hutch plans, you can be sure you're checking off all the right boxes.
---
Featured Image Credit: l i g h t p o e t, Shutterstock