10 DIY RV Carport Plans You Can Make Today (with Pictures)
As much as you love being in your RV, the good times must eventually come to an end, and you'll need a decent space to store your beloved RV. UV rays, rain, and wind are an inevitable factor for any vehicle, but a well-built carport can add years to your RV's longevity.
For the DIY minded, it's a relatively easy and fun project to build a carport for your beloved motor home. Of course, you'll need plans. We've done the heavy lifting and sourced five free DIY RV Carport plans that you can get started on today.

The 10 DIY RV Carport Plans
1.

DIY 20x 40 RV Carport from gardenplansfree.com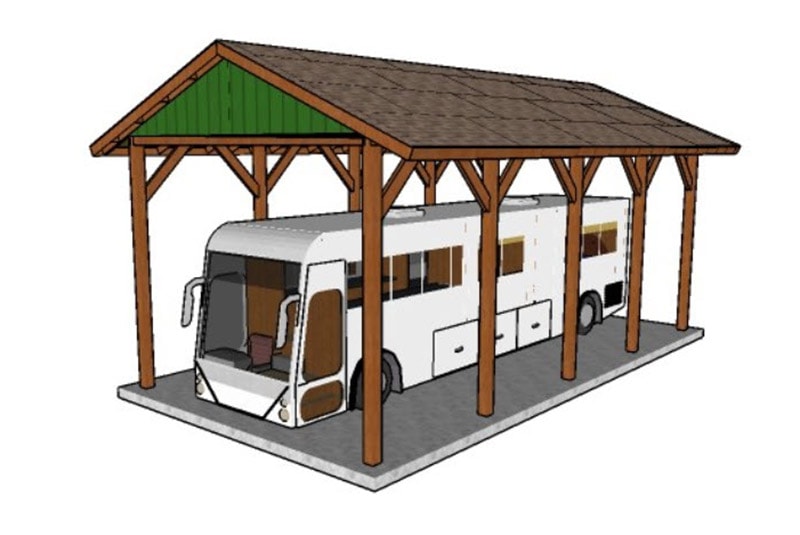 This DIY RV carport plan has a large gable roof, designed to be big enough for an RV, a large truck, and even a boat. It comes in a downloadable and easily printable PDF format, so you can have your plan with you on-site. This plan is thoroughly detailed, laying out everything you need, from parts and tools to time needed. This is one of the most detailed and informative free plans available, and this accompanying video shows a 3D rendering of the carport's construction.
It's a completely wooden structure, so knowledge of basic woodworking skills and tools is a plus.
---
2.

DIY RV Carport Video Guides
YouTube is an abundant repository for the DIY enthusiast. This YouTube video lays out an RV carport plan using steel and concrete. This video details the process of building a kit RV carport, though it's a useful resource, no matter the plans you are using. DIY kits like this are widely available, albeit at a cost. It can still be used as an informative outline to building a carport from scratch.
Here is an additional video showing the building of a carport from start to finish. It's packed with useful information, from preparing the ground to pouring and mixing concrete. Another useful video guides you through the building of a freestanding steel carport on budget. A steel structure will be long lasting and add value to your property.
---
3.

DIY RV Carport on a Budget from wikihow.com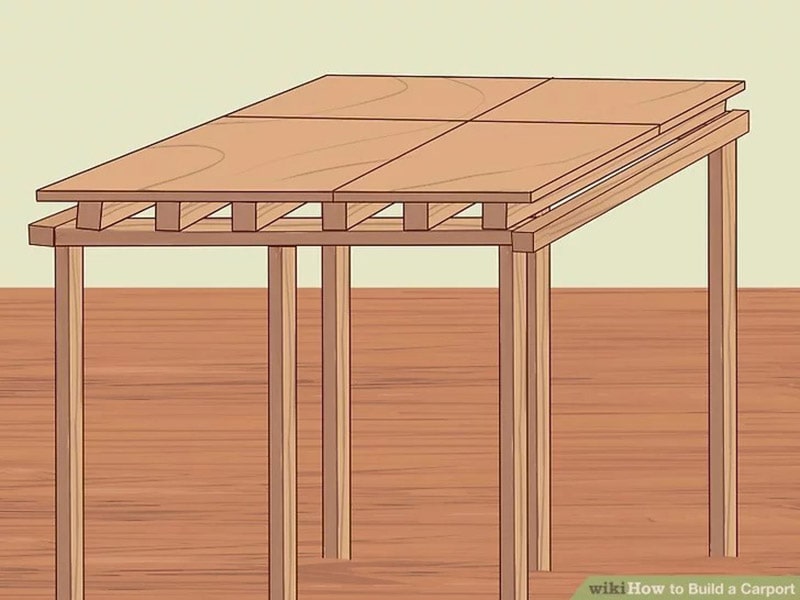 This simple plan is perfect for DIY builders on a budget. The plan outlines the building of a simple freestanding carport, which can easily be adapted for an RV. It's a perfect starter project, being a simple construction without much building knowledge needed. It details the process from beginning to end, including preparation of the ground and all the lumber and tools needed for the job. It's simple in aesthetic but perfect in functionality.
---
4.

Freestanding DIY Carport from howtospecialist.com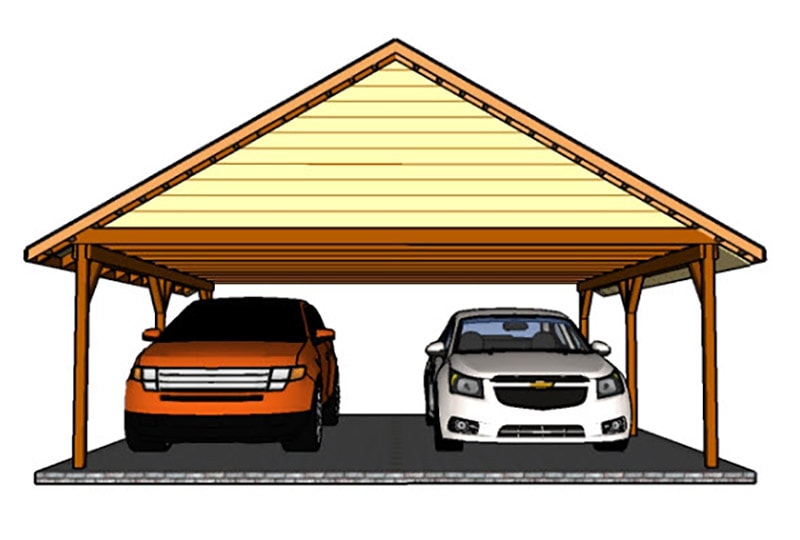 This is a detailed outline of building a double freestanding carport but can easily be adapted to use for an RV. It's a double garage plan, so it will provide plenty of additional space for a car or a workshop. It provides you with a list of the exact materials and tools needed, along with in-depth, step-by-step instructions to guide from the ground to completed project. This is a great option if you need additional space for another vehicle and can double up as extra storage space.
---
5.

Wooden DIY RV Carport from How to Specialist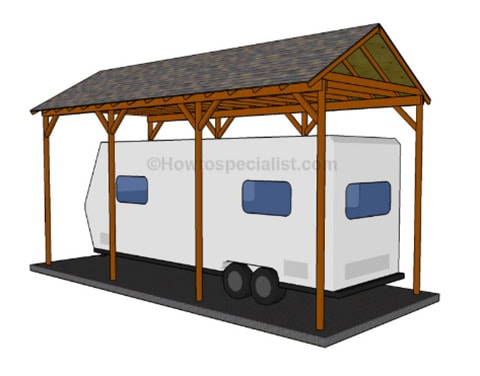 Designed as an RV storage carport, you can also use this DIY plan as-is for regular cars or trucks. If you're willing to put the work in, you could downsize the dimensions and materials to make a smaller version to accommodate limited space.
Using a high-quality miter saw and paying close attention to your angled cuts is essential to making sturdy rafters that will withstand the test of time. Another critical finishing touch is to seal the screws and other gaps with waterproof putty or caulk, or else rain could leak and rust your RV.
---
6.

DIY Metal RV Carport from a Kit from RVing Today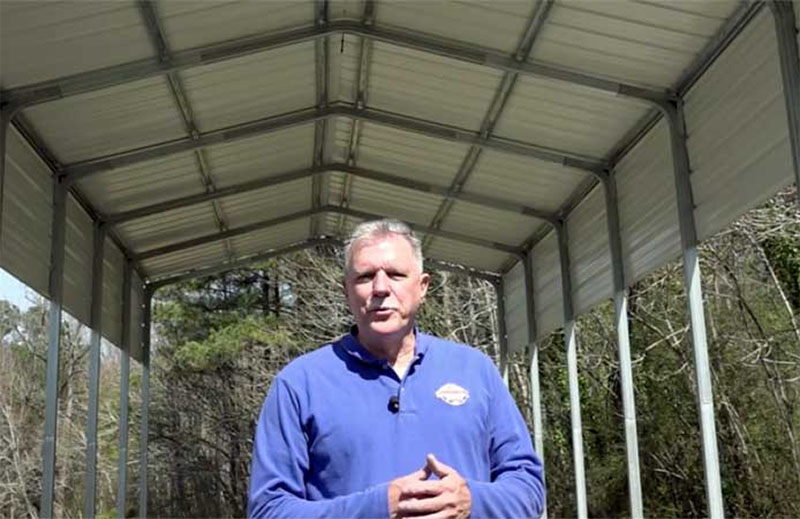 This straightforward DIY kit helps you build a more durable carport for your RV. Steel carports are often more labor intensive because steel is very heavy, but the plan has a thorough step-by-step text guide. If that isn't clear enough for you, the kit comes with a comprehensive instruction manual to guide you on what tools are required and other details.
As with any large building project, a few helping hands speed the job up tremendously. In fact, we're not even sure you could handle some of the pieces yourself. The good news is that you may also hire a local contractor to do the heavy lifting for you.
---
7.

DIY Wood RV Roof from Outdoor Fact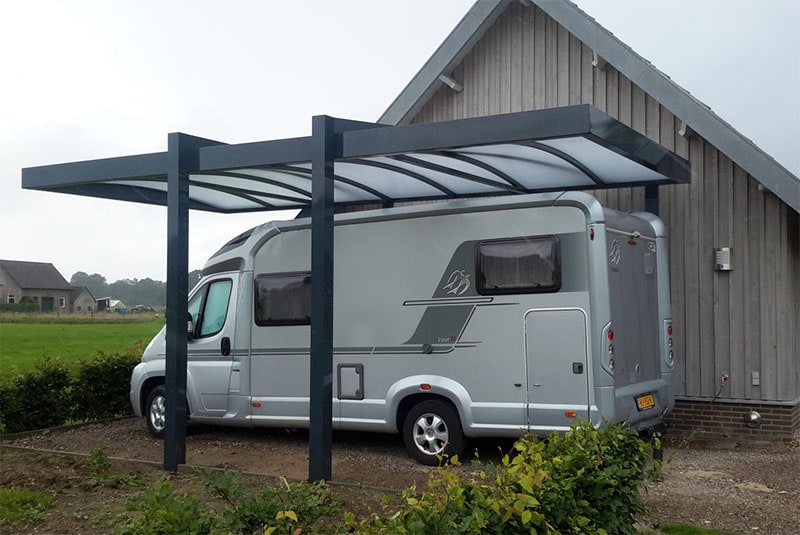 This more basic DIY plan is ideal if you just want to keep the rain off the top of your RV or camper. You can stop at just the roof, but the plan recommends you go ahead and add some horizontal boards to protect the sides of your RV more effectively against bad weather. It's an especially good idea when storing your RV during wet winters if you don't want to build something more extensive.
Pictures in this plan show similar roofs attached to a deck, which could be a pre-existing deck on your property, or you could build one specifically for use with the RV shelter. Depending on how much work you want to do, this plan goes from basic to a bit more involved.
---
8.

DIY Freestanding Carport from Buildeazy
This standard freestanding carport plan can easily be turned into an RV carport by just changing your dimensions a little. The job is largely the same as any old carport but may change depending on if you use rough-sawn wood or smooth-dressed wood. The latter is usually thinner, so factor that into your measurements accordingly.
You can choose your own roof material, but the plan recommends using smooth PVC at a steep slope to assist in rain and snow runoff. It helps keep your roof cleaner and minimize cleanup.
---
9.

DIY Carport with Storage from How to Specialist
This DIY carport with storage is a godsend for people who lack space to store their seasonal RV gear. Just take the plan's measurements and give yourself some wiggle room bigger than your RV's height. If storage isn't enough, you can also follow the plan's second part and add a gabled roof.
This DIY plan comes with a few handy tips to speed you along, such as making sure to choose weather-resistant lumber and to always drill pilot holes to avoid splitting your workpieces.
---
10.

DIY Lean-To Wood Carport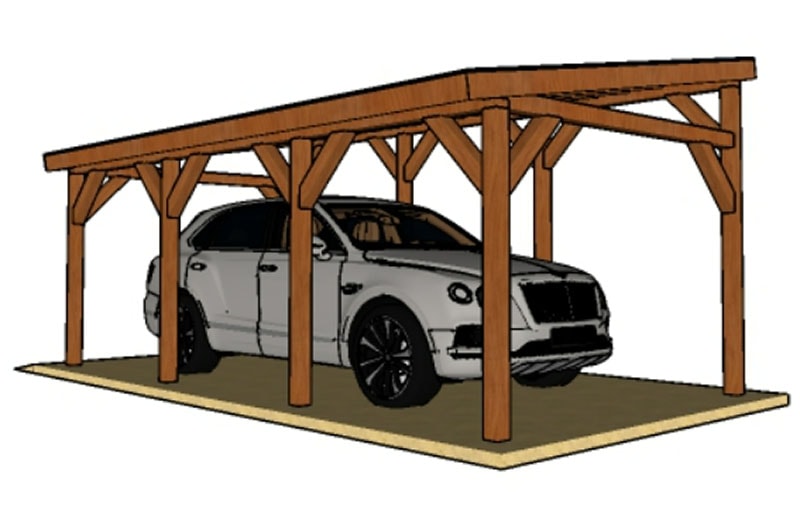 This classic DIY wood lean-to RV carport is easy to build, even though the plan is technically for a car. With some more materials, you can easily adapt it for any size RV. Select weather-treated lumber to help improve longevity and weather resistance. Our favorite part about this plan is that the slanted roof design helps shed water and snow.
You could opt to use a vinyl or PVC roof cover instead, which would boost water resistance if your area gets a lot of stormy weather.

Summary
Building a carport for your beloved RV is a fun and fairly simple DIY project. Hopefully, you can use one of these plans to build a carport to suit your unique needs.
---
Featured Image Credit: Matheus Bertelli, Pexels