11 Beautiful DIY Tile Table Plans You Can Make Today (With Pictures)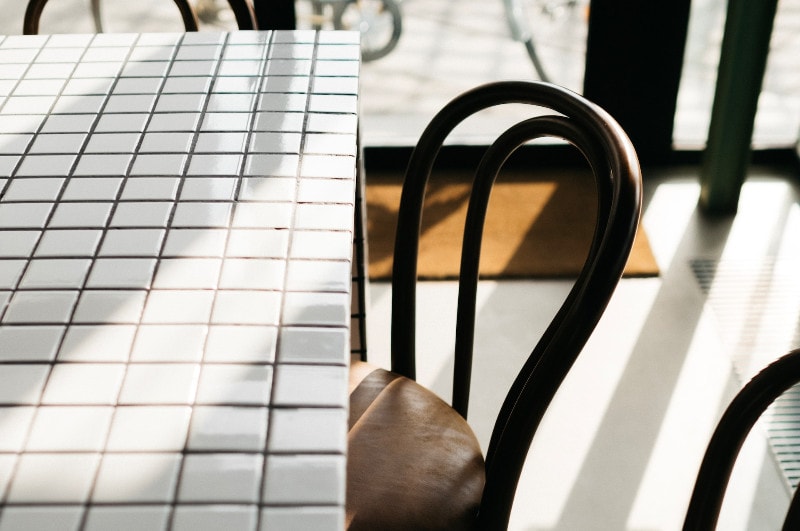 Tile tables have become somewhat of a craze in recent months, with the '90s trend coming full circle. Tile tables are made by tiling tables with vintage square tiles to adorn the surfaces from top to bottom. What is excellent about these retro tables is that they can easily be DIYed; whether you are a total beginner or an experienced crafter, there is something for you.
The tables can be made from scratch, or you can bring life back into a sentimental piece. You can have fun with many color combinations, and the variety of tile patterns is endless. If you are eager to try out this new TikTok trend, we have gathered some clever and creative DIY tile table ideas and plans, so let's get started!

The 11 DIY Tile Tables
1.

DIY Retro Tile Table by The Sorry Girls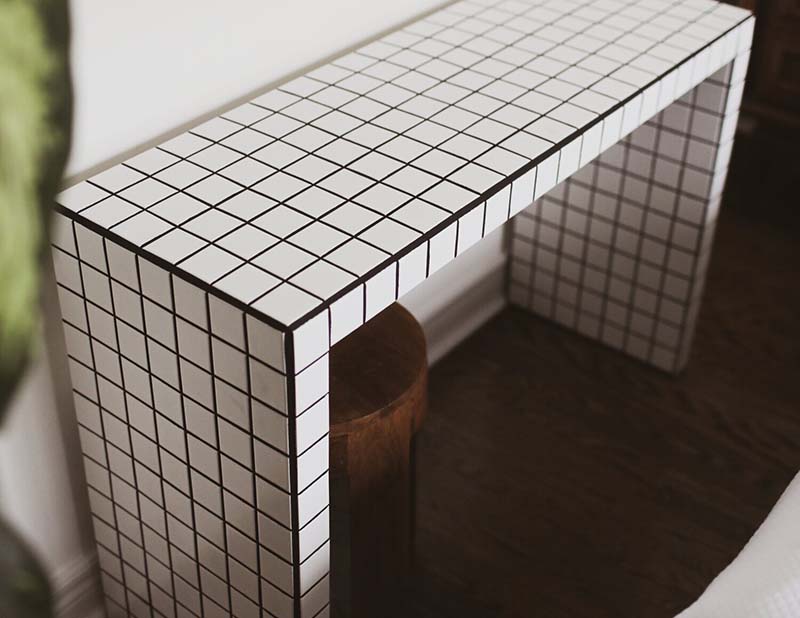 | | |
| --- | --- |
| Materials: | 2" x 2" square tiles, 2" x 4" pieces of wood, grout, tile adhesive, tile float, wood glue, wood screws, four adjustable furniture feet |
| Tools: | Drill, saw, tile spacers, sponge |
| Difficulty Level: | Moderate |
This DIY retro tile table plan is a DIY dream since it includes building the actual table you will be tiling. Its design is retro-inspired but will look great with modern home decor. You can adjust the sizing to suit your needs and customize it to make it your own.
Any skill level can DIY this table, but it is not the easiest to make and requires a lot of patience. If you have the motivation, go for it! If your woodworking skills are minimal, instead of creating a new table, you could upcycle an existing one and add the tile, which works great too! Either way, you will have so much fun creating this table.
---
2.

DIY Tiled Side Table by Apartment Therapy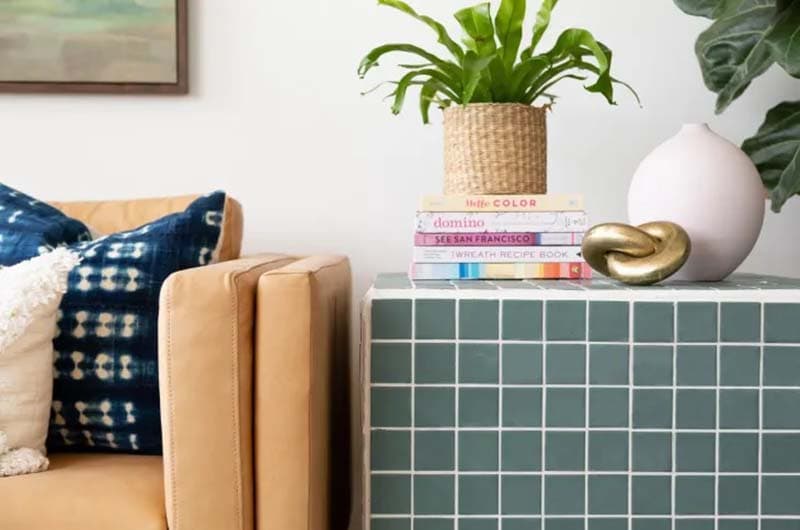 | | |
| --- | --- |
| Materials: | 2" Porcelain square tiles sheets, tiling adhesive, tiling grout, plywood, brackets, screws |
| Tools: | Trowel, grout sponge, rubber grout setter, plastic tub, power drill, jigsaw |
| Difficulty Level: | Easy |
To create this trendy side table, you start by building a basic box that you will then personalize with tile. You can get creative by mixing up some colors that work well together or keep it chic and simple with just one color. You can display your DIY skills in your living room or patio or place the table next to your bed. Either way, adding plants, picture frames, or even some fun coasters will be a great addition to your creation. The entire process works well for both novice and experienced crafters.
---
3.

DIY Upcycled Side Table by If Only April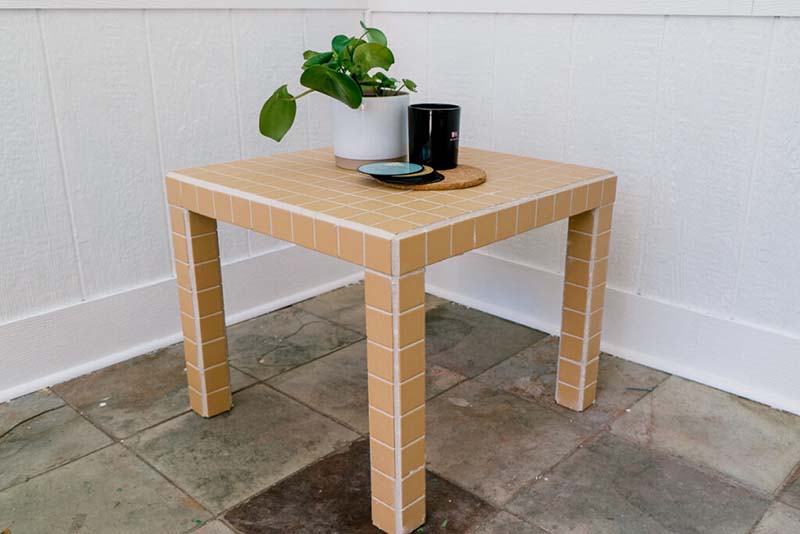 | | |
| --- | --- |
| Materials: | Used table, 2"x 2" tiles, tile adhesive, grout |
| Tools: | Adhesive spreader, sponge |
| Difficulty Level: | Easy |
This tile table is great for any novice that wants to try their hand at tiling. All you need is an old table that needs new life, or you can pick up a simple table at Ikea. Choose your tile color of choice and get grouting! It's simple but fun, and the result will be so rewarding.
---
4.

DIY Tile Coffee Table by Our Fifth House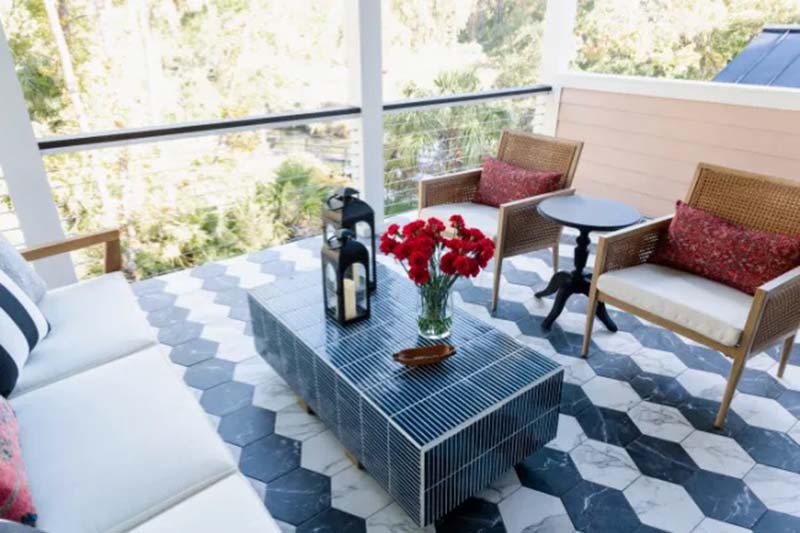 | | |
| --- | --- |
| Materials: | Plywood, wood glue, paint, tile, tile adhesive, tile grout |
| Tools: | Nail gun, jigsaw |
| Difficulty Level: | Difficult |
A little extra skill is required to create this DIY tile coffee table, but if you are looking for a challenge that is not beyond your reach, it's easy to complete. The table is built from scratch using plywood, but you could skip that step altogether if you like the look but aren't ready for the woodworking part. The result is chic and modern and will be a great addition to any living room or patio. Your friends will never guess that you are the creator of this clever piece of furniture.
---
5.

DIY Black Penny Tiled Coffee Table by Modern Builds
| | |
| --- | --- |
| Materials: | Plywood, hairpin legs, penny tiles, grout, adhesive, sandpaper, sheet metal, spray paint |
| Tools: | Drill, jigsaw, angle grinder, sander, grout float, sponge |
| Difficulty Level: | Moderate |
This DIY coffee table will be a satisfying project for furniture-building novices looking to expand their skills and creativity. The tutorial shows a chic, monochromatic design, but any color combination will work great! The beauty of DIY is that it allows you the space to customize and make the project your own. The circular shape adds a creative dimension to the tiling, which has a fantastic result.
---
6.

DIY Thrifted and Tiled Table by Bees 'n Burlap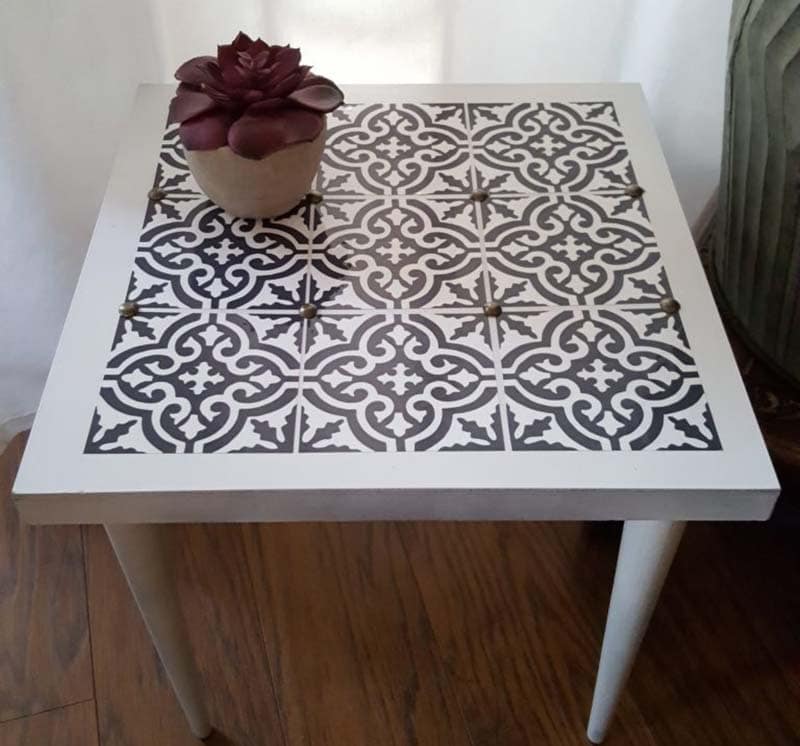 | | |
| --- | --- |
| Materials: | Table to upcycle, tiles, wood glue, spray paint |
| Tools: | Clamp, glue gun, measuring tape, pencil |
| Difficulty Level: | Easy |
Upcycling is a great way to DIY; all you need is an old table that needs renewing and some tile designs of your choice. This tutorial shows you how to create a stylish tile table without actually using tiles. They are in fact sticker decals which look so much like tiles in the finished look. This design leaves some wood exposed which looks great next to the tile, and you don't have to tile the whole table. The tiled center makes a great statement with an awesome result.
---
7.

DIY Tile Bench Table by Garmentory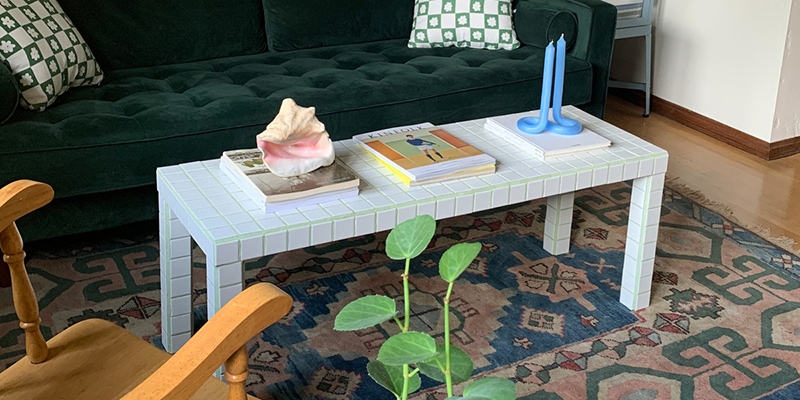 | | |
| --- | --- |
| Materials: | Table, 2" x 2" tiles, tile adhesive, tile grout |
| Tools: | Trowel, spreader, float, sponge |
| Difficulty Level: | Easy |
A bench table makes a brilliant coffee table that sits flush with the level of your sofa, and a tile table makes it perfectly practical as it's basically one large coaster. This tutorial shows you how to create an awesome tile table with a table that's ready for a makeover. The whole process can be done by DIY beginners or experienced creators looking for a quick project.
---
8.

DIY Moroccan Style Tile Table by Artsy Chick Rules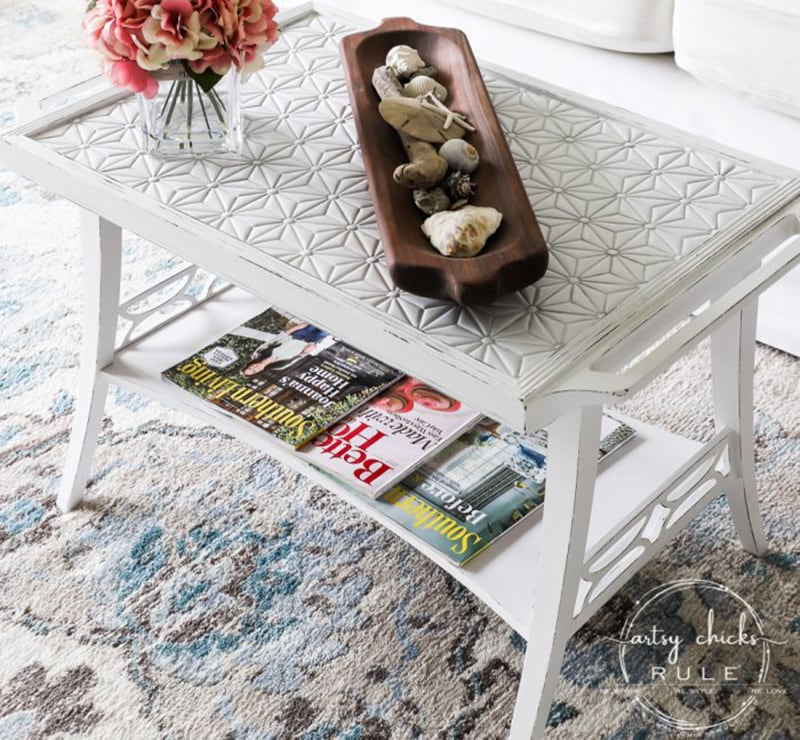 | | |
| --- | --- |
| Materials: | Thrifted table, tile, shellac spray and liquid, chalk paint, glue, grout, wax |
| Tools: | Sander, paintbrush, float |
| Difficulty Level: | Easy |
You can turn an old, thrifted table into a classy and gorgeous Moroccan-style piece with this plan. The design for this table includes unique tiles with a textured pattern that will add some dimension to your finished work. You can opt to go for a two-toned look or stick with the monochrome style, but perhaps in a different color.
---
9.

DIY Tile Cube Table by All the Peaches Please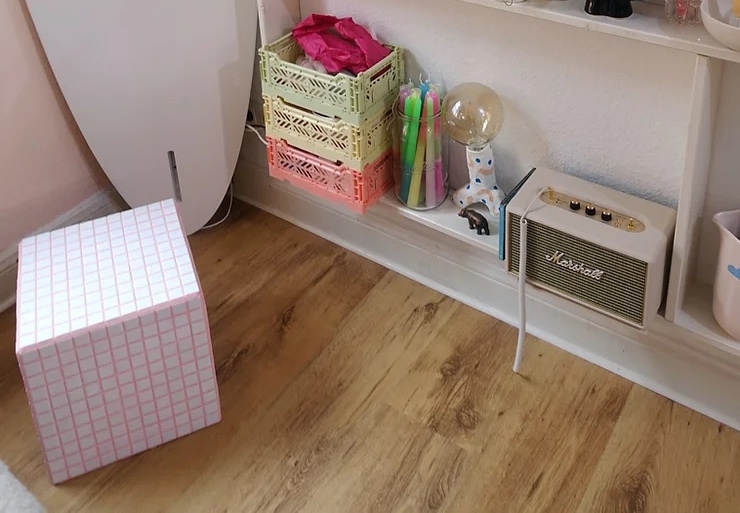 | | |
| --- | --- |
| Materials: | Tiles, wood, grout, wood glue |
| Tools: | Tile nippers, float |
| Difficulty Level: | Moderate |
Cubes are great because they can be used as a table or an ottoman style chair. They are also a great shape to tile or build, especially if you are a novice. You can easily build a cube with pre-cut wood planks and have fun tiling it to create a table. Get creative by using a different color tile grout.
---
10.

DIY Tile Desk Table by Darling Magazine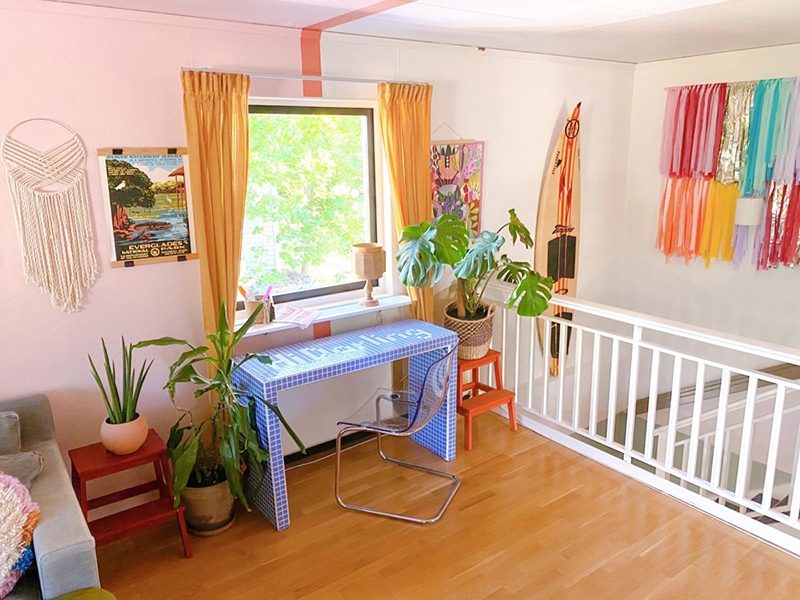 | | |
| --- | --- |
| Materials: | Desk, tiles, tile adhesive, tile grout |
| Tools: | Carpenter knife, electric mixer, trowels, float, tile spacers |
| Difficulty Level: | Moderate |
An office or craft desk is somewhere you spend a lot of your time, so why not make it an inspiring and attractive space in your home. For this project, you can use an already existing desk that needs a makeover, or you can DIY your own desk. What we love about this idea, is the little message created with a different color tile. It shows you how creative you can get with DIY tiling.
---
11.

DIY Patio Tile Table by Family Handyman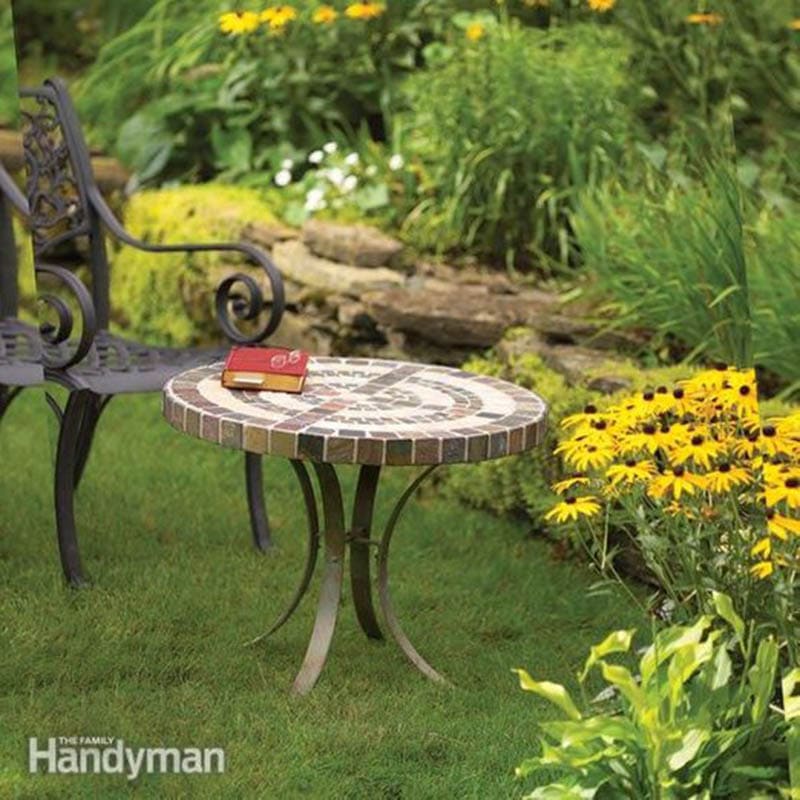 | | |
| --- | --- |
| Materials: | Plywood, cement board, steel bars, screws, waterproofing membrane, tiles, tile grout, tile adhesive |
| Tools: | Drill, jigsaw, screwdriver, grout float, tape measure |
| Difficulty Level: | Moderate |
This tile top patio table is a moderately easy table to build and can withstand any weather. All of the materials are available at hardware stores, and no special tools are required if you are already an experienced woodworker. The best part is that you will have a trendy table without spending a fortune.

Tiling Basics
Although different products and techniques are used to achieve different looks, all tiling is essentially the same, and you can pretty much stick tile to anything. To DIY a tile table, it will help to understand some tiling basics and which materials and tools are required.
Tiles: Tiles come in many shapes, sizes, colors, and materials. The tile you use will frequently dictate the tools and materials required to complete the project. Ceramic tiles are by far the most popular. They are excellent for cutting and cleaning, and you can usually find a low-cost ceramic option.
Adhesive: Thinset mortar and tile adhesive are different products used for various tiling applications that essentially do the same thing.
Grout: Grout fills the gaps between tiles and keeps moisture away from the adhesive that holds your tile to whatever you choose to adhere it to. There are many options when selecting grout, including any color of the rainbow to allow you to get creative.
Sealer: Sealing grout prevents staining and keeps out moisture. The type of sealer you use will differ depending on your materials.
Tools
Tile Nippers: Tile nippers are used for cutting smaller tiles, which are perfect for tile tables.
Trowel: The trowel is the tool used for spreading adhesive.
Spacers: Spacers are used between the tiles to get consistent and even grout lines.
Float: The float used to spread and compress the grout between the tiles.
Sponge: A damp sponge is used to wipe away excess grout.
Tiling Tips
Have an idea of the result you want before buying your materials.
Measure your surface so you know how much material you need.
Ensure that you have the appropriate adhesive for your tile and grout for your spacing.
Prep your surfaces and lay out your tile before applying glue.
Allow your tile to dry for about 24 hours before grouting.
With a sponge, remove any excess grout and wait 30 minutes before wiping it down again. Allow it to dry overnight before wiping it down with a soft dry cloth the next day to remove the grout haze.

Final Thoughts
Tiles are fun, and relatively easy to create with. You can easily make a table that looks like it's from a boutique store but costs a fraction of the price. If you haven't worked with tiles before, start with a simple DIY project first and get more creative as you progress. Tiling can also be messy business, so keep that in mind when you start your DIY tile table. Have fun!
---
Featured Image Credit: Jonas Jacobsson, Unsplash